Graphic Design Courses in Nottingham
Graphic design is a tool for communicating ideas in art and technology. The designer uses various communication methods to convey a message from a client to a broader public. The main methods are image and typography. So if you dream of being a designer, you are on the right site! With some knowledge about our courses regarding graphic design and our teaching techniques, we will show you how to turn your dreams into reality.
Online Education
Online training has been a successful choice for students for a while now who cannot receive on-site education for various reasons. And although basic online courses are still available, both technology and online pedagogy have improved dramatically over the last decade. And now, it seems quite unexpectedly there are more and more instances in which online schooling truly surpasses its conventional teaching equivalent. Evidence of student performance and preference is mounting for the online classroom, which would help all of us generally.
How Can Our Online Lessons Benefit You?
Many students have no university where they live. Others do, but they can't quit their full-time job or abandon their family to study at a college. Therefore, students are turning to online courses gradually as they have become an enhanced and convenient way of learning.
Our online courses provide you with increased control of your own learning through the ability to work at your own pace. More engaging multimedia content, undivided attention of the tutor and lower probability of external disputes will lead to enhanced retention methods.
More regular assessments are also used in our online courses. The more students are monitored, the more their respective tutors are able to track progress and interfere when appropriate.
Some students might not feel comfortable speaking in a traditional classroom environment or asking questions in front of others. This is where our one-to-one class system comes to the rescue! In this setting, you can learn better and interact with the tutor without any hesitation.
On-campus students may have to endure in-person lectures that last hours but with online learning you can simply stay at home in your comfortable chair or garden table and learn. This can be especially helpful for those who do not enjoy sitting in one place for too long.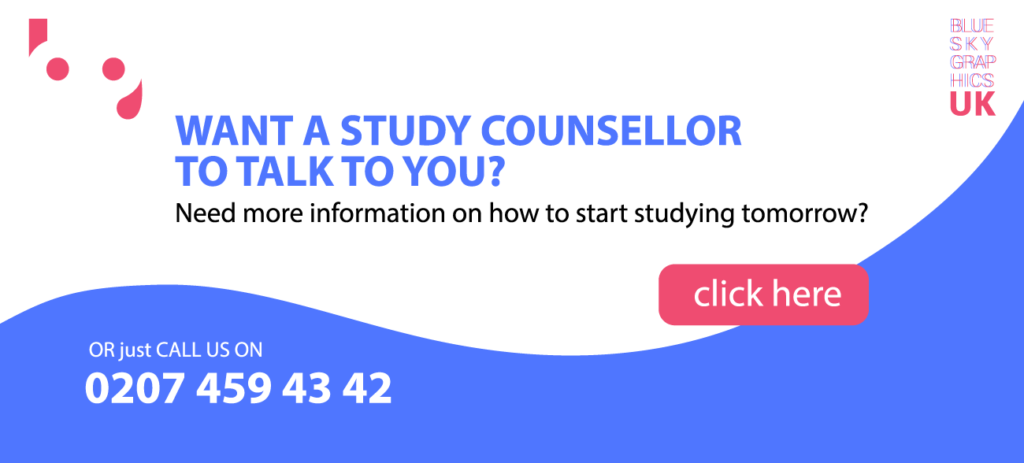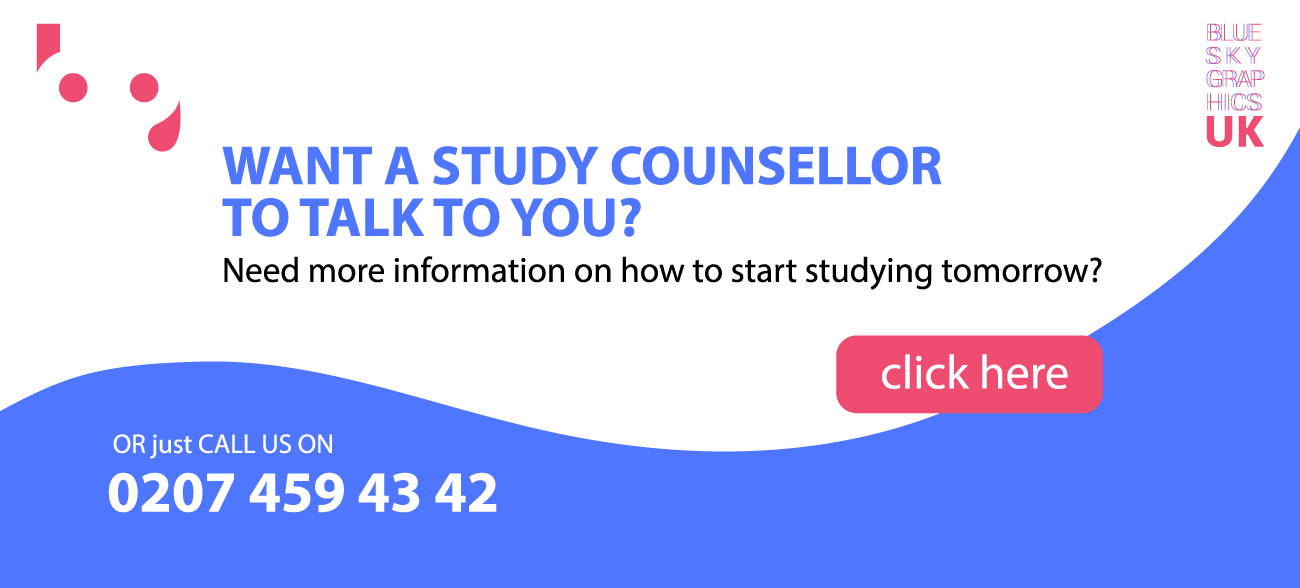 Our Timetable
Our timetables largely depend on our graphic designer specialists. We have a bunch of different tutors who are experts in the various aspects of graphic design and conduct lessons throughout the week. The class timings start off around 7.30am and continue till late evening, giving you ample of time to adjust your schedule accordingly.
What Kind Of Work Do Graphic Designers Do?
Simply put, graphic designers use shapes, colours and images to create icons, logos, and animations to convey a message for a company. Depending on where you work — and there are several forms of graphic design jobs available; you may find yourself designing logos for sports teams, designing a magazine layout, or bringing a dull website to life. Even though we live in an online world, graphic designers still have plenty of opportunities to work on print projects too. You may need to collect photos and create photographs for various types of creative assignments such as commercials, brochures, packaging and more.
Where Can You Work As a Graphic Designer?
Practically every industry needs graphic designers. You can apply your expertise to a variety of career fields, such as marketing, film, web creation, art direction, animation and more, depending on your interests. The graphic designers often have different work environments.
Most designers work in-house, meaning they are on a company-wide marketing, communications or design team. Others are employed by an agency which enables them to work for a variety of clients on a project. There is also an opportunity to become a freelance designer as self-employed.
Designers may be generalists, or may specialize in one or another aspect. Many designers, for example, specialize in a particular medium; say package design or web design. Others work solely in a particular field, such as the music industry or editor.
All businesses are in some form or other requiring designers. You're sure to find a graphic design opportunity with a bit of research that suits your skills and interests perfectly.
So what is the Best Way to Become a Graphic Designer?
To conclude, the best way to become a graphic designer is by obtaining formal education in a controlled setting where you are free to ask questions and learn first-hand.
Graphic designers also use computer tools such as InDesign, Illustrator and Photoshop to bring their designs to life so it is certainly important to be more tech-savvy. But if computers aren't your strength, no need to worry! Our tutors show you exactly how it's done by taking control of your mouse on your computer.
Adobe Software
Adobe Creative Cloud must be mastered and understood, because it provides much of the tools required in interactive art for an illustrator, author, graphic designer and web designer. Because of its immense importance in the world of graphic design; the base of our online graphic design courses in Nottingham are based on three Adobe software, namely, Adobe Photoshop, InDesign and Illustrator.
All the design ventures begin with Adobe Photoshop – posters, labels and blogs. Combine pictures and text together to create new artefacts. The latest Lens Blur algorithm in Photoshop software uses your device's graphics card (GPU) to create blurred edges of artefacts in front of the focal plane, a more natural look, precise colour handling for CMYK and LAB colour modes, and more bright specular highlights in your photographs. You must know how to manage all of this in Blue Sky Graphics!
Adobe app is a fairly common term and dates back, but many of us still may not learn about the various applications and their particular functions. As we use this software throughout the courses described above, a simple knowledge of it is essential.
More than 20 smartphones, desktop and web applications, hardware, software, video, audio, UX and more are part of Adobe Creative Cloud.
What is Adobe InDesign?
InDesign deals with the style of the website. It lets you build and view publishing materials on smartphone and web sites, both in print and online. InDesign is planned for printing. The way it operates helps web creators to easily merge multipage magazine and paper formats. InDesign fits well with the rest of the Adobe software to improve technical capabilities.
Typically speaking, InDesign is the perfect software for you to build a blueprint for anything with loads of text and visuals.
Photoshop
Perhaps the most widely used tool for artists is Photoshop, so we are going to use it to teach all kinds of design. Photoshop is extremely useful for editing photos. You can mess around with philtres and masks to dramatically rotate and combine raster images (picture files made up of pixels); it is also a great device to play around with colour.
Adobe Photoshop provides a variety of cutting-edge tools that help create compelling web platform graphics as well as handheld devices. Photoshop is used by companies for a variety of branding and marketing purposes.
What is Adobe Illustrator?
With a deep knowledge of Adobe Illustrator and its various resources, we believe that a good graphic artist might get a lot better. Illustrator is a great software with outstanding vector editing devices. These can be used to create beautiful photos, business logos and website templates, print designs and vectors for whatever you want a vector for. Illustrator images are vector dependent to be adjusted to any size without losing accuracy.
What is the Value of Online Learning?
Studying online will be the greatest shift in modern education. It made a major system shift and opened the doors to those who would like to learn more.
Online education, however, is still linked to stereotypes. Some often say online students are not smart enough for a conventional college or university, they are lazy, and they do not get "actual" degrees. Such reasons discourage many people from attending lessons online, and they get stuck in a traditional school programme that absorbs huge sums of capital, anxiety and years of their lives.
And let us remind you that online learning is more thrilling than you thought.
Comfortable conditions
Forget heading to classes, sitting in an awkward position, and getting back ache by the end of the day. If you opt for our online lessons at Blue Sky Graphics in Nottingham, you will not be bound to a physical training session. All available lectures and materials are distributed through online platforms, so you can easily access them from the comfort of your home. You do not have to go to school with public transport, you do not have to spend gas money on your car, and you do not have to get up early to get ready for college.
Flexible Hours of Service
In addition, online classes offer students with an opportunity to schedule learning time for the rest of their day rather than the other way around. Our classes start at 7.30 a.m. and last until 10.30 p.m. This means that students are free to work and study as they wish. All of these benefits make it easier for students to align their studies with their jobs and family responsibilities.
Why Graphic Design?
Those who think they do not gain enough when working hard but are not well compensated or simply frustrated because they feel under-appreciated. That is where the graphic design steps in! This is a profession that values the creators and assures that they are well paid. And if you want to enter a profession that is competitive and enjoyable, then graphic design is a area for you! Where you can receive a huge sum as a freelancer or join a marketing department at a major corporation.
Our Graphic Design Tutorials
The graphic design online course provided at Blue Sky Graphics for the people of Nottingham is a comprehensive advanced course aligned with academics and business, suitable for complete beginners, intermediates or those who wish to develop their current skills. The graphic design course is comprehensive and structured to train learners to become professional graphic designers by our teaching methodology.
Emphasis is placed on corporate illustrations, compositions, paintings and logos, as well as on advertising designs, focusing on vectors, lines, features, forms and spaces. All of this will be translated into how graphical elements are displayed after being stored in graphic design software for creatively representing feelings and communications purposes.
In order to become a professional graphic designer, you need to be able to manage the industry standard software skilfully and display it in a portfolio. It is also critical that you learn how to use Photoshop or Illustrator, but that is definitely not enough. You ought to make some effort to learn the architecture principles and all their components. For a one-on-one online session, you have to set out a lot of time to communicate with the teacher.
We use our tools to create any app you like, Adobe InDesign, Illustrator and Photoshop.
What are you going to learn?
You will be introduced during the course of: advertising, magazines, newspapers, corporate graphic designs unique to corporate cultures and branding, stationery, letterheads, business cards, badges, books, packaging and more.
The graphic design course lets you grasp and appreciate how Adobes' exciting yet labyrinthine landscape of apps works. Using this device, we investigate the usage of words, forms, textures, curves, sizes and colours to communicate in order to create a new concept by merging ideas and pictures.
What does it entail to be a graphic designer?
The many jobs that come under the heading of 'graphic designer' include Illustrator and UX artists. Graphic designers work from the negotiated project briefs and use an innovative combination of inventive text and images to communicate themes and information. Graphic designers are communicators and graphic artists using their artistic abilities to create and generate a variety of brand advertisement photos, goods and displays through expertise with both Adobe Illustrator and Photoshop.
Jobs relevant to your credentials
The potential for a graphic designer is far from small. Graphic design workers inhabit the artistic continuum from both sides, some of which are mentioned below.
Graphic Models
You will be involved in a variety of activities and products, such as blogs, promotional materials, books, magazines, flyers, computer games, packaging products, exhibits and displays, corporate communications and corporate identity, i.e. giving organisations a visual brand.
You will create new ideas and strategic solutions for the needs of the company by dealing with a brief negotiated with the client, the creative director or the account manager.
Jobs include creative creativity, corporate planning experience and a competent commitment to energy, expenses and deadlines.
Brand Identity Designers
The graphic aspects of the business or organisation emblem or symbol are discussed in the creation of the branding of the client. The graphic dimension representing how an organisation needs to be perceived is the concept of a corporate logo; it is the visual identification of a corporation and how a corporation expresses its 'face.'
Creative Marketing Manager
Creative directors are the creative directors for the advertising agency or in-house marketing department of a company. They work with the creative team to develop, plan and deliver the strategic vision of the customer.
Throughout this position, you will be involved in the strategic plans, the management of the whole design cycle and the management of the team operating under you. The production team consists of art directors, copywriters and programmers.
Multimedia Designers
Multimedia production is one of the most popular graphic design works in the world. A multimedia artist is capable of producing animations, audio and animated photographs through sculpture, sound and design. They create drawings, designs, scale models or diagrams.
What is Website Design?
The web interface refers to the software infrastructure of the application. This typically applies to elements of website creation on the user experience instead of designing applications. Web design has been used for desktop browsers to target websites, but designs have become increasingly relevant to smartphones and tablets since the mid-2010s.
The web designer works on the structure, style and functionality of the website. For e.g., the design refers to the colours, fonts and images used. The style relates to the categorization and arrangement of the results. Good web design is easy to use and aesthetically pleasing to customers and to the name of the website. Most web pages' focus on usability, so that no external details and features can disrupt or confuse users.
Web Design Course At Blue Sky Graphics:
It is fun to move through the full website from a blank page. After completing your online graphic design course at Blue Sky Graphics, you can opt for our web design and UX UI design online courses in Nottingham. During this tutorial, will get to know about the ongoings of web design. We will talk about the acquisition of knowledge, innovative concepts and system iteration. At the end of the day, you will have the base to begin your design path.
The course introduces experiments and practise of XD Photoshop, Elementor and WordPress in web design and visual design, colour theory, home pages and websites. The Web Development training moves into functional principles and techniques of web design and graphic design.
However, prior to taking this course, graphic design preparation is required because web design studies are very challenging without learning the basic concepts of graphic design.
Elementor
Elementor is a WordPress Drag and Drop platform. You can create great pages with a visual editor. The aim is to create interactive websites quickly. This WordPress plugin is a complete solution that makes it possible to manage all aspects of web design on a single platform.
Elementor is an excellent tool for creating anything from your entire website to individual websites. There are advertisement websites, sales sites, and even unique forms. This platform will allow you to design every page you can imagine on your WordPress website.
Adobe XD
The term XD stays for Interaction Design, which shows you what you should do with it: Develop Immersive User Interfaces. Designs may be generated and made fully accessible to the prototype.
Adobe XD is a flexible platform utilised by UI and UX app designers, site designers, desktop device designers and food designers. It has a few intuitive apps that reduce operating time. The greatest advantages of XD are design and prototyping combinations.
You have made some changes that can be seen and improved. A live demo is an important step in the XD prototyping process. It is like a second screen that reveals the definition automatically. You will instantly preview your changes when you make changes to your templates.
UX-UI Technology
UX designers tend to make the interface easier for any platform or programme. It is all about creating a consumer website that is user-friendly and not too hard for the user to run. The aim is to address customer issues and issues with a view to increasing productivity, quality and user quality.
This is an advanced training course that shows you how to create user-friendly websites and how to solve problems with the usability of a website or application. The purpose of the interface is to anticipate what users and web surfers can do and to ensure that the interface is easily accessible to the desired results.
The aim is for the UX UI Designer to get familiar with consumers and their motives, needs and interests. Clearly put, the user-friendly definition describes the features and functions that facilitate the usage of an app or website.
Task Outlook for Web designers and UX Developers
The very common environments in which you will function include the following:
Work for industry-related businesses, such as product advisors or branding firms (agency graphic designer)
Work with any company (domestic web designer)
Work remotely on your own (web freelance or UX designer)
Employers in nearly every sector require software developers. Web architecture, development and day-to-day activities are mostly carried out by software developers and application administrators. The developer must maintain or update any platform. Again, the work requirements can vary from company to business.
Web designers are responsible for creating a website look and feel by choosing the theme and designing stunning logos, images and other graphic elements and adding them to the pages of the website. Web designers frequently create and construct web surfing resources. As a web designer, you can determine what content is on a web page, where items are placed, and how aesthetics and consistency are maintained from screen to screen.
Strong demand and interesting career openings
Let us get analytical and think about pricing, global production and supply common to the economies of the United Kingdom, Europe and the United States. Advertisement and graphic design firms build digital templates use computer tools to express ideas, sell graphics and captivate their clients. Many organisations need a graphic designer, and you can quickly become a designer and learn from comprehensive courses through applying for an online course.
Graphic designers, especially digitally trained designers, are often in demand. Over the past year, the number of internally owned designer jobs has increased significantly with companies like Apple, Facebook, Specsavers and NSPCC, all investing in their own creativity and innovation. Training of visual communication opens doors to a wide range of careers, from graphic artists, art-workers, UI / UX programmers, software architects, computer engineers, brand identity makers, product designers, broadcast designers and illustrators.
What does it entail to be a graphic designer?
The job description 'graphic designer' may include a wide variety of positions and may also include 'illustrator' or 'UX artist' in the collection of tasks and descriptions. Graphic designers work on agreed concept briefs and use an innovative combination of conceptual text and images to express information and ideas. Graphic designers are communicators who use their creative skills to create and produce a variety of commercial advertising materials, products and displays, including skills in both Adobe Illustrator and Photoshop.
Portfolio of Graphic Designer:
The job description for graphic designers covers the whole process of naming, graphic illustration and design, including diagrams, logos, sketches and photographs. You will create forums, books, magazines, packaging items, exhibits and more visuals.
Your graphics will draw the spotlight and bring the correct response from the people who see them. You need an artistic mind and a good skill to build concept specs for this.
Responsibilities
Schedule tasks and set budgetary constraints
Visual conceptualization based on requirements
Write preliminary draughts and apply proposals
Build graphs, logos and other designs using software or by hand;
Illustration Directors
The artistic team of designers were responsible for designing artworks for exhibits in newspapers, on video, on posters, on the internet or on items. To order to produce project art directors, they have a significant part to perform by settling on the graphic aspects of the project and providing a ultimate word on the design of templates, sets, colours and other items.
Visual artistry
Operating as a visual artist, you can use your creativity and creative abilities to build images of individuals, creatures, environments and moods. You will include a overview of the characters and scenarios that might occur in a short article. You will work in a variety of fields, such as animation, comic books and films, in any project with a visual background.
Illustrator:
Illustrators are hired to create still photographs and sketches that express a narrative, idea or principle that is later used in newspapers, novels, magazines, advertising, greeting cards and journals.
You will focus on promotional notes, adjust the tone and theme of the images in order to teach, persuade or amuse the targeted target of the company. Usually, you are professional in a certain creative media, such as painting, photography or visual illustration.
Specialist in communications
Marketing experts gather and analyse customer focus details, execute marketing programmes, assess the efficacy of marketing efforts and build tactics to benefit their businesses and their goods or services.
Many of these graphic design professions fall within the wider advertisement umbrella, as you have already noticed. The position seems to need a person who is well qualified, who can function in multiple fields of design and who will be tested and develop new skills.
Designers may take advantage of a marketing profession in a range of things, such as web and print develop, branding and social networking.
Director of Advertising
Across all types of publicity, as director of creative arts, you can create bottom-up concepts for graphic elements in promotional campaigns. You would have to collaborate closely with the copywriter, as promotional art director, to develop innovative ideas and strategies that suit the expectations of the consumer: launching the advertisement, handling client information as well as the commodity, target market and the appropriate message.
What do you need a Portfolio?
Graphic design is a competitive industry. It is challenging to attract the right consumers so it can be much more complicated to gain a foothold with the product or service as a popular new rival.
Whether you are a freelancer or looking for new career opportunities in this field, it is important to have a state-of-the-art online portfolio to stand out from the crowd.
If you are looking for a career as a photographer, blogger, editor, or developer, one thing's for sure-the secret to a first impression knockout is a powerful portfolio that highlights your achievements. To order to maximise your odds of standing out from your colleagues, you need an outstanding multimedia profile that will showcase your talents and accomplishments. This is going to help you find your ideal career or attract better paid clients.
Work from Home Through Freelance Graphic Design:
Freelance has always become a way of basically gaining large sums of income, irrespective of the degree of expertise, since internet employment is more technology-dependent than abilities.
Freelance platforms feature teenagers, housewives and people looking for secondary jobs, a chance to show off their talents and raise a lot of money! This gives you the chance to work at home for any agency or company that hires you. All you need is a unique portfolio to start with!
Although this does not constitute a specific design assignment, most of the above titles may be performed as an individual employee. Designers with professional experience, an outstanding list of employment or specialty expertise, such as develop, communications and graphics, will build a future in freelance ventures.
But freelance is also nice as a side-game that can provide extra cash and improve your skills. Freelance programmers may develop useful management skills; draw customers and manage budgets and resources. Someday, such items may apply to much broader company ventures.