With BSG School learning graphic design has never been easier – after all, it's online!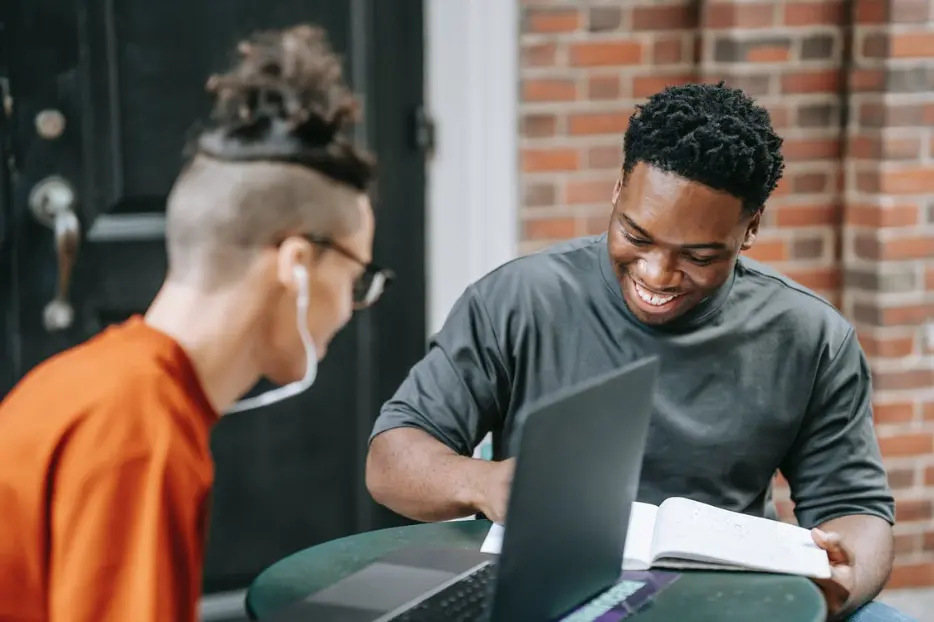 What is UX-UI Design all About?
UX stands for user experience design and is a little more analytical than its counterpart UI as it is about improving the usability and user journey or bettering the experience to make the website or applications or digital product more pleasurable and user-friendly.
It generally accepted that today there is still a huge shortage of user experience designers using the UX and UI principles in web design or application interfaces.
Estimates show that there are 38% more jobs in UX-UI than there are suitable candidates (Isource 2020). The hi-tech sector shortage created a huge demand for skilled UX-UI designers, levels of which there is arguably still very much a deficit.
UX-UI skills are officially among the Top 5 sought after job skills according to a 2019 LinkedIn report.
Web Design & UX-UI Design Course
Want to brush up your existing knowledge? Ready to learn CSS, HTML, WordPress and Elementor or just looking for a new hobby, profession or higher salary? Step onboard and let us show you the way!
Not all classrooms have 4 walls
All our courses are online one-to-one with your privet tutor
Strategy and user content are 2 important factors that a UX designer will deal with as part of their job role as the expectation are to strategically determine how to best deliver the content in a user-friendly way. UX plays a big role in the communication of websites and apps where the user is the main point of focus and priority. Another responsibility of a UX designer is wire-framing and prototyping as well as execution and user analytic research.
UI stands for user interface design and is a little more visual and related to graphic design or web design. Often the same person wears both hats and will oversee both the UX and UI.
The goal is to match-make the business needs with those of the user. It is about the look and feel and presentation of the product. UI is to do with visual communication designs like fonts, typographic and making things look more beautiful.
A UI designers purpose is to take the user experience and make this dressed and presented in a nice way. UI designers will often do design research and do graphic and visual designs for the projects, buttons, interaction, colours and visual elements.
It is part marketing, part analytical, part sales, part visual, part designer and part analytical tester. Design is about solutions to problems.
Both UX and UI are related to each other but they are different job roles
and use different tools, skills and approaches the problem in a different way.
Web design is a term that was coined with the advent of the internet back in the early 90s and describes the design of websites. Graphic Designers began changing and adapting their educational experience to align with the internet. It is said that "the transition to the world of the internet created somewhat a shortage of workers to the world of printing."
A web designer is different from a web developer who is responsible for coding and although there is some cross over, the job roles, duties and software tools are fundamentally different.
Using a car analogy a web designer would be the person who designs the aesthetics of the car, what it looks like, what feels like, the textures, colours, shapes whereas the internal components like the engine, and the transmission which often you may not realise when you are using it. The car is useless without the engine and the engine is useless without the car. Both complement each other. Tools of the trade for a designer are aesthetic or visual tools.
From No experience to better
User experience!
User-friendliness of browsing the website is a key skill that you will need in your professional careers
Transition From Print to Digital
Many designers began to integrate into the hi-tech sector over the last 20 years, which is often met with an attractive salary proposition. Increasing trends of digitisation have meant that graphic designers are working in many varied and niche fields. Through working in particular areas graphic designers are expected to develop and increase their portfolio so as to display their work and specialism.
The transition from print to digital and turning events such as lockdown and national lockdowns has fuelled demand and given rise to wage increases across the spectrum of UX-UI Designers and Web Designers. This typically included those that studied after school and with little or no work experience were able to earn average initial salaries of circa £45,000. These days demand from both worlds has also created a wave of employment from Freelances to In-house Graphic Designers.
The 0220 Web Design and UX-UI Course enables you to design websites and applications in a user-friendly and professional format. The focus is on improving the usability and user journey in order to better the experience and user-friendliness of browsing the website-a key skill that you will need in your professional careers.
Graphic Designers and UX-UI Designers must achieve a user-friendly format. This website design focuses on anticipating what users will need to do on the website and ensures the interface has elements that are easy to access for simple calls to action. The theory behind this comes from knowing your users including understanding their objectives, goals, skills, likes, and habits and coupling this with the goals of the website or app whose business it belongs to. Simply put, user-friendly is a term that describes features and functions that make using a device, system or a website easier. These elements might include visual signs and cues, graphical user interfaces as well as descriptive instructions.
UX-UI. Understanding and Building a Wire-frame Model
A wireframe is the visual representation of the information architecture and structure of a website through showing paths. Characterisation of the website is made by displaying it's content and functionality elements commonly used in the development stage of websites.
User-friendly websites are usually designed around characterisations of anticipating what users will need to do on the site and ensure the interface has elements that are friendly, clear and show clear calls to action. Many websites will aim to connect it's business or proposition closer to their audience or customers. These days selling products or services and converting people into loyal customers is difficult without a clear and friendly presence online.
The 0220 Web Design and UX-UI Course is only suitable for those with prior experience using graphic design software. This is a pre-requisite for studying the 0220 Web Design and UX-UI Course since much of the work comes from Photoshop and Illustrator software for designing applications or websites.
Without prior knowledge of Photoshop, Illustrator and InDesign, students would not be able to insert graphic elements adapted to user experiences. The user experience aim is to make the website user get involved with all the internal features. The user should be able to respond quickly while also understanding all the features on the app or site.
Topics in UX-UI Design Course
The ADOBE PHOTOSHOP software is very popular in the world of web design and not just because of manipulations of images, but because of its the friendliest option to download image resolutions. Once you download a resolution on a picture you can also download the pixel of the image in any application or website. After the practical work on the image, you can save all the files formatted in the Photoshop software to small files by dividing the page.
The ADOBE ILLUSTRATOR software The ideal tool for creating vector graphics and creating icons, logos and cartoon graphics designed for applications.
Illustrator software is very useful in the world of graphic design in terms of creating vectors and manipulations of shapes. The software has many specialised tools for working on curves of lines and shapes also in very small files. There are many graphic capabilities with Illustrator including making elements small such as icons on home computers. Many icons found on phone or tablet applications have been designed with
Illustrator software. The software works especially well with Photoshop and provides backup and response which Photoshop cannot design.
XD ADOBE software the number one software for digital visualisation of applications.
ADOBE XD or Adobe Experience Design as it referred to in full is a specialist software considered among industry professionals as one of the best tools for making websites and applications looks beautiful. Graphic designers will build Photoshop and Illustrator designs and then transfer the graphic elements and icons designed for the software. XD software allows graphics that need to be designed in the application at low weights making icons look wonderful and clear and as opposed to blurry.
Adobe XD is a vector-based digital design tool for websites and apps and it is used to create and collaborate on everything from prototypes to mock-up to full designs. Adobe Suite or Creative Cloud contains XD along with their catalogue of software and is generally very convenient because Adobe allows cross synchronisation making processes convenient and easy. The export capabilities of the software are very convenient because everything is organised and opened just as the application should be compared to working with other software.
In XD it is possible to open the page view of the application just as it is going to appear in real. This feature enables the linking of pages allowing the graphic designer to edit the design pages in a way that they see fit. It is possible to link each page without using external browsing programs and browsing between the pages after the end of the design. In the app, we can automatically extract a link from the software to send design requests to see if changes are required.
Commercial portfolio designs for User experience User Interface UX-UI Designers
At the end of 0220 Web Design and UX-UI Course, you will gain a portfolio to use and present on a website or links that you send to an application that you will have made and designed.
This will test how you create friendly graphic elements, which graphic colours you use and the formal of elements that are tailored to the target audience for the application or website, and of course, nurture your creative thinking behind the design.
Begin one-to-one online learning with your very own private tutor