Graphic Design Courses in Newcastle upon Tyne
Not enough people know the importance and the impact of graphic design on our daily lives. Every ad that we see is the work of a graphic designer. They are able to blend technology with innovation in order to convey knowledge and ideas in a specific way to consumers and businesses. Graphic designers are creating all the icons, ads, text-on-website graphics, which does not undermine this area.
Learning and implementing the concepts of design require strong attention and determination. If you already study or work for any company, learning graphic design at a university might be overwhelming for you. But we have come up with a solution for this problem! You can now learn graphic design without stepping out of your house!
Why is Learning Graphic Design Important?
Graphic design is an effective way to improve communication. It is an important element in brochures and logos, and is crucial for selling and supplying products. Graphic designers are also called graphic artists; they often work closely with experts in journalism, public relations and advertisement.
Strong and successful graphic designers present their ideas in such a way that the viewer is drawn to them. Customers might not be interested in reading a text or description, but they are willing to look at an image to persuade them to purchase the product for the same reason.
Online Learning
Online education is a versatile instructional delivery method that incorporates every form of learning that exists over the Internet. Online learning offers an opportunity for educators to meet students who may not be able to participate in a typical classroom course and help students who choose to work on their own time and at their own pace.
How Can You Benefit From Our Online Courses?
We conduct our lessons in a non-traditional classroom setting. This means you will be engaged in a one-to-one lecture system where you have the undivided attention of the tutor and gain the most out of it. With such online classes, you can also avoid the troubles of commuting from one place to another as you can take the class online from your home which is much more convenient. Many students prefer studying in an online classroom rather than a real classroom since it offers flexibility in their busy schedules. Our classes are available every day of the week, giving you enough time to plan out your work and then attend the lecture when feasible.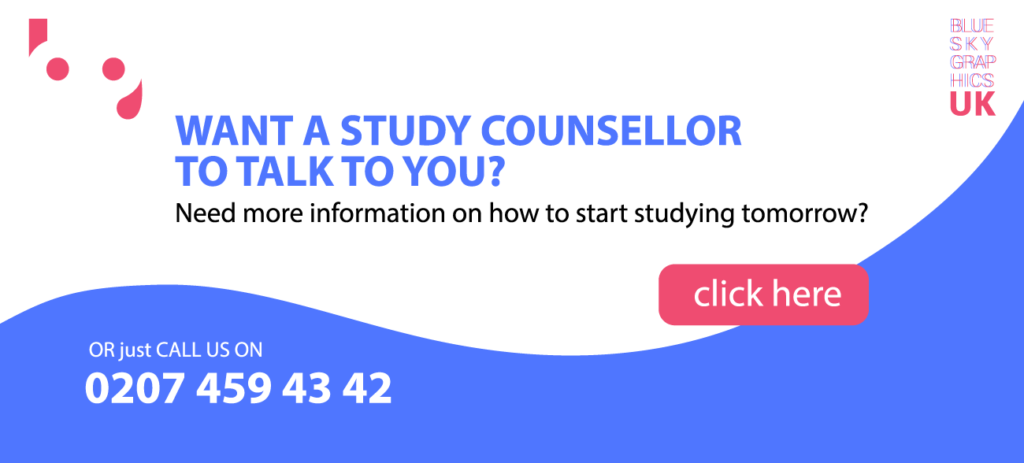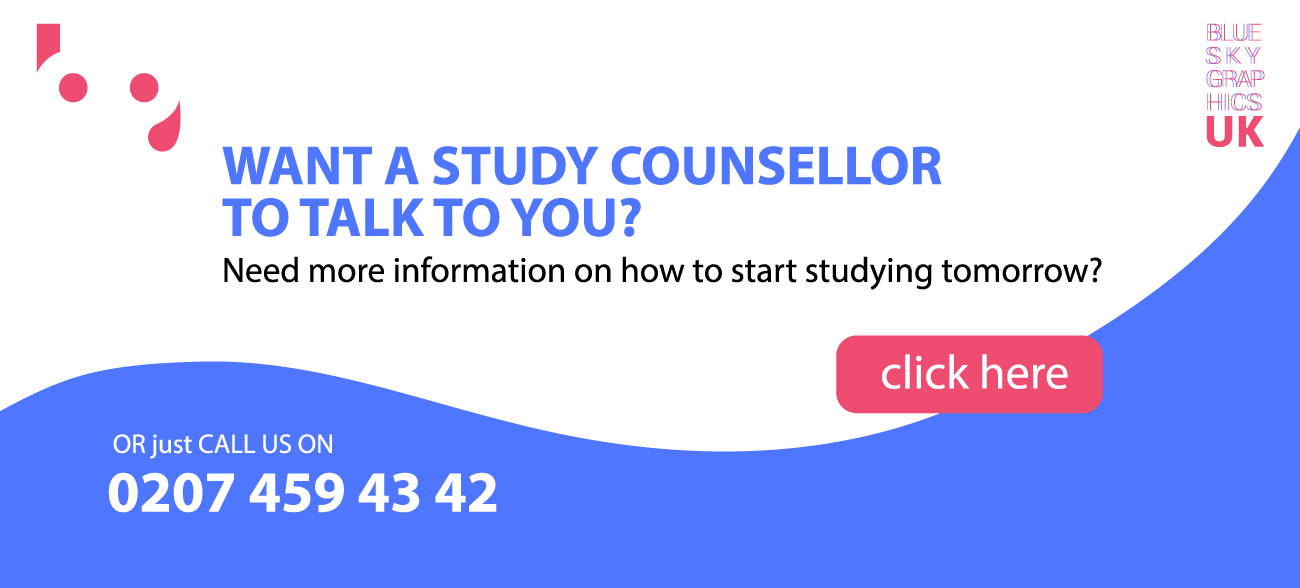 Elements of Graphic Design Course
Blue Sky Graphics' online graphic design course is offered via a one-to-one class structure over a period of nine months. The software covers Photoshop, Illustrator and InDesign. It is broken down into a variety of different components from the introduction to the course of modern graphic design to the development of your own portfolio and the consolidation of course.
Your own portfolio is a perfect way to put out your name and popularize your skills, and to highlight your experience with a compilation of all your projects so that the potential client looks at you and hires you if you suit their style. Also, it is critical that you do not have just one design feature in your portfolio, such as website design or animation. Attach variety of design elements but make sure it blends together and always appears as though it was the same person's work.
When your portfolio is extremely creative, you can be hired by an advertising firm to market the products and create a favourable company identity that will help to generate sales.
Syllabus Outline
We teach the following courses:
1.Graphics Design Course
This course deals with all aspects of the branding, advertising and brand identity related to advertising and brand graphic design. This explains the use of Adobe applications so you can learn how to correctly use colour, scale, shape and form to create an outstanding design.
2.Web Design and Development Course
The website template that appears on the internet is called web design. A web designer focuses on the layout, structure, and, sometimes, text of a website. Layout refers to material structure and categorisation. A good web design is user friendly, aesthetically appealing and suits the user group and brand of the website. Most web pages are designed with a focus on usability, so there is no unnecessary material and functionality that can offend or confuse users.
This course is taught using WordPress and HTML.
3.UX-UI Adobe Design Course
UX simply refers to whatever can be done. A UX designer is concerned with how the interface makes the user feel and how convenient it is for the user to perform their desired activities. For example: How easy is the checkout process when shopping online? The ultimate aim of UX design is to create simple, reliable, meaningful and all-round friendly experiences for consumers.
Importance of Adobe Photoshop in Graphic Design
Using Photoshop for graphic design is vital. It is a common multimedia resource used in a wide variety of media, from print to screen, immersive design and even film. Those wishing to start a graphic design profession will need to learn Photoshop, but this is only one phase in the road to becoming a graphic designer. Using Photoshop alone is not enough to be a graphic artist.
Aspiring designers need to improve their graphic design expertise with Photoshop lessons. Although Photoshop is an essential resource for graphic design, it requires a wide range of visual design expertise beyond just running Photoshop. Just as knowledge of how to use a hammer alone does not make a good carpenter, a designer need more than Photoshop knowledge to be visually attractive and effective in graphic design work.
How Photoshop vary from other software?
Photoshop's graphic design capabilities are more artistic than scientific. Usually, graphic artists retouch and use Photoshop for artistic purposes. Using Photoshop to merge photographs, attach effects, add text, or modify photographs to express messages or themes. Photoshop's use for graphic design differs from artists or retouch artists who use the same method to clean up background, change colour, and enhance product overall clarity.
Graphic style philosophy in Adobe Photoshop
Much has been said about the web value of Photoshop tutorials. By simply following a step-by – step instruction on how to achieve an effect, Photoshop now becomes more accessible to nearly anyone who knows how to use a computer.
Photoshop lessons do not render you a good graphic artist. Yes, you may learn how to edit simple images, but it is all in vain unless you understand basic graphic design.
Graphic design is a method of integrating graphic arts elements and values to produce an aesthetically appealing, practical effect. Work functions differ. We all say beauty is arbitrary. It is fair to assume there is no simple visual design recipe. Processes are not always compatible and rely heavily on the user's mind-set, temperament, and inspiration.
What is InDesign Adobe?
InDesign is a vector-based program that uses a mathematical grid to map artwork and that the artwork is scalable, meaning the image can be resized as small or as large as you want without losing or graining the image quality.
InDesign is great for creating several pages that you want to look at evenly. InDesign allows you to build 'master pages' such that booklets or magazine models can be conveniently crafted and instantly counted in a simple interface.
Illustrator's and Photoshop's piece of art is beautifully blended to create several page models. For larger and more page documents or PDF presentations, InDesign should be used.
The downside of utilizing InDesign is that the software has been built to new and improved formats. The InDesign toolkit is much more effective and easier in production and printing. Use Photoshop and Illustrator to create drawings like microwave chicken attempts. It can be completed, but it is much longer and harder. The only way is by using the right tool.
The use and features of Adobe software can be learned online with Blue Sky Graphics lessons in Newcastle-Upon-Tyne.
How InDesign course benefits
Use InDesign to develop print and multimedia products from newsletters to brochures, from multi-page outlets like newspapers, newspapers and books to single-page flyers. Growing such commodity may be in print or digital media. InDesign Training provides a way to learn the most efficient way to work within the application, shortcuts that can save time, along with processes and best practices to ensure the highest possible quality of your projects. InDesign Planning lets you improve the projects' productivity, raise the organization's image, and improve work opportunities.
What is the illustrator?
Illustrator is also vector based software following the same core principle as InDesign, which is designed by different design types. It is suitable for digital designs, signage and full-page models. Illustrator. It is also good to use to make your company logo very big because Illustrator and InDesign will not distort the image. Using Photoshop is safer when resizing images.
Illustrator is perfect to use when creating a sense of depth because it helps you create several layers. This also has better drawing capabilities than InDesign.
A minor drawback is that several pages or column numbers are not immediately enforced. This is usually not a concern unless you have a 30-page long paper and want to insert a new one after page 3 – otherwise you have to re-number the pages manually.
When entering the design field, make sure you learn how to use these courses effectively.
Training InDesign improves the quality of your work
Although other tools make it easy to produce brochures and flyers, InDesign is one of the only tools producing quality results. Increase advertising documents or magazines to qualify them. Training learners know how to create high-quality projects using correct artwork, photographs and software for InDesign. Learn how to create high-quality models using master sheets, templates, and colours to construct high-quality designs.
InDesign instruction brings value to a company or clients
Clients and employers value those who advance their skills and understand how stand-alone projects can help project quality recognition. Many of the InDesign study find partnering with experienced designers or pursuing creative research and external design ventures.
Improve future prospects with InDesign training
Freelance artists and advertisers who collaborate for other customers consider that InDesign preparation allows them to provide customers with additional resources and to produce higher-quality content. Impress clients by using regularly advertised and built resources that provide icons, images, text, tables and other graphics to help connect effectively. Larger subcontracting businesses often include the usage of InDesign, since it is the primary modelling platform for the larger organizations. InDesign preparation is offered through online courses in Newcastle-Upon-Tyne and anywhere in the UK. For those unable to travel to the classroom, live online InDesign classes are an option, as is private InDesign training. While preparing for InDesign is a fantastic place to start, using other Creative Cloud apps will help you develop projects after acquiring these skills.
UX-training benefits
Trying to understand customer interface brings a wide range of opportunities for both companies and individuals. Large enterprise, small company, programmers, engineers, project managers and industry analysts – UX curriculum supports both companies and everyone interested with creating applications or websites. Other UX training benefits include accelerated growth, better web and device architecture, increased productivity, and increased job opportunities.
UX allows quicker growth
Proper UX preparation contributes to fewer changes, allowing sprints to finish on schedule, and less time wasted analysing previous research. Analysing, designing software, building knowledge infrastructure and providing adequate paperwork contribute less time to project creation and faster completion.
UX makes stronger apps and websites
Apps and websites must meet business and customer needs. Without UX planning, sites and apps often lose the rationale. Testing and continuous development build improved user experience.
UX enhances profitability
Internal software creation initiatives are often at risk of being scrapped, whereas if they are to be pursued, external ventures need to satisfy customer requirements. The secret to meeting internal and external requirements is the successful use of customer interface tool. External-facing projects gain from UX creativity as consumers spend more and are more likely to engage with businesses with a well-presented and built product or system. They are more likely to become business advocates, supporting a customer based on their online performance. Similarly, internal activities are more likely to be accomplished and executed because effective UX scheduling enables projects to be done on time and on budget.
UX improves job chances
Personally, UX learning may also lead to consumer gains. If you are considering immersing yourself in a UX degree program, having UX training sessions with a live tutor, arranging private UX lessons with a team, or taking online UX courses. UX preparation improves your job by allowing you to leverage the ideas you are making, how they can achieve it, and how they affect your expertise's usefulness. Knowing the UX architecture process allows designing apps and websites simple, effective mind-set.
Why should graphic designers learn UX design?
Graphic designers should learn UX because it benefits their careers, provides opportunities for professional growth and expands their versatility while using the graphic design foundation they have built. Whether you want to expand beyond visual design or complete user experience transition, an experienced graphic designer has many skills that provide a solid foundation for user experience work.
How are UX Design and Graphic Design Unalike
Generally, graphic design focuses on information, typography, colour choices, and overall aesthetics. User experience design includes many of these areas, but also needs to address what the user wants to do, the type of device they can use, and the environment they interact with the app or website. In brief, graphic design is just one part of the UX cycle because the external appearance of the website does not signify its usefulness towards either the customer or the company who produced it.
How UX teaching lets designers migrate to UX
UX classes help take lessons learned in graphic design study and apply them in user experience to help solve challenges and achieve goals. Without learning UX, nice-looking websites and apps may be ineffective or difficult to use. Proper UX preparation lets designers consider web or device strategy, layout, and expectations before starting the graphic design process. This can take the form of individual UX workshops or a UX certificate program that provides a more comprehensive approach to learning user experience.

Types of Graphic Design Fields You Can Work After Studying from Blue Sky Graphics
Graphic design is used to solve challenges and express ideas through typography, animation, colour and shape. There is no way to do it, so there are many graphic design styles, each with its own specialty field.
Although they often overlap, each graphic design requires a specific set of skills and techniques. Some designers specialize in one type; others work on a range of connected styles. Nevertheless, as the market continues to evolve, designers must be adaptable and lifelong learners to change or incorporate specializations in their careers.
Whether you are an inspiring designer or looking for business design services, understanding eight types of graphic design will help you find the right job skills.
Visual graphic design
A brand is a partnership between a product and its market. Brand identity is how a person communicates his style, vocabulary, sense, emotions, feelings, and experiences. Visual identity graphic design is precisely this: visual elements of a brand identity that act as a brand face to communicate those intangible qualities through images, shapes, and colours.
Designers specialized in visual identity graphic develop partner with company owners to build tools including icons, typography, colour palettes and illustration collections reflecting a brand's personality. Besides traditional business cards and organizational stationary cards, designers also create a series of visual identity guidelines (style guides) outlining common practices and presenting examples of visual branding spread through various platforms. Such standards also maintain product integrity in potential implementation.
Visual identity design is a common design. To build concept features fit for all digital platforms, digital identity graphic designers will have basic awareness about all forms about graphic design. They will require outstanding coordination, analytical, innovative abilities and analysis zeal.
Marketing & graphics advertising
When people think of graphic design, they think of marketing and advertising designs.
Companies rely on successful marketing efforts to tap their target audience's decision-making process. Great marketing involves people based on desires, needs, awareness and product, service or brand satisfaction. As visual content is always more attractive, graphic design helps organizations to promote and communicate more effectively.
Communications consultants work with owners, executives, administrators or communications experts to build marketing campaign tools. They could work alone or as part of an in-house or creative team. Designers can specialize in particular media forms (e.g. car wraps or magazine ads) or produce a broad variety of print, streaming and other collateral. Although historically print-based, this design style has evolved to involve more digital properties, especially for web marketing and digital ads.
Marketing designers need excellent communication, problem-solving and timing skills. Besides being competent in a number of graphic design, layout and presentation applications, print and online production environments must also be familiar. Entry-level positions are a great way for new designers to learn processes and gain valuable skills and experience.
Computer device images
UI is the way a consumer interacts with a machine or software. UI architecture is the art of designing applications for faster access and user-friendly experience. You will benefit from our online graphic design course in Newcastle-Upon-Tyne after completing our online graphic design course.
The UI includes all the things that a user interacts with — screen, keyboard, and mouse — but the UI design focuses on the visual experience of the user and the design of graphic elements on-screen, such as buttons , menus, micro-interactions, and more. UI designer is responsible for combining aesthetic appeal with technological functionality.
UI designers specialize in desktop apps, mobile apps, web apps, games. They work closely with designers (determining how the app works) and UI developers (who write code to make the app work).
UI designers must be team leaders with deep graphic design skills and excellent knowledge of UI / UX basics, computer media, and site construction. Besides graphics applications, programming language awareness such as HTML, CSS and JavaScript is needed.
Publication images
Publications are long-form pieces communicating with the public via public distribution. They are traditionally a print tool. Publication production is a common product style — think books, newspapers, and catalogues. However, digital publishing has recently increased significantly.
Publication graphic designers work with editors and distributors to create formats of specific typography and related artwork, including images, animations and illustrations. Publication designers may operate as freelancers, as creative team representatives, or with a publishing company in-house.
Publication designers require outstanding coordination, architecture and organizational skills. Besides their graphic design skills, they need to grasp colour processing, printing and interactive publication.
Packaging images
Most products require some form of packaging for storage, distribution and sale. However, packaging design can also communicate directly to consumers, making it a valuable marketing tool. Every box, bottle, bag, can, container, or canister is a chance to tell a brand's story.
Packaging designers create concepts, develop mock-ups and create product files ready-to-print. This includes professional printing process expertise and good understanding of industrial design and manufacturing. Since packaging design involves so many areas, designers do not find themselves producing certain materials for a company, such as art, graphics, and visual identification.
Packaging suppliers may be jack-of-all-trades or specialize in a specific packaging medium (such as labels or cans) or in a particular industry (such as food or children's toys). Besides strong working awareness in print and web design, their study requires top-notch theoretical and problem-solving skills. They will be versatile to satisfy consumer, marketer and distributor requirements and be informed of current trends.
Motion graphics
Motion graphics are simply moving graphics. This can involve animation, sound, typography, illustration, video, and other effects found in electronic media, TV, and film. In recent years, media power has risen as technology has progressed and digital advertising has dominated.
"Motion graphics designer" is new for designers. Formally designed for television and video, technological developments have reduced transmission time and costs, making media accessible and inexpensive. Motion graphics is also one of the newest application styles, which can be used in all interactive media, generating new fields which possibilities of all kinds. Motion graphic designers begin by designing storyboards and then recreate their creations through animation, film and traditional art. Good communication, coding and 3D modelling knowledge can be classified properties depending on business.
Environmental graphics design
Environmental graphic design visually links people to places by making spaces more memorable, interesting, informative or easier to navigate. Environmental architecture is a wide-ranging practice, and here are examples:
Wayfinding is a specific type of environmental graphic design consisting of strategic signs, landmarks, and visual signs that help people identify where they are and where they need to go to get there without confusion.
Environmental graphic design is a multidisciplinary discipline involving visual, architecture, outdoor, landscape and industrial design. Designers are partnering with professionals in each area to prepare and execute their projects. Consequently, artists seem to have both web design and architecture expertise and practice. We would learn urban planning concepts and be able to view and construct architectural designs.
Environmental graphic design has historically produced static pictures; however interactive virtual displays continue to gain popularity as a way to offer more engaging experience.
Graphic art and illustration
Graphic art and illustration are sometimes deemed the same as graphic design, but each is different. Designers develop designs to interact and overcome challenges, visual designers and illustrators create unique artworks. Their work has many aspects, from fine art to lighting to storytelling.
While graphic art and illustration are not actually graphic design styles, so much is produced for consumer usage within the graphic design framework that you cannot think about one without the other.
Graphic designers use every combination of techniques and approaches to collaborate with writers, editors, managers, marketers and creative directors in all graphic design forms. They are often founded on fine arts, animation, or architecture. Overlapping skills and applications enable graphic designers to be found working as graphic artists and illustrators (and vice versa).
Use the right graphic design for the job
Graphic design is a growing field, with increasing demand for specialized and skilled designers. If you are looking for the right person to do a design job, knowing the different graphic design types will help you identify the specialist you need.
Exploring Graphic Designer Jobs
Graphic designer's work is a great way to raise more income through your creative skills. Many people in this career have the freedom to plan their own hours to suit the lifestyle they want. If you want this profession as a freelance job, you will expend substantial time promoting your services. Online graphic design courses at Blue Sky Graphics in Newcastle-Upon-Tyne, you will learn this factor in great detail.
Web designers are generally hired to design corporate images. Businesses need a unique, recognizable logo when starting to associate with their product. As a graphic designer, you can use yourself to create the emblem and collaborate with the client before the final picture is determined.
Besides logo design, graphic designers also produce images for ads, business cards, brochures and other marketing items. As a freelancer, you will be hired on a particular task and charged a fixed fee. You can be employed if the boss likes working with you.
The reason that certain people favour operating as independent web designers as opposed to in-house web designers is because it provides greater versatility. When working for your kids, you can have more time at home. Some citizens also plan to work in-house and self-employed roles to earn extra money on hand.
You should plan to collaborate alongside the company's graphic designers, coordinators and marketing managers if you take a position as a web designer. Since most of your jobs have to do with logo design and store front ads, you may end up with more unique work. Some of the unusual designs involved book covers, furniture, CD covers and DVD covers.
Entry web design work
After completing these courses and earning a Bachelor's degree in one or more of these fields, a student would then be eligible to work as an assistant in that particular department or a position requiring technical skills only. After working as one of these things, a serious pursuer could then complete a 2-year or 3-year program to learn more about technical requirements. As a self-employed person, you can choose to work alone and choose your clients. Some people stop working with others and switch to freelance because it takes time to reveal a portfolio of work.
Work your way up
Most entrants or previous self-employed will need about 3 years of work experience before moving to higher positions. Some designers choose to leave schools and universities to teach graphic design. If a designer wish to continue in this artistic area, he may become Chief Artist, Technical or Art Director or Supervisor. Opening your own company helps you avoid seeking graphic design job openings, or you can choose to specialize in just one area. Do not expect entry-level graphic design jobs to start at the top. Be ready to take up tiny positions and strive to rising the assets. If you have a portfolio with a range of job illustrations, you can convince people why you should start increasing your salary or make entrepreneurial plans.