Graphic Design Courses  Doncaster
Graphic design is the science of colours and patterns that can convey meaning in subconscious minds, and trigger captivating memories.
Graphic designers produce designs that encourage, warn and attract users, using computer software or by hand. They develop the general design and manufacture with various applications; ads, pamphlets, magazines, and company papers.
Why Study Graphic Design?
When you're dreaming about transforming professions as a graphic designer then let me tell you – there's never been a better time for you. The world is your oyster if you know how to express ideas which inspire, educate or engage people.
Here are just a few reasons why you might consider becoming a graphic designer!
High in Demand with Exciting Job Opportunities
Let's get analytical and talk about the UK, Europe, and North America markets relative to pricing, real demand, and supply. Media and graphic design firms develop digital templates by using programming software to communicate their ideas, brand images to their audience and captivate their clients. Many businesses need a graphic designer so that by enrolling in Blue Sky Graphics you can easily become a designer and learn through a comprehensive training course.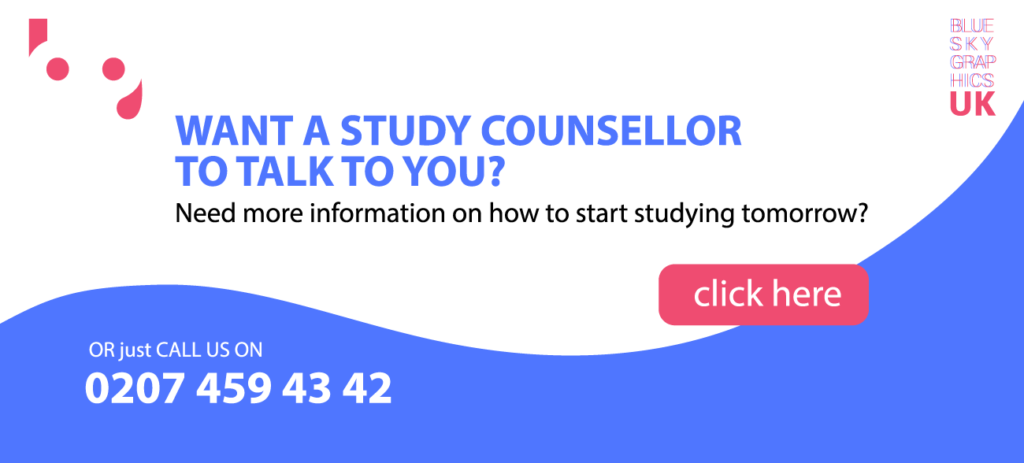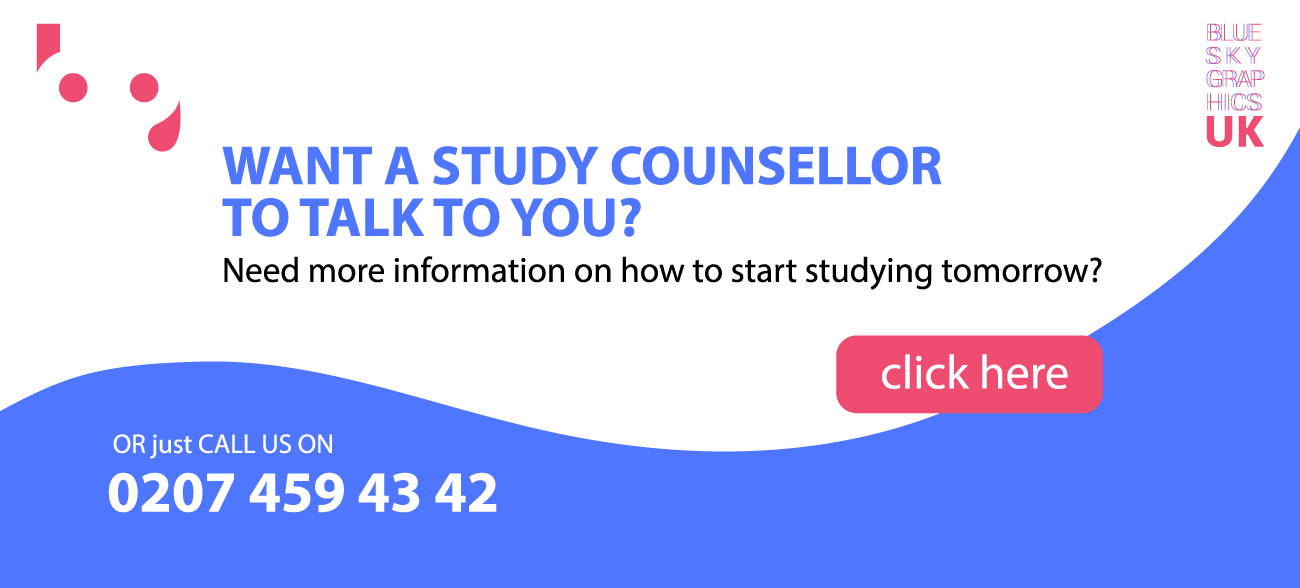 Graphic designers, particularly those with digital competencies, are often in demand. With companies such as Apple, Google, Specsavers and NSPCC all investing in their own talents and innovative firms are actively looking out for fresh young talent; the number of in-house designer roles has grown significantly over the past year.
Training in visual communication opens the door to a wide variety of professions including Graphic Designer, Art Worker, UI/UX Designer, Information Architect, Mobile Designer, Brand Identity Developer, Packaging Designer, Broadcast Designer, Illustrator, Production Artist, Motion Graphics Designer, Web Designer and Creative Director.
Great Source of Income
With the growth of web and mobile networks the demand is now unprecedented for digital project focused employment. The average salary of up to five years of UK experience for a User Interface Designer is around £29,117 compared to that of a Print Graphic Designer with the same amount of experience, at £22,599. More than 50 percent of UK web designers, however, have fewer than 5 years of experience, meaning students have enormous opportunities to make an early mark on their careers.
It's Easier to Become a Graphic Designer Now
Technology is less costly, and more accessible. The Internet has a wealth of creativity and constant learning to offer. You will get reviews from others in a moment. There has never been a better time for the self-design. If this is what you want to do you can also start your own side business and sell your greeting cards.
When you are a graphic artist, you will find your newly learned talents translating into many other areas of your life. If you have an eye for the structure, order, grids and curves, you can get creative.
Different from Other Professions
The world is truly a dark place right now. But something is still there to smile about. Graphic design allows us to enjoy our surroundings every day, to dream creatively and to enjoy the most wonderful things that life has to offer.
It's a perfect profession, one which doesn't even feel like a work. Thinking up colour palettes to find a solution to the next major question, choosing the right font to cheerfully agonize over the best-weighted file-graphic design is a wonderful thing.
Our Course on Graphic Design
During the one-to-one online course, you will be exposed to: advertisements, magazines, newspapers, corporate graphic designs that are specific to corporate cultures and branding, stationery, letterheads, business cards, badges, books, packaging etc.
The graphic design course helps you understand and know how to work in Adobe's fascinating but labyrinthine software world. Using this app, we explore the use of terms, shapes, textures, shapes, sizes and colours to interact in order to construct a new design by combining ideas and images.
What Makes A Good Portfolio?
A portfolio is a collection of all your work and the first thing that clients and employers actually look that. It is important to show the full extent of your work while choosing the strongest project. The first thing to do is to arrange your work in a manner that builds up a strong and convincing Graphic Designer case for you. Your portfolio should provide an organised visual framework for all the projects to make an impact on the client, available in both print form and online. Usage of tags to sort specific client assignments can be useful and helps potential clients to identify appropriate work samples they are searching for. Make sure that you begin by selecting the purpose of your portfolio as well as your target audience.
Adobe Software
Adobe Creative Cloud is necessary to learn and understand, as it contains most of the resources needed in digital media by an illustrator, painter, web designer or film director.
All your design projects start with Adobe Photoshop – posters, labels and blogs. Combine the pictures and text to construct new objects altogether. The new Lens Blur algorithm in Photoshop software uses your device's graphics card (GPU) to produce blurred edges of objects in front of the focal plane, a more realistic bokeh look, precise colour handling for CMYK and LAB colour modes, and more vivid specular highlights in your images. At Blue Sky Graphics you will learn how to run all of this!
Job Opportunities
VFX Artist
The VFX artists are creating photo-real, digitally generated images. The job demands that these effects be seamlessly incorporated into live action in feature films, television, and, increasingly, online and console gaming. You have to get the audience to believe that what they see is true. It could be a dragon, a fairy tale castle, a rainstorm, a big wave, spaceships, superheroes, alien cities, or entire planets.
Advertising Art Director
You will be creating ground breaking ideas for the graphic elements of advertising campaigns in all sorts of media as an advertising art director. As an advertising art director, you will need to work closely with the copywriter to produce new ideas and concepts to fulfil the brief of the client: work on the campaign from the start, handle customer information, product, target audience and necessary promotional message.