Graphic Design Courses in Milton Keynes
Graphic Design, Web Design and UX Design are the three main courses offered at Blue Sky Graphics. Such courses suit students of all types-be it a beginner or someone with previous design experience.
The course in graphic design is systematic and seeks to train learners through their instructional methodology to become professional graphic designers. This course teaches you how to operate Adobe Software, as well as emphasising some other elements such as designing logos and designing advertisements that help to create a creative design.
The course on web design is about discovering how to build your own website or update an already developed one. It also exposes you to the philosophy of colour and design layout, utilizing Photoshop and WordPress.
UX-UI design course is about designing a user friendly website, which means making something that the audience would easily understand.
What is the Online One-to-One Class System?
Learning graphic design from home (one-to-one lectures or engaging courses online), the office, the place of a friend, the restaurant, or anywhere you might be are only a few reasons why learning online is not just practical and convenient, but also very economical. Not only will students participate from anywhere in the world, but they will be provided with the professional tutors through one-to-one interactive classroom. Blue Sky Graphics has been going for over 10 years and our proven platform works great!
Graphics Design Course
Visual contact is a complex practice that is continuously reformulating and integrating a broad variety of technical approaches for interacting with viewers. The course introduces you to a range of workable styles, techniques, and tactics.
The training spans more than 9 months, which involves:
Photoshop x 14 classes (90 minutes each class)
Illustrator x 16 classes (90 minutes each class)
InDesign x 6 classes (90 minutes each class)
You can gain a variety of technical skills and be inspired to explore innovative approaches, combining emerging technology and testing traditional methods to achieve ground-breaking outcomes. During the course you will be developing your own portfolio too!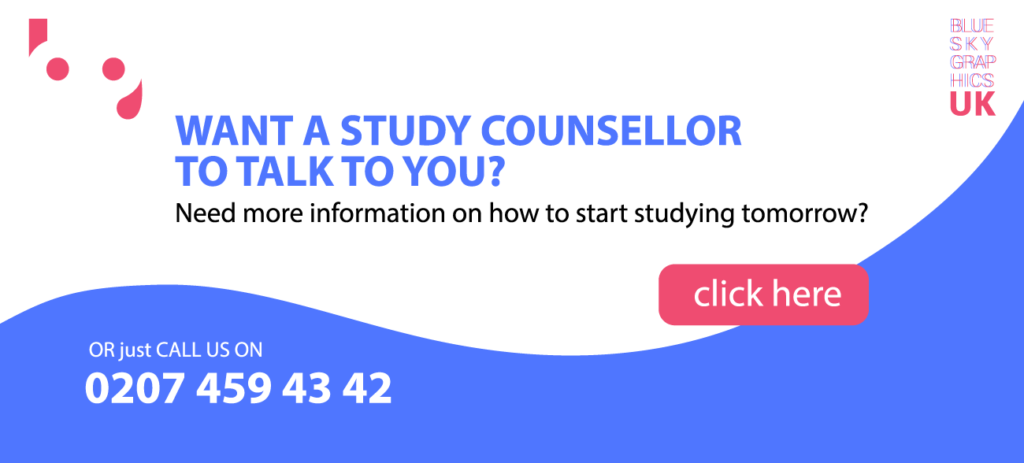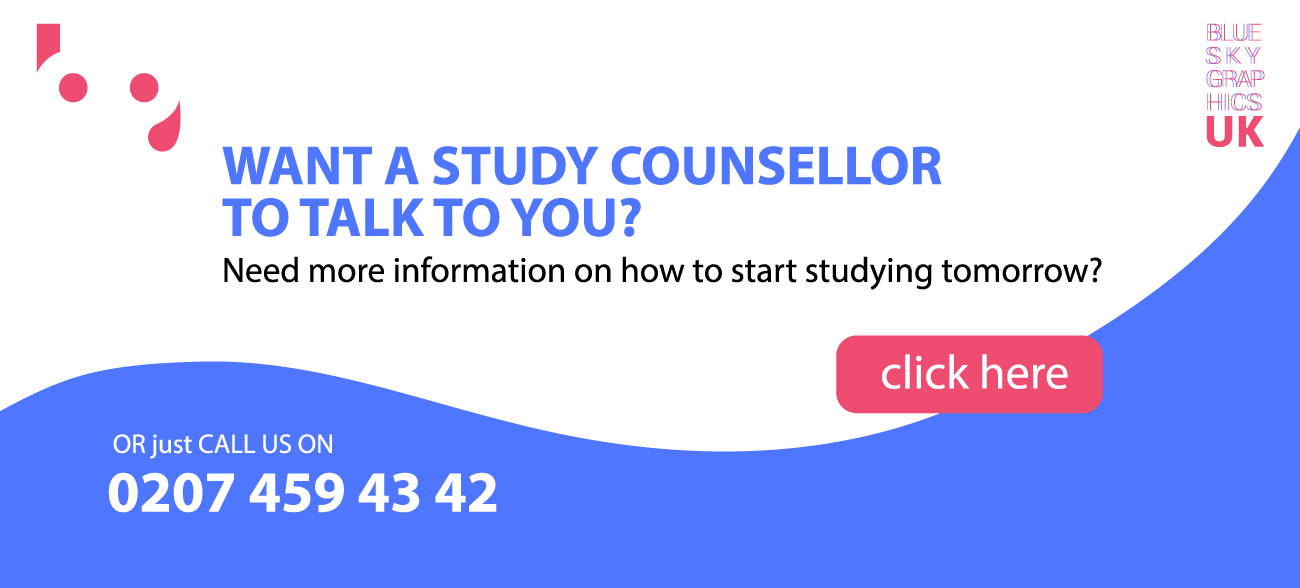 Why Study Graphic Design?
Many artists step more and more into the world of graphic design, for it's easier to survive as a graphics designer than in areas such as the fine arts. Luckily, there is nothing that you can't achieve here at Blue Sky Graphics. It all just starts with studying a course online and creating a portfolio.
Media and graphic design companies develop visual concepts through software used to convey ideas, brand imagery and captivate their audience.
Designers are important because if a company does marketing (and most of them do it!) then someone needs to design these trendy marketing materials. As businesses continue to expand and start up and appear, graphic designers will always have a lot of work. The production and development of graphics is also available for various print and digital media, such as posters, advertisements, leaflets, journals and business papers.
Most businesses need a graphic designer and it is easy to become a designer as you can register with Blue Sky Graphics and learn a comprehensive course.
List of best graphic design software
Software used for graphic design includes PhotoShop, GIMP, Illustrator, Inkscape, CorelDraw, Adobe InDesign, Serif Drawplus, Xara Xtreme, Coral Paintshop, Coral PhotoImpact.
Adobe InDesign is suitable for applications in layout design, such as those used in online magazines. Whether you want to build templates for printed books, brochures or digital magazines, Adobe InDesign is the tool you need.
Photoshop is also considered among the best graphic design software for beginners. With Photoshop, you can easily combine multiple pictures, and even remove unwanted objects from the frame. It provides basic features, including perspective shift, mixing channels, and clone stamping tools. Photoshop runs on Windows and Mac.
Importance of learning these software:
As a graphic designer, it's important to know which graphic design software tool to use. It's not easy to pick the correct one out with so many apps available on the market, but the ones above will help.
For everyone, the path to a successful career looks different. After some consideration, you start to realise that a career in graphic design may be the right course for you. One can earn as a freelancer, work in a business, and earn a hefty amount. Designers spending time freelancing are likely to learn valuable communication skills, attract customers and manage time and budgets.
Training in Adobe Software
As it is widely called, Adobe Creative Cloud or Adobe CC is a bit like the metaphorical grandfather of a typical family with core competencies, experience and history of the graphic design industry.
Adobe Creative Cloud is the latest edition (2020) and is defined as a collection of consumer services and computer applications that allow users who normally pay for the use of advanced software for design, web design and development purposes, photography manipulation and video editing to access an advanced software package.
The software includes:
Photoshop, used for image reading, manipulation and photo retouching.
Illustrator, used for vectors graphic and designing Illustration.
InDesign, Used for print and desktop publishing.
Making Money as a Freelancer
If you're operating at some company, graphic design classes at a university are difficult to follow. That's where online classes are useful! You will take courses and work as a freelancer, based on your lifestyle and flexibility. Such classes deal with the field of graphic design, including architecture, key features and principles that give students an understanding of what makes a good design. Adobe Photoshop needs to be known to start to show you your skills. By learning these high yield programs, you can become a freelancer to support yourself financially with ease.
How to Earn Money Online?
It has become easy to gain money as with the rise of online courses. You must learn the necessary skills to become a skilled graphic designer and then build your own website to share your whole artistic work and projects. It is also a good idea to have a presence in the social media, because it lets you reach a wider audience. Build your own resume with a list of your whole job and you can sell your jobs to companies or actually hire you using certain business development skills. Learn the skill of graphic design with Blue Sky Graphics and implement them on freelance platforms to make it big!