Graphic Design Courses Rotherham
If you are looking for the best graphic design platform to learn then Blue Sky Graphics is the one for you. We offer three main courses; course in Graphics Design, Web Design and UX UI Design. It helps you learn all the skills you need to become a professional graphic designer.
This is appropriate for students in all levels, meaning newcomers as well as people with any graphic design expertise in hand. The fundamentals of Blue Sky Graphics are the 3P's which signify passion, professionalism and proficiency.
Is Online Learning Reliable?
Many people have little confidence in the quality of online education, but it might actually help more than just a regular lecture in a real classroom. We have introduced a one-to-one class program that gives you a deeper understanding of the lecture where you get the professor's individual attention. It can also be beneficial for students who are afraid to speak up in a room full of people and hence, avoid asking questions – leaving them in a state of confusion. With our teaching approach you will have the freedom to clear all your queries without any hesitation. Our tutors are extremely talented and hardworking, each one specialised in field of graphic design so there is no need to worry about online learning!
Also, the online class standard is not an issue, since classes start at 7.30 a.m. every day and last till 10:30 pm. You can then study or work, and participate in the class whenever you want.
Why Learn Graphic Design?
No matter where we go, the power and influence of graphic design can be seen. It can create its impact just by looking at it in a magazine, newspaper or billboard. This growth and progress has transformed this business into an interesting job opportunity for many people around the world.
Companies investing in quality graphic design are more confident.
Any company can make or break appearance and perception. People are searching for professional signs to ensure they can trust you.
It's important to know that you can separate your business from its rivals through graphic design. Effective layout is remarkable and can affect the tastes of decision-makers. The ability of the company to dramatically increase its demand for large customers is considerably enhanced by improved graphics performance.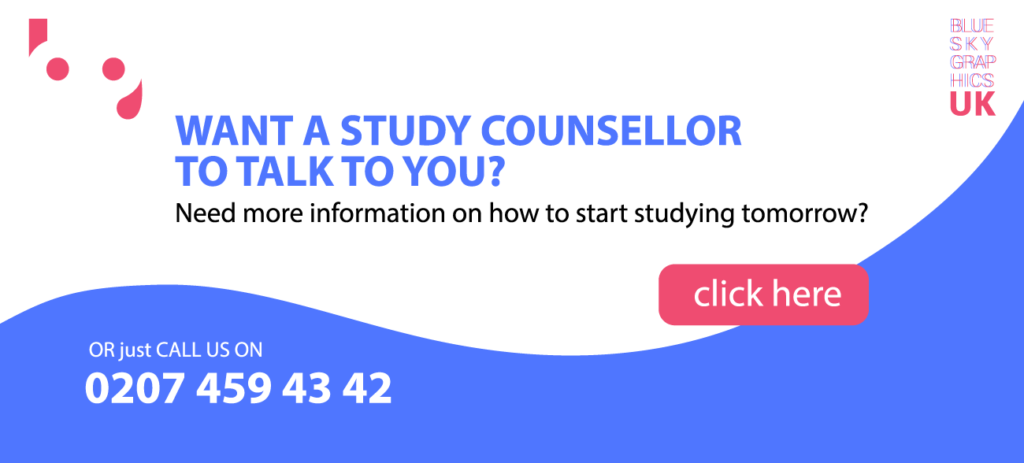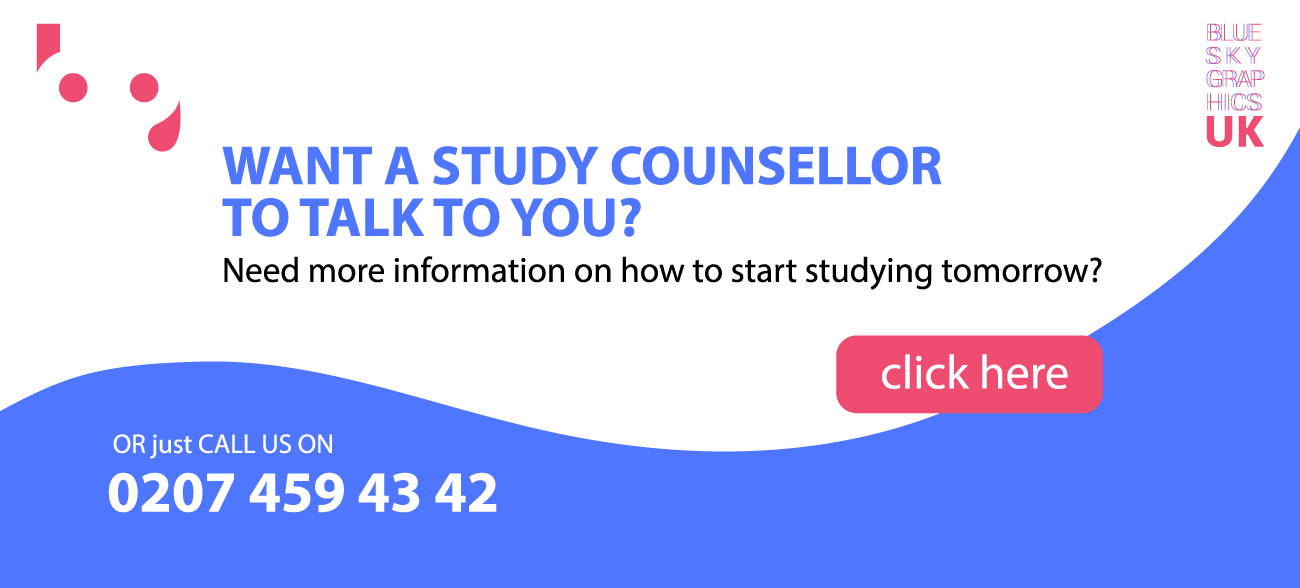 Our Teaching Strategy
The online course focuses on both theoretical and practical aspects. The objective of the course is to improve the understanding of concepts and practices across trainees. The practical part will focus on software design, such as Illustrator, InDesign and Adobe Photoshop. The tutor basically takes over your mouse on your computer to show you how to operate this software so you can learn better and faster.
Using the basic architectural concepts and modelling tools such as Adobe Illustrator and Adobe Photoshop, you will then be able to present your designs after a training course.
Course Syllabus
The courses at Blue Sky Graphics includes
1. Graphic Design Courses – 9 months
2. Web design and Development course – 8 months
3. UX-UI Adobe design course – 8 months
This course on graphic design teaches you to run Adobe Software and highlights other aspects, such as the creation of logos and advertising which contribute to creating a unique design.
The web design lesson is about designing or upgrading your own website using Photoshop and WordPress.
UX-UI programming course includes the construction of a user-friendly website, so that the public can understand it easily.
Job Outlook for Graphic Designers
If you choose to work in graphic design, you can work in a couple of different settings.
1. Consultation with companies in the industry, such as product consultants or branding services (graphic design agency)
2. Function with any company (in-house graphic designer)
3. Work on your own remotely (freelance graphic designer)
Graphic design is becoming increasingly relevant to the marketing and sales of both companies and products. However, graphic designers tend to work with public relations and marketing professionals to consider how the intended ideas can be conveyed.
Whether you work with contractors or set up a workshop, you will open your doors to a variety of creative careers with a degree in graphic design. The creative director, the animator, the visual artist, the illustrator and they are directly related to graphic design activities. Some designers set up their own studios and work as artists or as members of the collective studio.
You can be part of an advertising design team that includes the identity and branding of events or corporate communication. You can also act as a writer. Most publishers use their talents to develop, manufacture and sell books and build digital and electronic product design, newsletters, journals and newspapers.
Graphic designers are also used to create positive representations of organizations, individuals and goods, as well as to provide creative solutions to generate sales or increase business interest.
Some Facts About Us
To sum up, here are some facts you should know about us before signing up!
• The classes are delivered in a customized setting, not in a traditional classroom. It's a one-to – one class system where you can learn more while getting all the assistance you need.
• Classes are also available on weekdays and weekends, with flexible hours as well!
• The basic apps you need to use include Photoshop, Illustrator and InDesign.
Career for graphic designers:
Graphic designers are asked to format websites and create different visual images for website owners to convince people to buy our products and services. There are several things you can do from your own home for creative projects. If they decide to do so, graphic artists can either begin on a project-based scale or increase the volume of work. No doubt, the field is becoming popular and the demand for graphic designers is at its peak.
Making Money as a Freelancer
If you're operating at some company, graphic design classes at a university are difficult to follow. That's where online classes are useful! You will take courses and work as a freelancer, based on your lifestyle and flexibility. Such classes deal with the field of graphic design, including architecture, key features and principles that give students an understanding of what makes a good design. Adobe Photoshop needs to be known to start to show you your skills. By learning these high yield programs, you can become a freelancer to support yourself financially with ease.