Graphic Design Short Course – Guide to Become a Competitive Graphic Designer
Are you impressed by the visual world? Are you drawn to logos, diagrams, comics, and ads? You may be on the way to becoming a graphic designer. Graphic artists discover creative ways to creatively express concepts, using various formats from digital art, photography, and illustration. As a professional graphic designer, you can explore web design, product creation, or advertising, using a broad range of creative skills and perspectives to construct your vision.
Developing your creative vision requires a critical study of both your work and the work of others. You will share your work, gain reviews, and master the art of criticising others. While learning graphic design, you can understand how new ideas have evolved and grown. The innovations and innovations of professional graphic designers will help you see where the world of graphic design is now-and where you can take it.
If you want to work as a talented specialist in a field you enjoy, then the Blue Sky Graphics graphic design course is for you. Study design theory, colour theory, digital art and social technology, web design, typography, project management, and creative problem-solving when planning advertising materials to support yourself and other companies.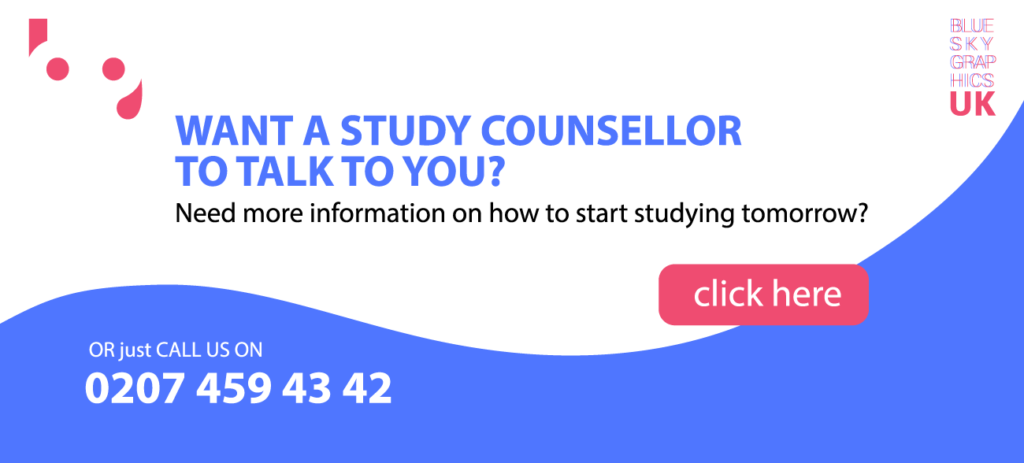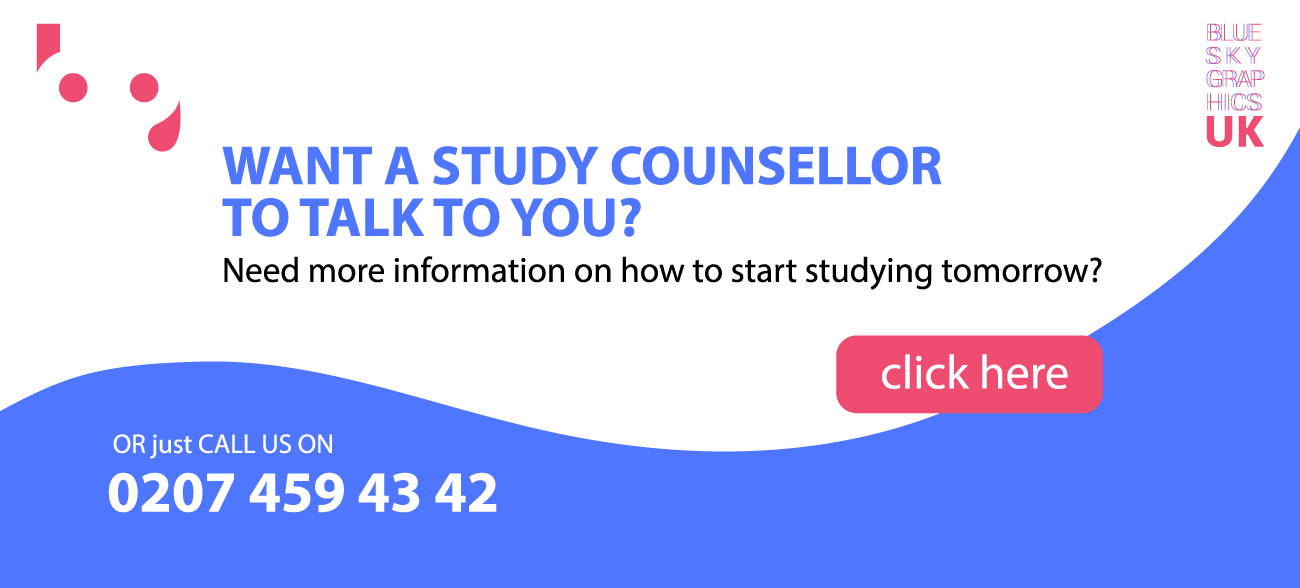 Our one-to-one graphic design course provides an innovative learning experience that incorporates many subjects and offers you the ability to specialise in the chosen area—using applications such as Photoshop, Illustrator, InDesign, and Adobe XD. Strategically place yourself in the area of communication design, internet, interactive media creation, illustration, and many other artistic areas.
Present and Future of Graphic Design
Graphic design has been around since shopkeepers began to hang signs to sell their wares. In the 1700s, artisans were confronted by traders willing to make their goods and services visible to a predominantly illiterate community. Graphic design will become much more relevant as computing technology becomes readily available. More businesses understand that a definitive, recognisable logo and product design will make a big difference in product sales. Employment prospects are expected to expand over the next two years, with still more seasonal vacancies for ventures such as holiday window displays and niche sales activities. More than one-third of all graphic designers are self-employed. This number is projected to grow over the coming years.
The Day in the Life of a Graphic Designer
Graphic artists create graphic displays and designs of products, including blogs, detergent boxes, album covers, and dog food containers. Typically, their job is performed on a project basis.
Designers must operate under severe time limitations and very defined financial and design restrictions to deliver quality content. The graphic designer must be able to synthesise input from many different sources to a distinctive image; use analysis prepared by the marketing department and cost requirements determined by the budgeting department, and create a range of drawings and models that illustrate different approaches to the product. This takes a person who can listen to feedback and has a keen eye for aesthetic design, a flair for colour, and a deep awareness of the business world's needs.
Graphic design is not a single work but at least twenty different tasks put together. Sales [person] skills are relevant if you want the projects to be approved. Over time, selecting a specialisation is the name of the game, including the design of the website, the design of the product or packaging, the use of the content, or the item's layout.
While projects are on-going, graphic designers should expect long hours of brainstorming work and sessions with executives to share proposals. The work is highly visible; both achievements and mistakes are noticed and shown.
Individuals who are confused about their skills or ideas have a hard time embracing the risk that this career requires and refusing it. A good graphic designer has an enviable life, prefers customers, and receives vast sums of money. People who are reluctant or unable to adapt might find promising jobs deteriorating.
Graphic designers must have the skill and knowledge of the business world, particularly financing and manufacturing problems. They must be familiar with computer applications such as InDesign, Photoshop, Adobe Illustrator, and other painting and graphic design methods.
Graphic designers must work in a range of media and follow time limits, size limits, and financial limitations, particularly for designers who choose to work as professional graphic designers rather than in-house salaried designers. Basic pre-professional work can involve design, drawing, machine artwork, and relevant expertise (e.g., anatomy for medical graphic designers) of any specialty field. Professionals must build up a working portfolio to target businesses with work of any sort.
Unproven graphic designers are walking a tough path as they attempt to create portfolios, fight for small work, and develop their reputations. Those designers with strong contacts have a better time having a foot in the house. Still, a lack of experience with normal operating conditions and standard protocol will also make the beginning rough. Hours can be long and unrewarding; be prepared to tolerate severe rejection.
Job Description
Graphic design is a flexible—profound knowledge of branding and marketing strategies. Graphic artists have serious talents that are high in demand. Here's a look at the job description and compensation benchmarks of the graphic designer.
Employment openings in advertisements and promotions are rising. As corporations are battling to retain brand supremacy, creative firms and in-house teams are pursuing additional projects, all of which aim to expand the envelope.
Hiring administrators are expanding their hiring programmes to accommodate these higher workloads. As such, graphic designers, especially those with web and mobile technology expertise, are in high demand.
According to The Artistic Community 2020 Pay Guide, the midpoint starting salary for graphic designers is £56,750, while the upper end of starting salaries is £89,000. Bear in mind that the level of experience and position of an applicant will affect starting pay.
Professional experience and professional knowledge
Graphic designer job descriptions also indicate that expertise is respected more than qualifications. While it is nice to know design philosophy, you will not get a job if you do not implement your ideas. The killer portfolio is your sleeve ace.
Your portfolio should prove that you can carry out a range of design ventures, such as posters, blogs, signs, branding, direct mail, and more. You are going to need a good command of Adobe Creative Software, deemed the gold standard in design software.
Graphic designers require imagination and a good sense of conceptual growth, as well as problem-solving, analysis, and presentation skills. Soft skills are also really important. Strong verbal and written communication skills are important for communicating efficiently with colleagues and clients. Flexibility and team bonding capabilities are also important.
Media and marketing teams want graphic designers who know the ups and downs of customer relationships and who can adapt to the often mercurial requests they make.
Advantages of Adobe Photoshop for Graphic Designers
Photoshop is a massive graphic design software package developed by the company Adobe. It allows a beginner photographer to touch up recent images and seasoned graphic design experts to create advertising, logos, and ads. Via a wide variety of filters, software, and palettes, Photoshop provides advantages to users of all experience levels.
Touch-ups
Photoshop provides the advantage of cleaning up images that may otherwise be destroyed by an errant speck of dust, an unexpected person or entity in the background visitor, or a subject's clothing stain. Tools such as the "Clone" programme tool can be used to duplicate the corresponding area of the same image and position it above the undesirable area, making a smooth image. For example, using a cloning method, the ideal picture of a bright sky with an unwelcome bird in the shot can be edited to delete the bird from the scene without the audience seeing any discoloration or missed spots.
Colour Changes
Photoshop offers perhaps the simplest consumer the ability to build a colour palette with possibilities. Using some of Photoshop's range and colour enhancing software, a user can easily adjust the colour of a model's eyes, change the colour of a sweatshirt to include it in a catalogue, or apply a tie-dye pattern to a scarf. Photoshop also allows for cosmetic improvements, such as changing the colour of a picture to black and white or sepia.
Another choice is to incorporate spot colour, such as where a black-and-white picture features one or a few individual spots with vibrant colours, drawing attention to things like a tree, a balloon, or a shoe.
Layers
Photoshop is one of the few graphics software applications to allow users to operate in layers. Layers are a way to stack drawings, then delete or hide them to see how the work looks like. For example, in a free graphics application like Microsoft Paint, if you draw a line on an image, it gets flattened on top of it, and you cannot shift it or add to it. In Photoshop, you can apply a layer to your photograph, draw on it, and then make any necessary adjustments. The layers are like a flipbook. Imagine the photo as the last page in the flipbook. Each page of the flipbook puts something at the top of the image, and each page may be omitted or further crafted to improve the image.
Our graphic design course at BSG will teach you how to adapt this industry standard to all sorts of image-related work. It allows all print and web images to be created and edited. Photoshop itself allows the full user control of all sorts of image processing, editing, and special effects and can be used for precise image calibration for all production processes. Driven by a highly accomplished graphic designer, our hands-on course ensures that you are left with realistic experience as well as helpful tips and tricks.
UX Design
UX designers are designing the "form" of digital or physical items. This manifests itself on websites and smartphone applications as the platform design and page templates (a.k.a. where things are located and how things are arranged). In other words, they make sure that the shape of the substance helps you achieve your targets.
UX programmers take on a range of positions in the project, meaning that the day to day shifts at the point of the project you are working on.
You can start screening new users for your next usability test in the morning or type the script for your next remote user testing. You might reconsider wireframes on the grounds of technological constraints or input that has just been evaluated from a consumer test.
If you work with a smaller team, you can carry on a wider variety of duties, such as assisting with information architecture or project management and collaborating with production teams.
UI Design
UI models take care of the look and sound of digital interfaces. This is often referred to as the "skin" of an application because it is what most people think about as they think about software architecture.
A UI designer can do things like selecting colour palettes on any given day, designing icons, buttons, and toggles, selecting shapes and images; and applying or deciding brand guidelines. UI designers also tend to create high-fidelity mock-ups and interactive prototypes.
UI programmers are normally interested after any UX work has been done. You are likely to launch a design study project to work out how to adapt current brand guidelines to a new interface.
You are going to make assumptions on everything from picking the right typeface to designing button styles—and you are definitely going to have to persuade people about your choices.
As a UI designer, you will need to consider the responsive design and make choices about how changes and interaction work. If your projects advance, you are likely to collaborate with UX designers to validate your work before it starts to evolve.
But UX and UI architecture are closely connected, so how can we ensure that the look does not overwhelm the function? The response is simple: UX and UI designers ask users for their feedback.