Graphic Design Courses Learning in Sheffield
Not many people realise how important graphic design is and how it influences our daily lives. Any ad we see is the work of a visual designer. Much work is required to consider graphic design and research. The graphic design program of a university is overwhelming if you're either learning or employed in a company.
Fortunately, we here at Blue Sky Graphics deliver professional graphic design courses with a one-to -one learning plan at home's comfort. Find out more about the courses below!
Why Choose Us?
Graphic design is a talent and requires extensive imagination art. For many people around the globe, it's a passion. Taking one-to-one courses in graphic design is your best bet in achieving your goal in becoming a graphic designer.
We teach students in a one to one class system where you may learn without any hesitation. Blue Sky Graphics will provide its students with industry-level illustration design, 3D animations, business logos, and much more. They aim to provide the graphic market with the skilful designers, and the success ratio is quite remarkable.
Graphic Design in our Day-to-Day Life:
Companies investing in high-quality graphic design are more optimistic. Any company can make or break appearances. People are looking for signs of professionalism to assure them that you can be trusted. One such sign is the way that you present yourself in the best possible way to do that is by investing in quality graphic design.
Design Courses at Blue Sky Graphics
The three primary programs delivered at Blue Sky Graphics include Graphics Design, Web Design and UX Design. Such classes are built for all sorts of students — whether they are amateurs or those with prior programming experience.
The Graphics Design course is extensive, with the goal of preparing learners to become qualified graphic designers through their instructional method. This course will show you how to use Adobe Systems and illustrate several other items, such as designing logos and ads that can create an innovative brand.
The web design course is on how to build your own website or redesign one that already exists. It often introduces you to the application of colour theory and architecture in Photoshop and WordPress.
The UX-UI creation course consists of developing a user-friendly program that helps the public to grasp it easily.
Course Syllabus
The courses at Blue Sky Graphics includes
1. Graphic Design Courses – 9 months
2. Web design and Development course – 8 months
3. UX-UI Adobe design course – 8 months
This course on graphics design shows you how to operate Adobe Photoshop and discusses certain things, such as designing logos and ads that lead to producing a distinctive design.
The web design tutorial is about creating or modifying your own website using Photoshop and WordPress.
The UX-UI development course involves the creation of a user-friendly website so that the public can readily access it.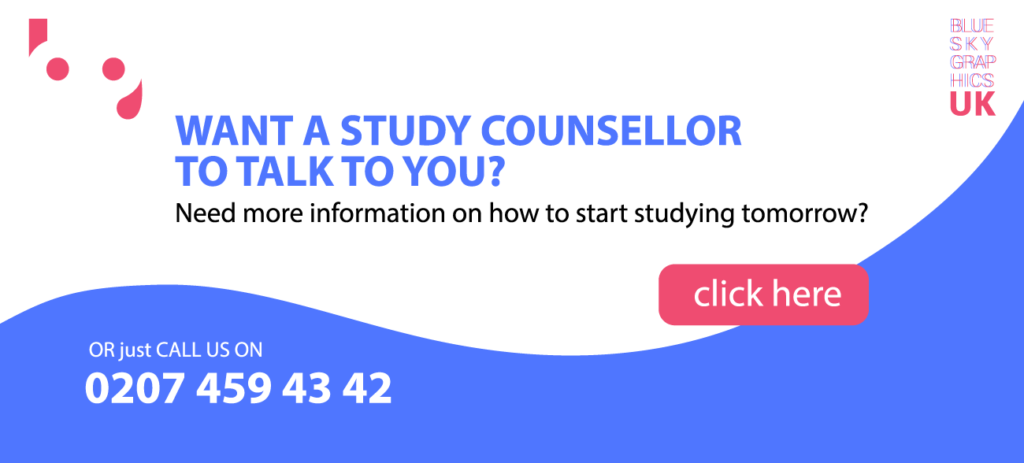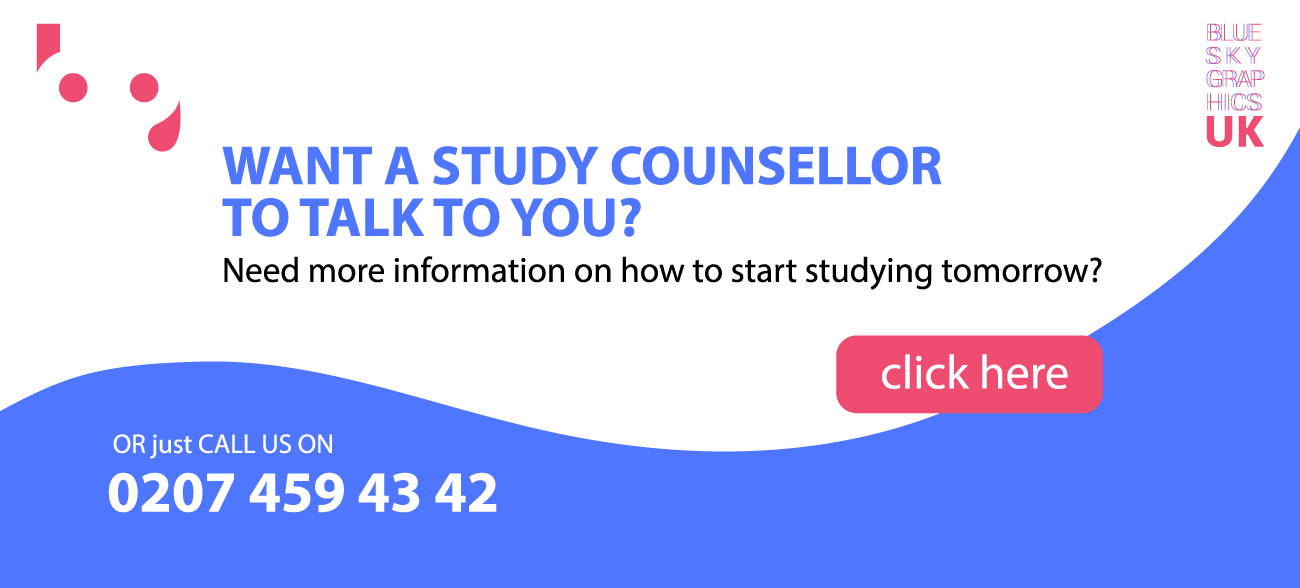 What Role Can You Play as a Graphic Designer?
Graphic artists will operate for themselves, from self-employed to corporate collaborations. You can start your private label by taking online courses with your knowledge and mastered concepts.
Through getting trained in this area, you can be a web developer, a designer, a senior site analyst.
Graphic designers are required to develop websites and create multiple graphic representations for site owners to persuade them to buy their products and services. There are some things you can do in your own house for creative ventures. If they choose to do so, graphic artists can either continue with a project-based approach or increase the work size.
Making Money as a Freelancer
If you're operating at some company, graphic design classes at a university are difficult to follow. That's where online classes are useful! You will take courses and work as a freelancer, based on your lifestyle and flexibility. Such classes deal with the field of graphic design, including architecture, key features and principles that give students an understanding of what makes a good design. Adobe Photoshop needs to be known to start to show you your skills. By learning these high yield programs, you can become a freelancer to support yourself financially with ease.
Online Courses Vs. Attending classes:
There is no argument that online courses are the best option to learn graphic design for newbies and advanced graphic designers. Why? Because they offer various items. The target audience for online classes is newbies and experienced graphic designers. Each student gets the attention they need individually.
The one-to-one classes by Blue Sky Graphics are crucial to the learning of a complex field like graphic design.
You get the value of your money when you sign up for the online courses. The teachers are professional and enthusiastic. They will also provide concept design, 3D graphics, company logos and much more at the industry level for their students!
Career for graphic designers:
Graphic designers are asked to format websites and create different visual images for website owners to convince people to buy their products and services. There are several things you can do from your own home for creative projects. If they decide to do so, graphic artists can either begin on a project-based scale or increase the volume of work. No doubt, the field is becoming popular and the demand for graphic designers is at its peak.
Subscribe now for any online course of graphic design and stand out from your competitors by keeping yourself updated with the new skills and tools.
Photoshop Courses At Blue Sky Graphics:
The Abobe Photoshop is used for editing images. It is published by Adobe Systems for Windows PC and Mac OS. Currently, it has become a hub of imagination for all domains such as web design, animation, graphic design, photography and digital design for various purposes such as photo editing, comics & storyboarding, UI & UX design, logo design and much more. It is considered to be one of the famous and well-known software editing images. Also, editing software is commonly used by designers. Graphic design online courses in Sheffield at Blue Sky Graphics provides you with all the essential knowledge of Photoshop, InDesign and Illustrator.
This allows consumers to edit, re-size, crop and match digital picture colours. This program method is primarily utilized by professional graphic designers and photographers. Adobe Photoshop is a powerful graphics application that can modify and render several layer pictures. This allows caps, alpha-composing, and other colour versions.
Photoshop techniques
Photographs have a rather difficult job of editing photographs in their own way. They get to see intricately each and every aspect of the photograph in order to change it in a manner that is appealing to the viewer. Software applications can allow us to edit and highlight their own images. Adobe Photoshop is the most famous and influential software among others. Most of the experts provide tips and strategies that will help you develop your Photoshop skills.
Typically, having a circular pick in a picture is a rather challenging job. It is also important to see some free tutorials for Photoshop. It's going to teach you everything about Photoshop. Besides the strategies, they even support you a lot. There are many tools available in the software to make use of and improve your photo quality. Overall, Photoshop is a computer program that could help people improve their creativity. There are several methods that enable you improve your efficiency and profitability. Within this article, we have described the most outstanding new and innovative strategies to help you design easier and improved using the Adobe Photoshop software application. Every graphic designer should be conscious of the following techniques:
Enhancement of contextual differentiation
Regional contrast enhancing strategy operates by brightening or darkening regions where dark as well as light colour variations exist. It's the easiest way to bring colour to a image without darkening or lightening wide areas too much. This approach is especially tailored to photographs with a low contrast texture that you need to pull out. To apply this technique to an image, you may start by duplicating the current image.
Curves adjustment
Curve correction is a simple way to modify the different tones of an picture. In addition, it may also be used to darken or brighten the whole photograph. Usually, the contrast is increased by darkening or brightening tones. It is a very useful and important Photoshop technique to improve contrast globally.
Editing the background
Adobe programs like Photoshop, InDesign and Illustrator will help you not only make changes in the subject but also in the background of the picture. So you are provided with the freedom to change the background as you will. It's easier said than done. Photoshop provides you with many features but in order to become a master in the features provided by adobe; you need a mentor and a guide. At Blue Sky Graphics you will learn all that Photoshop and other adobe programs have to offer. Such as changing the background, enhancing the picture and much more!
Softening:
Softening is a method widely used in Photoshop. This is used to add blur to the picture and to lend it a subtle appearance. Next, repeat the layer of the picture and move to Filter > Blur > Gaussian Blur. Play about with the layer dullness to achieve the desired result. We highly recommend using 50%, but it depends on your picture.
Personalise your workflow by using actions
Actions are one of the most powerful methods in Photoshop. Acts are nothing that you do over and over in a Computer that includes repeated click sequences. It's integrated into the Photoshop. Load the Activities palette from Window to do so first. And then load the selection of output behaviour from the palette. There are several types of basic processing practices in the series. It will give you a high-quality understanding about how behaviour can be used to score your performance. The opportunities in practice are practically infinite.
Follow the measures to build your own acts. Only press the New Activity button on the toolbar
When the record button is formed, it will light up
From there, the Photoshop can log every and every task you execute before you press the Stop icon.
When doing so, you can transform your image to any size and export your JPG to the internet. It's very easy to record the action and do it by clicking a button. You can also convert the Actions Palette to display buttons. To do this, select the mode button in the palette. Now you can operate the activities by pressing the correct tab.
Save best brushes by using tool presets
You will save the favourite brushes by using the product presets. Only open the Preset Tool palette and press the new Preset Device button. If you have a ton of preset sets, you can save them and use them later. To do so, press Save Machine Presets from the screen. Then group the presets through a method or form of mission. Basically, the Photoshop comes packed with a lot of preset tool collections. So only select a brush app to display the presets for that unit.
Processing the batch
Batch processing is a very effective method. You may transform a image to black and white and then save it as a GIF. We may take steps to do so by pressing a mouse. We will use batch processing to open all photos one by one and execute an operation and then save and close each file. Photoshop only requires a few minutes to do this process. You will save a lot of money, thus. To use the batch processing option go to File > Automate > Batch. Graphics designers can also use Batch Processing to save a copy of your files to a new file. Just choose a destination directory from Windows Batch Processing.
Establish the seamless arts
The development of seamless art in Photoshop is an invisible element. You can do some very powerful things by using pattern layers. Creating a context pattern broadens the document scope to every level. It can be done with ease by utilizing smooth templates. Creating and defining patterns is a good idea to keep designs seamless. The easiest and most powerful way to construct a smooth pattern in Photoshop is by using filter > other > offset. Of eg, if the picture is 500 X 500 pixels, you need to have a horizontal and vertical offset of 250 pixels.
One click art
Making your own collection of brushes is the most common way to configure the workflow in Photoshop. With the click of a simple brush, one can do several amazing stuff. There are very few limitations when you create a brush. The only thing to bear in mind is the scale. The overall resolution for a brush is 2500 x 2500 pixels and the effect is black and white. The source materials for the brushes are taking pictures and scanning objects. When you have tapped on the tab, edit > identify the preset brush. The tool would instead be accessible from the tool set. Custom brushes are a very efficient and fun tool. It's highly suggested that you experiment and find out the style of the brush you 'd like to locate.
Add flexibility with custom shapes
Custom forms are an elusive and unseen device in Photoshop. You need to select and grip the mouse down over the form function in the Software Palette to use this device. Now the drop down appears, and the last option is Custom Shapes. The forms are shaped like designs. There's a drop down in the machine tap that reveals all the forms. Typically, Photoshop comes with a wide range of built-in forms. You will launch it from the tiny arrow at the top of the drop down. Flash some of the latest projects and forms. In fact, you can build your own unique vector file forms. Only paste the vector from the illustrator as a direction in the PS. Click Ctrl + then press the direction and pick the custom form from the drop down column. You can now see your shave in the custom form drop-down selection in the toolbar.
Layer Comps
You may render several compositions with the aid of layer comps. The layer comps is an simple way to manage different configurations in a single template format. This approach is simpler than arranging a variety of single-composition papers. You need to open the Layer Comps panel to add Layer Comps. If you have built a new interface, click the New Layer Comp button at the bottom of the screen. Now this should report the status of the paper. And you're safe to start writing. The graphic designer will delete the current comp layer and build a new one.
Quick Mask mode
There are many tasks to do in Photoshop; one of the most boring tasks in PS is to make a selection from a picture. Making selections is as easy as painting by using the Quick Mask mode. With the assistance of this, you will easily paint anytime you need to make your collection show. Unless you remove it, the drawn region will become a range. The QMM simply simplifies the job of creating a difficult selection. You can also edit your browser used for the selection area in the QMM. Change the softness of the brush to pick places that are quite out of sight inside a image.
Use the background eraser tool
Can you just erase the background of your picture? If so, you can use the Background Eraser tool. To get this tool, just pick this product from the drop-down Eraser list. When you have chosen the three choices available in the top menu bar to pick how the device functions. They 're mentioned below
Continuous sampling – this method constantly tests the colour to be removed while you design.
Sampling only – Only the colour you tested has been removed by tapping on the image before erasing
Sample Background Swatch – This tool will erase the colour currently set as a background swatch.
Enhance image tones
This technique strengthens both the dark and the light tone while softening the colour. The colours in the photo should appear lighter. Do so by duplicating the layer and moving to filter > blur > Gaussian blur. Then adjust the blending mode to Overlay in the layer palette. Now you can play with a variety of choices to create a better result like bright light.
Device for the clone stamp
Each graphic designer is familiar with the Clone stamp tool. It can be used to paint a clone surface within a document. You will access it from different levels and many more papers. To do so, pick the Clone Link icon at the top of the screen, and then press anywhere in the text to configure the link. So pick another symbol to do the same thing.
You will learn all of this in great detail and much more when you sign up to online graphic design courses in Sheffield at Blue Sky Graphics.
Key terms every graphic designer should know
Whether you're a newbie, student or just in need of a refresher, read this guide to understand what you will be getting into when you sign up to Blue Sky Graphics online graphic design courses in Sheffield.
Graphic design, like every trade, is riddled with terminology and expressions that you might not be acquainted with. Here are some of the main terminology that you should recognize, with a short description – in words that you can understand – of what they say, plus details about where to read more.
A bit like a design style guide, we've divided our list into different sections, with a page for the themes of images, typography, graphic design and printing. Using the drop-down menu above to switch to the style you are interested in. We 're going to continue with words relevant to photos.
Raster images
Raster images (sometimes referred to as bitmap pictures) are made up of thousands of pixels that define colour and shape. Pictures are representations of raster. Photoshop CC is the most popular raster editor that helps you to control the colour and other properties of the pixels.
Since raster images are made up of a finite amount of pixels, resizing can be difficult. When you send a raster picture in greater proportions in Photoshop, the app will make up the details in order to fit the scale. This adds to a lack of price.
Vector images
Vector-based photos (such as those produced in Illustrator CC) consist of circles, each of which has a given X and Y coordinate. These points link paths to form shapes, and you can add colour fills inside these shapes. Because all you produce is focused on this, vectors can be blown up to any scale without any lack of consistency.
In recent years, Illustrator has made so much improvement that vector graphics have become extremely complex. You can now add gradients, complex shapes and more to construct very rich, scalable vector pictures. Since vectors may be resized, they are sometimes used for logos and other graphics that need to be used in a broad variety of outputs (from leaflet to billboard scale , for example).
Colour modes
While operating in Photoshop or Illustrator, you have the option to change the colour profile of your paper to CMYK or RGB. There are several other display schemes, but CMYK and RGB are the two you just need to think about.
CMYK
CMYK is the main colour mode for submitting papers – if it's a newsletter, a journal, a poster, a brochure, an annual report, and so on – to a printer. It stands for cyan, magenta, yellow, key.
CMYK alternate loop CMYK stands for cyan, magenta, yellow and main loop
In this case, 'Key' means black. It is referred to as a key because in four-colour printing, the cyan, magenta and yellow printing plates are carefully keyed or aligned with the key of the black keyboard.
If you submit a job to the newspaper, cyan, magenta, yellow and black plates are produced (on a conventional newspaper, anyway) and only arranged to print on paper. You should incorporate Pantone, or fifth hue, as different labels.
RGB
RGB stands for red, green, blue, and is used for screen output. Since CMYK has a more narrow colour palette than RGB (which is basically what the viewer sees and how the displays output), you will encounter a lack of colour when switching from RGB to CMYK in such applications.
Image resolution
Solution is another main word which is sometimes misunderstood. There are two major acronyms used for resolution: DPI and PPI.
DPI
DPI is only of interest when you create a print production task. This stands for 'lines per inch' which refers to the amount of dots per inch in the written sheet. Generally, the more dots per inch, the higher the picture quality. 300DPI is the standard for the printing of pictures.
PPI
PPI stands for 'pixels per inch' which, as you might assume, refers to the amount of pixels per inch in your image. When you render the picture larger in Photoshop, you will raise the amount of pixels per inch (with Photoshop making up the data) so you will loss clarity. Here's an great description.
Bear in mind that resolution only refers to raster graphics, as vectors do not function in pixels.
10 Skills Graphic Designers Absolutely Cannot Do Without
Will you want to find a career in graphic design? Do you want to be a specialist sought after in the field? Along with professional training, certain important fundamental skills must be learned by graphic designers in order to make advances in this area.
If you can learn these abilities, you can make it to the peak.
Imagination – Desire to create a dream
You need to know how to visualize a project before you start working on it. Get a innovative production method you should adopt. Conduct strong research, propose proposals and gain an appreciation of the problem at hand. It's only through knowing the mission demands that you're going to be able to build a dream. The more engaged your creativity, the more imaginative and special the creations would be.
2. Sketching – Skill of Drawing Ideas
Sketching is, and will still be, a fundamental prerequisite for any job in architecture. If it's in logo or web design, you will have the patience to draw your designs before operating on a screen. You will have a strong understanding of typographic art and fonts, as most logo and graphic design ventures need.
Aesthetic – Face of Appearance
Graphic designers have a huge responsibility to bring out the beauty of things that anyone else can overlook. Your design must appeal to the client and their target audience. When the viewer will respond to the image, they 're more likely to use the product. The colours, shapes and compositions utilized in the project must be appealing to the eye of the audience and successfully express the meaning of the product.
Techie – The Design Tools Available
As a graphic designer, you need to know how to work on a variety of graphics software. Of starters, logo designers ought to learn how to work with Adobe Illustrator, InDesign and Photoshop, all of which you will learn when you sign up to online graphic design courses at Blue Sky Graphics in Sheffield. To web designers, it doesn't only end with Adobe Illustrator – you need a strong knowledge of Adobe Photoshop and other site template modelling tools.
5. Knowledge – Know Graphic Concepts
You ought to learn simple principles about colour shades, contrast, pixel specifications, etc. For starters, designs produced in Adobe Photoshop are not portable because they get pixilated when they are expanded. You need to learn what colour psychology is, for example, colour by industry and area. You will ought to get a clear idea about why overused terms ought to be stopped. You will need to learn more about typography, pixel and vector art, including their usage on different media channels, whether internet, print or video.

6. Hard Work – Creating from Scratch
There are a number of simple graphics and logo design solutions available all over the internet. From photo art to ready-made templates, it's all available. But these elements are not for graphic designers who value their careers. You've got to send your clients the initial job, so continue from scratch. Each emblem, concept and prototype that has been produced must be developed by a reasonable procedure. This typically begins with the generation of ideas, then leads to sketching and extends to creation through excellent technical skills. The mix of low-end options will quickly blow away any possibility of being a famous graphic designer.
7. Originality – Do You Have What It Takes?
Anyone that thrives on copied material and promotes it is not a graphic designer. Better copycats don't allow clever designers! Know, along with imagination, you do need to be First.
Though Humble, I'm not Mr. Know-it-all.
It isn't a talent, just a consistency you've got to have. There is nothing but the "true" model. Graphic design is an ever-learning operation, and everyone who feels they know-it-all is sadly incorrect. The minute you believe you 're the greatest you 're going to become obsolete, and quit learning to know. Be humble, and don't let your pride get the best of you.
Positive Attitude – Ability to Take Criticism
Each area of art has its own critics. Artists everywhere are expected to face scrutiny regarding their piece of art. Criticism is not a issue, it is a critical approach to criticism. We claim that elegance is in the mind of the spectator, and that anyone who sees a piece of art can have a specific opinion. The customers may have their own views or demands for a particular design. Maybe what you're creating isn't what they've anticipated. Mind, don't treat the feedback down badly. It's just another person's opinion, so ask them how you can make things better.
10. Take a Chill Pill – When to Let Go
Stress and getting frustrated by your job won't carry you much, except for depression. And depression is bad for the artist and his art. When there's spare time and the creative juices don't work, take some time off. Relax for a few days, go on holiday, reset yourself and return to work with renewed passion. Always take a job when you're stressing out, and it's just going to shoot up.
Web Design Course After Graphics Design:
Are you a skilled graphic designer or web designer with all those creative and innovative ideas stuffed into your brain, but you don't get the rewards and recognition you deserve? The best approach instead is to bring your talents online with a well-designed website to advertise your services. There is a huge demand for web designers all over the world, as almost a million websites are added to the World Wide Web every day. Web and graphic design is a must-have service for those site owners. And use your talents to make a big deal by making yourself accessible online.
Logo Design
Logo design, web design, visual design are also part of web design companies. As most websites help the company or association of the site owner, the logos are quite significant. They need to be original and unique in that they endorse the identity of the particular website. The logos will be powerful enough to draw the intended traffic on the specific website. You can include some of the best samples crafted by you to account for your expertise. The easiest approach to capture the customer's attention is to provide vivid and sober items in the collection.
Graphics Design
Graphics are profoundly valuable resources for a website to draw users and keep them focused on the internet. As rivalry in the online sector has become really difficult, graphics have to be sleek and appealing enough to compete with other powerful rivals. Many online game pages, educational pages are looking for up-to – date graphics for their websites. You can squeeze a lot of money by providing them with custom graphic design services provided that your designs are sufficiently communicative and expressive to attract targeted web traffic.
Web Site Design
The more beautiful your website is, the more likely your company can expand. But there is a great deal of room for you to utilize your talents to create websites as creatively as possible. You may use a range of programming techniques such as JavaScript, PHP, Snap, Text, etc. when developing the website. However, the website must be easily navigable and user-friendly so that visitors can easily land on the pages where they want to. You should also include several boxes where users are able to share their opinions towards the goods and services that the platform has to deliver.
Animation as a Part of Web Design
Animated characters and animations are the elements applied to the websites. They introduce some extra curiosity in the feel of the web and get online. Website owners also want their pages to be humorous and memorable, so that they draw the attention of all consumers. Sports, golf, children's pages are the biggest endorsers of the cartoon characters on their web. So be equipped for samples that include GIF and instant animations. The 3D and 2D visual clips are both really interesting.
How Good Is the Payment?
The payment structure is pretty good for web designers. You can opt for payment on a per-page basis or on an hourly basis. Charges differ based on the equality of the website, context, templates applied, interface form, logos and graphics applied, etc. Approximately any completed page will be paid between 200 and 400 pounds. Hourly rates can range from 60 to 80 pounds. Sure, you will have reduced pricing for non-profit and voluntary agency pages. Make the technical support available free of charge so that customers feel secure when purchasing your services.
Discovering Your Users
A website has to be built with travellers in mind, if what you deliver isn't what they want, then you can't consider the website to be a success story. It's important to do some study or socialize with your clients to get to know what they're really involved in your business, what are their characteristics? They 're old, they 're teens, they 're rich and usually have top-of-the-line machines, or they're robbed of them, so they're likely to have a sub-computer or internet link. That sort of knowledge has to be conveyed to the designer(s) because there are particular items that can be omitted on the finished website for the user's sake, it is important to recognize them in the design process rather than after the production step has been completed.