Graphic Design Courses in Kingston upon Hull
When you hear the word 'graphic designer' who or what do you imagine?
Maybe you imagine someone pushing the Microsoft Paint envelope and sketching something a little more complex than sticking figures and a sunny scene. You may think of someone who has fantastic drawing skills — or someone who has excellent painting abilities.
None of these theories are completely incorrect, but there is much more to it than just being a talented artist. What exactly is a graphic designer, then?
A graphic designer is a visual communicator, in essence. Graphic designers use colours, typography, illustrations and other images to take ideas and bring them to life. They solve visual challenges, help clients achieve their goals and build a strong identity of the brand.
Why Graphic Design is a Wise Career Choice?
There are many reasons to become a graphic designer. It's a well-paid, respected profession. It's creatively fulfilling. The biggest difference between graphic design and art is that it's not about drawing pretty images, but about solving problems. So, your time as a working graphic designer will be spent mainly solving your client's problems, whether they're a corporation, a public body, a charity or an individual.
This can vary from the wide-ranging, such as how to get a particular audience group to participate emotionally with a product, to the particular, such as how to get more people to buy products online.
You will also collaborate with other designers when working with clients. The good news is that graphic designers are usually a polite and welcoming profession unlike some other occupations. Many of your managers have been in your shoes so they do everything to support you and motivate you to develop your skills.
You might have learned the fundamentals of design, from Photoshop to colour theories as part of your graphic design course. But as part for your daily graphic design work, you will learn even more skills. Simply put, you will never stop learning as a graphic designer. This constant stream of 'what's next?' may definitely be intimidating. But your brain will be continually dedicated and involved, and your skills will be steadily built. This means never getting bored of your job!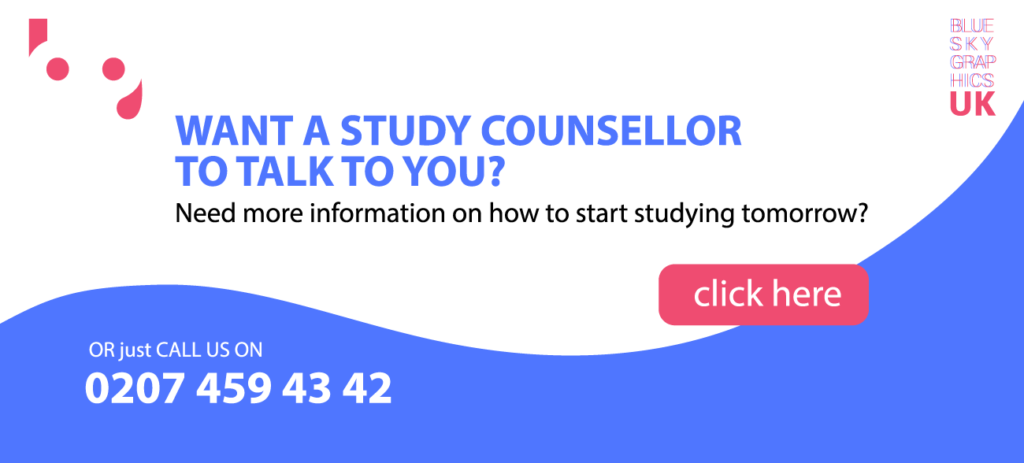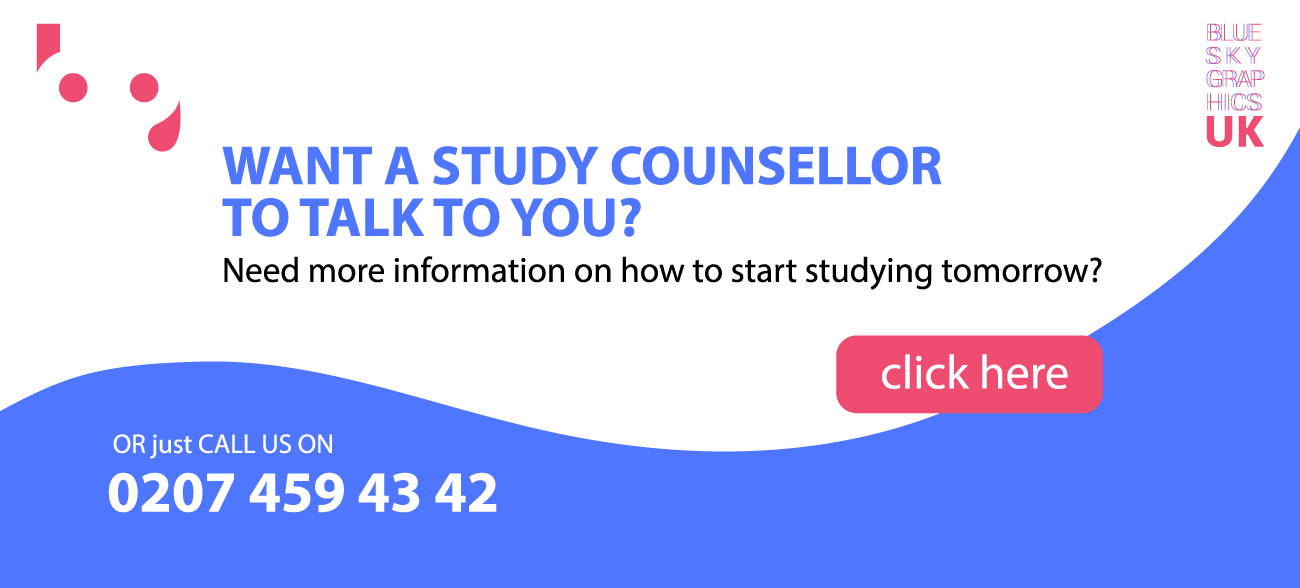 What is Distance Learning?
Distance learning is a way to study online without having a direct face-to-face interaction with a classroom teacher. In the United Kingdom, this study originates from students studying by correspondence. Traditionally, distance learning centres for non-traditional students, such as full-time staff, housewives and non-residents, or rural people who are unable to attend classroom lectures. However, distance learning has become an established part of the world of education, with trends that point to continued growth.
One-to-One Class System
Some people don't think online learning is so helpful, but it's quite the opposite! You can study at home comfort without any real classroom setting, because most people who join online school are part-time and full-time workers.
You will have a clearer interpretation of the lecture in a close and friendly environment, as you would have the specific focus of the lecturer. Each class lasts for 90 minutes and an extra 90 minutes for some homework and assignments that same week. The provision of online courses is not a concern either as lessons begin early in the morning at 7:30am or continue until 10:30pm every day of the week. This helps you work or study so that you can attend classes whenever you choose. All you need is a computer and internet access to practice graphic design throughout your busy home and work life and become a graphic artist.
What Courses Do We Teach?
We offer our students three courses which are as follows:
This course deals with all aspects of advertising and corporate graphic design relevant to signage, business cards and corporate identity. This describes the use of Adobe applications so that you can learn how to use colour, size, shape and structure correctly in order to produce an excellent design.
The aim of this course is to fix and recreate photos using a variety of techniques, develop logo design and visual identification, incorporate basic auto-correction methods and software, and develop a document with the appropriate size, printing and video settings.
The web design course helps you to develop new websites and update existing websites using advanced technical tools and techniques, explore the architecture, visual appearance, and usability of a website.
Through the course you will receive training in many main areas including: web design, graphic design, colour theory, design codes, user interface design, homepages, and web pages. All this is implemented across many applications in building software including Photoshop, Illustrator, WordPress and Elementor. The course is structured to develop both graphics, technological and CSS skills.
The UX-UI design course is an advanced course that teaches you to design your websites and applications in a user-friendly and unique manner while offering a user-friendly website browsing experience.
It focuses on predicting what users and surfers on the web site may have to do and ensuring that the interface has elements that are readily accessible for the desirable action.
Adobe Software
Adobe software is a pretty familiar concept which dates back to the earliest graphic designers. Since we use this program during the course teaching since mentioned above, some basic knowledge of this program is important.
Adobe Creative Cloud is made up of over 20 smartphones, desktop, hardware, design, photography, audio, UX, and more applications. We'll show you how to use Adobe Photoshop to edit pictures of photography, retouch photos, and more.
Adobe Illustrator is used in this drawing genre, from company logos, insightful drawings, and animated designs, due to its distinctive feel. It can print templates, produce great graphics on the website, and allow users to adapt their typography fully.
Programmers also find it challenging to play with text frame features. We use InDesign's recently introduced flexible column width alternative to make the situation even more available. This feature allows you to easily control the column number and width by changing the text frame.
Our online lessons based in Kingston-Upon-Hull cover all the following software in detail so you can understand the tools to design as clearly as possible.
Adobe Photoshop
Adobe Photoshop has been one of the best devices today for photo editing and website design. Although there may be a lot of software tools, it's also one of the most efficient means for design.
Start with the fundamentals of Adobe Photoshop to understand and master the techniques to escape difficulties in your work, and to continue using this versatile program. Yes, a little practice to know the applications and the fundamentals will help retain your passion and curiosity in handling and using the software in your projects. Below are some simple tools that you may like to learn about Adobe Photoshop.
System Learning
You will, of course, consider the workspace where you will work in Photoshop before you start. You can see your toolbox on the left side of your desk in the Adobe Photoshop desk. It covers the software you use for editing and planning, but there is also a range of options in the menu bar and options panel that are just below the menu bar, as you will also learn.
Such devices can be seen with images of the pencils, tiny arrows, medication dropper, and several others that make you recognise their purpose.
You can see other palettes on the right of your workspace, and provide you with choices and updates about the document you have in your workspace, including the colours and on improvements made to the image or text.
Understanding the Tools
You can get confused by the many icons in the toolbox if it is your first experience with the app and be frustrated by when to use when. Beginners must learn the basics. You may want to group these methods in order to make them easier to recall.
The Adobe Photoshop features contain such devices as the Marquee, Lasso, and the Magic Screen. This may be seen on the top of the toolbox and is displayed as a dotted rectangle, an uncontrolled polygon, and a fairy wall, depending on the scale or form of the item or picture in the text.
You'll also see the knife, which is one of the main tools, the eraser, the blur or the sharpening tool and the clone stamp in particular. The clone marker was one of many valuable photoshop tools that you will find fantastic because it copies a particular image to the picture and is useful if you want to make more trees or to remove somebody in the background.
You may also use the drawing tools and the tools to duplicate existing colours in your painting. The fundamentals of Adobe Photoshop are mastering these two so you can learn these techniques and master their purpose before getting too excited to start your project.
Adobe Illustrator
Some of the areas where vector-based drawing applications excel are in the direct use of the lines and curves of objects, which can either be achieved with raster applications or with the use of layer masks, but the gradient, mesh and blending techniques with Illustrator are the instruments of choice for vector techniques.
The gradient tool lets you pick and apply colour adjustments (including reflection effects) by using sliders. You can then save the gradient to a swatch that is repeated later, saving real-time. The first hue, transparency settings, and other parameters can be defined. The mesh tool is among the other features the mesh tool that allows you more control of where the gradient patterns are operated; uses the mesh tool to illustrate issues such as where the light is hitting in a work of art, and holds it in the curvature of an internal grid (and the hidden ones). Select the object and go to Object > Extend > Create Mesh to create a gradient in a Frame.
The Mesh tool and the Gradient tool works well if you start with a single object and the first collection of colour choices and then test possibilities, move stuff around and see what happens. The Mesh function helps you to assign a mesh for a vector object. By default, the Illustrator uses the fewest possible lines to describe a mesh. As an alert, prominent, complicated mesh artefacts significantly degrade efficiency, not the entire drawing.
The widespread applications for Gradient and Mesh devices combined are to provide 'photorealistic' effects such as highlights for water droplets or glittering glasses on a leaf or a car surface. These are often used for subtler shading effects and the moving of visible impotence into the background (with a mesh overlay and a deeper colouration of the Mesh, and with a "degree-to-translucent" result, the region where the Mesh is translucent can be effectively highlighted).
Easier to use than above is the Illustrator Blend tool, which works in reverse. You decide colours and shapes, saturation, and other effects start/end, and Illustrator creates all steps between them to show you the blended objects. The downside of the blend tool is that it doesn't give you many opportunities for tweaking, as compared to gradient and mesh tools; you have the impact created by the blending tool and don't have any real recourse for adaption. This being said, this could be a great way to produce decent enough performance without the overhead of the gradient and mesh software for context elements or stuff you need to do quickly.
Adobe InDesign
Adobe InDesign is not the type of programme you can study overnight. You can also do some things in InDesign, such as adding text or drawing forms, if you have any experience with basic design software. Nevertheless, if you search their website for support and tips, you can find lots of tips covering all kinds of areas. After learning all this stuff, you will focus on these critical areas when you want to get Adobe InDesign training separately.
User Interface
You being familiar with the user interface of the new Adobe InDesign update is important so that you know exactly what menu or toolbar to go and to see whether a specific function needs to be completed. When you do choose to build a publication with a very tight period, you can execute the job seamlessly when you know the user interface. New app releases allow you to configure your workstation and include the sidebar panels and toolbars. Also, if you are familiar with the app already, you will get even more work done by creating an integrated, personalised workspace for your projects.
Layout
Adobe InDesign is all about style, and you can find a lot of tips for the style subject from every Adobe InDesign training programme. You will speed up the output by understanding the different formats that are perfect for other media such as e-books, magazines, and articles. E.g., it would take some time to design your first e-book, but if you have a new e-book project, you will use the same designing strategies that you have learnt from this training, to finish the job faster. Of course, due to the vast range of modelling options in the programme kit, you have too many design possibilities to work with further ideas and gain knowledge and develop your imagination.
Operation of Record and Asset
It's a smart way to keep your project coordinated and make the work enjoyable. You would be able to quickly add, delete, or remove those files or tools involved with your project during the organisation of a project. Resource management may provide master pages management, meaning that formats may quickly be extended to different websites. This also involves indexing and paging to arrange all pages. Packaging also helps you organise the inventory, as all the files used for the project are stored in one place.
Certain Adobe Technology Compatibility
Your Adobe InDesign training will concentrate on the app and its other features. Yet note that InDesign is just one aspect of the Adobe Creative Suite. Although you are not obliged to master other Adobe applications such as Photoshop and Illustrator, getting acquainted with these applications can improve your ability to deal more effectively with large projects. E.g., InDesign is a fantastic software for poster design, but Adobe Photoshop has more picture-editing capability. In Photoshop, you can make the required changes and then import the image into InDesign to complete the graphic design.
Adobe XD
XD will be the crucial element in developing website add-ons and planning applications, actually developing XD device modules and transferring them as lighter files such as SVG for websites and devices. This software is essential for the development of a wireframe before deciding the design of the site that is being developed.
Occupations in Graphic Design
There are several activities in the field of graphic design; some of them mentioned below.
Creative Manager
As a creative director, new designs, and suggestions for logo design, corporate branding, or TV advertising will be conceived. Creative directors work with the innovative team to develop, plan, and deliver a strategic vision for the customer.
Throughout this position, you can engage in strategic preparation, oversee the whole development process, and direct the team. The creative team is composed of art managers, authors, and designers.
Illustrator
In order to create still sketches and images conveying storeys, ideas, or principles that are then used in advertisements, novels, magazines, covers, greeting cards, and newspapers, illustrators are commissioned.
You are dealing with promotional reports to educate, reassure, and entertain the target market of a consumer and change the tone and theme of the photographs accordingly. You may rely on a particular graphic medium, such as painting, photography, or visual illustration.
Designer of Brand Identity
Brand identity creation discusses the technical aspects of a company's logo or name. The brand design represents how an organisation wishes to be viewed; it demonstrates an enterprise's graphic images and how a corporation has defined its image.' Branding of a single emblem or icon will convey the identification of a company's brand as it is used in all the components of the company's products, such as business cards, documents, packets.
Designer of Multimedia
Multimedia architecture is one of the most popular forms of graphic design. A multimedia artist will produce sculpture, sound, and design for film, audio, and animated images. They create concept plans, sketches, scale models, or illustrations.
Graphic Designers and Freelancing
Freelancing is growing every day and is now the most common online phenomenon. You would have more versatility and independence if you are a freelance artist, but it comes with a tag. Because you dictate your working hours and do the entire thing, this right can also become a burden! Be sure that you are dedicated to yourself and devote ample time to your profession before you become a professional graphic designer.
Having an autonomous individual helps you to be the manager so that you can behave as your own boss. You can choose your time and your clients, of course, but what happens if other businesses are shut down temporarily, and the deal is not done? Well, the good news is that several companies will remain at least partially open throughout the Covid-19 period.
As an independent worker, it's your responsibility to find your work and get your own customers. True old-fashioned cold calling isn't terrible, and you might enjoy it. You may also attempt to create your own website for interested parties or call companies in Kingston-Upon-Hull. For this reason, you need excellent communication and time management skills.
Web Design
The process by which websites are developed is web design. There are a variety of facets to the architecture, web creation, and graphic design. Although web design and web creation are often used synonymously, web design is a part of the full field of web creation.
What can you do after Web Design Learning?
As in other organisations, web design firms create and operate websites. Usually, an organisation has a web designer or in-home staff because they don't need such resources.
You will want to set up or work in your own design company as a freelancer. Your programming skills will result in software development, research, or even professional writing in a variety of businesses. Major IT and telecom firms also respect such technological capabilities.
Specific work related to your degree includes:
Web Developer
As a web developer, the primary function will be to build stable and high-performance online accessible applications and facilities.
If you are with an agency or are an independent employee, it is your job to develop items to satisfy consumers' needs. With a variety of overlapping activities and multiple client meetings, the role can be highly varied to meet your needs and to remind you of your progress.
SEO Expert
An SEO professional uses data mining and networking skills to boost a company's online identity. An SEO consultant, you identify approaches, techniques, and tactics to maximise the number of web users to get a spot on the search engine results list. Through creating more sales connexions, you can open up more prospects for growth and benefit.
SEO experts are also responsible for designing and implementing digital marketing campaigns.
Developer of Application
Software engineers execute different functions on customer-based devices. The technical specifications are converted as programme developers into working code, and business implementations are managed and developed.
You typically work in a different area, such as smartphone apps, accounting tools, office suites, or digital graphics. You would learn at least one programming language.
Programmer for multimedia
You will develop creative products, including text, sound, graphics, digital imaging, 2D/3D rendering, animation, and video as a multimedia programmer.
You typically focus on websites, DVDs, video games, and immersive animated videos with digital product creation requirements.
Average Salaries for Web Developers in Kingston-Upon-Hull
Starting wages will be around £18,000 a year.
Web designers/developers with some experience can gain around £30,000.
Salaries for senior designers /developers may be above £40,000.
UX UI Design
The user interface implies any connexion between a customer and a product or service. UX architecture takes every part of the interface into account, how it makes the user feel, and how convenient it is for the user to achieve the desired activities. This may range from how a real thing feels in your palm to how easy it is when you order it digitally. UX design is designed to create quick, secure, suitable, and user-friendly experiences.
The architecture of the user interface is not the same as UX. UI applies to the real software interface, the graphic configuration of a user's windows when using the iOS app, or the buttons when visiting a page. UI Development deals with both graphic and digital aspects of the user design that include all fields of typography and colour palettes, gestures, and touchpoints in control (e.g., buttons and scrollbars). UX and UI go hand-in-hand, and the software interface architecture depends significantly on the overall experience of the customer.
This can be divided into four major fields: Experience Strategy, Interaction Development, User Research, and Information Architecture.
Experience Strategy
UX design does not only affect the end-user; it also plays a significant role in the organisation which delivers the product or service. Experience management involves creating a strategic marketing approach that combines both consumer and client desires.
Interaction Design
Interaction architecture explores the user's experiences with a programme, taking into account all graphical features, including arrows, screen changes, and animation. Interaction designers aim to create elegant interfaces that allow the user to execute core tasks and actions effortlessly.
User Research
The concept of UX aims to define and create a solution to a problem. Extensive investigation and feedback from existing or potential customers is necessary. UX designers must perform surveys, conduct interviews, and usability testing during the research process, and build apps to understand end-user needs and goals. All qualitative and quantitative data are gathered and used to make competent product decisions. Read how to do work on the customer interface here.
Information Architecture
The architecture of information is the process of functional and open management of knowledge and content. It is crucial to help the customer understand a product. To evaluate the IA of any individual object, knowledge architects consider the relationship between various content sets. They also pay close attention to the language they use and make it convincing and consistent.
UX designers are dedicated to making consumer goods, programmes, and software as easy to use and usable as possible. They use architecture to balance customer expectations with technological reality and market viability. The method of creative thought can be divided into four separate phases: inspiration, conceptualisation, refinement, and show.
Throughout the stage of creativity, the UX designer attempts to learn and analyse. They carry out comprehensive work and market reviews to better understand the issue or obstacle to be overcome. It includes interviewing those personally involved with the company.
What are the UX Designer' responsibilities?
This input is then used by the client to define the expectations, feelings, discomfort, and actions of the customer. Using this material helps to educate people. The next step is to understand what these people are seeking to do through the use of a single commodity. The model explores the layout of knowledge and uses various methods, such as card sorting, to chart consumer flows.
After deciding the interface flows, the designer should know what actions the user wants to take to achieve their desired tasks. Visually, they build brainstorming ideas for each stage, wireframes, and samples of the final product.
The UX designer does usability testing of prototypes to see how consumers communicate with the app. It indicates whether or not the user will complete his preferred tasks or make improvements.
Not only do UX designers come up with solutions to interface issues, but they do also need to show their concepts and projects to key customers in their everyday jobs.
There is just a general description of the phase of UX design. Tasks differ according to both the size and the company's specific needs. Larger companies could employ a team of designers focusing each on a particular aspect of the process, such as research or visual design. It is not uncommon for the UX designer to wear several different hats and to work on a wide range of roles in smaller businesses and start-ups.
Regardless of the product or service they build or what point the project is at, UX designers must ask themselves:
Could the software be used? Was it rational, simple to use, and self-explanatory?
Was there an actual consumer question solved by a product or service?
Was it open to rising app categories?
Was the company or the commodity desirable? Will this build a positive impression that the customer can repeat?
So what are you waiting for? Sign up for our online courses in Kingston-Upon-Hull and start building your career in the field of design!