Graphic Design and Web Design Courses in Cheshire
Graphic design is a constantly growing professional discipline. A great artist is not just a software professional and versatile man. Extraordinarily informative writers are also fantastic artists. We claim that being an outstanding artist is a vital part of learning and spending time to expand your knowledge of contemporary and historical graphic design.
That is whether you want to work yourself or dependent on self-employed customers. Every designer needs to create a rich personal reference library because they are the ingredients of the design process.
New design trends were historically produced cyclically. If you don't know where the design was, design trends can seem to grow and decrease every day, as if from thin air. In reality, a bit of the previous and a lot of the latest style methods are emerging in design, whether in architecture, television, fashion, politics, music, or culture in general.
How can Graphic Design be Learned?
How can you learn graphic design in a wild and busy world where most people don't have time for something they want to do from work or school?
Distance learning is one of the most reliable ways to research graphic design strategies alongside many other credentials. Whether you have children, families, jobs and friends, it can be extremely difficult to attend a conventional university. But online courses will simplify your career for you. Great Britain's Blue Sky Graphics School provides all the skills you need for an outstanding graphic designer.
Our virtual classroom brings the latest technical advances to our expert tutors through the internet. The training is conducted separately to ensure that every student is qualified as a skilled graphic artist. Online learning has no hassle, and it feels feel like you are sitting right in front of the tutor.
What will you learn?
We teach the following three classes:
•Graphic design
•Web design
•UX UI design
Such courses involve other technological elements, including the use of Photoshop, Illustrator, and InDesign software.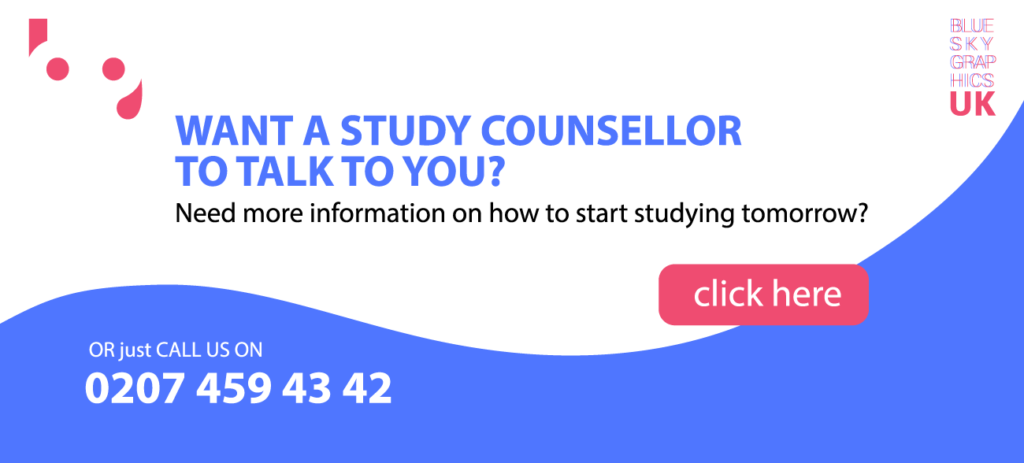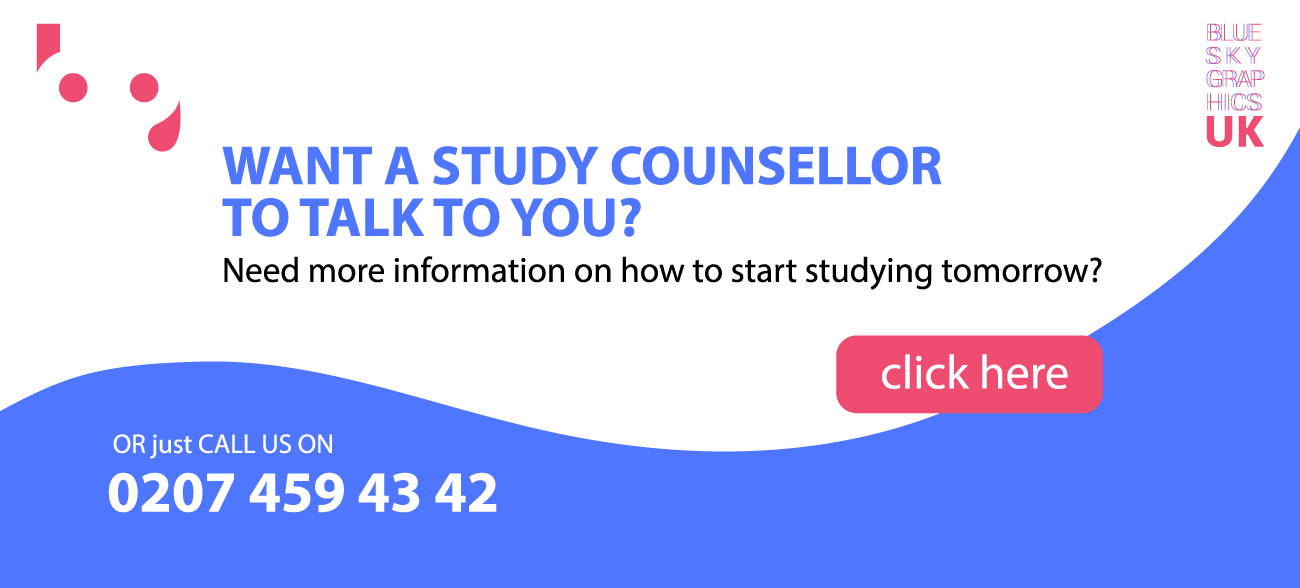 Course in Graphic Design
Some readers may find the information as mentioned above, overwhelming when they want to start a job in graphic design. But don't worry, as we offer a detailed graphic design syllabus at Blue Sky Graphics covering all of the key components. This is completed in one year, and you will end up with your own portfolio towards the completion of the course.
The course starts with a curriculum outline and the basic concepts of graphic design. Then we explain typography and colour philosophy to you. This course will also expose you to the use of simple self-fixing tools and software, marketing, logos and branding, prints and posters. For the logo design and paper organisation, we have a different component. This addresses the layout of paper-like layers and the use of layers for handling design elements.
An integral feature of the course is the layout and function of graphic designs. We teach you how to create and customise gradients and swatches, as well as patterns and formats management. Eventually, you sum up your artwork and finish the course with a portfolio.
Relationship between Graphic Design and UX UI Design
Graphic design and UX UI design are closely related to each other, and learning UX UI design surely requires experience and knowledge in graphic design. Graphic design is probably one of the greatest careers with endless prospects for jobs. The most promising and highly paying design direction of these positions is user experience or UX design.
Operating on the outside of the concept and real user interface is different, but if you were a graphic designer, the techniques are not so difficult to learn. And because UX design is much more satisfying than traditional graphic design, you want to pass your skills and use them to enhance your user experience.
UX Design Definition
A UX designer has the job of designing a product or service that contributes to good user experience. The key is to know very well what types of issues and needs consumers have and how to overcome such problems or needs. If a designer develops this, the target users may create a solution.
In general, a UX designer must focus on three key factors: product look, usability and feel.
Look
The appearance or appearance of a product involves creating a visual appearance which matches the values of users and captures the idea they have to solve their problems. In other words, the designer will ensure that the product looks fine, but also that the customer has confidence.
Usability
The user experience cannot be successful when you create a product that is not functional. A UX designer strives to build a product that is designed to provide users with a feature that meets their needs.
Feel
Users should be glad to use the designer's product. In addition to being practical, a product must be pleasurable.
UX Design vs Graphic Design
The parallels between the two are numerous and commonly known, but you have to know the nuances well before you begin to transition to a UX designer. The key distinctions between the two are:
Graphic Designers are more focused on pixels
Graphic designers concentrate on ensuring the colours and kerning match in with the brand guidelines. UX designers focus on the user and thus focus on the product and the needs of the customer. You do so by listening and talking to consumers and by reviewing goods.
UX Design requires an optimal problem-solving strategy
In comparison to graphic design, UX design begins with a research question. A UX designer only then proceeds to find a solution to such a problem.
Once the product is launched first, the work of a graphic designer stops. UX designers must keep track of their user interface and use their work to improve them continually.
Multidisciplinary UI Design
Graphic design is more a speciality so that designers use a range of skills to create the product. UX design is multidisciplinary, as these designers are based on different disciplines (interaction design, human psychology, user research techniques).