Adobe is the huge creative corporate brand synonymous with technology and creativity and has very much been at the forefront of creative software for decades.  From large international cities like London to New York or Shanghai even to reaches like the favela shantytowns of Brasil, there are graphic designs that can be found everywhere. Building murals, huge motorway billboards, bus stop posters, or maybe just on the yummy chocolate bars you see in the shops. These are just a few of the many areas where graphic designs can be found. Many designs are generated quite frequently by using Photoshop or in combination with some of the many Adobe software graphic designs that can be found worldwide.
Adobe is an institution not just in the graphic design world, but across an array of creative spaces. The software giant transcends borders, countries and states. Becoming a software empire Adobe has an impressive array of sophisticated software that is used across many creative industries that are not just limited to graphic design. There is a multitude of creative industries that Adobe caters to and actually specialises in from motion graphics and graphic design to film editing and PDF file management.
If you have ever before asked yourself what the difference is between After Effects and InDesign or Photoshop and Illustrator then get familiar with the different programs. It is essential for graphic designers and creatives to be in the know what software does exactly.
The plethora of software by Adobe can be quite overwhelming even for professionals, let alone students of graphic design, to understand what each one is used for, so to see what software Adobe offers check out the Blue Sky Graphics comprehensive guide to Adobe Creative Cloud here.
Both in the UK and internationally consumers, creative professionals, students and academics across the globe use Adobe-powered products in some of their day-to-day activities.
Any student of graphic design will almost undoubtedly be very familiar with the Adobe suite (the current version is known as the Creative Cloud) and it is intrinsic to the undertaking of client briefs. In this respect, a graphic designer can be likened to a car and its driver. The person operating the software is the driver behind the wheels and the Adobe software itself is the car or engine propelling the journey.
What does a graphic designer do?
Often employed or contracted by in-house teams or design agencies graphic designers use their creative talents to engage with audiences across various digital and print platforms through making eye-catching visuals.
The graphic designer job description may vary from company to company but generally, it includes a degree of listening to their clients and defining requirements and making illustrations, logos, layouts and photos.
Often a graphic designer will use Adobe software to work on a variety of products and activities, such as websites, computer games, advertising, books, magazines, poster product packaging, exhibitions and displays.
Graphic designers' roles are very important especially in a consumer society since they create and influence branding, which can help to sell products and services to potentially millions of consumers from all around the world.
While software knowledge is essential to the role of a graphic designer in order to create a piece of attractive design, of equal importance is the creativity and ideas in communicating a deep visual message to an audience.
What is graphic design?
Graphic design is applied to everything visual, from advertisements found on the street to road signs and packaging found on your favorite confectionery.
It is useful to reflect on history when considering what is graphic design in today's modern era. Graphic design has a rich and deep history that pre-dates the printing press and can be traced as far back as the times when early cave paintings around 38,000 BC had depicted animals to hand imprints. These caves visuals or old style graphic designs have been found all over the world and it is believed among historians to be early communication methods used at the time to communicate from one generation to another. Graphic design has changed considerably since then  and now this massive creative space evolved through innovation and became fundamentally connected to technology. Adobe has a big role in this evolution.
What is the history of Adobe?
A brief history of Adobe can be traced back to the year 1982 involving Dr. John Warnock and fellow scientist Mr. Charles Geschke.  Back then Adobe helped pioneer the desktop publishing industry and printing technology with its PostScript fonts.  Working closely with Apple Macintosh, Adobe revolutionized the printing world with PostScript- a programming language especially formulated to print the exact position, shape, and size of objects on a computer-generated page. This became the new standard for graphic designs and printing across printing industries.
How did Adobe form a revolutionary empire?
While there are different versions of how Adobe grew to become the worlds leading creative licensed software it is clear that this company started with humble beginnings (so humble founders Charles and John were said to have worked from their garage).  During the 1990s Adobe's revenues from PostScript licensing continued to increase, as did its sales of PostScript fonts; by the end of 1998, the Adobe Type Library encompassed more than 2,500 typefaces.
An ever-larger share of the company's revenues, however, came from sales of application software, initially for the Macintosh platform but later also for the UNIX and Windows operating systems.
The first such application, introduced in 1987, was Adobe Illustrator, a PostScript-based drawing package for artists, designers, and technical illustrators. Adobe Photoshop, an application for retouching digitized photographic images, followed three years later and quickly became Adobe's most successful program. After this, through various mergers and acquisitions, Adobe would take over and buy out other software that it has an interest in like PhotoDeluxe until today it has become the empire and licensing brand that we have come to know.
Why do I need a portfolio for graphic design?
A portfolio is essential in any graphic design career as it is a bit like your CV, but in the creative space. One of the nice things about finding new work as a graphic designer is that your work speaks for you, namely your portfolio. You don't need to write hundreds of different drafts working on covering letters or suck up to your potential clients with a poetic cover story. You just need to put your best pieces of creativity and craftsmanship or simply graphic designs in front of your target audience.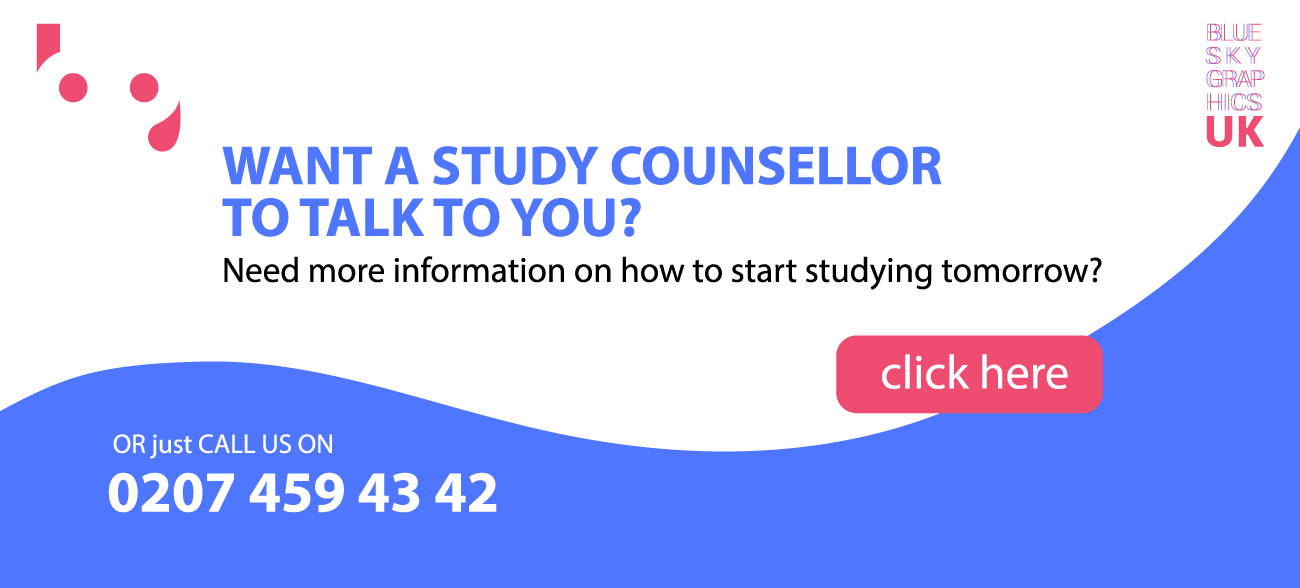 Since Blue Sky Graphics has been delivering graphic design classes for many years- in fact, we have been teaching for just over 15 years we are proud to continue high standards of teaching and making skilled graphic designers. In our survey last year  98% of our students recommend us to others in our student testimonials.
Our course is geared towards making sure our graduates have the best possible chance of employment—we ensure that they have the skills needed to become a practicing graphic designer in the industry.
On our courses, students will graduate with a portfolio, so they can immediately get into the industry. In the design industry, the emphasis above any qualifications is your work and that's where a strong portfolio is necessary.
What are Adobe graphic design virtual classes?
Classes are important for instilling knowledge through education. While the importance of education itself isn't highly debated, the risk and cost-benefits are constantly weighed for many seeking creative careers or industry changes.
Adobe training is offered with full vigour and passion by meticulous tutors at Blue Sky Graphics, fine educators of graphic design and our Adobe virtual classes are small – so small they are in fact one to one. Have  a look here for more details.
Studying Adobe into one virtual class means that it's very difficult for students to hide and get left behind especially when there is just the tutor in the virtual class. Undivided attention means undivided attention and having no other students means that weakness areas in graphic design training can get addressed. Students are also encouraged to take part in discussions and are driven to express their opinions with their tutor.
It is a generally accepted fact that not only do students learn more in one-to-one virtual classes, but they also learn faster too. This means that a web design course or graphic design course can get done in just 7 months or as little as 4 months if double lessons take place during the week. Private virtual classes also mean the virtual class progresses through the course material more quickly.
At Blue Sky Graphics our students develop a good amount of confidence since they are encouraged to share their opinions and ask questions to their tutor. Homework is set each week which may range from 3 to 6 hours per week and this benefits their personal development massively. Our testimonials speak for themselves on TrustPilot and social media and the fact that between 50 to 65* percent of our students come to us by word of mouth pays tribute to our success in teaching Adobe virtual classes. * based on a survey asking how students found us when enroling.
Small virtual classes or private virtual classes mean that there's more time for instruction.  By contrast, if virtual classes are large more time has to be used up each day on dealing with different learning levels which may leave some people behind.  At Blue Sky Graphics we've realised that since teaching has so much to do with a tutor observing how a student learns and how he or she is retaining information, one-to-one Adobe virtual classes do permit the tutor to really pay attention closely and carefully monitor how individual students are doing.
Put another way, students learn more in a small or private virtual class because the tutor can do more teaching and can assess the effectiveness of his teaching better.
Students that have undergone the 0110 Graphic Design Course or 0220 Web Design Course often compliment Blue Sky Graphics on the new challenging briefs that have been taught. Often in surveys students comment on how the specific skills acquired reflect their working-life experience identical to what they encounter after graduating.
Many students join Blue Sky Graphics with minimal experience and then go on to working as a designer (either freelance or in-house) through want of a career change or having a passion or following their dream to become one.
Our virtual classes are often praised for our syllabus and comprehensive curriculum which is very hands-on. Reviews typically talk about their one-to-one tutor experience and how tutors are often described in terms of being patient, exceptionally empathetic and admin members of staff who actually do really care. One student, Liam of November 21's graduation commented " what an experience! I started with no technical adobe knowledge and an eager mind to get good at design and finished with a working knowledge of Adobe Suite and theory too. My tutor Marco was amazing and I can now call a friend too. I have my own portfolio of work that I am proud of and a creative support network that I am grateful for. Can recommend Marco and Blue Sky and honestly say it has been one of the best experiences of my life".
The truth is that at Blue Sky Graphics we have been teaching design for over 15 years. Our one-to-one virtual classes mean that no two lessons are the same. In the education sector, it may be said that very few tutors enjoy managing a large virtual class. This is usually because it's very difficult to do. Unfortunately, a tutor in college or university are often confectioned with challenging students and others may suffer and that's what they end up doing when confronted with a large virtual class of students. It's therefore genuinely a pleasure rather than a chore to teach our proud students at Blue Sky Graphics and many tutors have worked with us for over 10 years.
Students really do learn more when virtual classes are small. They learn faster. They progress through the material more quickly.
Are you seeking an exclusive and industry-leading introduction to the graphic design industry, theory and practice, building a strong portfolio with challenging briefs? Do you want to train for your own business needs or would like to become an artist with graphic abilities? Then a graphic design school with Adobe virtual classes may be right for you!
What does an ideal graphic design virtual class look like?
An ideal class in our eyes is a one-to-one environment where students can flourish.
Can you self-study graphic design?
For a guide on ways to study the best graphic design software including Adobe's graphic design software check out here.
How to learn graphic design as a beginner?
As a beginner learning graphic design can be daunting and even discouraging especially when you are learning it as a brand new skill with little or no experience.
The good news is that we have been teaching for over 15 years and one thing we do know very well is how to get the best out of our students. Blue Sky Graphics's ground-breaking approach to design education has transformed creativity, culture and technology to new levels. Universities while still popular are not necessarily the first port of call anymore when embarking on creative education.
But what does it really take to become a graphic designer?
Are you seeking a sole introduction to the software, creation of portfolio work, introduction to industry standards in a condensed timeline—then a boot camp or short-term graphic design school, maybe for you!
Founded in 2005 by Hanoch Soloman, this short-term vocational school is known as the UK first established one-to-one online graphic design school. Alumni of Blue Sky Graphics speak of rigorous training, passionate tutors, and remarkable student work in a short amount of time. BSG's mission is to prepare designers with practical, conceptual skills, and a solid portfolio upon completion to begin working in the field. This refined goal of the program makes it one of the best graphic design schools in the UK. Students enrol online from all over the UK including cities such as London, Liverpool, Manchester, Leeds, and Birmingham.
No prior graphic design experience is needed, just a readiness to learn a new visual language, in an inspiring environment with working designers as your tutors. In just 7 months you could become a designer. If you're ready to dive into the design right now find out when our next enrolment takes place here.
Conclusion
Adobe has changed the computing industry. Blue Sky Graphics offers several intakes throughout the year, enrolment is on a rolling basis. For anyone contemplating a career in graphic design possibly the best decision may be one where the student feels supported in their decision and ready to tackle the tasks ahead.
There is a saying that goes "education is the passport to the future, for tomorrow, belongs to those who prepare for it today."  Adobe graphic design classes may undoubtedly be challenging but then again no one claimed to conquer Rome overnight. There's been no successful endeavour historically that travailed without setbacks and hardship and when studying graphic design your setbacks should build you and not break you.