How to Learn About Graphic Design by your own
If you are thinking about being a skilled graphic designer or a promising career in graphic design, you may want to carefully evaluate your design, your goals, as well as your artistic and technical experience. Although job opportunities in this thriving industry are enormous, it is important to determine the path you want to follow at the beginning of your studies. Choosing the right coursework and having the required qualification will make a difference while you are in the workforce.
Training and preparation would allow you to become a graphic designer
Although a sense of imagination, sophistication, originality, outstanding communication skills and experience with computer graphics, instruction in graphic design involves proper preparation, including a visual portfolio of creative work produced during the course. Many scholars recommend that students complete art and design courses in order to grasp and learn the basics of art and design.
If you are stumbled with the question, How to Learn About Graphic Design by your own? Then fret not because we bring a solution for you that will help you become a graphic designer from your own comfort and at your own pace Blue Sky Graphics provides an online graphic design course to help you practise and understand more about the design field. After finishing the graphic design tutorial, you can check for assistant roles in the graphic design industry by completing the credential.
Although it may seem like a profession that you may break into through studying at work or on your own, there are also benefits of earning a graphic design degree.
For eg, you would be accepted for further jobs – most companies would not even offer you a place unless you have some sort of graduation or graduation certificate in graphic design. Second, the profit power grows dramatically when you are eligible – often you gain a hundred thousand pounds more than a full-time employee.
Those with qualifications and advanced knowledge often stand out from their peers: employers are more likely to recruit those with comprehensive education, knowledge and skills than others who are self-trained or less skilled.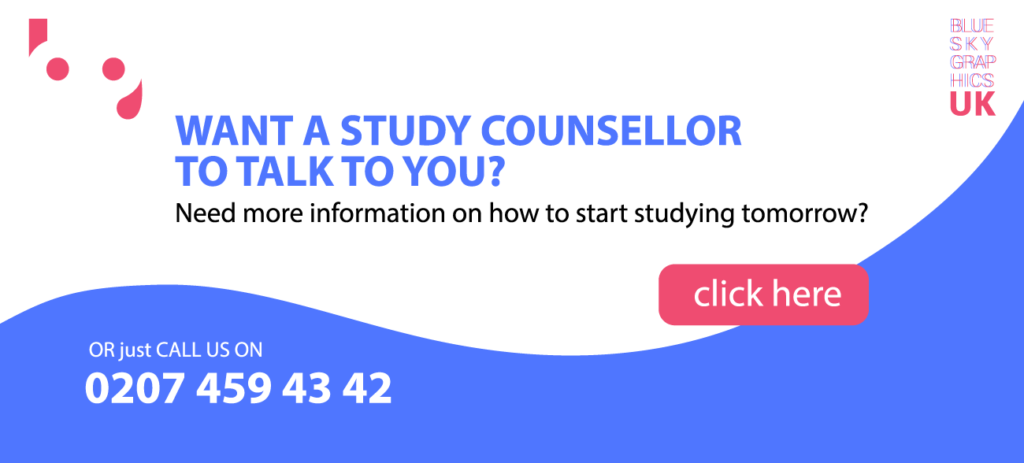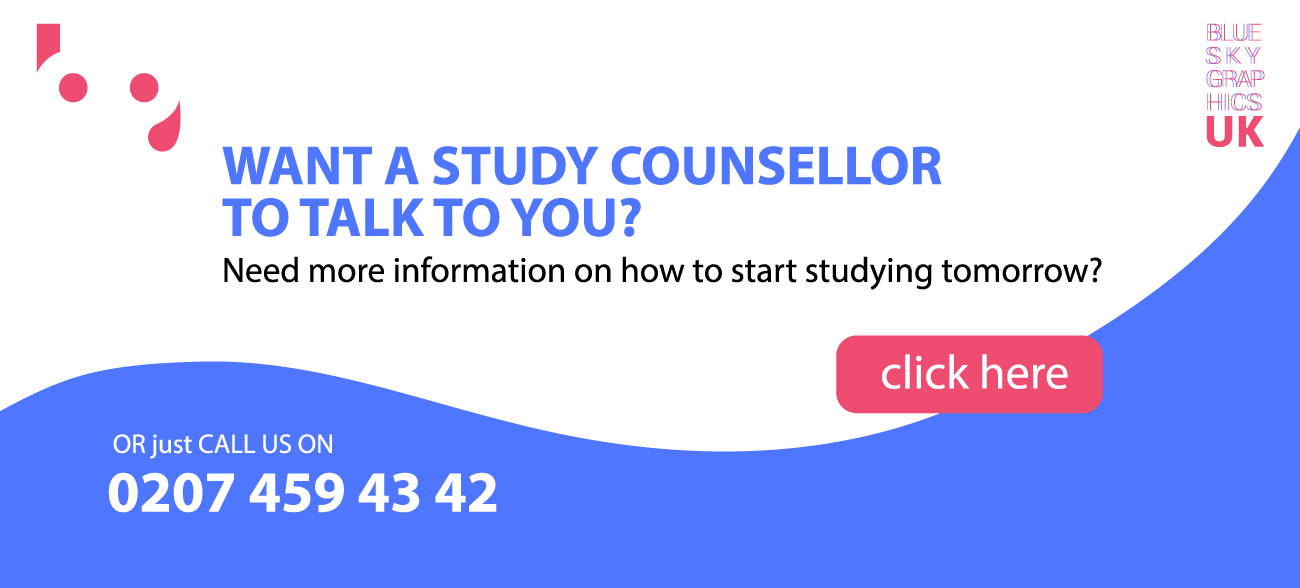 Curriculum
Depending on the graphic design field that you choose to follow, the curriculum may involve website design, studio art, computerised design, printing processes, industrial graphics and other related coursework that fall under the framework of the fine art or graphic design programme. This workshop helps aspiring graphic designers, who normally need a tremendous amount of teamwork and company cooperation, to become more well-rounded and well-prepared.
Why should Graphic Designer be up-to-date with the current trends?
It is also important that graphic designers keep up with industry trends and technical developments (including up-to-date digital graphics & design software) either individually or by specialised training programmes.
It is well known that market tastes and perceptions are constantly developing, and graphic designers must still be on their A-game to keep up with ever-changing patterns. It is often important to operate individually and collaboratively, to have outstanding time management abilities, to be self-disciplined, to take action and to cooperate with organisation deadlines and development schedules.
It is therefore important for graphic designers to have outstanding communication skills. While communicating with so many other individuals, you need to communicate your feelings in a concise way by visual, auditory, and published.
Across the creative sectors, graphic designers are photographers who can create digital photographs such as flags, posters, logos, advertisements, brochures, directories, book covers, journals, newspapers, product labelling, websites, etc.
Graphic artists may communicate with copywriters when working with text to match the artist's illustration. They often collaborate with production managers, building supervisors or artistic aides, project managers, product managers, artists, models, illustrators and web designers.
You, too, can become a graphic designer by simply signing up to our online graphic design course where we teach simple graphic design along with essential tools such as Adobe Photoshop, Illustrator and InDesign.
What kind of jobs are designers getting?
Graphic designers working in advertisement are hired and often operate under well-lit and lavish conditions for major advertising, publishing or architectural firms. Owing to turnaround periods and tighter and more frequent deadlines, graphic designers working in advertising, such as printing and publishing companies, are expected to work on nights or holidays. Graphic designers working usually work full-time in these contexts, while some work independently.
Designers collaborate for private develop providers or self-employed workers on a project or contract basis, change their working days to suit company demands and requirements, and prefer to work longer hours and in smaller, more congested settings.
Freelance designers strive to satisfy consumers and hold them young and allow a steady return, keeping them on their weekly routine more flexible. Graphic designers also do full-time or part-time consultancy work in these contexts, in addition to participating in architecture or other areas. So, sign up now for BSG's graphic design course!
Work for graphic designers
Graphic designers are found in many professions around the world. Some of the following are:
Art director
The Art Directors will settle on the appearance of the whole location. Build the original graphics and domain logos for the website.
Build web management instructions, style guides, and graphic specifications.
Provides automated instruments for the delivery and promotion of multimedia materials and goods;
Manages the deployment of exempt and non-exempt workers in total, using information and judgement to prepare and fulfil the targets.
Art managers are often regarded as corporate bosses.
Creator of Graphics for Motion
On a variety of sites, including Twitter, TV and video, a Motion Graphics Artist produces animated works of art. Motion Graphics can be seen in tv and movie advertising, web video clips, unique films, demonstrations, intros and post-production work.
Normally, a readable online reel for edited motion graphics is required and specialised Flash video clips are required. Photoshop is one of the easiest tools for becoming a Motion Graphics Designer to learn.
Other apps are also needed, such as Sun, After Effects, Adobe Premiere, Final Cut Pro and Ardent Preparation.
Media design is a creative means for the public to inspire and interact through the visual depiction of current ideas and logos. It needs a talented faculty and an exceptional architecture and aesthetic expertise planner. Important thinking and logical reasoning characterise a strong designer.
In order to fulfil customers' needs, graphic designers often aim to connect their audience to promotional themes and taglines. The dissemination of the strategy to the media is of the utmost importance. Brand companies of major international organisations utilise graphic design to endorse their products.
Learn graphic design in the UK via the Blue Sky Graphics course and start your career as a graphic designer!
Graphic Production Systems
Magazines, ads and packaging are common graphic design uses. For example, a product with an emblem or other artwork, structured text and pure design elements, such as form and colour, is the job of a graphic artist. Composition is one of the fundamental aspects of graphic design, especially when utilising established equipment or materials.
The visuals and format of current text or photographs or images produced by graphic designers will be part of the design process. In a newspaper with reporters and photographers, for example, the graphic designer responsible for coordinating this system determines if any graphic features may be necessary.
Essentials in Graphic Design
In order to create an influence on the audience, the artist must often include in his idea the ounces of imagination that will help to render it an emblematic image for the viewers' minds.
Patterns
The pattern is a series of special visual characteristics, such as a single unit or multiple types. Patterns can be used to establish continuity, organise surfaces in a consistent way, or create contrast. Examples of this include floor tiles in the retail store. Though they serve as decorations, they have a different purpose; they lead the consumer around the store.
Balance:
Balance is more about perceptual balance, our actual perception of balance. Bold or strong arrangements preserve equilibrium, symmetrically or asymmetrically, and appear to satisfy opposing forces. Symmetric compositions maintain symmetry by applying equivalent weight components and design values to each side of the theoretical middle section.
Asymmetrical equilibrium, on the other hand, utilises various weights that are typically calculated by an arbitrary line somewhere in the overall design. Asymmetric projects tend to be bolder and can bring real dramatic appeal and movement to the design.
Each feature of the design either adds or destroys the balance. Keep in mind that each element bears its visual weight, like typography, colours, photographs, proportions, textures, shapes and patterns.
Some components are bulky and capture the eye, whilst others are smaller. The way you choose to set out the elements of your design will provide a sense of harmony. Do not crowd your template by placing a tonne of heavy elements in one region of your composition, as it will throw off your balance and render your audiences feel as though their eyes are slipping off the page.
The graphic design career entails the creation and communication of ideas or products through visual concepts, either through an online medium or by hand.
Many Graphic Designers work in communications fields to create advertisements, brochures and brand imagery, but creativity may be extended to several industries as any organisation wants to advertise a product or service. Developing a broad idea of creative communication methods is crucial to the development of this field. Learning graphic design and applications like adobe photoshop, illustrator and InDesign is not a challenging challenge thanks to Blue Sky Graphics' online graphic design tutorial.
What are the key responsibilities of the Graphic Designer?
The image of a brand reflects the prestige of a company. It is often the first thing that consumers see to impose a large amount of responsibility on the Graphic Artist to effectively reflect the brand that the organisation promotes.
However, a big part of the job is to decipher what the consumer needs. Clients sometimes come up with an idea in their heads, but they do not know what it is going to look like on paper (or screen).
The core responsibilities of the Graphic Designer are to make an impact on the following three primary areas:
Design of graphics
Choosing colours, images and typefaces to accurately reflect the personality of the company.
Display clients or art directors the graphic design concepts to inform them of your strategy.
Develop graphics such as icons, original images and diagrams that help to communicate the intended message to the consumer.
Design of the Internet
Use digital resources to develop graphic designers
Turn mathematical details to complex graphs and diagrams
Build fully open, interactive websites that are distinctive from conventional models.
Design of UX UI
Deliver creative thoughts by bringing significance and understanding to everything you do.
What is the technical path of a graphic designer?
There is a lot of testing going on working with others working in the artistic sector.
In order to be competitive and relevant in the business, Graphic Designers need to stay up to date with modern technologies and computer technology. Graphic design technologies are emerging and growing at a rapid pace. As a graphic designer, you do not want a company to adapt faster than your ability set.
As long as industry is concerned, the portfolio is the best junior graphic designer arm. Employers may continue to see indicators of upskilling, whether through further testing or through the study of the usage of modern graphic design programmes.
What are the qualification and preparation requirements for a graphic designer?
However, due to the heavy focus on work experience for this job, it is not established if corporations prefer applicants with a degree, certificate, diploma or a high level of functional skills. This is because the experience for this job relies on both the ability to show competence in a range of projects and an excellent portfolio of jobs.
That being said, a Graphic Design credential of some sort will only take you to better professional expectations.