Graphic Design Night Course
Via different colour, form, image, film, animation and animated and graphical techniques in print or electronic media, graphic designers plan, analyse and create visual strategies for communication issues. A variety of publications, including books, magazines, newspapers, business articles, and other media, are produced and crafted by graphic designers and operate in several forms in the field of advertisement.
Study graphic design in the comfort of your home with Blue Sky Graphics and learn the skills needed to become a designer! You can take courses during the day or opt for Graphic Design Night Course!
What is the easiest form of being a designer?
In graphic design, most graphic designers need a certification. Tips and DIY videos help you pick any of the technical abilities, but you will stand out from the crowd and add to your repertoire by training with a trainer!
Luckily, at Blue Sky Graphics, we have the best tutors who work tirelessly and teach three main one-to-one courses: graphic design, web design and UX UI design.
In a typical classroom, immersive classes enable learners escape boring and lengthy lessons. You will save money as well, reducing the expense of commuting from school to home and vice versa.
Many students have long-term, full-time or part-time employment, but online learning provides realistic benefits in terms of versatility in education, personal life and jobs.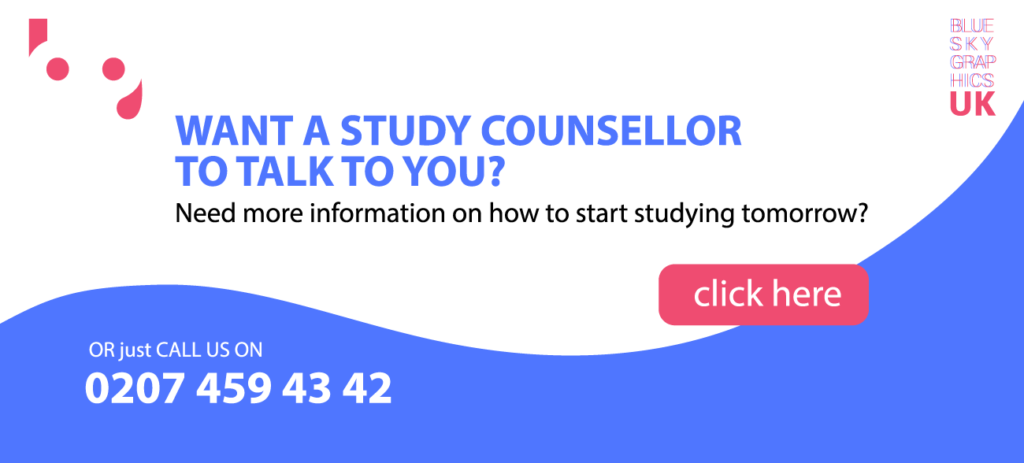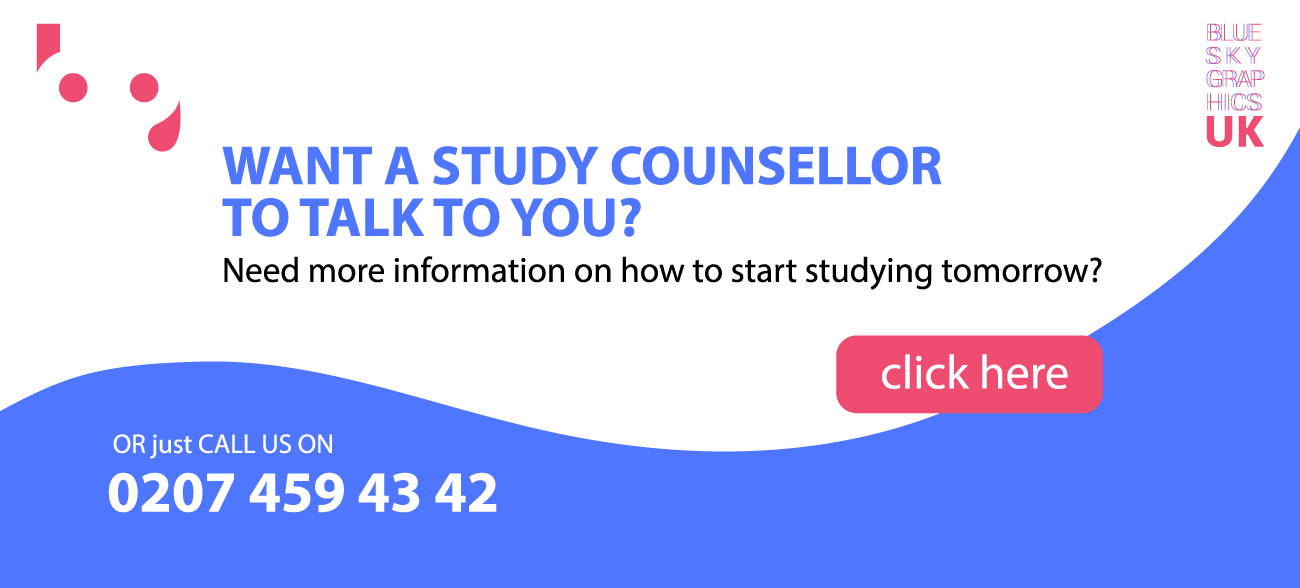 Visual communication is a complex practise that continuously reformulates and incorporates a variety of strategies for contacting and incorporating popular sentiment.
By mixing modern and conventional technologies with interesting outcomes, you can develop a variety of technological abilities and be encouraged to search for creative approaches. During the course, you can also build your portfolio!
Learn Course for Graphics
This course addresses all topics relating to signs, business cards and the branding of the organisation in corporate graphic design and advertisement. It demonstrates how to use Adobe to render a remarkable product utilising colour, scale, form, shape and style properly.
The course would aim at preserving and restoring photographs using multiple tools, designing logos and graphic identification, integrating simpler approaches and apps, printing and video environments, and constructing paper size.
Designing the Web
Web architecture relates to the general creation and design phase of a website. To ensure the optimal outcomes are obtained, it requires many big measures and processes utilising numerous digital methods.
Web design is more than just a visual interface that draws prospective clients to select to see what they have to deliver.
A website is built based on a powerful framework, design, configuration and user experience. Both of these are a blend of multiple components, including pictures, textures, contrast and shapes.
The architecture of a company's website plays an important role in its performance. It not only reflects the brand, but essentially defines whether revenues are produced by the company's website or whether they produce sales in real time.
A number of factors are concerned when individuals learn about the performance or loss of a website. The concepts of web design and innovative strategies utilised in designing this website will decide how high or low conversion rates are achieved through the website.
Why should Apply about Web Design?
The creation of a company website has been indispensable in modern times. It has been an incredibly popular way to advertise a brand. This allows to establish the proper identity when approaching future buyers of the company.
A means of contact between the organisation and its clients is given by the website designed by the company. An underestimation of the importance of a website can never occur.
The website is a place for customers to learn who you are, what you can do or what you can sell and how to make their life more enjoyable for your company.
It is like the online shop, which is available 24/7, so that your goods and services can be tested by prospective buyers and how they will utilise them.
Appealing graphic design creation
A strong web design is not just made up of pure aesthetics. This is about being able to articulate the post. You first have to determine what kind of web design you like before you start considering how you can build a web design.
The site architecture is static, and there is a dynamic gui. The static web design is the style of website design that utilises simple HTML code, whereas more advanced technical variants are used for the dynamic one.
Effective website architecture can be instantly conceptualised, but can not be rapidly accomplished. To bring together all the intricate specifics requires a lot of hard work and determination.
For its visitors, a website is designed, so a successful website can give its consumers the greatest experience according to aesthetic and technological rules. Nobody wants to browse a website that is difficult to interpret, sluggish and does not have any meaningful details.
UX UI Feature Value of Smartphone Applications
Mobile applications with strong UI/UX designs are more than twice their performance levels in the strongest mobile app market for UI/UX. This would not draw end-users if all of the offerings struggle to reach their potential, whether design-centred or user-centred.
With its appealing interfaces and quick navigation, the goal of the customer is constantly solved in a less contact and contact environment of the mobile app industry. Since the mobile system UI / UX architectures are taking further into consideration in the design of mobile devices, the understanding of everything about UI and UX is simpler.
When you connect, the mobile app's user experience is strongly connected to the mobile app's texture. Every mobile app's UI design continually relies on the degree to which the graphic design describes the market benefit for each customer.
User experiences are associated with simplicity of usage and an understanding of how the company needs are affected by the software. It is the overall perception and probability of user engagement to have enough satisfaction with the end-users. As the key function for market conversion, the mobile app's UX design is the ultimate skeleton of the whole mobile app.
By combining the usage of software and art concepts, a graphic designer creates digital images to create and provide a client with ideas that inform, inspire or motivate a customer.
How to develop into a graphic designer
To get a position as a graphic designer, you usually need a degree of architecture. The best way to get such an education in the UK is Blue Sky Graphics! You can now build a technical profile and highlight your abilities and talents as a designer when earning a credential.
Graphics from the Blue Sky is where you can learn visual design abilities. Not only can blue sky graphics teach you techniques, but they also demonstrate you how to learn. The 3 Ps, which stand for love, integrity and professionalism, are trusted. In the training field, the tutors will advise you and are always happy to answer any queries.
Since graphic designers will work on a number of tasks, programming classes will provide picture editing programmes, illustration programmes, and perhaps some optional web design and video editing programmes.
Passing an online course can help you gain the experience you need as a graphic designer to get your first career. An internship would also include the potential for the portfolio to integrate real-world projects.
Definition of a Designer's Work
Graphic designers make complex ideas more accessible by illustrating material through their text, colour and animation skills. In diagrams and graphic graphs, you can construct mathematical details dynamically, create icons and produce material for ads. They also communicate with humans in public affairs, publicity or advertisement. They build websites such as brochures, ads, business branding and other media.
Graphic designers can often specialise in one field, such as product design, book cover design, or web design, for example. On machine and system technology, a graphic designer will remain up to date. They are imaginative and original thinkers who can develop and implement original designs into a design or programme (such as a website).
For customers, graphic designers develop visual designs to encourage, educate and captivate. For advertising, blogs, magazines and other publishing and internet materials, the final concept and development design is developed. Text and photographs are used by those artists to convey concepts. Letters and text colours are planned, photographs organised, and copied on a print or web screen.
When utilising copies in layouts, visual designers cooperate strongly with authors. To make mathematical data graphics more open to abstract theories, they also use their creativity. Usually, graphic artists operate in workshops with chairs, machines and construction materials.
Although several graphic designers operate independently, those employed with professional graphic design agencies are often staffed by teams. Usually, work schedules depend on timelines for distribution to customers, printing firms or for web publication of a finished product.
In order to satisfy clients, self-employed artists adapt their working days, evenings and weekends. They often waste time looking for creative designs and have to compete with other artists for contracts. In firms, graphic designers are required to work more daily hours.