Graphic Design Courses Kilkenny
Graphic designers use several design elements to create creative or decorative results. Graphic design is essential for the promotion and distribution of goods and is a vital component of brochures and logos.
Graphic designers, often referred to as communication designers, frequently work together with individuals in advertisement and promotion, public relations, and marketing. Sometimes, designers specialise in a specific category or class of customer. E.g., some build illustrations used on retail product packages, while others can focus on visual designs used on book jackets. Graphic designers need to stay up to speed on new applications and computing technology to remain successful.
A certificate and a comprehensive job portfolio are typically needed, and specialised studies are suggested for advanced placement and higher salaries. A portfolio is a selection of crafted, computer-generated, or printed samples of the best work of the artist. An individual with a strong portfolio but with no training or experience might succeed in graphic arts. Assembling a good portfolio involves skills typically learned in the post-secondary arts or design school curriculum.
Our Teaching Approach – One-to-One
There will be meaningful and life-changing outcomes where an instructor can develop a more intimate interaction with a pupil. Students who have grown up and gained a sense of accomplishment in life also have their former professors as their motivation or life coaches. There is no question that this occurs most commonly for students who can reach out to their teachers or teachers who can build a unique partnership with the student. The power of this partnership is to get acquainted with the peculiarities and special learning habits of the person. Like a customised outfit, a lesson should meet each student's needs, ideally in a one-to-one setting.
Blue Sky Graphics has adopted the one-to-one education system, providing for a more intimate interaction between the student and the tutor, which often helps the relationship to grow professionally. The instructor will understand the drive and hard work of the student and be able to steer the student's efforts towards a variety of professional interests.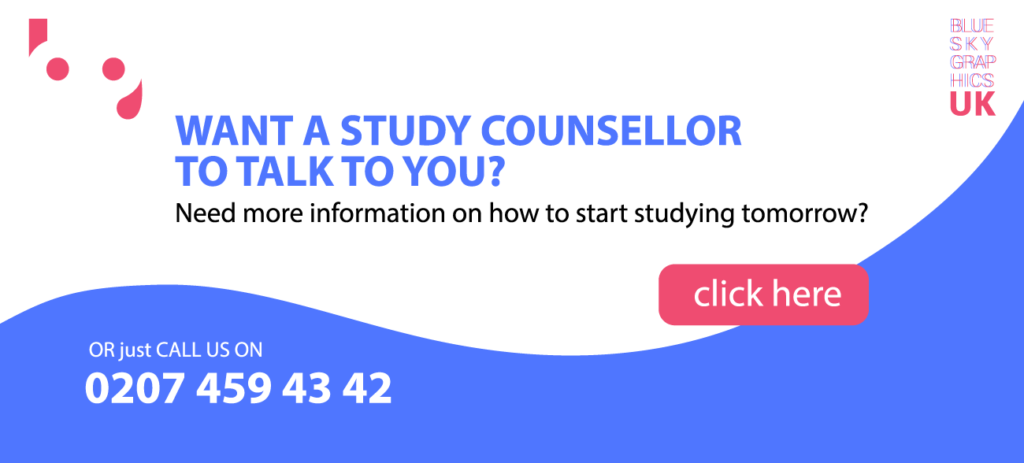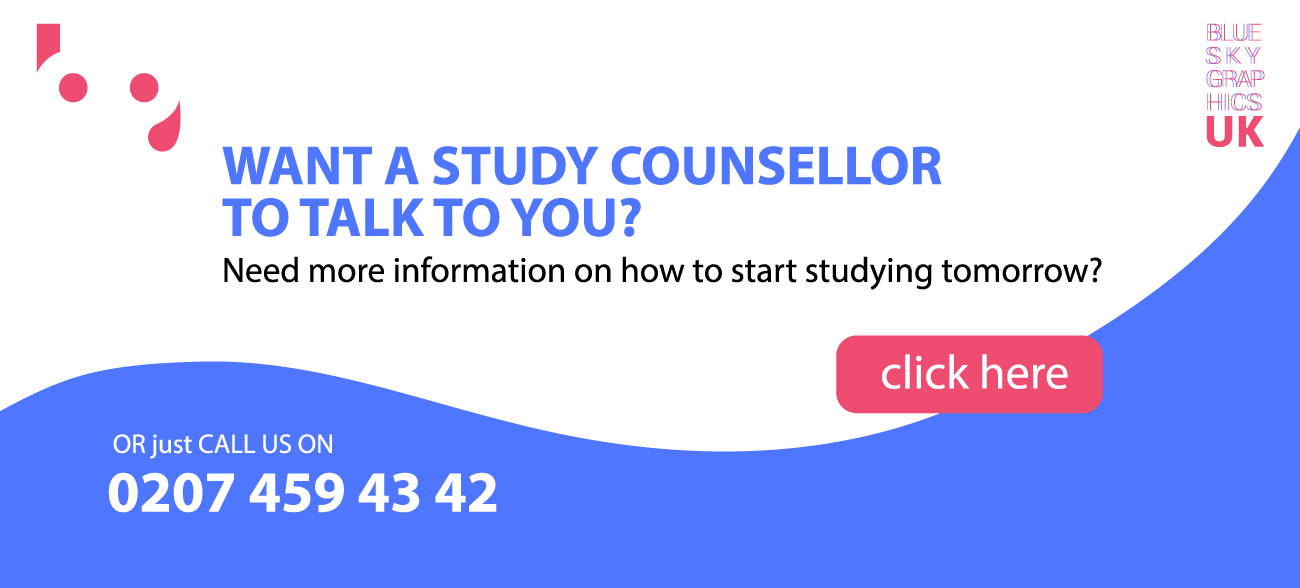 This is also how any of the most gifted minds will grow and change the environment. If a student is offered ample motivation and helped to understand his/her more extraordinary ability or passion by someone they trust and admire, the outcomes may be astounding.
What do you learn in the graphic design course by BSG in Kilkenny?
The graphic design course exposes students to the hardware and tools needed to work in the world of visual design. Assignments will enable students to incorporate graphic design methods, such as web layout, digital image processing, and illustration while integrating language design and adapting design theory to their work.
Here is an overview of fundamental principles learned in the courses in graphic design:
1. Design Principles
2. Colour Theory
3. Illustration
4. Web design
5. Editing Picture
Adobe Creative Cloud
Artists use Photoshop to edit images and computer graphics. The graphic design course will show you the use of Photoshop and how to manipulate your images using layers, curves, shades, text, cropping, retouching, masking, shadows, filters, smart artefacts, and more.
Adobe Illustrator lets artists create diagrams, logos, typography, and branding logo templates. The software uses vector graphics, animations generated using mathematical formulas. These photographs may be expanded without altering their display, rendering them ideal for responsive web designs, referring to designs that conform to various screen sizes.
InDesign is a software used to build templates and page layouts for print and interactive media. Designers are utilising apps for journals, novels, banners, brochures, digital PDFs, and more. InDesign software lets you style visuals, pictures, text, and tables to construct elegant layouts.
Adobe XD is used for customer interface activities such as planning, prototyping, and exchanging web and device user experience.
Creativity and Logical Thinking
Creativity has to be balanced by logical thought. Rational thought creates a filter that sifts through the artistic phase and takes out what is available and what is not. Graphic artists should be able to blend their imagination with logical thought abilities. This can be achieved concurrently in a flow-like state of focus that is perfected by real designers.
Creativity and Artistic Skills
The graphic designer should have an aesthetic sensitivity. This attention is what pushes the artist to use certain colours, to write work in certain forms, and to use particular styles of typography. How artists employ their artistic sensibility depends on how imaginative they use it. In comparison to analytical thought, which filters imagination, creative sensitivity multiplies it.
Work Options after Graduation
Textile Artist – have you ever wondered how the lovely prints got on your shirt? It is the textile designer who designs them.
Printmaker – if you enjoy prints, you should devote your whole career to making stunning prints or all sorts of prints. Effective printers utilise conventional methods and automated printing.
Creative services manager – you would require some expertise to perform this work, including connecting the creative department and the management to coordinate projects.
Creative Director – You would need to know how to optimise your staff's potential and be fantastic at getting the ultimate word on ventures. Yeah, please do not forget about managing the partnership with the customer.
UI Design
User interface design focuses on the look of websites and applications, including text, colours, and pictures, and functionality such as icons, buttons, and responsive design.
UX Design
The customer interface is how someone communicates with an organisation and its goods and services. Consequently, the customer interface in the production of a web-based product depends on how consumers feel and whether they can effectively achieve the intended goal.
UI and UX programmers are helping businesses meet the targets they set for their web sites or applications. For example, if the organisation needs customers to sign up for a newsletter, the UI designer will find ways to direct users to the decision. The UX designer will help measure how well the various choices perform. Often the same person is responsible for the UI and UX design of the product.