Graphic Design Courses Kildare
In graphic design, the designer communicates a message—whether it is branding, facts, or advertising—to users by text and photos. How these two components, text and pictures, are placed on the web page or written page is often part of the graphic design work, as well as font choices, colour and other visual elements.
Graphic designers evoke feelings and reactions to their site templates and their related graphic features through their craftsmanship. Graphic designers may focus on the design of print products (packaging, brochures, magazines, etc.) or the design of web sites and applications.
Nowadays, most designers need graphic design skills that go beyond a sketchpad and pencil. These specialised skills include creativity, design tools, such as Adobe Photoshop, Illustrator, and InDesign, that are necessary for both online and offline graphic design, and usually, a certificate in graphic design. The certificate can easily be obtained from Blue Sky Graphics in Kildare along with all the skills required to become a graphic designer. So sign up today!
What is Web Design?
Web design involves several variables, including layout, text, visuals, and conversion rate. A good website is far more than an aesthetically pleasing one. Considering user interface, device accessibility and technological specifics, it is essential to build a portal that is a clear representation of the brand. From general WordPress websites based on the brand establishment to Elementor plugins and Adobe XD – we teach it all in our web design course at Blue Sky Graphics as well!
UX Design
In comparison to graphic and visual designers, whose primary emphasis is on visuals and connectivity, user experience designers focus on usability design; on consumers and how they communicate with the web or view user interface components? How are users going around the site? What occurs when people press this button? Can adjusting the colour or scale of a widget affect visitors to make greater transactions or communicate with the web differently?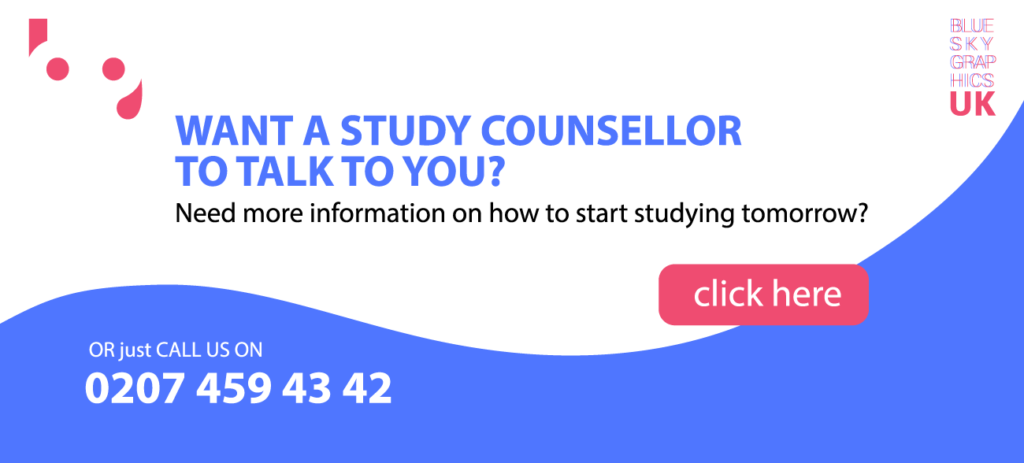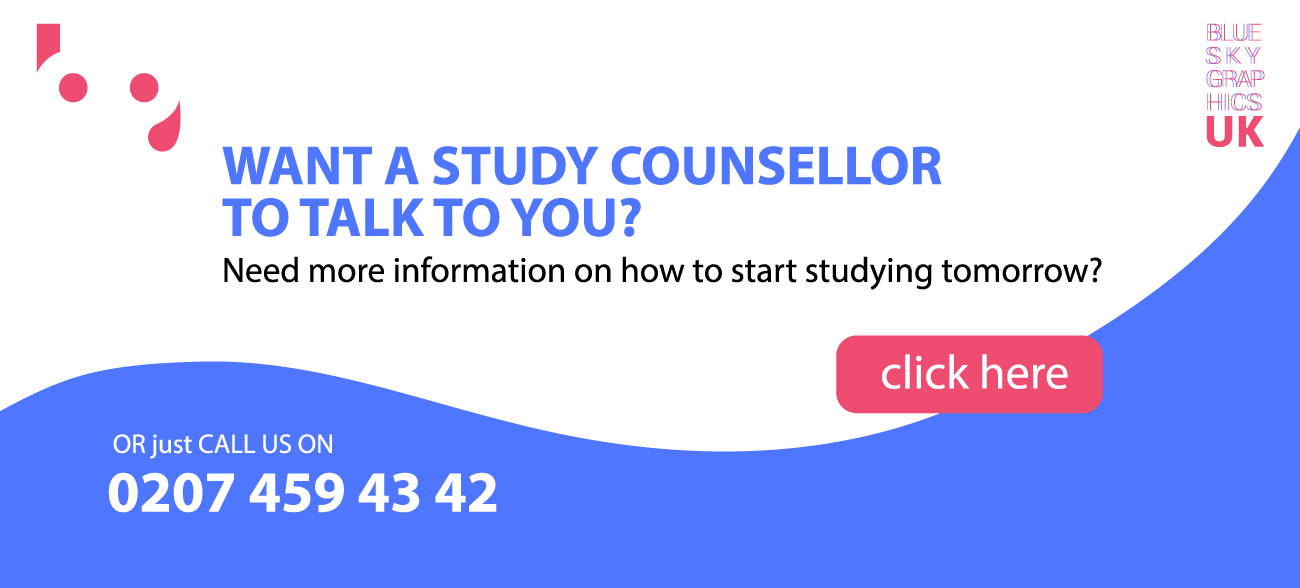 User interface designers, or UX designers, can perform different methods of user research, including A/B testing, to get responses to these kinds of queries. Although user interface design is often concerned with the layout of the web, the primary focus is how people communicate with the site; ensuring that users can successfully access the app or site and make intuitive choices on where to click and where not to click.
User interface designers introduce architectural ideas in the form of wireframes or visual blueprints for the construction of a web. They also describe the knowledge design, which is the basic manner in which information on the web is structured, presented and defined to visitors. Essentially, customer interface designers ensure that the website is user-friendly so that customers can grasp and access the services smoothly and effectively, whether it is content, service or products for sale. Master the essence of customer engagement in architecture with a course on user experience and design at BSG in Kildare.
Online Learning
Absenteeism and schedule problems are practically excluded from the online learning equation. Since online learning is more accessible than classroom learning, students may learn at their speed. Students who require extra attention and help of the tutors can enrol in our one-to-one graphic design course. This system ensures that no student is neglected and everyone gains something from the course.
Schedule versatility is often a major advantage for those who operate full-time or have parenting commitments that may conflict with a daily presence at the campus. As technology progresses, there are more options to learn from home. You can take our courses from home and with only a laptop and internet connection.
Our Teaching Approach at BSG
Online students are usually required to perform more regular tests so that instructors may track their expertise. Because of this, learning gaps will be detected and resolved more easily, rather than causing a failing student to fall between the cracks before the time of the test.
Thanks to our tutor's friendly and knowledgeable approach, we have acquired a variety of different skills. We aim to create a wide collection of work to construct an engaging and varied portfolio. Lessons are a thoughtfully balanced combination of being taught a technique, and being set loose to have a go on your own, while always getting the input and encouragement of an expert.
What is Adobe Creative Cloud?
Adobe Creative Cloud also referred to as Adobe CC, is a group of Mac OS and Windows computer software tools utilised by creative, design and marketing practitioners to produce print, video and multimedia material. There is also a limited range of Innovative Cloud apps available on iOS and Android smartphones.
The programmes used in Creative Cloud can be included in a wide variety of graphics and modelling applications, from posters to brochures to full-motion animations, blogs, displays, picture retouching and more. Many creative cloud apps are accessible either individually or as part of a robust suite.
What the Creative Cloud is used to achieve
Creative Cloud may be used for virtually any role in the fields of digital design, video editing, web creation or photography. Practitioners commonly utilise adobe Creative Cloud technologies in their area of application.
Adobe Creative Cloud is a platform that allows both innovation and teamwork. In terms of web design, for example, Creative Cloud contains about everything that anyone wants to create completely functioning websites from the ground up, regardless of whether they have the skill to code.
Adobe offers solutions for initiatives, including video processing, mobile design and even online publishing. Creative Cloud data and projects may also be stored in the Cloud, as these files are not only accessible on any laptop that a person can have that has an active Internet link, but may also be exchanged with anyone.
Illustrator: Vector Graphics Editor and Illustrator Program. Illustrator is used as a counterpart to Adobe Photoshop. Illustrator may be utilised for activities such as typing, designing icons and related areas within a wider area of graphic design.
InDesign: a printing platform for the desktop. It is used to produce various forms of materials, such as brochures, leaflets, banners, exhibits, books (both print and eBooks), magazines and even newspapers. It can also be used to publish content for tablet devices with the aid of the Adobe Digital Publishing Suite.
Photoshop: a versatile picture viewer and a raster graphics editor. Photoshop provides several different methods that can be used to modify any part of digital imaging, such as painting, drawing, calculation and navigation, collection, typing and retouching. Photoshop also facilitates automated colour grading and modification, cropping and more.
Graphic Design Jobs in Marketing Sector
Exec Marketing – you produce advertising materials, including deals or advertisements, to remind customers what the new deals are.
Branding creator – with several well-known brands, their branding is so effective that you can easily identify one of their goods with a tiny piece of details (like a specific colour).
Logo designer – while it is a speciality, there are a number of people whose task is to make logos. It is great for artists who love to spend a nice time on the drawing board.
Content strategist – these individuals love to help users get the best experience with company or customer content, and graphic design is a long way to go.
Advertising Designer – you are coordinating alongside the majority of the advertising staff – including copywriters and art designers – to come up with the best approach to market a client's commodity.
Director of Advertisement – if you have a background with marketing, then you will become Director of Advertising, and would not only need to know how to make ads appear fine but would still have to work with customers.
Graphic Design Jobs in the Editorial Sector
Editorial design – this suggests that you are trying to come up with templates for items like newspapers and magazines and get the right mix of pictures and document.
Book editorial design – you can further concentrate and emphasis on book cover design. These artists are now collaborating on additional materials to support these titles.
Layout artist – this is another niche in editorial design, implying that you work only on the layout of print publications.
Prepress technician – this task includes checking the proofs and ensuring sure they appear nice and simple, as well as transforming the text and photographs you give to the final page.
Information graphic design – certain people, know how to arrange information to make it easily readable. These individuals should certainly pursue jobs in knowledge graphic design!
Graphic Design Jobs in Development
Front end web designer – normally speaking, this implies what websites appear like the front end) when developers take care of all the technology that lets the websites work (the back end). You are going to have to know a little about code.
Web Developer – this goes a step farther than the one described before, making you the person who both designs what the website looks like and does the code work to make the website function properly.
User interface (UI) designer – this refers primarily to the areas of a website or programme in which users communicate. A UI designer is doing stuff like buttons to make the software work and typography to assist with the GUI.
How does Graphic Design help in Business?
Graphic design is almost always neglected when it comes to business owners and administrators. It is also used as a last touch of product or service development-something to be used once the plan has been developed, important decisions taken, and budgets allocated.
Effective companies use graphic design as part of their corporate plan from the outset. This is because the early design will save you money and result in a competitive offer and better service with your customers.
The first moves for more strategic usage of the design should include:
• Identifying where and how design is being utilised inside your market
• Identifying opportunities to enhance the planning process such as increasing the participation of management or using a skilled design consultancy
• Check for areas of the market where concept possibilities are missing
• Make sure your architecture issues are present with all of the strategic strategy meetings and documentation
• Conducting consumer analysis to guarantee that you recognise what your buyers need
• Company experts with product experience may offer advice on the usage of design and collaborate with designers
Building a Brand Identity using Graphic Design
The graphic designer manages all visual options for the production of the brand. They are the stewards of your visual identification, ensuring that whatever occurs visually, it stays constant on any platform. Graphic design is something you produce for your company with a competent graphic designer.
While their exposure to the graphic design branding phase is mainly towards the end (because they are the ones that have to materialise concepts into something concrete and tangible), they can still be part of the whole artistic process.
The logo is a graphical depiction of your business. It is one of the essential aspects of any brand and is typically among the first assets to be built. Your logo is essentially a picture that you use to symbolise your name, much like the trademark of your company.
There are several styles of logos; some are letters, pictures, marks, or simple geometric shapes. However, a successful logo is clear and unforgettable so that it can be easily connected to the company. You would want it to be flexible enough to be used in various commercials, merchandise, and more. Brand language is a general aspect of the graphic elements that will advertise the product, including colours, fonts, pictures, slogans, and so on.
The slogan, blogs, applications, letterheads and business cards are also part of the branding of the company. Everything you are designing is relevant, but depending on your business, you are likely to pay particular attention to some of the elements. If you operate a restaurant, the menu would be a top priority. If you have an online company, you will want to spend a lot of time polishing every aspect of your website.