Graphic Design Courses in Ireland
The traditional task of design has been to enhance the graphic presentation and accessibility of messages and information. Graphic design is an important part of the advertising industry to create unique logos and ads for brands all around the world.
Graphic design differentiates brands from their rivals in the marketplace by creative approaches to branding, a systematic design of messages, goods, and services that express a business's character and describe its partnership with customers.
Graphic design uses – In todays' world:
Advertising production supports the standard of commercial goods and services across a range of contact channels. Designers also transform complex numerical and textual descriptions into graphic formats that help people see trends in details and interactions between the components of complicated concepts.
Designers use typography, photos, diagrams, and graphic elements to create messages that draw interest, make us think about their significance, and linger in our memories over time.
Some areas of graphic design are more advanced than others. Motion graphics, for example, incorporate sound and illustration to the digital toolkit of artists and are viewed on TV and computer screens, in the video, or environmental installations such as technology walls and stadiums.
In addition to text and pictures, exhibition and packaging designers are also responsible for designing physical designs and choosing products that bear messages. These practices are paying particular attention to the demands of real contexts in which people encounter signals and reflect on their actions and the perception of the material.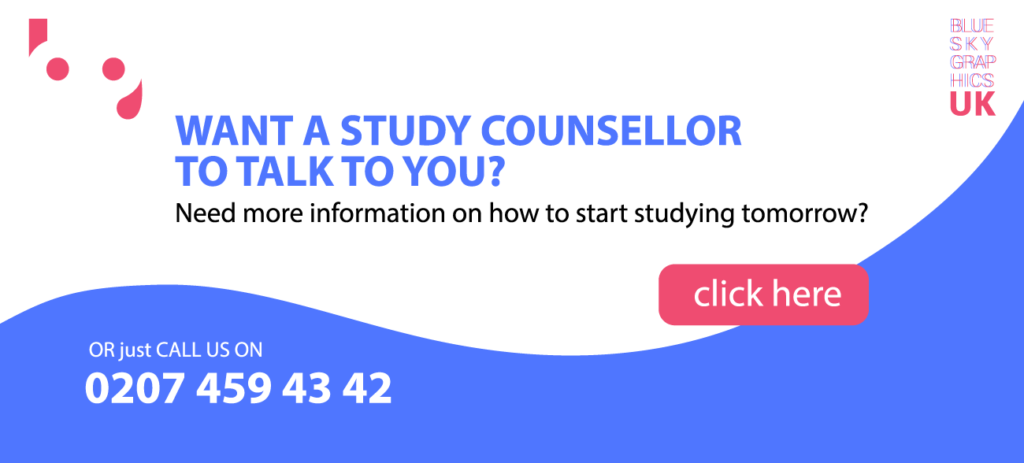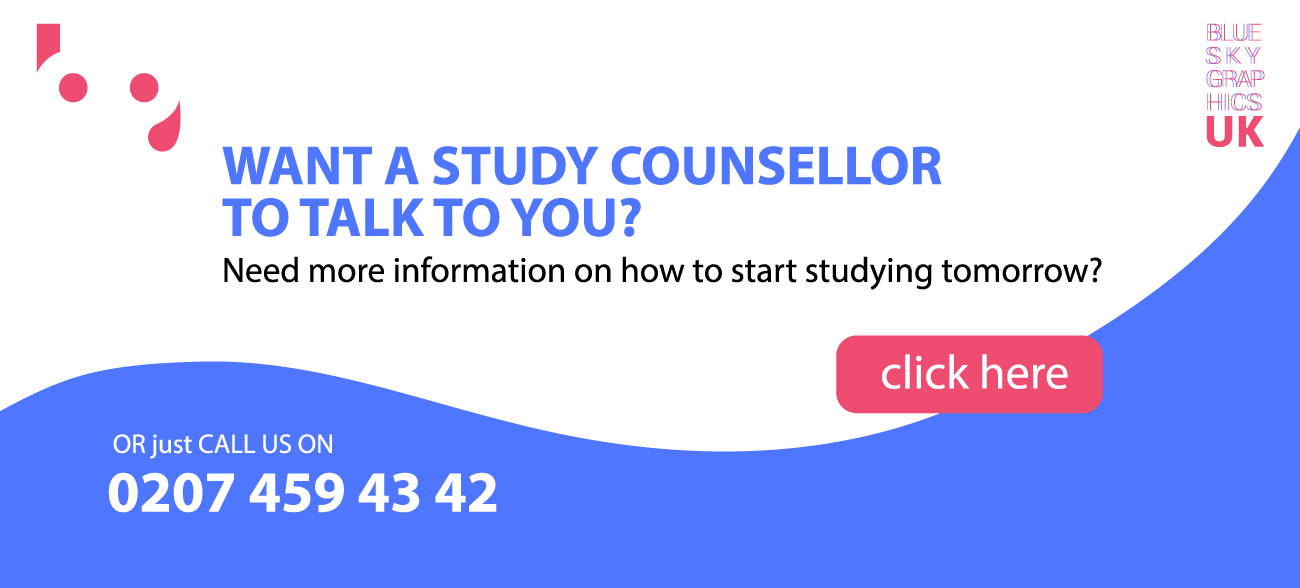 While these conventional techniques enable the artist to utilise computer technologies to create visual, audio, and time-based forms, much of today's design work reflects on people's interactive interactions and the position technology plays in their daily lives. From smartphones to speech, motion, and sensor-activated devices, designers are continually linking us to other users, knowledge, and services via various emerging technologies. These designers explore the essence of human engagement with digital content and the graphic process and subject matter of conversation.
Graphic designers use software like Adobe Photoshop, InDesign and Illustrator to create stunning graphics while the toolkit of a web designer constitutes of WordPress, Elementor and Adobe XD. All of which are being taught at our graphic design course in Ireland through Blue Sky Graphics.
How to learn Graphic Design?
Luckily, you do not have to attend a university to be a graphic artist. A solid background in graphic design principles, philosophy, and realistic practise can help you get to the field. There are several tools accessible with which you can study graphic design from home. At first, do not set the hopes too high, as it can take months of enthusiastic research to be perfect. But it is not impossible!
The online graphic design school, Blue Sky Graphics, is a great way to get started in graphic design. It is known for the one-to-one structured classroom that allows the tutors to engage with one student at a time. This approach makes the learning process easier for the student without any hustle.
UX Design
User interface (UX) creators often build interactive platforms and processes by which users create their content and interact with similar interests. Computer graphic design embraces an increasingly technology-conscious world that reads and reacts to all we do.
Designing the requirements for experience involves more than the arrangement of form and material and is often focused on models of conversation and culture rather than artefacts and knowledge. Interaction and experience planners research people's motivations and attitudes in experiences that people find necessary to interact with others, and promote their interaction with the cultural and physical world.
Online and app designers match the market desire for digital productivity with consideration for the artistic and humanistic values of consumer knowledge. And these thinkers are considering new tasks for technology in addressing the highly complicated challenges of contemporary society.
Web Design
The creation and development of a website or blog page is the responsibility of the web designer. It can involve operating on a whole new website or upgrading an established website. Their job is different from that of web developers who specialise in rendering web projects a reality or writing code that determines how different sections of the website come together. However, there might be a crossover between the two jobs.
What do you learn in a Graphic Design Course?
There are a few graphic design concepts that influence any project you make. Understanding these ideas conceptually and studying how to implement them effectively can shape the base of your education in graphic design. Several fundamental principles underlie the area of graphic design. At BSG online graphic design school in Ireland, we focus specially on learning creativity. Skills are important to a graphic designer but without creativity, they cannot create stunning and appealing design; making their learnt skill quite useless.
We may divide all the fundamental concepts of graphic design into two categories: principles and components. The concepts of design for this essay are the overarching realities of the practise. They reflect the basic assumptions of the universe that direct the practise of design and influence the arrangement of artefacts within a composition. Below are a few of the principles you will learn.
Balance
Balance comes from gazing at pictures and measuring them against our ideas about physical form (such as mass, gravity, or the sides of a page). It involves the organisation of artefacts in a specified design since it refers to their visual weight within a composition. Balance typically arises in two forms: symmetrical and asymmetrical.
Symmetrical
The symmetrical equilibrium arises when the composition's density is uniformly dispersed along the central vertical or horizontal axes. In natural conditions, it assumes similar shapes on both sides of the axis. When symmetry happens for close, but not identical, forms, this is called approximate symmetry.
In comparison, a composition may be built uniformly around the central point resulting in radial symmetry. Symmetrical equilibrium is often referred to as structured harmony.
Asymmetric
Asymmetrical harmony arises where the mass of the composition is not uniformly dispersed along the central axis. It requires the arrangement of items of different sizes in a composition such that they complement each other with their respective visual weights. Sometimes there is a dominant form that is contrasted by several smaller ones. In general, asymmetrical compositions appear to have a higher sense of visual suspense.
Proportion
Proportion is the contrast of sizes or the distribution of shapes. It is a relationship of scale between one element and another, or between a whole object and one of its pieces. The different proportions within the structure may contribute to other kinds of balance or symmetry, which may help to decide visual weight and width.
Unity
The idea of unity explains the interaction between the component pieces and the composition as a whole. It explores the facets of a given design that are important to link the composition together to give it a sense of completeness, or to split it apart and to give it a sense of variety. Unity in nature is a term that derives from some of Gestalt's ideas in visual experience and psychology, especially those concerned with how the human brain organises visual knowledge into divisions or classes.
Colour Theory
It is essential to learn the fundamentals of colour theory and to get a sense of how to work with colours. Colours will make the design areas pop out of the page or recede into the background. The use of texture will increase the feel of a design. The texture of the written template will be the real feel of the paper or other products. The imagery may even fit in with the texture and is filled with colours. Learning how to combine both is a delicate craft that may require considerable time to make effective use of.
Problem Solving
Graphic artists are overcoming visual challenges. The trick to learning graphic design is to learn how to approach a visual dilemma. This ensures that you can profit from tackling the concept briefs. You can learn how to implement the skills you study by solving fictitious design challenges, beginning with and going ahead in resolving real-world problems and collaborating with customers.
Visual and creative problem solving is at the forefront of what we do as graphic designers. Clients are coming to graphic designers with a brief that needs to be addressed. A new business may need to penetrate a particular sector and come to you with a detailed identity solution. Or you can work in a newspaper and have to lay down a page to the deadline. The challenges are infinite, and your job is to solve these problems.
A visual concept is more than just a visual approach. It is the unification between a graphic and a concept put in context to address a problem. Logo design, for instance, is a graphic symbol that reflects the concept of a brand, viewed in the sense of all the identity, promotion, and background of the company.
Creative Design Process
Learning to research, designing thumbnails, refining drawings, figuring out visual ideas in programmes, and showing them to clients are just some of the design phase fundamentals. Each subset of design might have a somewhat different technique. The functional approach or the organisation you work with may execute stuff in a very special manner in their manufacturing environment. And now the fundamentals are the same. Get acquainted with the design phase from start to finish, and focus on being quicker and stronger at – point of the process for each project you work on.
Work Options after completing the Graphic Design Course At Blue Sky Graphics
Graphic design is a significant field that is specifically active with a variety of professions. Learning this field from Blue Sky Graphics will help you determine what you want to work on. You may be drawn to print design, advertisement, interface design, or other graphic design or related fields. We not only teach our students how to create amazing graphic design but also help them build a strong portfolio before their course is finished to help them secure a career in design.
Communication Designers
There is a strong demand for designers with programming abilities that support their knowledge of the visual structure and human contact. The graphic design of online connectivity strategies is now focused less on models of access to knowledge than on models of conversation and communities of interest. Consumers mutually create material and laws by which technology systems work.
Designers in these organisations typically work as part of a squad and computational scientists, social scientists, and company managers. Unlike specific other work modes, app programmers are continually upgrading items, paying careful attention to how they are utilised, and shifting consumer habits.
Service Design
Service design is an evolving sector of design practise. The practises of human preparation and coordination, collaboration, and functional elements of the service (interactive technologies or shops, for example) are intended to strengthen the interaction between individuals and their involvement with a range of goods or events and service providers. It is now possible to find college programmes in service design, but several of today's professionals have been qualified in other design areas, such as communication design.
Freelancing
It is estimated that about 20% of the communication designers self-employed. The single owners and freelancers work out customers and handle all facets of their activities. They may hire accountants and attorneys to manage regular activities, such as billing and contracts. Still, they are responsible for regularly producing new jobs, providing a work product, and managing the work of vendors (printers, photographers, copywriters, computer programmers, etc.).
Freelancers are hired by consultancy companies and firms on a short-term or project-specific basis, typically without fringe benefits. In certain situations, graphic design companies assess the suitability of potential hires by first recruiting them as freelancers.
Logo Designer
A logo (or logotype) is a design, icon, signature, or mark utilised by companies, organisations, and individuals to achieve immediate recognition. A branch of graphic design, logos are the key components that people associate with.
Consequently, a logo designer produces an identity mark, emblem, signature, or other graphics that distinguishes a business, corporation, institution, or other enterprise in a manner that is immediately discernible and unforgettable. To explain this, individuals are named by their initials, not by the way they appear or dress. In the same way, the logo is plain, memorable, and point-to-point.
Designing a successful logo also entails a team project involving a customer, a publicity team, administrators, art designers, etc. Before the design process starts, there must be an adequate conception of the idea or motive of the emblem, the identity and the principles of the business or organisation, and their target audience. Steps in the design process include analysis, conceptualisation, sketching of designs, refining of design, testing, and, ultimately, development of the chosen logo.