Graphic Design Courses Carrigaline
Graphic designers give colour and life to any illustration. Graphic designers settle on the most successful way to get a message through paper, electronic and film media using colour, form, photography, illustration and various print and layout techniques. They produce packaging and publicity brochures for goods and facilities and design logos for products and firms. They are also interested in the creation of web page content, digital media, and multimedia projects.
Graphic designers create projects according to the client's needs by receiving pertinent input from customers, doing their analysis, and reading the client briefs. They prepare drawings or layouts by hand or with the aid of a computer. Colour, sound, and other visual elements of the graphic design are chosen and integrated into the graphic design. The finished or final specification shall be forwarded for approval to the client or artistic director.
Graphic designers use a range of graphics and layout computer applications to aid with their work. This software helps simplicity and versatility in testing product options, reducing design costs and saving time. The requirement for up-to-date computer and communication equipment is therefore essential for any graphic designer.
Blue Sky Graphics in Carrigaline
Through this industry-focused graphic design course, you can train to be an adept visual communicator, developing core typography, branding, visual vocabulary, craftsmanship and critical thinking skills. You will experiment and discover as you progress through the course, establishing your identity and analytical outlook to become a professionally qualified specialist, ready for business or further postgraduate studies.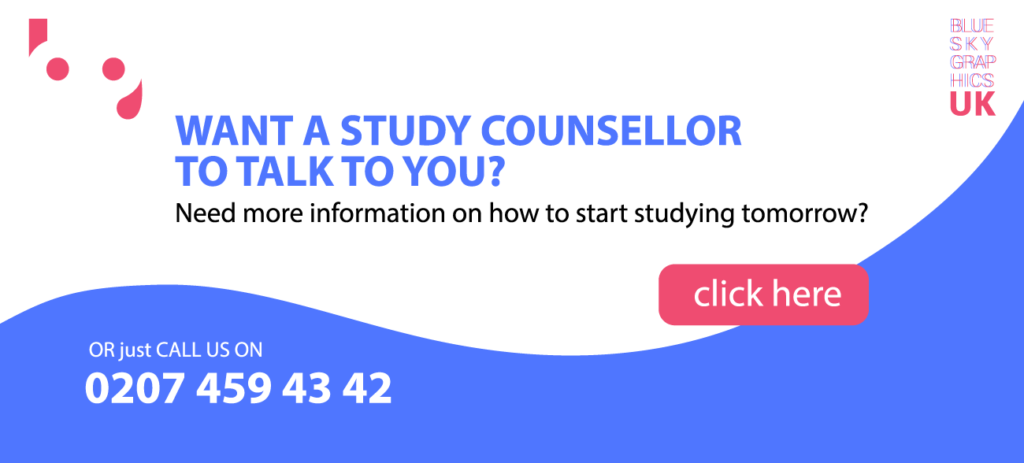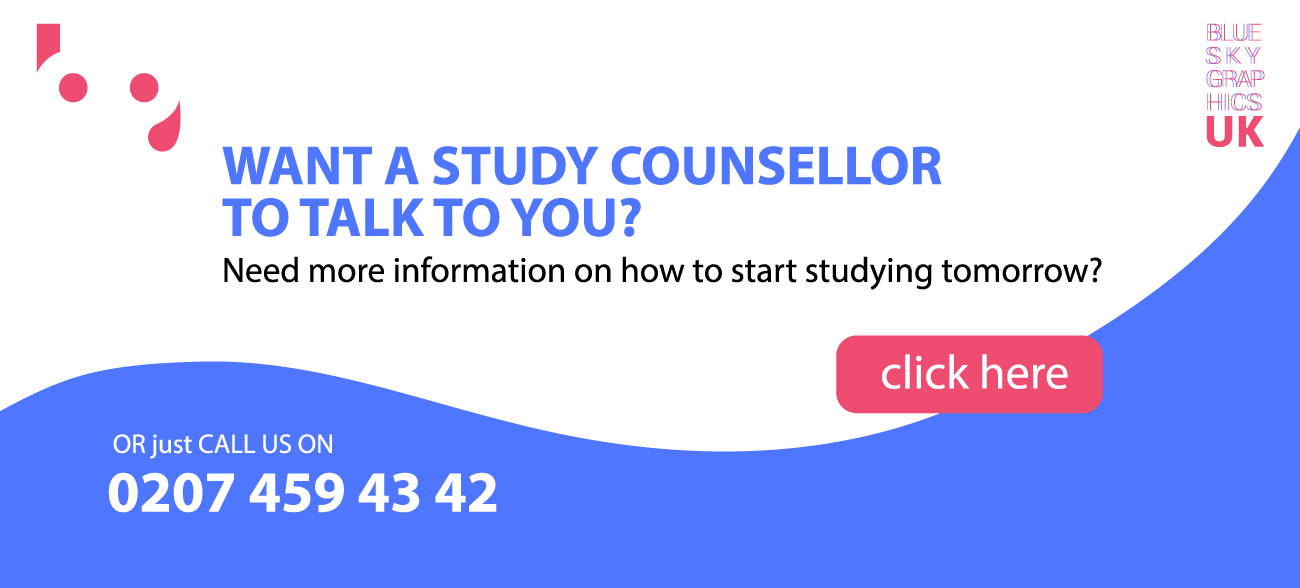 With a concentration on conceptual thinking and beautifully crafting big ideas, this course is your starting point for a career in the creative industries. You will figure out how to address the difficult challenges facing society and industry today with brilliant solutions through print and digital media.
With the design process and problem-solving at its core, this course in graphic design examines how innovative and concrete concepts can be created. You will research historical, social and cultural topics relating theory and reality, and learn real-world expertise through live briefings and leading designers' seminars.
What to expect?
The first module incorporates a crucial component of the graphic designer's education: a realistic interpretation of the 'creation process.' Initially, you can discuss 'process' as a sequential series of rules or 'signposts' along an imaginative journey, taking you to the next main stage. You will recognise the value of each 'signpost,' recognising how it helps to outsource and improve your thinking.
As part of the design process, you will have main skills, such as drawing and marking, research, lateral thinking and imaginative scope, and how time management can effectively allow a more analytical and constructive learning style. Via seminars, lectures and studio briefings, you will be guided to engage with the underlying concepts that control, mould and inspire the innovative process of generation and production of ideas.
Via a set of functional and theoretical exercises, you will be exposed to the basic concepts of visual language and the influential role, like communication, understanding the notion that all materials and artefacts bear meaning and significance within the sense of communication.
You will play with the essential elements of the concept, procedure and method to grasp and assess their role in exploring concepts and transmitting messages.
Specialised Skills for Graphic Designers
In the world of graphic design, an artist uses text and pictures to convey information or advertising. How a website is set out creatively is an aspect of graphic design careers, as well as how the fonts, colours, and other visual elements are chosen. Graphic designers evoke feelings and reactions to their web designs and their related graphic elements through their craftsmanship. The graphic designer will know that consumers will react very differently to the text written in the much-maligned Comic Sans font instead of the old-fashioned Courier Modern font.
Nowadays, artists need more exposure and expertise in applications such as Adobe Photoshop, Illustrator, and InDesign to work in both online and offline careers. Usually, graphic designers create a product portfolio before applying for a graphic design position. The median national wage for a graphic designer is £42,000, with start-up designer wages in the low 30s, and a high-end designer salary of £65,000. Graphic designers may focus on print products' design (packaging, brochures, magazines, etc.) or the design of web sites and applications.
Logo Design
Designers know the meaning of a perfect first impression, which is why the graphic designer logos are some of the most imaginative and convincing logos out there. At a glance, the right logo creates trust in your design skills and sets you apart from the competition. Graphic artists need to show a clear interpretation of the style of their logos. This requires keeping the palette of colours restrained and following the architecture standards. Sticking to black and white gives a luxury feel to your logo design, while a splash of colour will make your logo and brand design feel more available.
As a graphic artist, you are expected to use the branding in a wide spectrum of media—from blogs, newsletters, to print materials. A logo that does not look nice in either of these media will damage your image as a designer. Opt for a clean logo style that looks just as fantastic on screens as it does on paper, to gain trust in your graphic design skills.
Typography
Although most graphic designers choose photos over text, the logo also needs a great font. Like your colours, your fonts should show an appreciation of the concepts of design. You will not go wrong with bold, minimalist font or with a plain, custom font. Whatever font you select, make sure it is readable across sizes and mediums, while also standing out from the competition.
Symbol
If you want to add an icon to your logo, make sure it suits your unique graphic design company. Your icon is meant to bring value to your logo—not clutter. When you have selected an emblem that suits your company and offers, make sure it fits your other logo design features and can be scaled to a wide range of sizes and mediums.