Graphic Design and Web Design Courses Shipley
Using a wide variety of graphics and layout computer programmes, graphic designers and artists create, organise and work out visual ways to communicate knowledge to a community of people. They use many different tools, such as photographs, illustrations, colours, animations, fonts, and numerous layouts, to get information across to the audience they want most easily and quickly possible. The graphic designers produce overall production and layout designs for newspapers, journals, magazines, company reports, and various additional publications.
Work of a Designer
Besides, graphic designers make promotional displays, marketing and packaging pamphlets for services and goods, design unique logos for businesses and goods, make signage and signage systems, and create websites, interactive media, and multimedia projects. Designers produce layouts or preliminary sketches to show the design idea. Designers choose their art typography, animation, photography, artwork, sound, colour, and other visual aspects.
The layout and scale of the design elements as they appear on the screen or the website is another decision taken by the designer. These may involve consulting copywriters on the text that will be used in the template, as well as designing any graphics or charts that may be needed. A graphic designer will bring elegance and sophistication to a project that will motivate the individuals involved to produce a positive outcome.
How to get started in Graphic Design?
If you want to prepare in the best way possible for such a position, the knowledge gained during the practical life in the field of graphic design is great – but you might also consider a formal education in design from a school programme that focuses on the design itself.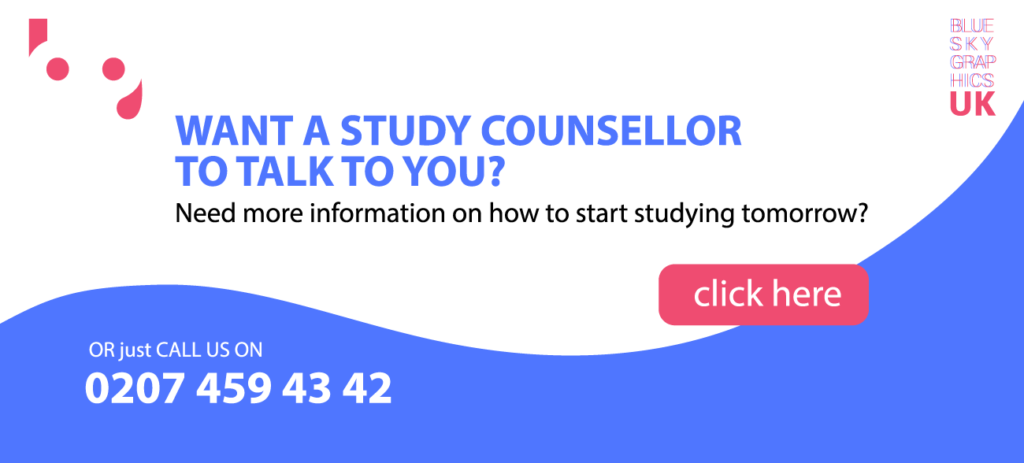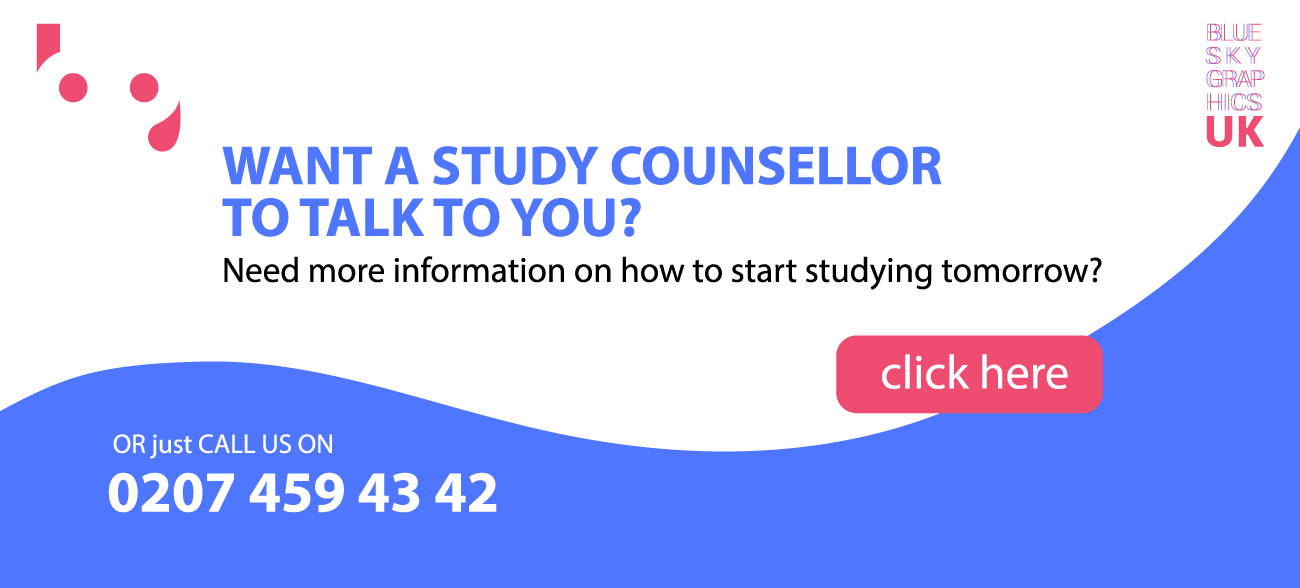 Many colleges and universities offer programmes for graphic design or fine arts, as well as schools specialising in art education. Still, they require full-time presence and schedules that might be hard to keep up with for some people. Fortunately, online learning has become increasingly popular and accepted in the United Kingdom. Blue Sky Graphics offers students an affordable graphic design course that can be completed within a year and is suitable for people coming from either foundation level or intermediates!
The course in graphic design is complete and is intended to prepare learners to become qualified graphic designers using our teaching approach. The emphasis is on corporate illustration, architecture, painting and logos, and advertising designs, concentrating on shapes, lines, images, forms, and spaces. All of this should be used in the printing of graphic elements after graphic design to convey feelings and messages visually.
Graphic Designer's Portfolio
An outstanding portfolio of examples of the best work the designer has completed is also what decides whether or not they will be employed. With our tutors, you will learn a lot of tips to make a great portfolio that helps you stand out from the rest and help you attain a nice job.
Graphic artists should be able to meet deadlines, effectively interpret customer wishes, work autonomously and under pressure, and solve problems. Many positions often require a strong working knowledge of computer graphics and software design.
Graphic vs. Web Design
Some people may think Graphic Design and Web Design are the same things. There are, however, some key differences between them. Those who are planning to hire the services of a designer or have a career in the design should take these differences into account. Here are the two types of design and the work involved:
Graphic Design
Graphic design uses graphics, graphics, images, and typography to communicate ideas. Graphic designers can work on print and digital projects. However, this type of design is concerned only with the creation of graphics that can be used in print or on websites, but not with programming tasks-such as web designers.
Web Design
Web Design is just like graphic design in the way that graphics, graphics, images, and typography are designed to communicate ideas. However, it is concerned only with websites and not with printing. The task of web designers is to create websites that look great and load quickly.
The Importance of Knowing the Difference
Many people still consider both professions to have the same type of work. Yeah, often, people who have a web project make the mistake of hiring a graphic designer, assuming they are going to do what is required of a web designer.
Furthermore, if you want striking photographs that convey your ideas effectively without thinking about the way the final product comes out, you should choose a more creative graphic designer.
This is just as important, of course, for people who decide on a career path. The career uses different skills, in which graphic design focuses more on creative skills, while web design focuses on programming and web expertise, but both fields that overlap a bit along the way.