Graphic Design and Web Design Courses Rowley Regis
The biggest difference between graphic design and art lies in the primary goal of graphic design: communication. The primary goal of graphic designers is to convey thoughts, concepts, and events into a visual language using the principles of design.
Graphic Design is a means of visual communication
To claim that graphic design is a means of visual communication is to understand the significance of images in everyday life.
We live in a visual world, and images have become the primary means of obtaining and interpreting information. We depend on the visual to interpret data, to diagnose, to convey authority, and to sell items. Screens surround us and have become the most important channel for delivering images.
To visual communicators and graphic designers, photographs are a strong tool for transmitting messages as they are capable of combining emotion and meaning most immediately and efficiently possible.
Graphic design is almost always about communicating a message across an audience. Communication is often a purposeful act in this context, guided by specific goals and processes.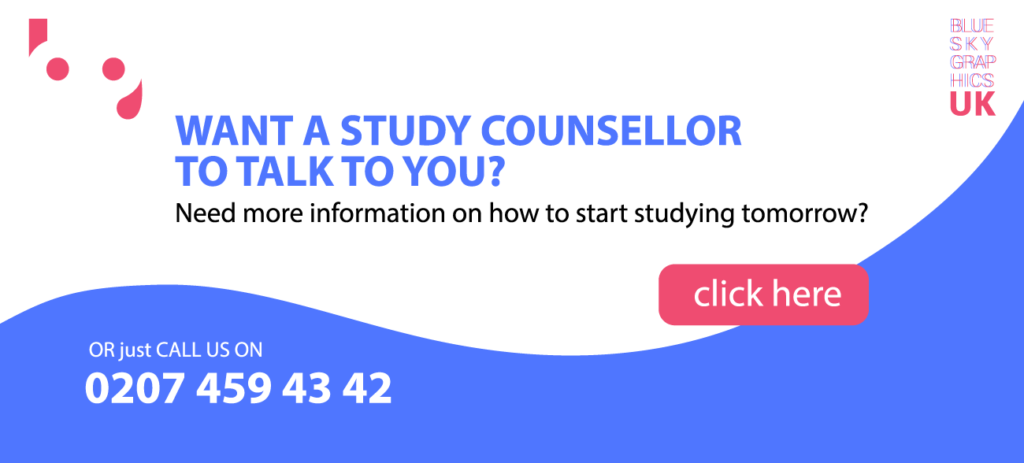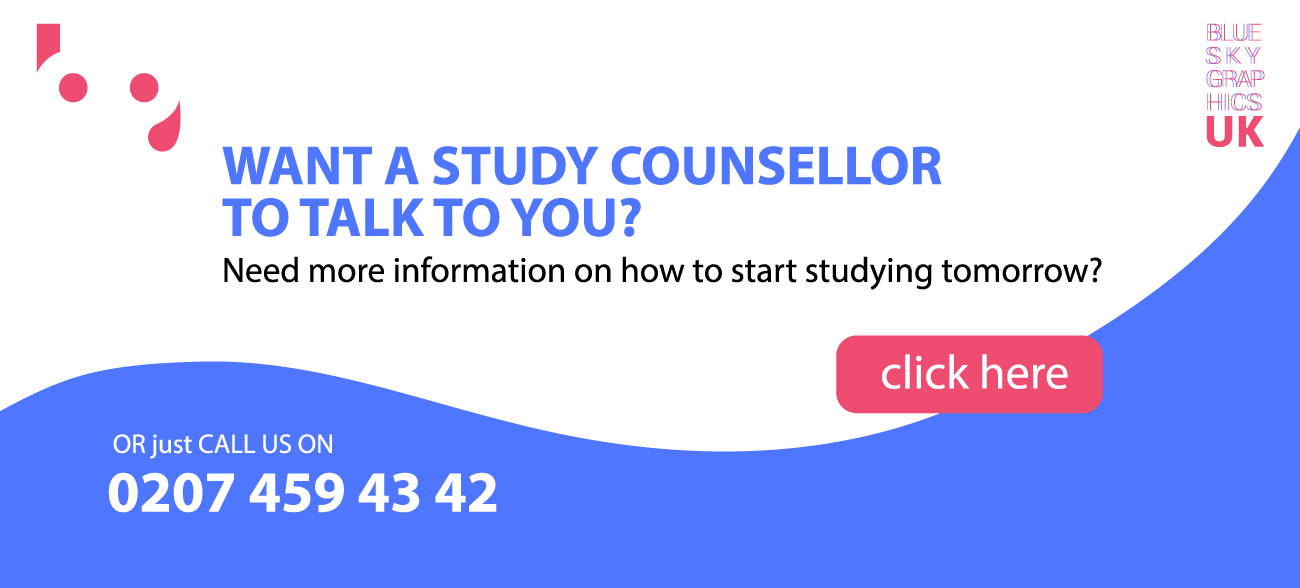 Is it hard to become a Graphic Designer?
It is not difficult to become a graphic designer if you have the right attitude, desire, and enthusiasm to become a designer, but it will take time.
Blue Sky Graphics has made it easier to learn design now by introducing an online graphic design course taught in a one-to-one class! However, graphic design is a complex career in which you have to participate in numerous processes before you even start to develop.
As visual communicators, graphic designers need to be good at organising, strategising, researching, and analysing knowledge.
In general, graphic designers must acquire the following skills:
Research
Designers must be good at assessing and researching concepts, organisations, and approaches to create visual goods that are relevant, distinctive, and efficient in terms of communication (a logo, for example, requires a lot of work before drawing a design).
Theory
Graphic designers must have a solid foundation in design theory and fundamentals. They always learn and fully understand the principles that underlie good design and communication.
Communication
Designers understand the basic principles of communication as they apply to visual language. For starters, they know how to relate to people's emotions, colour psychology, and direct lines of communication.
Aesthetics
Designers understand what works visually and what doesn't.
Graphic designers have built a sense of beauty and versatility through the knowledge, observation, and modelling of their favourite designers.
Apart from these macro-skills, graphic designers must at least practise the following skills:
Elements and principles of design
• Colour theory
• Layout
• Composition
• Balance
• Proportion
• Lines
Web Design
The Web design course by BSG is completed within a year. The web design course presents the possibility of designing or rearranging existing websites using different engineering techniques and technologies to explore the concept, vision, and usability of a website.
You are also trained in other fields such as web design, colour theory, and principles in design. It is much better to have a web domain so you can implement the stuff you learned instantly as you step through the tutorial. WordPress is a huge component of web design, so learning it is a must!
WordPress
If WordPress doesn't work, 28% of the internet is gone. It is used to build almost any website you might think of. Here is just a limited sample of which websites for WordPress are suitable:
Most web designers and developers use WordPress to create websites for large and small businesses.
Most web designers use WordPress to generate high-end advertisements for their products and services, whether they can be created quicker than an HTML file, or because they are scalable.
News Pages: WordPress blog format works well for news posts, as well as for news and blogging websites.
Digital portfolios: With the right WordPress theme, you can show your strengths and abilities or showcase your research and past initiatives.
Elementor
Elementor is a drag-and-drop website for WordPress design. Using a visual editor, you can create beautiful websites. It is intended to create interactive websites easily. This WordPress plugin is a complete solution that allows you to handle all facets of web design on a single platform.
Elementor is a great tool to create single websites from your entire website. Now available are advertisements, advertisement pages, and custom forms. This platform lets you build any page on your WordPress website that you can imagine.
There is no need for HTML / CSS / PHP / coding-this can be achieved with a simple user interface.
Most significantly, it works with all WordPress projects, meaning that you can retain your existing template and yet enjoy the benefits of Elementor.