Graphic Design and Web Design Courses in North West
Graphic design, art, and practise of choosing and arranging graphic elements — such as typography, pictures, symbols, and colours is used to communicate a message to the audience. Graphic design is also called 'visual communications,' a term that emphasises its role in influencing content – for instance, the design of a book, advertising, logo, or website.
The designer's job involves integrating visual and verbal elements in an organised and efficient whole. Graphic design is, therefore, a practise of collaboration: writers generate words, and photographers and illustrators create pictures that the artist combines into full visual communication.
Graphic design is a formal combination of art and technology that requires time to check the message the viewers want. This requires the use and arrangement of drawings, diagrams, digital images, and even basic letters and numbers. Human beings are naturally sensitive to images that allow the human mind to feel. When a person sees the object of the picture, everything is immediately remembered. This is why the artist attempts to use an image to convey the message in its entirety.
Blue Sky Graphic is one of the best sites for studying graphic design online.
Graphic Design Course
If some readers want a career in graphic design, the above details can be overwhelming. But don't worry because, at Blue Sky Graphics, we teach a comprehensive design system with all the necessary components. You finish it within a year, and you will also have a portfolio at the end of the course.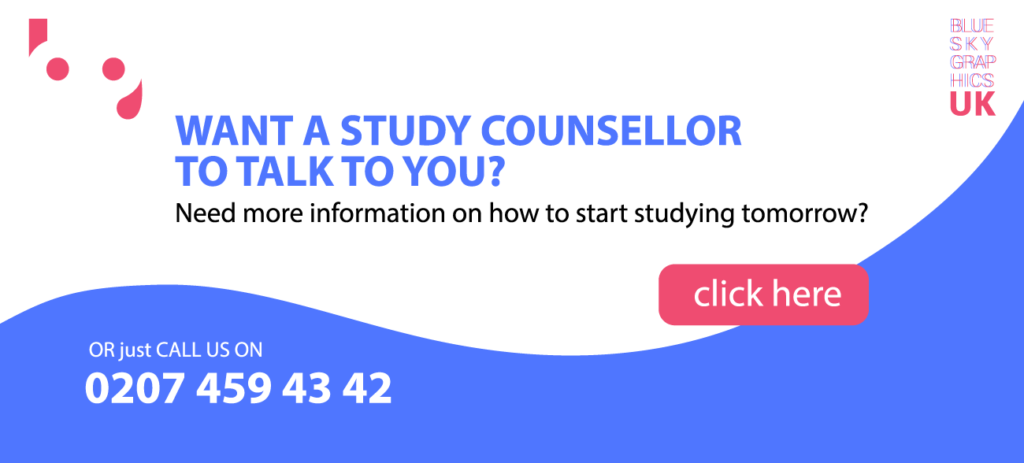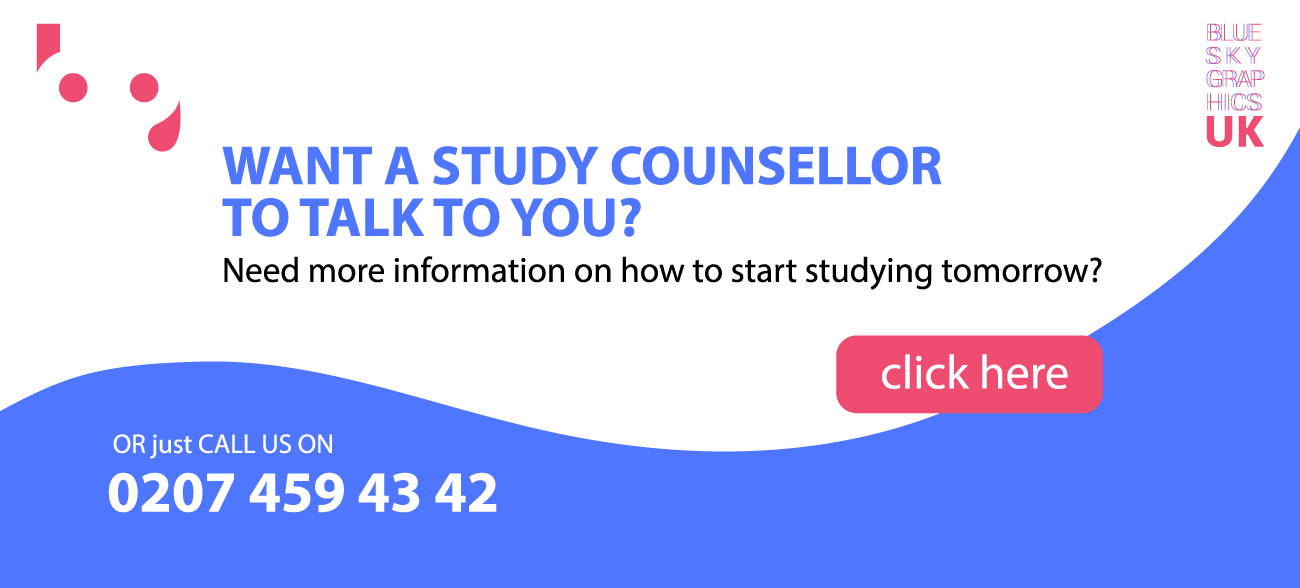 The training starts with an outline of the module and the core graphic design elements. First, we teach you about typography and colour theory. For advertisements, logos and branding, prints, and posters, the requisite auto-correction tools and methods are also available during this course. We also have a specific portion for designing and organising the logotype documents.
It covers the design of the document, for example, layers, and how layers are used to handle design elements. The harmonisation and construction of graphic designs are a critical part of this course. We will show how gradients and swatches together with model and format management can be created and adapted. Finally, the course is concluded by summarising and finalising the artwork in a portfolio.
Why do Graphic Designers use adobe Apps?
Photoshop by Adobe
Photoshop is one of the artists who use software to edit and create pictures. It contains many photographic characteristics, including cutting, editing, colour correction, and resize. In Photoshop, designers can also create and edit graphics. Contrary to your mobile phone's simple editing capabilities, Photoshop is high-quality professional software.
Photoshop is also one of the best graphic programme projects for beginners with streamlined choices like:
• Basic: growing, straightening, spinning, and rotating.
• Auto-Fix: Alter one-touch.
• Capacity to remove any dirt or spot from the picture.
• Colour: diagnostic controls to increase colour of the image.
• One-touch philtre: 20 effects to choose from.
• Image Rendering: Panoramic shot option.
• Borders: Bring in it your personal touch.
Photoshop is a key graphic design skill. It's the basic digital resource in different formats, beginning with printing, web, interactive, and even video. Those who want to work in graphic design will need to learn Photoshop, but this is just a step towards becoming a graphic designer. Using Photoshop alone is not necessary to become a graphic designer.
Illustrator by Adobe
Illustrator is used for the production of artists and graphic designers' logos, symbols, maps, infographics, posters, ads, books, magazines, and brochures. It is the industry-standard software platform for those trying to deal with vector graphics at any time. You have to use Vector Graphics that use mathematical equations to retain image shapes of any size or scale for creating large and still sharp graphical images without any pixelation.
When you do not use vector graphics, the images do not scale properly, or the files will be too large. Illustrator comes with its plug-ins to create a dazzling blank web page look.
InDesign by Adobe
When you need to design a multi-page heavy-text piece, graphic designers use InDesign. For example, InDesign is used for print or digital text layouts. It is the only way to craft a magazine, pamphlet, or booklet. Of the three applications, InDesign offers the most robust typing characteristics.
This also provides the Adobe Digital Publishing Platform to provide designers with full-service eBooks, magazines, and other digital publications. InDesign is the leading manufacturer of clean models for mobile and desktop computers. The versatility is excellent because it makes it easy to move and resize different layers.
Web Design
Our lives are all about the Internet. Websites have become the central place to locate goods, services, and businesses, and powerful data sources are now accessible with a mouse click. Website design is, therefore, a key competency in today's world of the Internet. Simply put, web design is the conceptualisation, development, and updating of websites. This includes the architecture of the website, content creation, and graphic design. The architecture world has undergone a recent sea shift due to the omnipresent use of smartphones for Internet connectivity.
Today's Websites should be open to any mobile, tablet, laptop, or desktop computer. In general, websites rely on HTML and CSS to determine how each page appears in a browser. HTML tags describe every page's content and metadata, while the CSS specification defines the design and the appearance of elements on a web page.
Web Design Features
Web design uses essential visual elements, including layout, graphics, and content. The style is the way graphics, advertising, and text are organised on a website. The choice of colour depends on the individual and the brand, ranging from plain, black-and-white design to multi-coloured design.
Good web design also includes colour schemes, typography, layout, photos, and webpage icons. These elements are positioned in conjunction with the web page's colour, content, and intent. Content is the website's main part, consisting of graphics and text. The written text should be relevant to the reader, optimised for search engines, and should contain the corresponding keywords.