How Fast Can I Learn Graphic Design UI – UX?
Although attending university may help you follow your creative ambitions by providing you with the necessary skills and credentials, it is not for everyone. You may still become a graphic designer without obtaining a degree.
You may lead yourself into the field with a fair dose of dedication and perseverance, as well as a world of knowledge at your fingertips (online tutorials, short courses, classic books, training videos, boot camps).
Learn the fundamentals of graphic design
If you want to be a successful graphic designer, you must have a strong foundation in graphic design history, theory, and practical application.
Purchase the appropriate books and read them from cover to cover
There are so many wonderful books on the topic of graphic design that it is difficult to choose only six. The following publications, on the other hand, are highly recommended and offer a good overview to educate you graphic design.
Get the proper configuration.
When it comes to starting up a graphic design business, it may be costly. You will need a laptop or desktop computer, the appropriate software (an Adobe Creative Cloud membership is required), a Pantone colour guide, and perhaps a pen tablet, such as a Wacom Intuos.
If money is an issue, consider buying used goods on eBay or taking advantage of Apple's one-year guarantee on Certified Refurbished items.
If you are looking to get into digital design, Sketch is a great low-cost option that we teach at Blue Sky Graphics alongside Photoshop, Illustrator, and InDesign.
Learn how to utilise your trade's tools.
There is no graphic designer who can function without software. That is why it takes time to master what is accessible. The obvious options are Adobe Photoshop, Illustrator, and InDesign — and there are tutorials to help you get started.
It is possible to teach oneself, but it is difficult. To really become a great designer, you will also need to step away from your computer and engage in face-to-face conversations with other people.
Take cues from renowned designers.
Begin by following the largest and greatest graphic designers in the business. Check out what they are up to on Twitter and read their blogs. Get inspired by their work and professional advice.
At Blue Sky Graphics, we often invite industry leaders to speak to our students.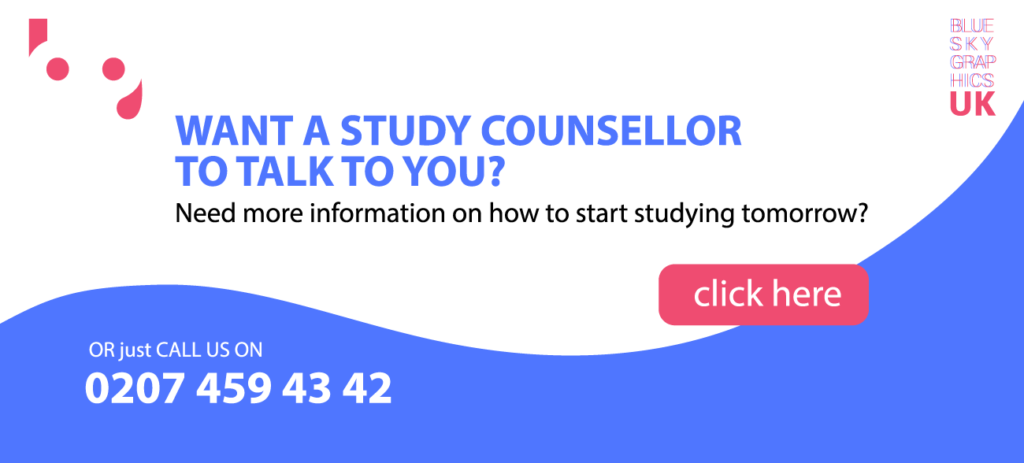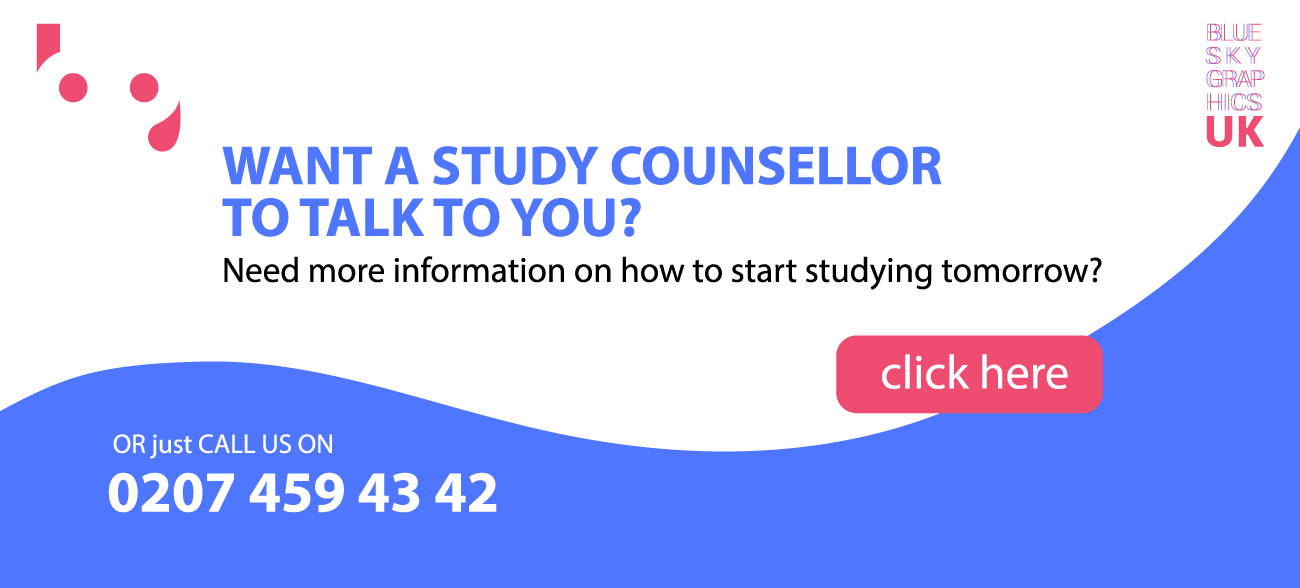 Begin building your online portfolio.
An online portfolio is important if you want to obtain that job in graphic design, whether you use Squarespace or Wix to build your website or utilise online forums such as Behance.
Because you only have one opportunity to create a first impression, you will want to show off your finest work and portray yourself as professionally as possible. Read on for advice on how to build a profitable portfolio.
You do not have any work to show? Recreate someone else's logo or create a great side project that shows your abilities. Do not be scared to get your hands dirty if you want to create some really excellent stuff. Alternatively, continue reading for our next suggestion.
Enrol in a graphic design course.
The goal here is to get you started in graphic design without any academic schooling. Blue Sky Graphics, on the other hand, believes in the power of face-to-face teaching, and our unique method ensures that you will accomplish remarkable achievements in a surprisingly short period of time.
Part-time graphic design studies in the UK will provide you with a polished portfolio displaying your finest work, allowing you to obtain your ideal career.
We assist you in getting there by keeping our lectures brief and to the point, allowing you plenty of time to put your new abilities into practise and develop your design eye. We move quickly and coach students to work like professional designers, following clear procedures and achieving tight deadlines with polished outcomes, via engaging demos, lively conversations, industry lectures, and group workshops.
Check to make sure you have checked everything off the list.
Aside from our very useful checklist of what you need to become a graphic designer, are you certain you fulfil the criteria for a junior designer?
Have you reviewed job descriptions to verify you fit the requirements? Prospects, a graduate employment portal, provides an instructive graphic designer job profile to help you understand what companies are searching for.
For example, it is not enough to be able to use Photoshop; you must also have great presentation skills, precision and attention to detail, and a flexible attitude while working in a team – all of which are acquired in the job. So, keeping that in mind…
Obtain some practical experience
Work experience is not only good for your CV; it also enables you to have someone as a reference, i.e. someone who can suggest you when the chips are down. You may also receive some good tasks to add to your portfolio – or you might impress enough to earn a paid internship or employment!
Prepare for the interview process and get your ideal job
Now that you are ready for the next stage, which is to obtain a job as a junior graphic designer, it is time to be ready for the real world.
First and first, you must know where to look. Aside from registering on LinkedIn and advertising your availability to the world, you should also visit online job boards such as Design Week Jobs, Design Jobs Board, or Guardian Jobs on a regular basis.
Find a New Interest
Learning to code may lead you down a road that you would not have found if you just focused on visual design. While coding may seem to be more "technical," it will really introduce you to a whole new realm of design, perhaps even extending on how you think about design work entirely.
Knowing how to code allows you to come up with and explore fresh and creative ideas. By creating things from both a design and coding standpoint, you will discover inspiration based on your own ideas from beginning to end of numerous creative projects. This may range from website design to email marketing to the development of a mobile app. The only limitation is how much you desire to study and explore.