Graphic Design Best Courses Online
There is no other industry like the graphic design business. This is where science and creativity meet and where invention flourishes. Graphic design can be found everywhere, from advertisements to the programmes we use. As a graphic designer, you can shape the world we live in.
Not only that, but design-driven businesses outperform their competitors; therefore, skilled designers are more in demand. Graphic design is a wide word, and there are numerous distinct professional routes you may pursue.
Blue Sky Graphics is a UK-based online school that offers graphic design courses to students of various backgrounds. The course covers all aspects of graphic design, including colour theory, contrast, typography, and layout. This section explains how to appropriately employ colour, size, and form to build an attractive interface for Adobe programmes.
Graphic Design Jobs with a High Salary
Design is one of the most demanding, fast-paced, and innovative industries to work in – and it can still be financially rewarding. Here are some of the highest-paying jobs in the architectural business.
User Experience Designer
With an expected annual income of £96,505, UX design is at the top of the list as the most profitable field. User interface (UX) designers are ultimately responsible for increasing consumer loyalty, making them necessary for branding and industry. They do a thorough study of the consumer's demands and use the results to create sound design decisions. The UX designer ensures that the product, whether an app, a website or a physical item, is as user-friendly as possible.
UX practise incorporates features of interface design, graphic design, and user research, necessitating a wide variety of talents. You may find yourself drawing wireframes, creating designs, or doing usability testing on a regular basis. UX encompasses everything that impacts how customers feel when they engage with a product.
Product Designer
Product designers are likewise well compensated, with an estimated yearly revenue of £89,224. A product designer's work may be found in almost every object you encounter in your daily life, from stackers and dining chairs to pens and gadgets. Product designers focus on the aesthetics and performance of the product, and their methods are similar.
Product designers examine shape, ergonomics, scale, colour, and size while developing or redesigning an object. They are also in charge of determining the most cost-effective production techniques. Thus, an understanding of diverse materials is required.
User Interface Design
UI designers earn approximately £88,434 per year, putting them in the same ballpark as their UX counterparts. User interface design is a crucial subset of UX — yet it is important to recognise that they are two separate roles.
To analyse how the user communicates with the app interface, UI design relies on the user's sensory experience. The UI designer must create all of the user's displays and all of the visual touchpoints and interfaces that make this movement more pleasant.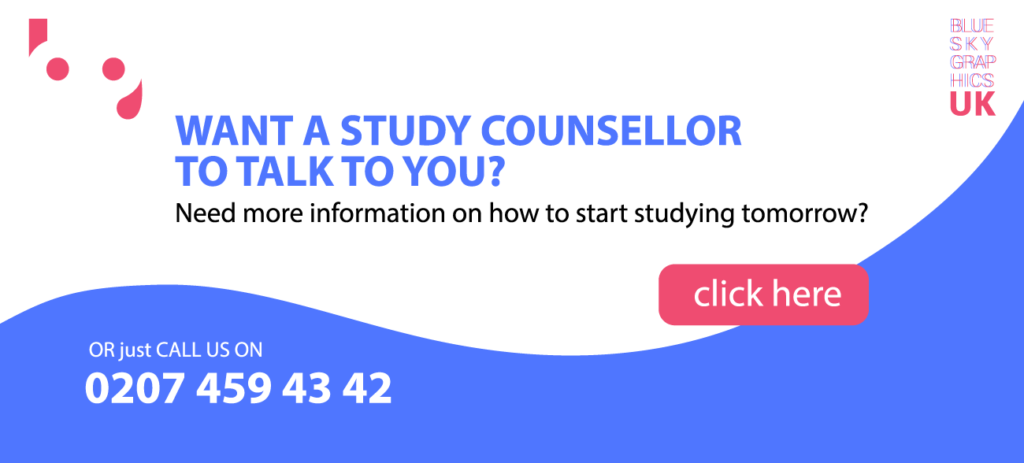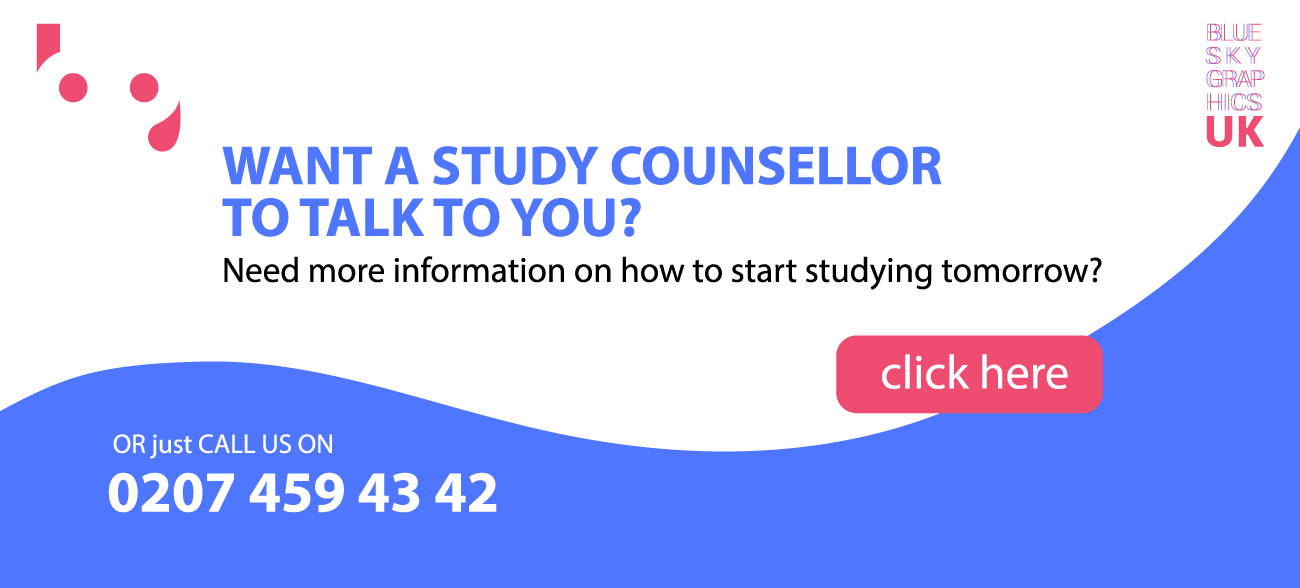 Principles of Graphic Design
Blue Sky Graphics' approach to teaching graphic design in our graphic design course is to teach the fundamentals simply and straightforwardly. As a result, we have compiled a list of basic graphic design concepts:
Line
The line is the first and most important aspect of the design. A canvas is a stroke of a pen or pencil in painting. However, there are two similar points in graphic design. Lines are important for dividing a room and guiding the eye to a certain location. Any visual element you see is made up of lines, including the letters you are reading right now, which are made up of angled, curved, or straight lines.
The lines are wonderful since they will help you channel your ideas. Straight lines may provide a sense of neatness and order, wavy lines can create movement, and zigzag or irregular lines can create excitement or tension. Consider how a magazine employs lines to differentiate text, headings, and side panels.
Colour
Colour is a very visible interface feature for both the client and the artist. It may be used as a backdrop on its own or in conjunction with additional elements such as lines, curves, textures, or typography. The use of colour in the piece creates a mood and tells a storey about the brand. Every colour has a different meaning, and the combinations will modify that impression even more.
Shapes
Geometrical or organic shapes provide appeal. Borders, such as lines or colour, are used to specify shapes, which are frequently utilised to emphasise a portion of the page. Because everything is a form, you must consider how the many parts of your design create forms and how those shapes relate.
Contrast
Contrast is an important resource that may be used to conceal and emphasise aspects of the design. The audience's emphasis may be drawn by enhancing the contrast in the design of a certain element.
Lowering the contrast, on the other hand, may let such components dissolve in the background, giving your design a relaxed and seamless impression. As a result, it is advised that you experiment with the contrast of various aspects in your design, whether to alter the emphasis on or attract attention away from an object.
Texture
It is counterintuitive to care about texture on a work that will not be touched. On the other hand, websites and graphic design are concerned with the look and impression of texture on the screen. Textures on this two-dimensional plane will appear more three-dimensional. It also aids in the creation of an immersive atmosphere.
Size
Changing the size and scale of the objects, shapes, styles, and other components adds interest and attention. How boring will an asymmetrical website with all the same length of content be? However, the degree of difference would be significantly influenced by the material contained therein. Subtle variants are appropriate for professional items, while flamboyant ones are appropriate for creative enterprises.
Typography
Typography is maybe the most important component of graphic and online design. Fonts, like colour, texture, and shape, communicate to your audience whether you are a serious online news magazine, a fun food blog, or a vintage coffee shop. Words are essential, but the type of typeface is just as crucial.