Calling all impressive illustrators, dazzling designers, successful students, aspiring creatives, Blue Sky Graphics alumni, big and small thinkers, tall and short people, maverick mothers, first-timers, OG's, late-night heroes, brave leaders, team builders, peacemakers, early risers and daydream believers, London is calling you! London is a diverse city rich in creativity and houses many graphic design studios, creative agencies and a plethora of artistic talent.
If you're embarking on a career in graphic design in London or after some inspiration – perhaps by transforming a design portfolio into a job or sending out a brilliant creative resume or design portfolio – there are some designers in London that you simply must know about.
London houses many corporate names, fashion houses and businesses all needing graphic design. Design in London has got to be one of the most competitive, exciting and unforgiving sectors; There is an argument for the person that said "Everyone thinks they can do it". The truth is, if you choose your clients wisely, under-promise, over-deliver and enjoy the ride, London's graphic design has plenty to offer.
These are the designers who have changed the way graphic design is seen in the contemporary world as we know it today. They are the unconventional, the rebels and those that got innovative as far as design is concerned. The future for Graphic Designers in the UK is looking very optimistic with an increasing number of jobs on the market. London continues to be a hub for graphic design agencies and independent studios but there is serious talent everywhere. The evolution of graphic design seems to be largely connected to the user experience which is sure to remain at the forefront.
Design became an important part of London a long time ago. Graphic design is intrinsic in the way London is used to consuming media. As one of the most diverse cities in the world, London not only houses over 8 million residents, who collectively speak over 300 languages, including Afrikaans, Spanish, Punjabi, Cantonese, Mandarin and of course English but culturally brings different art to the city.
At Blue Sky Graphics, although we are a British graphic design school, we teach the pathways to becoming a graphic designer. Whereas traditional school routes to gaining an internship and training in-house we teach e-learning, which is an online education system that uses technology to transfer expert abilities and knowledge. It is possible to learn graphic design through being self-taught but you will need lots of discipline. The easier routes and popular ways of becoming a graphic designer are to study graphic design through online schools. Think of it like watching a movie, but one that teaches you things. However, real-time, online, modern, e-learning schools have enabled students to study graphic design from the comfort of their own home in a more effective way.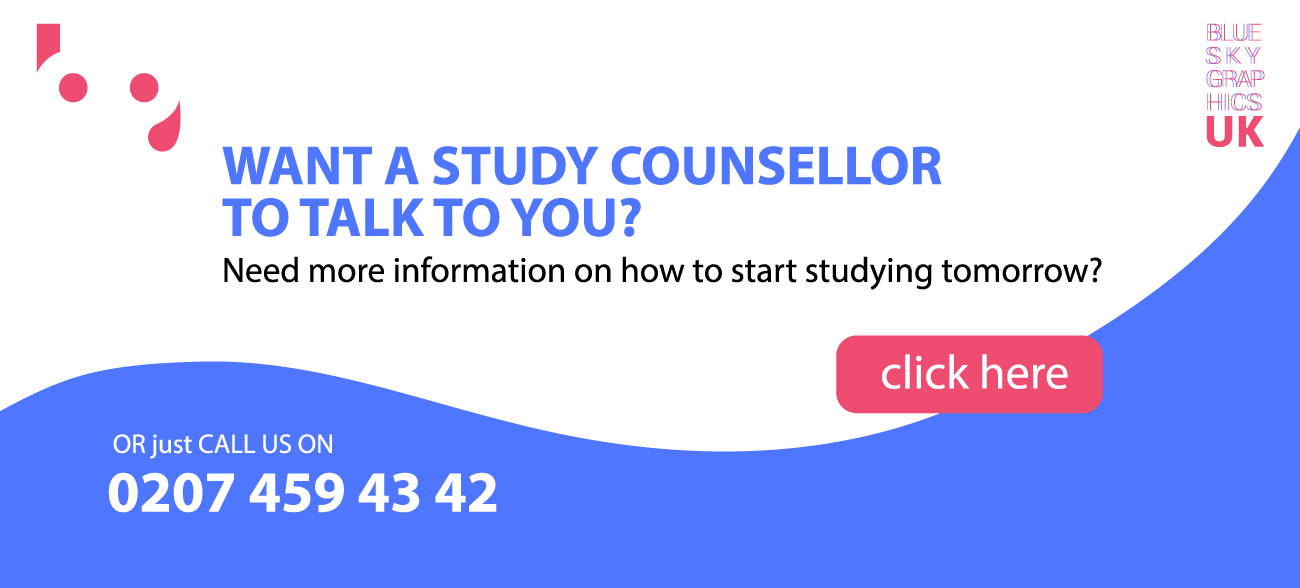 Studying on a one-to-one basis so that tutors can focus their attention fully on a student and their individual learning is a great way for students to learn at their own pace. This is a huge advantage compared to normal classes of twenty to thirty students, which is hardly surprising, as it is particularly effective in improving not only a student's graphic design level but also their practical understanding of Photoshop, Illustrator and InDesign when creating their commercial portfolio.
With fewer distractions, the teacher is better able to appreciate and work on a student's areas of weaknesses, making the whole learning process more effective. At Blue Sky Graphics, students will respond better to a teacher that is suited to them, in terms of both temperament and learning style.
Where is London's creative scene?
London's creative menu is not limited to a small area, instead, it adorns an appetite to those looking to explore, since it has a thriving creative scene and boasts over 170 museums, from the gigantic and inspiring British Museum; London's most popular tourist attraction, to the tiny Cartoon Museum in London's West End. Creativity creates inspiration and interest.
According to research (GLA/ICM) 84% of Londoners think that the city's cultural scene is important in ensuring a high quality of life.
When you think of iconic designs, the London Underground map is one that comes up time and time again with its blue Piccadilly line, yellow Circle line and mahogany Metropolitan lines. An older piece of design sometimes criticised since the current map is somewhat cluttered and intimidating to those unfamiliar with it, lacking simplicity, balance and visual aspect, it is an important piece of work originally created by Harry Beck in 1931. The London Underground Map is a linear, colour-coded diagram of London's underground transport system which has arguably become the most recognisable transit map in the world.
The London Underground for example is a symbol and an iconic piece of logo design. The red and blue bar and circle roundel is a famous symbol dating from as far back as 1908 but visitors to London's Westminster Underground station can now see a re-imagined version of the transit symbol courtesy of artist Mr Larry Achiampong.
Despite being recognised as one of the best infographics ever made, the map has been conceptually redesigned several times over the years. The most recent attempt comes from graphic designer Luke Carvill, who aimed to make it more user-friendly.
Many of London's film contains a creative scene from all over the capital and anyone that appreciates great cinematography and film production will appreciate that London has played a major role in countless classics. There are more cinema screens in the capital (approximately 920) than in any other part of the country. Films from A Clockwork Orange and James Bond to Harry Potter have all been filmed in the inspiring grounds of London. In fact, London is actually the world's third busiest film production centre. Many studios have well over 12,000 'shooting days' including the hit James Bond film Spectre, filmed at City Hall, Central London. According to the source, London.gov over a fifth of all the UK's cinema screens are based in London.
Famous Graphic Designers that have changed history
 Kate Moross, the creative director of Studio Moross, a London-based design company is a name and studio aspiring graphic designers should know. Moross is a talented and proud Londoner and Graphic Designer who came onto the scene around 2007 with her own trademark typography and snappy, smooth graphics style. She has become one of London's most sought-after and successful designers, creating countless song covers, album covers, magazine covers and branding. Moross' work spans across moving imagery, typography and illustration. At Blue Sky Graphics we love her inspo works including the live mural at the Uniqlo flagship store on London's Oxford Street.
Rob Janoff is quite simply put, the mastermind behind one of the most famous brands in the world, the Apple logo. Rumour has it the logo was created in only two weeks!
What do graphic design studios in London do?
Many of London's creative studios and graphic design spaces are driven by narrative and good design. These studios typically specialise in Strategy, Identity Brand Design, Innovation, Brand Experience, Communications, Packaging, Planning, Film and Motion, Naming, Manifestos and Brand Stories, Consultancy, Structural Design and Copywriting.
Graphic design is an ancient craft and its importance dates back to the Egyptian era where graphics ( hieroglyphics ) were painted onto walls and parchment. As a term, it is often coined back to the 1920s' print industry and covering a range of prints such as logo and images designs but, it concerns aesthetic appeal and marketing.
A few good London studios
Most studios have probably spent the past decade working with new and established brands who recognise the commercial value in creative strategy that challenges the status quo.
Kind Studio London, are an independent design studio with multidisciplinary creatives working across all areas of graphic design and beyond. Formed by two ambitious designers who have spent several years building a practice around providing beautiful and imaginative design to a wide range of brands, businesses and organisations.
The Yard Creative is an award-winning strategic design studio based in London. Their core design services include research, strategy, branding, physical space design and front-end digital. They are a team of passionate creatives that thrive on building great relationships with their clients and expert partners. They work closely with clients to consistently create solutions that both parties are proud of calling their own and designing outcomes that are as beautiful as they are functional. It is always their aim to create impactful work, that finds the desired audience, drives business and inspires.
What are London's most inspiring designs?
London is an art lover's and a designer's dream. On the tube, everywhere you look, you'll see Harry Beck's instant design classic, masquerading as a map – still looking as fresh today as it did when it left his studio in 1931.
In the capital's skyline there are architectural triumphs that include Renzo Piano's Shard, Norman Foster's Gherkin and Anish Kapoor's rather more playful addition to the Queen Elizabeth Olympic Park.
All over London, art and design museums proliferate – and we'll pick a few of our favourites in just a moment.
And, of course, there's London's leading design-led graphic and arts retailer and inspiration space that is London Graphic Centre in the heart of creative Covent Garden.
The four best hangouts for London artists and graphic designers
Art and design hangout #1: The Design Museum located at 224-238 Kensington High Street, London, W8 6AG.
The European Museum of the Year (2018) is one of the world's leading contemporary design spaces. Its collection encompasses architecture, fashion, graphics, products and industrial design and it is now at home in its High Street Kensington location, after moving into this beautifully refurbished and redesigned 1960s Grade II listed building in 2016.
Framed by the trees that edge Holland Park, the distinctive copper hyperbolic paraboloid roof covers British architect John Pawson's minimalist design temple, fashioned out of pale Dinesen Douglas fir and white marble.
Art and design hangout #2: Royal College of Art located at Kensington Gore, London, SW7 2EU.
From the art eccentrics of East London to the art establishment at its very heart: you can pick your vibe and the perfect hangout will be there to be found in London.
The extreme wealth of the London borough of Kensington and Chelsea is punctuated by the RCA's stark, brutalist architecture that is positioned, as if to cause maximum offence, next to the ornate finery of the Royal Albert Hall.
The RCA frequently tops the list of the best art and design universities in the world. It includes arch-modernists, pop artists and the Young British Artists (YBAs) among its alumni, all of whom have enjoyed biting the hand that feeds them by using the establishment as a foil for their critical art.
With numerous wonderfully curated exhibitions and regular talks from the leading lights of architecture, design and art, the RCA cannot help but be a top art and design hangout.
Testimonials
Art and design hangout #3: Tate Modern located at Bankside, London, SE1 9TG
The Tate Modern is one of the most famous international contemporary art museums in the world and is still riding high within the top 10 of the most visited.
Perhaps one of the most famous international modern and contemporary art museums in the world. The main museum hosts the national collection of British art from 1900 onwards. It was opened by Queen Elizabeth II in 2000 and is now the sixth most visited art museum in the world.
Free to enter, and offering regular touring exhibitions well worth the ticket price, this former power station is now a powerhouse of art and design.
The building itself is enough to inspire, with a brick chimney rising high into the London skyline and a sunken Turbine Hall occupying the 3,400 square foot basement, which once housed the capital's electricity generators.
At Tate, appropriately enough, life is sweet for art and design lovers.
Art and design hangout #4: The Cartoon Museum located at 63 Wells Street, Fitzrovia, London, W1T 3PT
The Cartoon Museum's Learning Programme provides a range of exciting and unique workshops that encourage young people to explore their creativity and be inspired by the wide variety of cartoons and comic pages in the Museum's collection.
According to Steve Bell, "Cartoons are as old as drawing, though the use of the word in its present meaning dates back very precisely to a particular drawing, "Shadow and Substance" by John Leech in an edition of Punch magazine, published in 1843 now known as "Cartoon Number One". The word at the time simply meant a life-sized working drawing for a tapestry or wall painting. The cartoon itself refers to the commissioning of designs for patriotic scenes from British history to adorn the walls of the new Palace of Westminster (the old one had burnt down in 1834) and is not remotely funny. This is not because the joke has gone stale and disappeared with age, since it was never intended to amuse. The cartoon is intended to disturb. Thus the word entered our language"
Here at Blue Sky Graphics, although we are an online school, we work out of our studio in West London. We are based in London's leafy area of Hammersmith, home to Disney, L'oreal and corporate travel companies.
If you've got a favourite hangout that we've missed (and we're sure there are hundreds) let us know in the comments below. We'd love to hear from you on the contact us page.
To find out more about graphic design in London here.
Noah Wildman
Course Coordinator at Blue Sky Graphics