What Is The Best Platform To Learn Graphic Design
Graphic design abilities are essential for every organisation. A professional graphic designer will use eye-catching images to communicate your company's message, services, and product information. Graphic designers deliberately employ a blend of technology, art, text, and pictures to deliver messages that pique the interest of consumers.
Importance of Graphic Design
Take a glance around for a bit. Examine the cover of a magazine or a book. A magazine or book cover may offer you an idea of what you could read or discover inside. It is created in such a way that it catches your attention. Consider the packaging of your favourite bag of chips in comparison to the care instructions on your shirt. The attractively designed bag of chips tempts you to enjoy a tasty snack. The purpose of the care label on garments is simply to educate you. Take note of the billboards you pass on your route to work. Take attention of the ads you see on Facebook and Instagram. Every graphic design is intended to entice you to want to see more.
Graphic designers are used in a variety of marketing communications. Consider graphic design to be an essential component of your organisation. Graphic design is more than simply being creative; it is also about attaining a set of goals via the use of text, pictures, and symbols.
How can a graphic designer benefit your company?
Graphic design is used in nearly every aspect of business. Graphic designers develop a brand image or logo to express a consistent and cohesive look to your consumers so that they can identify with you.
Business identity products maintain your company's name and brand image in the thoughts of your clients. Business cards, stationery, envelopes, and logos are all part of your company's brand.
Business cards are still useful. Invest on a high-quality business card and card material. When it comes to business cards, you will want to make the finest first impression possible. Local advertising is also created by graphic designers. A graphic design firm also develops artwork for billboards and vehicle wraps. Direct mail is still a popular method of marketing. You might send out personalised catalogues and pamphlets to your consumers. Send promotional products like t-shirts, caps, and tote bags. A graphic designer can supply you with low and high-resolution files, allowing you to duplicate everything you need to market your business.
Use of Graphic Design in Digital Marketing
On a daily basis, digital graphic design services may be employed. Websites must have up-to-date graphics. When you introduce new items or services, your online shop should be updated to reflect the changes. Look at the photos that are used on social media and in email blasts. Each graphic is meticulously crafted and put together to support your stated objective. Images may be edited by a graphic designer using Adobe Photoshop or Illustrator. Perhaps the photo you shot is not professional enough to post on social media or on your website's page. To bring your image to life, a competent graphic designer can alter colours, eliminate, or sharpen things, and so on.
Why is learning graphic design essential?
Graphic designers utilise sophisticated design technologies to interpret your message and make your business stand out. While keeping your message and target audience in mind, a skilled graphic designer will utilise a combination of typography, photography, illustrations, colours, and design experience.
A talented graphic designer employs both technology and art
Customers may become confused if your brand messaging and logo design are not consistent. Most of the time, there are inconsistencies in the way the brand image appears. Consider how your company connects with its customers through various media platforms. Hiring a marketing and graphic design firm has the advantage of ensuring that your company's message is clear and straightforward. The company's branding will be consistent throughout. When a firm does not have access to a skilled graphic designer, it may turn to a printer. As a result, the brand of the firm may not be constant.
Know the value of typography
When it comes to design, typography may be just as important as colour. Why? Simply because it elicits feelings in others. Choose the correct typeface if you want your audience to feel a specific feeling (e.g., Arial, Calibri). Sans Serif typefaces convey stability, objectivity, cleanliness, and modernity. Meanwhile, if the subject indicates formality and respect, Serif typefaces should be used (e.g., Times New Roman, Baskerville). It is also a good idea to stick to one or two typefaces. This can help you establish a consistent appearance for your design while also avoiding the difficulty of combining fonts.
Colour theory
Colour is important in design because it can elicit responses and encourage people to respond. One of these motivating colours is red, which is the main colour. Various studies show that red is utilised to elicit an audience's emotion, make individuals hungry, and boost their appetite. Yellow, like red, is a warm hue that may draw someone is attention. Yellow also evokes feelings of pleasure, joy, optimism, and warmth.
Choosing the appropriate colour is not enough to create a successful design. When you do not use the proper colour palette, the outcome might seem wrong. That is why there are several colour palette generators available to help users design palettes that elicit suitable audience emotions.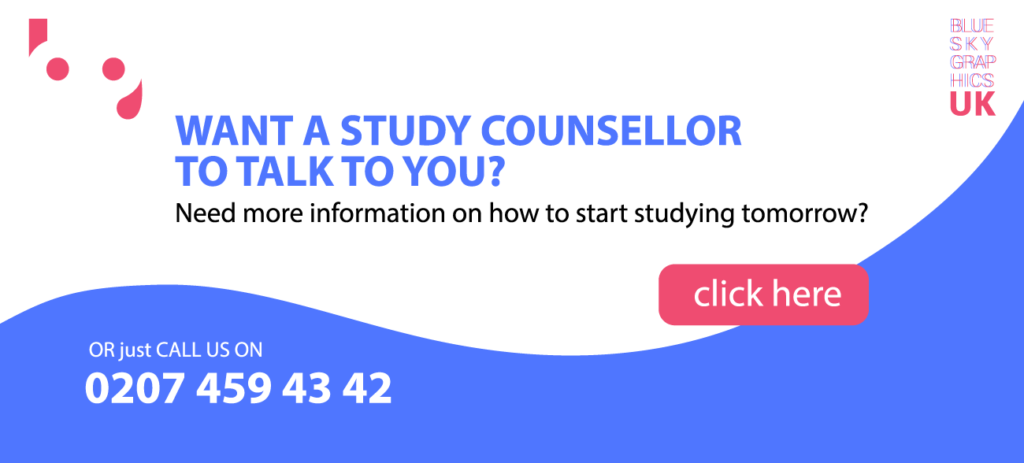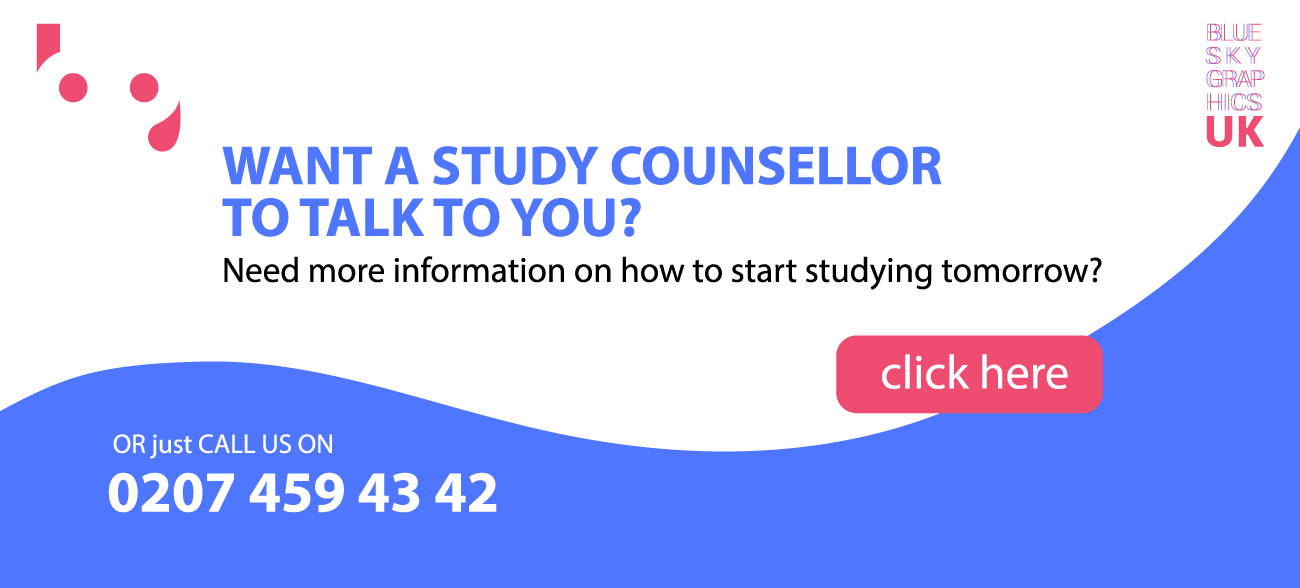 Keep your designs simple
Consider viewing an internet advertising with an excessive number of phrases, forms, and images that are not correctly positioned and set. Is not it a shambles? So, the lesson here is to make sure you utilise the appropriate pieces at the right angles. Make it as distinctive and basic as possible. Also, while utilising negative space, pay attention since it is the one who establishes limits and gives balance to the work. Overcomplicating the design makes it difficult to communicate the message. So, the next time you create anything, keep it simple yet meaningful.
Learning Graphic Design
This brief online graphic design courses by Blue Sky Graphics provides a thorough and hands-on introduction to major graphic design ideas. By completing practical and realistic tasks each week, you will acquire experience implementing these ideas. You will become acquainted with strategies for dealing with pictures and typefaces, developing layouts, and creating logos and visual identities because of your project work.