Web Design and UX UI Design Courses in Telford
If you are looking for the best platform to learn graphic design then Blue Sky Graphics is the one for you. We offer three major courses; Graphics design course, Web design course and UX UI Design course. This helps you learn all the necessary skills to become a skilled designer.
It is suitable for students of all categories, meaning for beginners as well as people with some experience of graphic design in hand. Our fundamentals are the 3P's which signify passion, professionalism and proficiency.
What is the Benefit of Learning Online?
We offer one-to-one online learning system for our students. This means you get the individual attention of the professor which is not possible in a real classroom full of people. The timings of the class are also very convenient, starting early morning at 7.30am up to as late as 10.30 in the evening. This allows you to work your way around your busy schedule and then take the class whenever you have time. The class lasts for 90 minutes which is an interactive and engaging session taught by professionals.
Web Design
Web design is the method by which content intended for the Internet is designed, conceptualized and organized. Modern web design goes beyond what things look like (aesthetics) to include how things work. Web design is not confined to websites, as it covers other uses such as web applications, smartphone apps and user interface design.
We offer a comprehensive Web Design course with the only prerequisite being fully informed of the graphic design and educated. Many students who take the web design course already seem to come with prior experience in graphic design. This is because it's fairly difficult to learn web design without understanding the basic principles of graphic design.
You will be taught how to work with WordPress, Elementor and Adobe XD in web design, graphic design, colour theory, home pages and internal sites during the course. The course on web design extends beyond practical to include theory of web design and its applications, and graphic design practice on the website.
You will be planning a portfolio of several websites during the course on web design which you will create during the course content.
Portfolio Essentials
Can't decide what to add in your portfolio to impress your clients? Luckily, our courses cover the aspect of creating a portfolio and we can help you some more if you follow this tip!
Only Add Your Best Work: Use a critical eye when determining what to include in your portfolio. Quality over quantity is important here, so get away from feeling like you need to include everything that you have ever made. Think of yourself as a storyteller or curator who narrates your work. You want to attract your ideal customers too, so keep this in mind when picking your work. You will also want to ensure the work is up to date and new. Potential clients want to see new work, so keep updating and editing regularly as you advance in your career.
UX UI Design
UI Design is the graphical interface of an application. These are the keys, the text, the images, sliders, the input fields, etc. through which the user interacts. This includes the arrangement of tables, transitions, screen animations and all other micro interactions. A UX designer is thinking about how the interface makes the user feel, and how simple it is for the user to perform the tasks they want.
Therefore, you can ultimately settle on the appearance of any website after taking the advanced UX UI design course with Blue Sky Graphics. The user experience depends on how simple or difficult it is to connect with the website or application components created by UX UI designers.
This course is taught for 8 months and is ideally suited to people with some graphic design experience.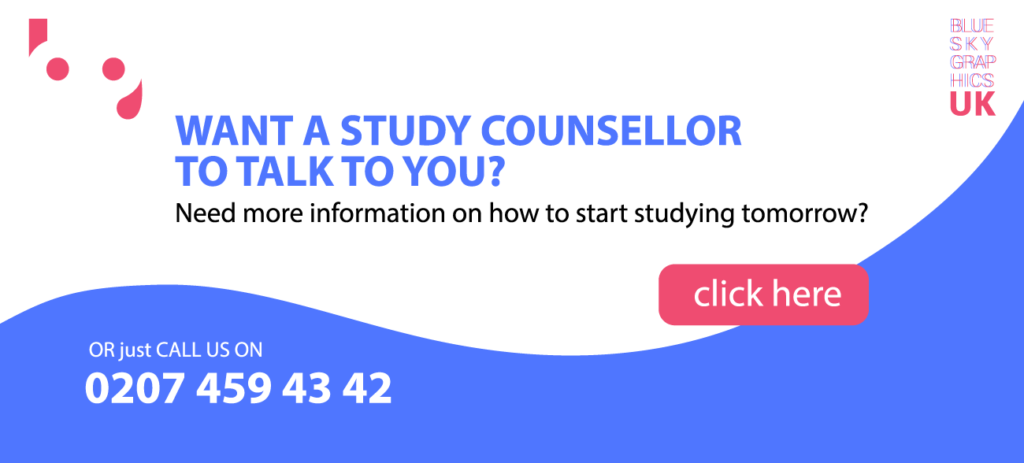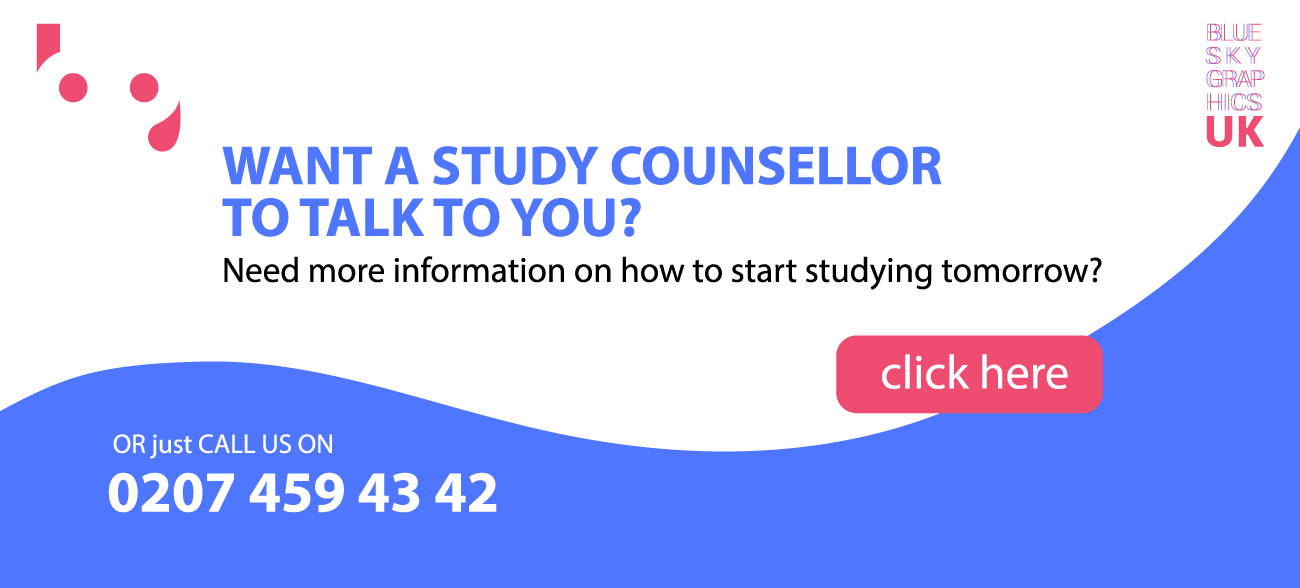 Job Roles for Web and UX UI Designers
After completing the online courses and creating a portfolio of your own, you will find many job opportunities – some of which are listed below.
Web Designer
A job suitable for you is web designing. Web designers play a significant role in producing websites, lay-outs and website graphics. Web designers are also responsible for designing and implementing a web navigation system and layout.
UX UI Designer
Another job suitable for you is as a UX Designer. The typical job roles of a UX Designer includes considering the efficacy of current applications and assessing their UX (user experience) and taking into account the human-computer interaction (HCI) aspect of the design using online resources, such as screen readers. UX designers also define interaction models, user task flows, and UI (user interface) requirements.
Web Developer
The primary function as a web developer will be to create stable and high performance applications and services that can be accessed over the internet.
If you are in a company or work as a freelancer, your role is to create products that fulfil consumer needs. The job can be particularly diverse with several tasks to work on simultaneously, with plenty of meetings with clients to address their needs and update them on the progress.
Earning Money from Home through Web and UX UI Design
Freelancing has always been a way to make massive sums of money online irrespective of what the degree of experience is, because internet employment is more based on know-how than on skills.
Set a routine before you start your day, or a "To-Do" list, and make sure you follow it as closely as possible. Getting specifically set down working days and instructions for when to work and call a day helps formalise many working people from home. It in turn will help you build and commit to a healthy work schedule.
Platforms like Fiverr, freelancer and People an hour feature teenagers, housewives and individuals in search of secondary employment, a chance to showcase their skills and make a lot of money.
Web design is a rewarding occupation and is available to professional freelancers helping you make a fair amount of money by learning web design and using those skills as freelancers.