Top Graphic Design Courses Online
Graphic design is the process of creating drawings, typography, and photos for use in marketing your job. It is nothing more than a digital graphic on innovative brochures, banners, and other promotional stuff. Graphic designers are not required to have any production programming experience.
Graphic design is one method of communicating effectively. Graphic design businesses can add value to their products or services in novel ways. As a graphic designer, they should be required to adhere to the client's demands. Graphic design is frequently utilised in advertising, logo design, brochures, magazines, banners, blogs, and smartphone applications, among other forms of marketing. Graphic design is an excellent method to express yourself creatively.
Web Design
Web design entails a particular level of quality within specified parameters. Additionally, web design may be referred to as a skilled graphic designer who can optimise the website's load time and performance. Web design involves considering scale, screen, resolution, and several other factors to create a functional website.
Blue Sky Graphics
To create compelling projects, you do not need a professional background in fine arts or Adobe InDesign master. Our graphic design course will thoroughly instruct you on the foundations of design!
• Colour theory
• Typography
• Form and appearance
• Arrangement and composition
Our session is unusual in that we explain how design philosophy shows itself in actual projects; we crack open a technical portfolio and immerse you in the world of professional designers. Our teachers have extensive experience in various fields, including online design, print media, user experience design, and brand development.
Not only do you get insight into how idea components interact and impact the result, but you also gain a better understanding of the problem-solving graphic designers perform and the decisions they make. If you want to create a poster, flyer, or logo, this course will arm you with the knowledge necessary to do it confidently.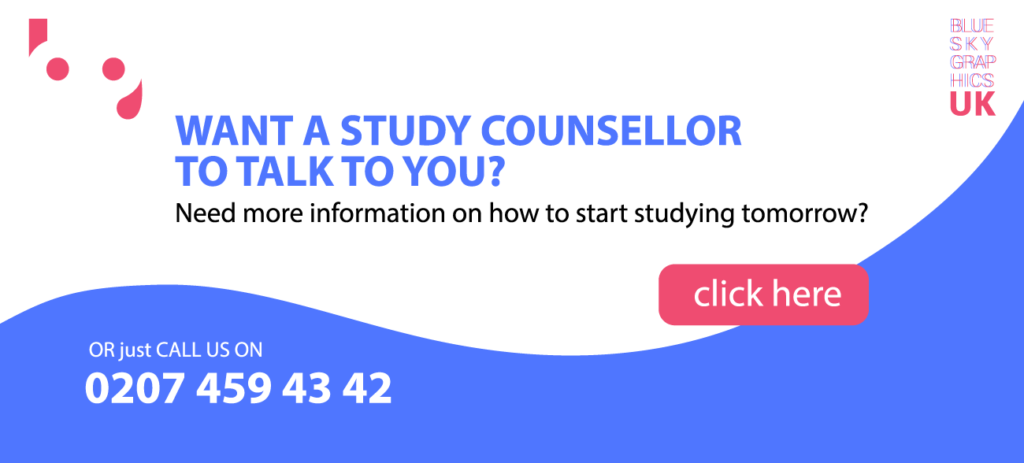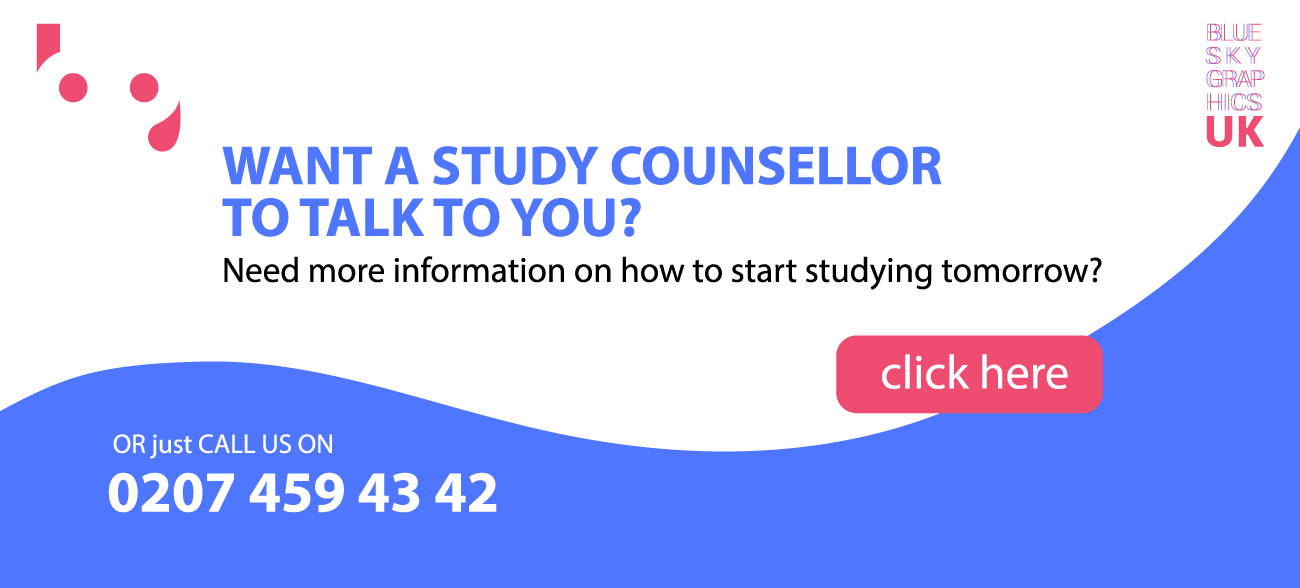 Creative Cloud by Adobe
The world's finest designers use adobe Illustrator because of its robust and vector-based drawing environment — and now you can, too. Our teachers will lead you through the foundations of Illustrator in this one-on-one session, taking you from start to end. Acquaint yourself with essential shortcuts and use the power key tools to create and customise the visuals you want.
We will show you how to create a new folder, go fast to the graphical user interface, draw and edit objects, add colour and text, and prevent your project from being utilised across several Adobe platforms. In Intro to Adobe Illustrator, you will learn the fundamentals of creating high-quality vector illustrations.
Adobe InDesign CC is the industry-standard application for creating formats that combine pictures and text. Adobe InDesign CC for Beginners with Blue Sky Graphics teaches you the most efficient method to work with this critical application.
The Colour Theory
Blue Sky Graphics in Westmeath will teach you the fundamentals of colour theory and how to apply them. By exploring multiple analogue and digital projects, you may expose yourself to a wealth of pertinent ideas and skills. You will develop new knowledge and perception of colour, which will boost your confidence in your personal and professional design work.
• Terminology and colour perception
• How to present colours contextually
• Contrast grids and colour illusions
• Instruments for assembling a palette of harmonising hues
The graphic design course is appropriate for beginners and aspiring graphic designers and more experienced designers seeking design thoughts, job changers, marketing team members, and anybody interested in the fundamentals of graphic design.
Justification for include graphic design in your business
Graphic design is an excellent way to communicate your goals and connect with individuals who are really in need of the resources you have been providing. By utilising minimum content and maximising innovative models and templates, a company's powerful concept will be noticed by people worldwide. This will eventually help you establish a brand for your business and increase its competitiveness.
There are several tools and programmes available for developing a professional graphic design solution. This cost-effective method is well worth the dedication required since it provides you with long-term exposure globally. Initially, every great start-up firm may struggle to acquire enough clients. However, with such a concept approach, there will be no immediate difficulties.
Graphic Design Styles
Graphic design has a large market presence in the sector. At all phases of graphic design, there is a market for a variety of styles. If you have a great concept, branding, and overall marketing strategy that meets your customers' needs, your firm may grow rapidly. It would help if you experimented with numerous kinds of graphic design to spread the word about your business.
Historically, graphic design encompassed graphic arts, typography, composition, and organisation. The following is a list of classic graphic design styles.
Corporate Identity Design
Corporate design is a type of design that businesses employ to establish their visual identity. Creating labels with logos is a critical element of the graphic design process utilised by global corporations.
Publishing
Graphic design includes book layouts, periodicals, brochures, and journals. Additionally, publication covers are frequently produced by a professional graphic artist.
Advertising
Advertising is another area of Graphic Design that is essential. Graphic design is critical in advertising. Both print and internet advertisements are growing in demand, necessitating this type of design.
Web/Mobile Application Design
The internet, or online media, is rapidly increasing these days. Due to its success on all levels, its demand has grown as well. Numerous businesses are already soliciting requirements for web design and smartphone application development. If you are attempting to expose your business to internet marketing, you are going to need excellent graphic design assistance.
Design of Products
Graphic design is frequently used in product design, for example, to create visually appealing stickers or posters to promote a specific product. Certain firms continue to rely on graphic designers to develop effective product packaging.
Signing
The term "Graphic Design" refers to the process of creating signs, symbols, and logos. Signage is a term that refers to commercial, public, and industrial signs such as murals, signboards, billboards, and street signs that need graphic design.