Mac Graphic Design Courses
Graphic designers use a variety of design components in order to achieve creative or aesthetic effects. Graphic design is critical for product marketing and distribution, as well as being an integral part of brochures and logos.
Frequently referred to as communication designers, graphic designers collaborate with people in advertising and promotion, public relations, and marketing. Occasionally, designers specialise on a certain category or kind of client. For instance, some create graphics for retail goods packaging, while others concentrate on visual design for book covers. To be successful, graphic designers must keep current on new applications and computer technologies.
Typically, a certificate and a thorough work portfolio are required, and specialised studies are recommended for advanced placement and better pay. A portfolio is a collection of the artist's finest work that has been handmade, computer-generated, or printed. A person with a great portfolio but no formal education or experience may thrive in graphic arts. Creating a strong portfolio requires the acquisition of skills that are usually taught in post-secondary arts or design school curricula.
Our Method of Instruction — One-on-One
There will be significant and life-changing consequences as a result of an instructor developing a more personal relationship with a student. Students who have matured and developed a feeling of self-worth in life also have their former teachers as motivational speakers or life coaches. Without a doubt, this happens more often for students who are able to communicate with their instructors or for teachers who are able to develop a unique relationship with the student. The strength of this collaboration lies in being familiar with the individual's idiosyncrasies and unique learning patterns. As with a custom-made suit, a session should be tailored to the individual requirements of each student, preferably in a one-to-one situation.
Blue Sky Graphics has implemented a one-to-one education method, which allows for a more personal contact between student and instructor, which often results in the relationship developing professionally. The teacher will recognise the student's desire and dedication and will be able to direct the student's efforts toward a range of professional objectives.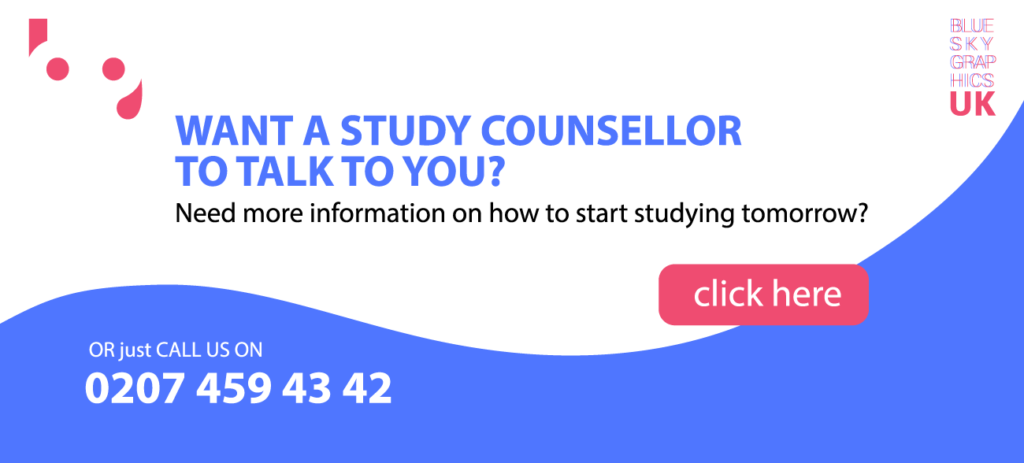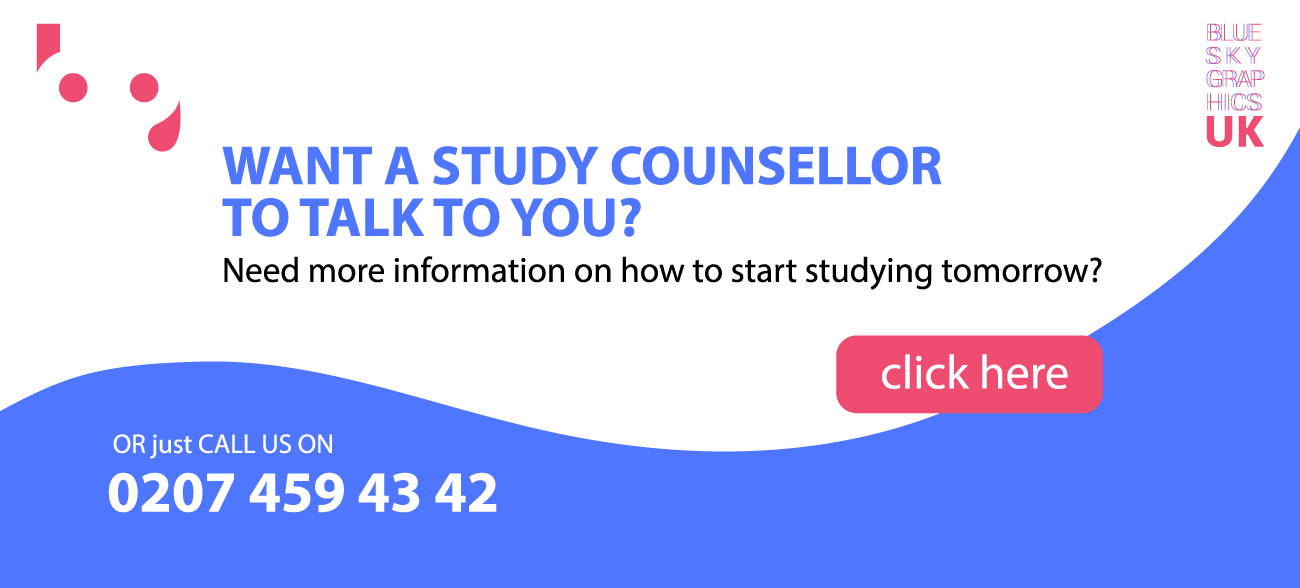 This is also how the most talented brains develop and influence their environments. When a pupil is sufficiently motivated and assisted in comprehending their or her more exceptional talent or enthusiasm by someone they respect and like, the results may be astonishing.
What is taught in the graphic design course offered by BSG in the United Kingdom?
The graphic design course familiarises students with the technology and software required to succeed in the field of visual design. Students will be able to integrate graphic design techniques such as web layout, digital image processing, and illustration into their work while also incorporating language design and adapting design philosophy.
The following is a summary of the basic concepts taught in graphic design courses:
1. Fundamental Design Principles
2. Colour Theory
4. Web development
5. Image Editing
Adobe Creative Cloud Photoshop is used by artists to alter photographs and computer graphics. The graphic design course will teach you how to utilise Photoshop and modify your pictures via the use of layers, curves, shades, text, cropping, retouching, masking, shadows, filters, and smart artefacts.
Adobe Illustrator enables designers to create diagrams, logos, typography, and logo templates for branding purposes. Vector images are used in the programme, which generates animations using mathematical formulae. These images may be enlarged without distorting their appearance, making them perfect for responsive web design, a term that refers to websites that adapt to different screen sizes.
InDesign is a desktop publishing application that is used to create templates and page layouts for print and interactive media. Designers use applications to create journals, novels, banners, brochures, and digital PDFs, among other things. InDesign software enables you to create beautiful layouts by styling graphics, images, text, and tables.
Adobe XD is used to design, prototype, and exchange online and device user experiences.
Imagination and Logical Reasoning
Creativity must be tempered by rational reasoning. Rational thinking establishes a filter that sifts through the creative phase, separating what is and is not accessible. Graphic designers should be able to combine their creativity with their ability to reason logically. This may be accomplished simultaneously via the use of a flow-like state of concentration mastered by true designers.
Imagination and artistic abilities
A graphic designer should be sensitive to aesthetics. This focus is what motivates the artist to choose certain colours, to write in specific styles, and to use specific typographic styles. How artists use their creative sense is determined by their level of imagination. In contrast to analytical thinking, which limits imagination, creative sensitivity expands it.
Possibilities for Employment Following Graduation
Have you ever wondered how the beautiful patterns on your shirt got there? They are designed by a textile designer.
If you love prints, you should dedicate your whole career to creating beautiful prints or a variety of other types of prints. Effective printers combine traditional and automated printing techniques.
Creative services manager – this position requires considerable skill, since it involves liaising between the creative department and management in order to organise projects.
Director of Creative Services – You would need to understand how to maximise your staff's potential and be an expert at obtaining the last word on projects. Yes, please do not overlook maintaining the customer relationship.
UI Design User interface design is concerned with the visual appearance of websites and apps, including text, colours, and images, as well as the functionality of these sites and programmes, such as icons, buttons, and responsive design.
UX Design A customer interface is the means through which an individual interacts with an organisation and its products and services. As a result, the customer interface used in the development of a web-based product is determined by how customers feel and their ability to do the desired task successfully.
Businesses rely on UI and UX programmers to assist them achieve the goals they set for their websites or apps. For instance, if an organisation requires consumers to subscribe to a newsletter, the UI designer would devise methods to guide visitors to the desired action. The user experience designer will assist in determining how well the different options work. Often, the same individual is responsible for the product's UI and UX design.