Learn Graphic Design Online Courses in Northampton
Students are one of most stressed beings in the world, we are bombarded with studies, financial stresses and no proper jobs to sustain themselves. Thanks to the internet now everyone has the chance to earn big. Anyone can learn new fields with the help of online courses and use the learnt skills to facilitate people as freelancers.
Graphic design is a profitable field because there are a large number of companies that require professional graphic designers to do tasks like making advertisements, business logos, cards, and all marketing things which are impossible to be done by people who are not acquainted with adobe programs and graphic design applications. This is why if a person takes a course in graphic design from Blue Sky Graphics, then he has a strong chance to be hired by such companies as a professional graphic designer.
Significance of Graphic Design
Graphic design is an essential method for enhancing interaction with others. It is an important element of brochures and logos and is essential in order to sell and deliver goods. Graphic designers also referred to as visual artists, often work directly with media, advertisement, public relations and marketing professionals.
Good graphic design brings up ideas in such a way that is eye catching. Customers may not be willing to read a letter, but are happy to look into the photo for the same reason to persuade them to buy your product.
Why Blue Sky Graphics?
Choosing to learn from Blue Sky Graphics is definitely the right thing to do as we engage the students in the field of graphic design in terms of time and dedication. We help you build a strong and presentable portfolio for your future by exploring your strengths, creativity and expertise. Blue Sky Graphics tutors are extremely professional and are recruited on the grounds of their vast knowledge of subjects, business skills and expertise in teaching.
The timings for the online classes are also very flexible. We start off from 7.30 in the morning till 10.30pm, every day of the week. This allows you to pick a suitable time slot for studying graphic design around your busy routine.
Web Design Course
The web design course conducted over a span of 8 months is another category of courses offered in Blue Sky Graphics. The web design course includes the possibility of designing and reorganising current websites utilising technical tools and strategies that look at the architecture, vision and usability of a website.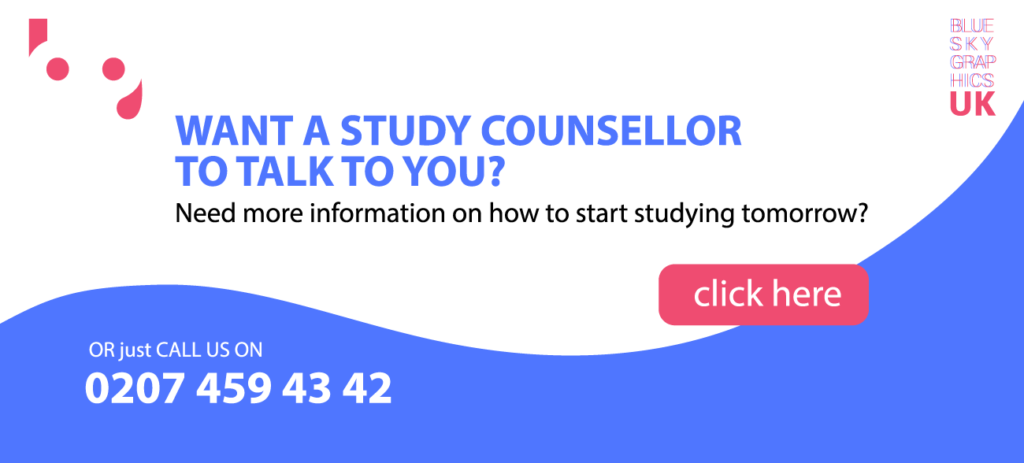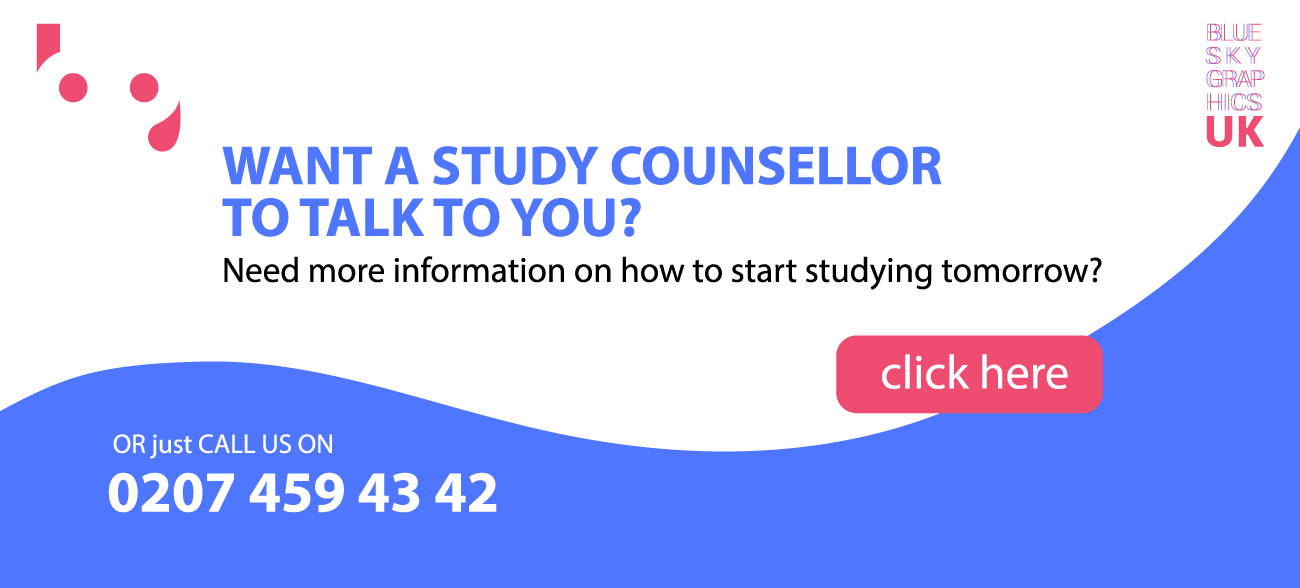 Making Money as a Graphic Designer
There are multiple ways graphic designers can earn money. You can work as a freelancer or make money from Fiverr and other freelancing platforms. All you need is your very own portfolio with a collection of all your work and references. Having a social media presence is also helpful as it lets you reach a greater audience. So anybody interested in your work can easily reach out and hire you if you complement their style!
How to Earn Money Online?
It has become easy to gain money as with the rise of online courses. You must learn the necessary skills to become a skilled graphic designer and then build your own website to share your whole artistic work and projects. It is also a good idea to have a presence in the social media, because it lets you reach a wider audience. Build your own resume with a list of your whole job and you can sell your jobs to companies or actually hire you using certain business development skills. Learn the skill of graphic design with Blue Sky Graphics and implement them on freelance platforms to make it big!
Web Design Course
Web design refers to website design which is viewed on the internet. It generally applies to elements of website development to the user interface rather than to software creation. Web design used to focus on creating websites for desktop users; but design has become particularly important for smartphone and tablet apps over the years.
This course seeks to demonstrate the principles of Web Technology and its implementations. You will be taught how to work through the incorporation of website development systems, digital models and their overlaps. You need to plan a list of other websites in the course on Web design where you can create material during the course. The website's layout defines everything about the website-including the wording, how it looks and how it all operates.
Graphic Design Courses at Our Disposal at Blue Sky Graphics:
Blue Sky Graphics provides one of the best online graphic design courses for new and seasoned graphic designers. They offer various levels of training to assess which level of knowledge in graphic design you already have. Blue Sky Graphics presents the students with 3D animation and business design logos.
The 3 Ps are their fundamental principles: professionalism, passion and proficiency. You do not only learn skills by Blue Sky Graphics, but you also learn how to apply those skills. The tutors have excellent communication skills and work very hard. They have a clear understanding of your subject and are able to help you with every study and assignment.
Graphic artists construct creatively unbiased illustration and text formats. They create ads, design book jackets, and develop charts and graphs to display details. Graphic design involves tremendous visual knowledge as graphic designers must consider how suitable images can be chosen, how pictures and text fit better together, and how correct forms of models are chosen for their projects. Graphic artists partner with art directors to refine their creations in advertisement companies and printing houses.
Graphic design requires high visual skill, as graphic designers must know how to choose correct images, decide how images and text fit together most efficiently and choose suitable fonts and styles.
Graphic designers need strong technical skills, as well as imagination and creative ability. Most graphic designers use software like Photoshop and Adobe Illustrator. Visual artists are also able to collaborate with customers and art departments using communication skills. Excellent conceptual skills also help graphic designers communicate knowledge to a range of audiences.
Importance of Learning Adobe Software
Almost every job description requires expertise in InDesign, Illustrator, and Photoshop. If you plan in the future to become a graphic designer, these skills are highly recommended. Luckily, we teach you how to use this software so that you can use Photoshop to crop, scale, colour-correct and edit photos and Illustrator to create digital and printed pictures, such as logo or cartoon. Also, you will learn how to create posters and flyers among the many other illustrations using InDesign.
Photoshop – Adobe
Perhaps artists' most commonly used resource is Photoshop, so we'll use it to teach every design course. Photoshop is handy for image editing. You can mess with philtres and masks to dramatically transform and mix raster images (pixel-based image files) and play with colour, too.
Adobe Photoshop offers a range of advanced tools for the creation of compelling graphics and manual devices on the web platform. Photoshop is used for a variety of branding and marketing purposes for businesses.
Photoshop is an essential and necessary resource in the world of art and design. Photographers are using Photoshop to retouch images. Illustrators are drawing and painting in Photoshop. Visual development artists are using Photoshop to create concept art or storyboards.
This software is ultimately extraordinarily convenient and flexible, with a host of useful features.
Illustrator – Adobe
Adobe Illustrator is another popular Adobe product. One of the most significant distinctions between Photoshop and Illustrator is that Illustrator produces pictures based on a line. In the meantime, Photoshop creates pixel-based images (or raster-based images, if you want technical images).
This means that once you zoom in, a picture made in Photoshop is grainy. However, the resolution of an image is preserved in the Illustrator. As a result, Illustrator may choose graphic designers, advertisers and web designers to create logos or photographs that can be quickly and continuously revamped.
Illustrator images are vector-based, and they can be modified to any size without losing accuracy. A toolbar on the left of the frame, with a number of tools in Illustrator, is for selecting, creating and modifying objects and artworks. You may use the following methods: drawing, typing, painting, reshaping, cutting and carving, colouring, moving, zooming and graphic designs. Several simple Illustrator resources include collection tools, paintbrush tools, pen tools and pencil tools.
Vector images also have cleaner, straighter lines, which can be great for logos and web design elements but not for the most detailed art of video gaming.
InDesign – Adobe
Adobe InDesign is another excellent Adobe application. InDesign is outstanding for designing website graphics that make this software a perfect alternative for graphic designers and advertisers. InDesign is often designed to accommodate multi-page publications such as brochures and pamphlets.
Identify your workflow and the quality of your art and design when using InDesign, Illustrator, and Photoshop. It also takes time to learn their functionality, but we can show you how to use them during our online lectures so sign up now if you are in Northampton and wish to learn all about design and Adobe.
What Can You Do With a Certificate in Graphic Design?
A Bachelor of Graphic Design certificate prepares students for careers in a variety of fields. Including working as graphic designers, graduates will work as photographers, visual artists and art directors. Many advertising agencies, marketing companies and publishers offer jobs to applicants with a degree in graphic design, although some employers also need work experience.
Graphic designers may also seek freelancing in addition to full-time design work, including starting their own company. After graduation, students may also consider progressing their studies with online masters in graphic design.
The Importance of Typography in Graphic Design Communication
Typography can affect all the way a message is interpreted so that it is an enormous part of graphic design communication. But, people rarely understand or acknowledge their significance. Currently, typography resembles everything from TV advertisements and magazines to website design and signage. It is the art of arranging text in a certain way and taking things such as distance, colour and size into consideration.
Here are five reasons why you should seriously consider the subject of typography in your graphic design work.
Typography Catches Viewer's Focus
First of all, typography is about capturing the attention of the viewer. During typography graphic design classes, students learn how to draw attention from an audience efficiently.
A book title with a particular typeface is written to; for example, attract the eyes to the cover. Apart from just the appearance and placement of the font, a specific atmosphere or feeling needs to be conveyed via it in order to build excitement or interest that keeps what is gathered.
Typography Allows Hierarchy of Information
Look at a well-designed infographic posted on a website, and you'll get a good look at how data hierarchy is formed by typography. When many texts are grouped, typography is used to distinguish information to help a reader digest what is shown. This is so relevant in typography that whole courses are devoted to hierarchy and typography in the school of graphic design.
Builds and Strengthens Brand Awareness
When typography is used in marketing, it is also used as a method for the identification of brands. Think of your favourite brands and their signs, and why they are recognisable; they are the typography they use. E.g., if you could detect a Pepsi logo in a style that is Coca-Cola, it will be confusing as the typography used is already clearly identified with a brand.
Typography Brings Audience Professionalism
The formalisation of the typographical framework helps you to create a competent person before an audience. Some styles and fonts can build a sense of professionalism for viewers. For instance, a font written in Times New Roman, Arial, or Calibri appears much less professional because of the whimsical touch that it exudes.
Summaries with a friendly or casual font are much less likely that the hiring manager takes them seriously. On the other hand, if formal and rigid, a product intended to attract young people may be ignored or dismissed. Therefore, typography must appeal to the target market of the company.
Typography has a Visual or Personal Expression
In graphic design courses, students are introduced as an integral part of graphic design to many facets of typography. One of the main classes most students take is a visual communication introductory course. Here, the students learn how other typographical types express meanings beyond what is written. Depending on the lettering or font type, the same word may have a different effect. The attributes of the lettering relate directly to the perception of the message.
Typography is yet another way of delivering a message efficiently, not just via text, but also through visuals. Take advantage of typography to achieve the best design results.
Digital Media Design vs Graphic Design
Graphic designers and digital media designers exchange knowledge visually but use different approaches. Digital media designers create video, audio and motion graphics while graphic designers create image-based designs. Digital media design curriculum also covers web design, video development and screenwriting courses. Although graphic designers also digitally create work, they may also produce printed journals, magazines and products. Digital media designers operate in interactive formats alone.
Graphic designers rely on Adobe Photoshop programmes to complete their designs. In comparison, animation and movie graphics applications are used by digital media artists. Graphic designers will also look for opportunities in digital media design with experience. Prospective students can explore whether online graphic design programmes offer digital media design concentrations.
The Knowhow and Usage of Graphic Design Elements
Regardless of the type of projects you work on, it is important to know the elements of graphic design. Understanding the graphic design elements is critical to creating work that is visually attractive and easy to read. In addition, basic knowledge of graphic design can help any artist or designer illustration, website and more with their portfolio.
Easy to read templates
The template should be easy to read, regardless of whether you advertise an event or display a company logo. In reality, all designs that convey any type of information should give priority to readability.
This means you have to carefully select the type of font, font size and colour scheme. Be sure that people with disabilities can read the colours you pick. Contrast can also help to distinguish text and background from each other! Keep in mind; however, that bright or vibrant colours cannot always be the best way to read.
Create the right hierarchy of design
What you design various elements will affect your viewers' experience. Graphic designers, therefore, created something known as "style hierarchy" to direct their artistic choices.
Design hierarchy refers to how different characteristics like sizes, colours and textures can be used to draw the viewer's attention. This allows you to switch the audience's attention from one part to the other in the order you like.
Will visitors first read the logo or brand name on your template or should they first note a picture or illustration? What are they meant to look at next?
Create Different Colour Moods
Colour theory is one of the most influential graphic design elements. The colours you select for your projects can have a dramatic effect on the viewers' experience.
Some colours may work better than others, depending on the type of mood you want to create. Maybe you want a mix of colours that are harmonious and calming. Consider a combination of contrasting colours for a more visually striking, exciting or dramatic effect. Cool tones often leave an impression distinct from that of warm tones.
Finally, do not forget to choose colours, such as textures, backgrounds, fonts and lines, for the various sections of your design.
Leave some space
Space is an aspect of graphic design that can be easily ignored. Rather than focusing on things that viewers should be able to see, this element means thinking about what they don't understand, otherwise known as negative space.
When you arrange pictures, text and other parts of your design, see how it is spaced off. You don't want too much empty space in any part of your design, but neither do you want space. The right balance for such empty spaces is easier to find than an overly crowded or sparse design.
Digital and Traditional Art Texture Experiment
The surface will enhance your project in graphic design by evoking ideas or feelings that are associated with other textures. For example, fluffy, cloud-like textures or hard plastic textures can transmit completely different feelings.
As such, textures can give viewers a memorable impression, but keep in mind that texture is not only relevant to projects that people may touch or feel, such as print publications or packages. If you're working on website, app and any other online media projects, you can use texture to create a 3-D look for 2-D designs.
All in all, integrating the different graphic design elements will only boost the work. At the other hand, it can also motivate you to create amazing designs by learning what to do in graphic design.
If you are looking to study graphic design in Northampton, then Blue Sky Graphics offers the best online courses online – check it out today!
What is the Graphic Designer's Average Salary?
Do you do the job and the amount of experience you have earned the right pay? It's a vital question, but very few people actually ask themselves who work on graphic design. There is a lot of knowledge to let you learn whether you are paid sufficiently. Or what sort of entrance fee you might expect when you are about to enter the profession.
The average salary for Northampton's junior graphic designers is £22,209, the average for senior designers £39,968 and a design director's average wage is £60,000.
Are Graphic Designer Salaries expected to rise in the future?
In certain government-controlled or government-driven professions, like the military, civil service or the teaching, pay scales are strictly regulated, and you can be sure of what you are doing in a particular job.
The graphic design wages are almost entirely on the market, however, so that the rates will depend on the current economy, the current demand for graphic artwork and the number of people entering the job market. The good news is, however, that graphic designers are in constant demand today. For more businesses vying for the best graphic designers, salaries are stable and projected to move upwards.
Any jobs, including your first, will pay enough for a relatively comfortable life in graphic designs. Once you have gone from a senior designer to a well-established design director, salary growth is quick.
Web Design Trends
For those looking for a creative career, the future of web design includes elements developed by the film and gaming industries.
The first business sites that arrived in the stage back in the late 1980s were clunky businesses with minimal design options that were difficult to navigate. They all looked relatively similar, and business owners have had difficulty in distinguishing themselves from the crowd. Functionality was also a problem.
However, technology has come a long way since web-based tools began. Fortunately, the best sites of today offer an interactive and engaging experience. The goal is ultimately simple: to develop a design that attracts new clients and keeps current customers coming back for more.
Web design trends for 2020 are primarily based on film and gaming technology. It is a good time to get the necessary skills for those interested in this field because the opportunities are more extensive than ever. There are only eight design elements in the next few years that you will see more.
3D Design
For years, the film and gaming industries have taken advantage of 3D technology, and you can expect that the web design industry will follow suit significantly in the coming few years. 3-D technology allows companies to introduce their brand in a completely new and engaging way.
Custom Pictures
Custom pictures match current trends to increase the individuality and fine-tune brand originality. These help current or future clients to associate them with the brand they represent and provide a mental reminder that they can soon revisit the website.
Enhanced Reality
Enhanced reality offers an interactive experience that promotes customer interest and commitment. Already in use by the gaming industry, more demand is expected on company websites. Now that most devices have built-in cameras, the average user can enjoy this technology more efficiently than ever.
Chatbots
The live chat features several modern websites that currently allow Chatbots to respond to simple customer questions without human interaction. This saves business owners money and will enable customers or potential customers to ask questions outside or in regular business hours.
Sticky Components
Sticky elements, usually on the top, side or bottom of the screen, are designed to enable rapid and easy navigation of websites and immediate access to additional information. Wherever they are on the website, these elements are intended to be as unobtrusive as possible so that they do not adversely affect the overall user site experience.
Video Background
Video has long been around, but background video is just beginning as a tool for making websites more interactive. Visitors prefer to stay longer if the background video is not static, but part of the image provided that the video catches and holds their attention.
Entertainment
Additional natural development in the entertainment and film industries, animation provides business sites with an aspect of life and fun. Built-in collaborative features create an extra user interaction layer.
Would you like to hop on the web design bandwagon? Apply now to our online Web Design course based in Northampton and learn more about this field!
Benefits of Learning UX UI Design along with Web Design
About UX Design – User Experience focuses on user satisfaction. When designing a website, you want your site to be easy-to-use, available, and worthy. UX is key to web design and closely related to SEO and CRO. Search engines aim to match what a user needs with the most relevant websites, which result in the best UX pages. And you'll need a platform when you automate your website conversion that thinks about the user's journey through your app.
Visually attractive websites are important because they will have a higher emotional response by seeing something they like. But many websites give functionality priority. This is risky because users may want a site's look, but they are unlikely to have much experience and come back if they find it hard to use and pages take a long time to load.
You're thinking about a career in web design, but you don't know where to start? First, you should figure out where you want to focus on. You can choose from a wide range of fields, including User Experience (UX), UI, product design, graphic design, interface design, architectural details and much more.
UX/UI is the most common area, and professional requirements in this area are high. Below are five advantages for you to become a UX/UI designer by attending web design courses!
Fundamental Experience in Design
The web design course will teach you what you need to know about UX/UI architecture. More importantly, we can show you how to make a difference.
You can work smarter, not harder when you master design elements such as colour, balance, typography, contrast, and more. You will also be ready to unleash the creativity that led you first and foremost to take a career in web design. During the course, you meld your artistic side to become a unique UX/UI designer with your technological-oriented side.
A Design Thinking Mind
Fantastic UX/UI projects can be super fun brainstorming. Nonetheless, transforming your designs into actual UX/UI projects can be even harder. You will develop a "design thinking" approach through the web design course that will help you bring your projects to life. But what does it mean to talk about design?
A concept thinker is a strategic thinker, designer and technologist who knows what requires practicality and combines creativity with what is feasible. While innovation is always cool, a web designer needs to be able to balance creativity with what can be done. Each student learns a complete cycle of design thinking to help them launch a successful web design career.
An Impressive Portfolio
Your portfolio is the first thing employers would want to see. As a student at Blue Sky Graphics, you have an extensive portfolio of projects that even early professionals envy. Regardless of your specialty, our web design instructor will help you create an excellent portfolio which contains in-depth case studies and not only final designs or mockups.
Experience in cross-industry
Great UX/UI design requires more than knowledge of web design technology. You will deal with a variety of projects and products as a UX/UI designer, and must also understand how things work in various industries. For example, to design a better car dashboard interface, you need to know some basic car manufacturing.
Opportunities for Self-learning
The UX/UI design field is continually changing. Innovations and developments are becoming the market every day. In other words, in this industry, you're never completely done with learning. You will have to keep up with new trends to ensure your skills are always fresh and strong.
We offer online classes for working designers and professionals that allow you to learn on your own. You can keep up with all changes to UX/UI with our online web design school and compete in this fierce market.