Learn Graphic Design Online Courses in Derby

Blue Sky Graphics provides the best online graphic design courses for new and seasoned graphic designers. We offer various levels of training to assess which level of knowledge in graphic design you already have. Blue Sky Graphics presents the students with 3D animation and business design logos.
The 3Ps are the fundamental principles our courses are based on which stand for professionalism, passion and proficiency. You do not only learn skills by Blue Sky Graphics, but you also learn how to apply those skills. The tutors have excellent communication skills and work very hard. We have a clear understanding of your subject and are able to help you with every study and assignment.
Why Learn From Blue Sky Graphics?
Choosing to take advantage of our courses is certainly the best thing to do in terms of managing time and effort, since we engage students in the field of graphic design. We help you create a solid and presentable portfolio for your career by harnessing your strengths, creativity and abilities. Our tutors are highly skilled, and they are hired because they have vast knowledge of the subjects, business expertise and teaching abilities.
The online courses often have very convenient timings. We start each day from 7.30 a.m. till 10.30 p.m. This helps you to select a reasonable time period for learning graphic design despite your busy schedule.
Course Syllabus
The courses at Blue Sky Graphics includes
Graphic Design Courses – 9 months
Web design and Development course – 8 months
UX-UI Adobe design course – 8 months
This course on graphic design teaches you to run Adobe Software and highlights other aspects, such as the creation of logos and advertising which contribute to creating a unique design.
The web design lesson is about designing or upgrading your own website using Photoshop and WordPress.
UX-UI programming course includes the construction of a user-friendly website, so that the public can understand it easily.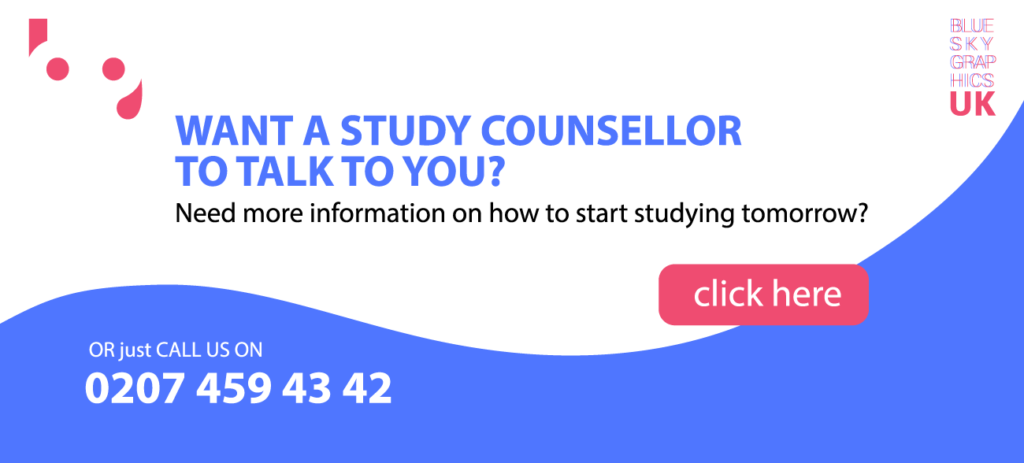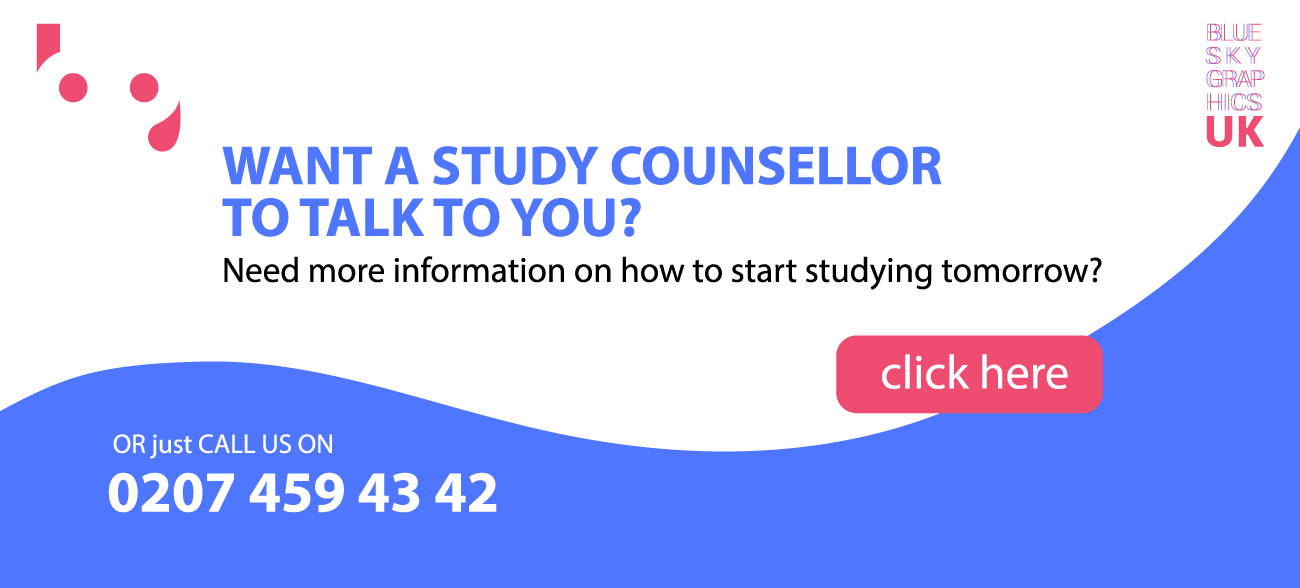 Web Design and Graphic Design Course
Web design refers to website design which is viewed on the internet. It generally applies to elements of website development to the user interface rather than to software creation. Web design used to focus on creating websites for desktop users; but design has become particularly important for smartphone and tablet apps over the years.
This course seeks to demonstrate the principles of Web Technology and its implementations. You will be taught how to work through the incorporation of website development systems, digital models and their overlaps. You need to plan a list of other websites in the course on Web design where you can create material during the course. The website's layout defines everything about the website-including the wording, how it looks and how it all operates.
You need to bear in mind some web design features when designing your own website. It is critical to choose a font which is easy to read and which complements the website design. It is also important to concentrate on aligning the colours with your brand and the message you want to express when choosing colours for your web.
Graphic design course covers all aspects of advertisement and corporate graphic designs related to logos, business cards and brand identity. It teaches the use of Adobe software so you can learn the correct use of colour, size, font, texture and shape and make an outstanding design.
The objective of this course lies in fixing and reconstructing images using different tools, creating logo design and visual identity, implementing simple methods and tools for auto-correction and creating a document with the correct site, print and video settings.
What Role Can You Play as a Graphic Designer?
Graphic designers can work for themselves, from self-employment to partnering for big corporations. You start your private label by taking online courses with your skills and perfected concepts.
By being educated in this area, you can be a web developer, creator, senior web analyst.
Graphic professionals are expected to design websites and produce numerous visual images for site owners to convince them to buy their goods and services. There are some things you can do for artistic projects in your own home. If we choose to do so, graphic artists can either continue with a project-based approach or increase the work size.
Making Money as a Freelancer
If you're operating at some company, graphic design classes at a university are difficult to follow. That's where online classes are useful! You will take courses and work as a freelancer, based on your lifestyle and flexibility. Such classes deal with the field of graphic design, including architecture, key features and principles that give students an understanding of what makes a good design. Adobe Photoshop needs to be known to start to show you your skills. By learning these high yield programs, you can become a freelancer to support yourself financially with ease.
Train with us
Imagine total freedom, to pick what you want to study, how much time to divide between tasks etc., without getting distracted by other peers or the uncertainty of an instructor walking in to check what you are learning on your laptop. With our online lectures, you can continue to sit at home on your comfy couch and have the opportunity to learn a new skill!
Getting the amount of freedom means you're going to have to plan and monitor yourself and you 're going to need to handle your time well, all of this will be taught to you in our online graphic design course at Blue Sky Graphics in Derby.
Learning one-to-one
Classes online aid students escape boring lectures and noisy classrooms. You'll also save money and reduce either house-to-class or work-related expenses. Most of the students are deemed time-limited and either have full-time or part-time jobs, and online learning has realistic advantages for them in terms of juggling education, personal life and job. Our classes are accessible any day of the week starting from 7.30 am until 10.30 pm. It allows you enough flexibility to do the remainder of the job and research anytime you like.
How to become a professional graphic artist?
There are multiple ways people go into the design – whether studying in a college or getting a certificate online by taking a comprehensive online course like what we provide at Blue Sky Graphics in Derby. Yet all successful designers off the same way – with an idea (that's an idea of having a career in Graphic Design).
Educate Yourself or Take an Online Class to Practice Graphic Design
You must be able to utilize industry-standard software successfully to become a professional graphic designer with a portfolio. The methodology is necessary to become an artist, and knowing only the techniques or features of Photoshop, Illustrator and InDesign is not enough. You would have to research the subject extensively.
Our software involves the teaching of Photoshop, Illustrator and InDesign so you can build any prototype you like. You will make sure you have plenty of time to prep for the graphic design classes if you intend yourself to perform well. We have done our hardest to insure that our students have the undivided attention of the teacher by incorporating the one-on-one class program. You should easily pose questions and communicate with the instructor to know more. Those are specific and comprehensive classes, though, so you can't be too effective if you don't invest enough time training.
Be Innovative
When you choose a career in graphic design not because of the excellent salary, but because you have an artistic attitude, so this is actually where your creativity lies, so you can do well in this area. In addition to that, the classes show you how to be imaginative. You ought to have the opportunity to imagine something different, and then build it to produce the desired outcome.
Your Portfolio Makes all the Difference
This cannot be stressed sufficiently; the fact that graphic designers should have a detailed portfolio – full of your best work. As this is not just a forum to describe your skills, but there may be somebody who stumbles upon your portfolio and is interested in hiring you based on your results! Getting your reputation out there and turning your talent into a viral one is a brilliant strategy.
Using a keen eye when deciding whether to add to the portfolio. Quality is preferred over quantity, so stay away from thinking like you need to have everything you've created. Find yourself a storyteller or curator who's going to say your story.
Live up to Date
Graphic design is a field that is constantly evolving and growing. Designers will strive to keep up with all the latest develop developments and tools, otherwise they may find themselves left behind in the game. It often applies to artists who work as freelancers and those who are interested with rising to higher roles within their companies.
Skills Needed
To produce compelling graphics that easily transmit messages to the consumers, graphic designers need to combine good analytical skills and imagination. Although they spend considerable time creating projects on paper, they must also be able to utilise specialized software for graphic design. A lot of time is spent dealing with the customers and coordinating the work with the members of the development department. Graphic designers are often expected to carry out multiple projects at the same time, and time management skills are therefore essential.
Want To Make Your Career As A Web Designer?
In order to go big in the field of graphic design, a person must have a imaginative mind and should be able to utilize graphic resources with precision. This can only be given by taking courses in this area. Thankfully, Blue Sky Graphics is a company that provides free industry-level graphic design classes and web design workshops right here in Derby. The great thing about our courses is that they are totally online, thus giving control to the citizens to learn in the field of design from their homes.
UX-UI Design Course
UX programmers aim to render the user experience simpler for either device or system. It's about having a customer friendly platform where everything is available to the user, and it's not too complicated to manage the software. It's about overcoming customer-related problems and concerns to boost productivity, loyalty and consumer experience.
This is an advanced course which teaches you how to build user friendly websites and how to address customer specific issues regarding the usability of a website or device. This works on anticipating what consumers and surfers on the web site may have to do and ensuring that the design includes elements that are readily available for the desired operation.
Photoshop Skills
Photoshop is an outstanding graphic design device, but new designers still have a lot to learn, and with those with expertise, there is always even more to practice. When you are already employed as a model and seeking to develop your talents, you would undoubtedly notice that time is a big restriction on developing your ability.
If so, you may need to build a strategy to strengthen your abilities step-by – step with the period you have open. If you 're an up-and – coming designer, you might have no idea where to start to hit the degree of fame of some of the Photoshop masters that we see online.
We teach you the use of Adobe software (Photoshop, Illustrator, and InDesign) in detail, and if you are in Derby, you can easily sign up for these courses and start learning!
Experience
The best way to know anything new is to experience something for yourself. Although it can be extremely helpful to watch the instructions, you should also take the time to check yourself to see what you can do. You should also integrate the lessons you have seen, or even play with stuff in which you are not confident. Photoshop has so many functions, features, and settings that you only need to know them to understand their worth.
Free form of creativity can open up your imagination and make you feel more comfortable with Photoshop. To be able to put the concepts you learn from others into practice with real-world scenarios, you might need to be prepared to do some experimentation and adaptation. There may be some manuals that teach you about what you need to do, but they 're more likely to give you the skill or technique that can be utilized for your projects, and you'll need to adjust that to match your own needs.
When dealing with creativity, consider one that fits well for you and discover new things.
Start with the basics
There's too much to learn about Photoshop and so many choices that it's crucial to get a strong understanding of the fundamentals and necessities before going too hard. As something else, Photoshop's capabilities are fundamental to the finished product. If you 're young, instead of trying to follow up with advanced courses, take the time to get acquainted with the fundamentals before everything else.
Photoshop or Design Blogs
If you 're trying to better your skills with Photoshop, blogging on the topic will help you remain engaged in your studies and will encourage you to start learning. Working on your blog's material will be an outstanding educational opportunity. Not all blogs are operated by experts-most blog followers enjoy seeing a writer who is developing along the way, and many of the followers may experience common situations in their learning.
Once you have developed your expertise to a degree, you may want to learn how to compose for other web pages. Instead of having a connexion back to your web, all of the bigger bloggers paying writers and blogs of all sizes are available to free guest articles. While working on your blog will encourage you to concentrate on developing whatever skills you like, working for others would push you in other ways. For most situations, if you 're charging for the material, it's going to have to be competent work to be published. This implies that you 're going to have to keep expanding yourself and learning new stuff to improve the material. It may be hard to write for other blogs, but it's a tremendous growth opportunity if you 're willing to get to work.
There are galleries for all kinds of purposes. When your job in Photoshop is primarily linked to web design, you might want to link to a few web designers or CSS galleries. Four of the biggest web design galleries include Best Site Gallery, CSS Mania, CSS Push, and CSS Elite.
Aside from online exhibits, social networking sites that enable users to share portfolios can also be a source of excellent inspiration. In addition to showing the work of others, they may be a tool for sharing your jobs.
Find a follow-up expert
Whatever field you are in, learning and observing with a specialist can be incredibly useful, and graphic design is no exception. When you 're planning to become a respected artist, why don't you consider somebody you respect and pay careful attention to their life and work? Fortunately, working in a profession that is also directly linked to technology, it's quick to find experts online to get access to their research, read their site, to read interviews with them.
Make your Portfolio
Two of the downfalls of working in a career that has so many opportunities accessible online are that it's quick to think about the great offline resources at your disposal. Although browsing through designer portfolios and contributing to online galleries is a great source of inspiration, reading no traditional print magazines will fail you.
In addition to the encouraging aspect, posts in design magazines may often be a little different from the sort of material you might find on forums. When searching for a well-rounded teaching experience, select several design magazines and see what happens and you. Of course, any magazine can concentrate or proceed very differently, so check about for a suitable fit for your interests.
Participate in digital architecture
When you are very happy with your success in Photoshop, you may want to stretch yourself and have some fun at the same time by joining a design competition. In other cases, there would be some future benefits, so you will be motivated to propel yourself towards your true ability. Plus, you will still be able to see the progress of other designers in a community that will encourage you and give you a opportunity to assess your skills and performance.
Although the aim of entering a contest can be to gain something, you may also enjoy participating. This would inspire you to create something special enough that people can accept you. In some cases, you can get valuable feedback and see where you are compared to other designers.
What is Adobe InDesign used for?
Adobe InDesign is one of the simplest software to use when it comes to web design and development. It provides something for everybody, and no matter whether you 're a professional graphic designer or a parent looking to make some fun party banners for your child 's group, Adobe InDesign will help you out. There's a lot of searching through instructions and videos to help you make the best out of your time with Adobe InDesign.
Adobe takes into consideration that not all of its customers have the intrinsic skills to learn the InDesign software. That's why they 're offering five different InDesign Creative Suites. You will use any of them to help you print stunning photos as each package offers a broad variety of printing devices as well as usability software that helps you to customize the pictures as you see fit.
Most business owners enjoy the opportunity to build virtual papers, allowing them push multimedia brochures to the next level. Companies will do so much for their companies by developing product line eBooks that enable users to engage with rich media and animations. It makes a positive impact on buyers, and they'll be able to come back for more.
Publishing businesses rely strongly on the production of graphics because they want to create high-quality content so that their clients will keep coming back to them for profit. InDesign allows you to use the software to design the perfect job for printing, whether it be for writing a novel or designing a company emblem to be used on a variety of products varying from coffee mugs to t-shirts.
Using Adobe Illustrator
Adobe Illustrator is becoming a very common program in the world of design. Why is it so famous for you? The simplicity of this application and the ability to export high-resolution artwork has rendered it powerful tools for graphic designers. Colours, shapes, and strokes can be quickly handled by the Illustrator.
Let's find out what artists use this app for their daily work.
1) The display of icons
How select icons from the Illustrator? Illustrator has a flexible grid design that makes it too simple to create detailed icon graphics. You can draw simple shapes like squares , rectangles, triangles, and match them to the grid. Snap and match apps make it so simple to create and arrange your shapes. Only choose the type and select the space you want to fill.
2) The making of charts
Line and pen method render drawing lines and shapes in Adobe Illustrator too simple. The pen tool helps you to create all imaginable forms. It can be difficult for beginners to learn how to use the pen tool, but once you get to know how it works, you'll figure out how easy it is to draw and edit any shape.
3) Infographics
Newspapers and magazines also use infographics to show statistics. The majority of sketches are created in Adobe Illustrator as it provides many valuable resources for the automated drawing of graphs and pie charts by entering data figures.
4) Realistic Theme Drawing
Adobe Illustrator can create accurate digital image sketches. The tools for gradient and mesh are the most popular tools for producing accurate and smooth shading. The final result is a realistic model drawing that surprises the customer.
5) Cartoons animation
The flat colourss make it easy for adorable cartoons. Adobe Illustrator renders creating shapes and colouring very simple. Besides the pen device, the gradient tool allows painting and tinting the Illustrator too simple. And if buyers do not know your paint range, you may adjust the colourss easily.
6) Logos
Many technical logos are carried out in vector structures because they can easily be spread and utilized with other facilities. With the EPS file clean and good-looking logo heads for company profiles and promotional materials can be conveniently distributed. The separated backdrop makes putting the logo on the promotional materials very simple.
Basics of Web Design
In recent years, web design has been one of the patterns. This helped market companies, products, and facilities through a broader client base. The only issue is that web design can catch the focus and sound of the viewers in less than five seconds. It's not enough time for five seconds to ask what you want and also to sell your product, service, and idea to them. So how can you do it at a period when people demand quick input, particularly now with loads of other competitive competitions?
The first thing you have to remember is to get to the section you want to tell. We live in a society in which all is quick and finished at once: fast food, weight loss in days, and even marriages launch, and finish are completed in hurry. The way people use internet isn't that distinct, so if you can't deliver in four or five seconds, you 're dead.
It ensures that you should have something significant to sit and think to the company. Check the website when it's locked to see how long it takes to launch, what you will see first, and how long it takes the user to grasp what you intend to communicate.
Know Online Design:
As cool as it sounds, web design won't be a good career option for someone who is not completely conscious of how the techniques of graphic illustration function or skilfully produce a visual picture. This is why it is important to have qualified classes before beginning your career as a web designer. It is not simple for a person to take any time out from their day to attend timely classes. This is why we are offering free concept classes on our website.
WordPress
WordPress has been used for moving millions of web presences. It's impossible to say what the future will look like without WordPress — one thing for sure is that if WordPress failed to function, 28 per cent of the internet will be gone.
Using it to create just about every type of website you could picture. Here's just a small sample of the sort of sites for which WordPress is ideal:
Most web designers and developers use WordPress to build web pages for big and small companies alike.
Many internet advertisers are utilising WordPress to build high-end ads and landing pages for their products and services, mainly because you can set it up quicker than an HTML script, and also because it is scalable.
News Pages: WordPress' page style fits perfectly with news posts and many of the same functions also apply themselves to news and blogging pages.
Elementor
Elementor is a WordPress plugin for creating a drag-and – drop website. It means a few things: Elementor helps you to build new posts and sites that look original relative to standard WordPress theme post / page models.
To work on your posts and pages you get a separate interface — the majority of your work doesn't happen in the regular block editor that comes with WordPress.
No HTML / CSS / PHP / coding skills are needed — anything can be achieved via a simple user-facing GUI.
However, most notably, it deals for all WordPress models, meaning you can retain the new template and yet have all the goodness that comes with it.
Adobe XD for Web Design:
What stands out at first glance is that XD is much more intuitive and user-friendlier than other Adobe software. This encourages a successful presentation and from the outset offers a good user interface.
Adobe Experience Management offers a development cycle that is optimised. The software can be used to build wireframes, mockups, and prototypes which can be displayed on the desktop and on mobile devices in live previews. Thus the entire cycle takes place within a single programme – from wireframe to prototype.
The immersive designs can also be viewed on a smartphone or tablet with Adobe Experience Design.
This allows you to access and quickly share the prototype with colleagues or customers on different devices.