Some of the best reasons to train as a graphic designer
If you get out of bed in the morning thinking of graphic design or if brightly coloured shapes come to mind, then it may be that your inner creative child is screeching to get out and working in the graphic design field, may be perfect for you.
Graphic design extends beyond establishing identity and brand recognition. It is a reliable job prospect for many that is resilient in the post-pandemic world and seen as a safe career choice. Graphic design can be very effective at attracting attention and engage your audience to want to find out more. It also can be used to produce visual aids that can better help you communicate your idea. Among the common duties and responsibilities for the job role of a Graphic Designer or Web Designer are working for clients and listening to their needs. Listening is an essential skill and you should be aware that for a business or commercial organisation it is very important you understand what is being asked of you by the way of your brief.
Graphic designers are pioneers in the world of visual media and they are not only commonly described as creative thinkers but also great communicators. Today graphic designers work with a range of sophisticated software like Adobe XD, Adobe Photoshop, Adobe Illustrator and InDesign. Tools and techniques are second nature to graphic designers from knowing their 'baseline' which in the world of typography means an imaginary line that text sits under the text to 'brush strokes' which refers to a painting style used on images.
The field of graphic design is so important in the world of advertising, packaging and print and is powerful enough that it will inspire consumers in the way you might see a film advert on a bus then go and see the film in person. The truth is that graphic design is all around us and there is no escaping it. Every waking hour, most of us are inundated with images. Think about the last time you went onto an app on your IPhone or tablet, watched TV or read a magazine. Our attention spans are getting shorter because of it. To keep marketing efforts effective in spite of this cultural change, companies now have only a few seconds to capture viewers' attention and keep it. Images are the perfect solution. They have the power to communicate complex messages much faster than words can. But, in order to do this—as well as improve your appeal to automated audiences (search engines) to optimize your web rankings—images must be unique, relevant and high quality.
There tends to be two branches or types of work – graphic designers can work in a design studio or agency or they can work in-house for a company (everyone from banks and insurance companies to advertising agencies have in-house designers) or they can freelance (common) and work for themselves! If you're a graphic designer who works for an employer, you'll spend the bulk of your time designing and using your artistic skill, as well as meeting with clients and other workers on your team. If you're self-employed, on the other hand, you'll have another layer of tasks to take care of.
Other examples where you'll find graphic design include websites, signs, books illustrations, brochures, front covers, logos and product packaging. Even this web page or blog that you are reading was created by a designer.
There are many benefits to becoming a graphic designer, such as a safe and future proof career.

10 of the biggest advantages of working in graphic design!
The advantages outweigh the drawbacks and graphic designers do a varied and exciting mash up of duties and are often expected to know about branding, web design, logo design and basic marketing. All of these different skills are essential in developing yourself as a graphic designer.
Working as a graphic designer is a safe choice of career. The coronavirus pandemic has left many people evaluating their career's agility and job protection. Graphic design is an exciting forward moving dynamic industry that is constantly evolving. Jobs are not considered to be at threat and it is considered a fast growing industry. Graphic design has come a long way- remember how essential Clip Art felt in the 1990s in Microsoft's library of cartoon One things remains the same about graphic design and that is it has always been a means to express oneself graphically in an era when design software was not where it is today.
Graphic design is an industry that is relatively easy to access and simple and easy to learn. There are many courses online including Blue Sky Graphics one-to-one courses. Anyone looking for freelance or in-house graphic design work can make the a good career in this field. Young and fresh talent- this is a prime opportunity where you can grow frequently in this field as compared to other fields.
There is room for networking, expansion and creativity. Graphic designing is the art and creativity of the graphic designer and listening to their clients needs. This is a people person role and in this field it is easy for those looking for more opportunities to find them. You can grow your careers through speaking to people and finding new work frequently. Remember a graphic designer conveys and expresses the ideas of their client to consumers buying goods or services. Graphic Designers play an important part in every company. This is another attractive prospect about working in the graphic design field – the reward factor of knowing the benefit and impact you will have on businesses and your clients.
If you like recognition and feeling rewarded then you will probably like that there will be potentially hundreds of thousand of people looking at your work and high-quality visuals which increase viewer interaction and often result in a call to action. Graphic communication often attracts and keeps customers interested thank to your designs! That is pretty cool.
There is a huge amount of freelance work and job flexibility: Graphic Designing tend to be mostly online which means you can do your work from anywhere. Scrap the long drive into work or that busy commute on the bus or train that's packed-like-sardines, graphic designers do not need any particular place for doing graphic designing work-just don't forget your computer.
Once you have a some years of experience it is easy to make a healthy living and earn money in a fun, creative and flexible way. With many online businesses emerging and self made entrepreneurs, there are very few graphic designers without a project on. Graphic Designers will often have multiple briefs and lots of side projects giving job security. The general demand of graphic designer services is very high in especially online spaces and media companies. For more information on graphic design salaries, see the salary guide. In the UK, there is a regional difference in salary when comparing two cities (Manchester and London).According to Indeed in June 2019, the average salary for junior graphic designers around Greater London is approximately £21,500. In Manchester, you can expect an average salary of £18,800.According to Payscale.com to "an early career Graphic Designer with 1-4 years of experience earns an average total compensation of £21,461 based on 2,211 salaries".
You will keep your mind healthy, working and constantly learning new things. Take your ideas to new places with Photoshop. Design anything you can imagine but do be prepared for ongoing training. Online resources are plentiful so it it easy to stay on top of the game. Blue Sky Graphics offers dedicated one to one courses. Learning should be considered a daily thing and incorporated into your work role, since technology and software is constantly evolving, so too will your role. When you're a graphic designer, your work will rarely stop improving. There will probably always be new challenges to overcome and potentially new problems to solve. As with many roles in the IT and software based industry, it's a never-ending sandstorm of discovery and invention. You'll make mistakes along the way, but that's fine.
Become a Professional: Graphic Designing is a profession you can do this job as a professional and also you can do work at home as a freelancer. In India there are many projects of graphic designing. In the present as well as in future, the demand of graphic designer is increasing.
Graphic designing jobs are both creative, giving you freedom and the liberty of Imagination. A freelance designer often make decisions on their own which makes them more flexible to work with and makes their skill set of working independently easy.
Lastly ditch the suit and tie, the dress, the shoes and the formal clothes and the big corporate rat race. There's (usually) no need for a formal business clothing as the vibe is usually far more chilled. Welcome to the colourful creative side.
A brief outlook of the life of a Graphic Designer
Graphic designers are not just experts in communication, but being a designer does also require a certain amount of knowledge in tools, software, an understanding of trends, colour theory and more.  A useful and insightful graphic designers dictionary explaining key terminology can be found here.
Web designers, Graphic designers and UI or UX designers all play a considerable role within producing well-designed digital products such as websites, apps and online experiences. Another great advantage of working in graphic design is the possibility to have such varied work that it is seldom the case you'll ever feel bored. See more information about graphic design and business here.
At Blue Sky Graphics our 0110 Graphic Design Course offers comprehensive training including storytelling and branding for anyone looking for a career in graphic design. You will understand the power of branding. Branding is more than just a logo—it's the spirit and idea behind a product or service that consumers connect with. Successful brands create an instant reaction. If you recognise and understand brand loyalty, your inner designer is well at work.
Throughout your graphic design career you will be thinking about branding constantly. Understanding the value of it now is a great start.
Brand recognition is a term that can be more or less described as the extent to which consumers can identify a brand from its visual images and products. This process of 'recognition' can be further analysed as an emotional construction or manipulation to enable the viewer or consumer to recognise using colours, fonts, shapes, vectors and general graphic design. This is not to get confused with brand awareness.
For many, graphic design is more than just a career move, it is a gateway to freedom and flexibility as well as a creative passion. Many freelancers that work in graphic design enjoy the prospects of flexitime, simultaneously looking after children while also being at work or simply the chance to do something most loved.
You will have the freedom to express your imagination. Another advantage of being a being a graphic designer is that you have the liberty to express your imagination and creativity to the fullest. Whatever you imagine and visualize can be put in the form of display for others to appreciate, admire and even criticize.
Work-at-home graphic designers tend to have more freedom to design their own schedules and work at home, but they earn that freedom with more responsibility.
No matter where you work as a graphic designer (freelance or in-house) , you'll work with some amazing, creative like-minded people. Whether you pursue a career in web design or graphic design you're guaranteed to meet a new family as soon as you start working.
It is a career that can lead to many paths and as a graphic designer, you're not just limited to being a sole graphic designer. You could be a UX or UI designer, a motion graphics designer, a marketing assistant, an art worker or a gallery assistant and that is just the beginning. The world is truly your oyster and the freedom to travel and have international clients is an exciting pathway for many. You're not just limited to the jobs above, here's some more promising news for you as a graphic designer- in its report, Designing a Future Economy, The Design Council: estimates that there are 2.5m people in the UK who employ design skills in their day to day work.
Graphic designers tend to make great money especially when freelancing and for more information on salary expectations as a graphic designer have a look at our salary guide.
If you decide to undertake a freelance career another advantage is you will have a huge client base. Some in-house agencies have a limited client base, but almost every business needs a graphic designer. If a business is going to do marketing, then some one is going to need to design those marketing materials.
Freelancers charge per job, so naturally the more you work the more you earn, but the general graphic designer rate card or day rate is around £300 per day. Freelancers can demand costs anywhere from £200-£500 and at the top end for London and larger cities like Manchester, Leeds, Cardiff, Glasgow and Edinburgh. The day rate fluctuates depending on how much experience the candidate has and also the quality of their portfolio.
Many graphic designers go freelance once they've got a few years' job experience at a company. But there's no rule saying you have to go straight into a job and if you're attracted by the freedom offered by freelancing (and ideally have some funds to get you through the first few months), it could be worth considering straight after graduation.
An attractive prospect for many is the freedom to work on design briefs from home on flexitime or during your travels or even for a busy parent looking after the kids, makes freelancing the ideal situation. For many people the thought of commuting and getting ready for work each day is a tiresome thought. Another pro to working in graphic design is being able to come to work as casual as you like.
At Blue Sky Graphics we have been pioneers in creating talented future graphic designers for over 16 years and we are proud to work with a variety of students from a variety of backgrounds. Not only are we extremely proud to work in a sector which remains at the forefront of developing highly skilled graphic designers for the workforce, but think about it, graphic design is everywhere.
What steps you need to start a career in graphic design?
The first steps you should take to get into graphic design is to train. You can train alone which can be daunting and challenging without expert supervision or enrol in a college or with us at BSG. Although a large number of graphic designers are self-taught, there are various perks to getting a formal education in design.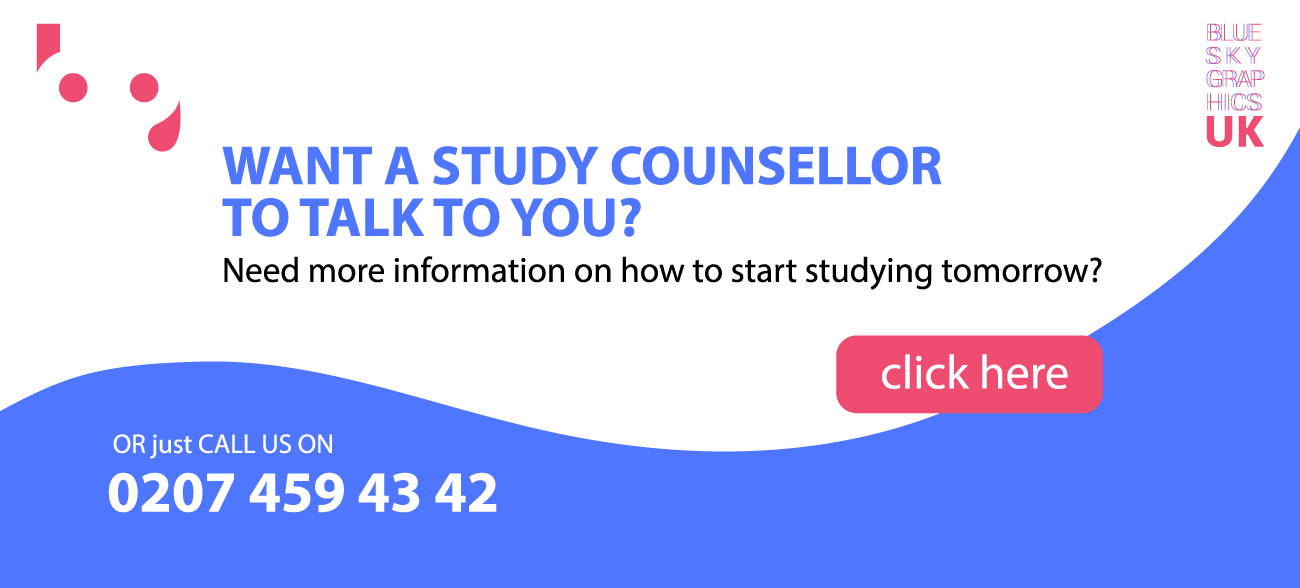 If you practice enough at home, study art, practice tutorials, read books, navigate the internet and really have a passion for design you can learn on your own, but it is definitely not for everyone! The big benefit of going to school is having teachers to guide you and critique your work, so if you learn yourself you need to be able to gauge what your current skill level is and understand what areas you need improvement in. Since you will definitely need an element of creativity, some proficient knowledge using Photoshop, Illustrator and InDesign (these are minimal absolute requirements) to stand out from the crowd, we suggest enrolling onto a course!
You will need a portfolio of your work to become a graphic designer. Remember that your portfolio is super important as all graphic designers must submit a portfolio containing samples of their best work to prospective employers. Illustrators and designers should develop and enhance their portfolios during their training. If you do not yet have a portfolio, Blue Sky Graphics equips you with a commercial portfolio and training.
Junior graphic designers tend to start with no prior work experience but generally come from a course they've taken and have made a commercial portfolio. The portfolio is indeed a crucial element of your success story.
How can Blue Sky Graphics help me become a graphic designer?
An online school such as Blue Sky Graphics (BSG) or a college, will help you to learn to work under a qualified graphic design teacher-usually someone that has worked in the industry and also with others. You will follow directives, take briefs, hand in work on time and meet strict deadlines usually through homework. At BSG we set 4-5 hours of homework each week and you'll need to learn to take constructive criticism and feedback which will enable you to better as a designer. All of our tutors have worked in the industry so you will learn the techniques, software and skills used in the industry today.
It is highly likely that a good college curriculum requires you to work on various projects and facilitates the ability to make a good commercial portfolio that will maximise your employment opportunities, so you learn how real studios and pipelines operate. This helps as you will walk away with a robust portfolio and work experience to show for. Joining an online community or school helps you to expand your network of people and helps you gain exposure.
As a Blue Sky Graphics student, you'll be immersed in a total learners experience, building not only proficiency in programs including Adobe Illustrator, InDesign, Photoshop and UX-UI, but also all the theory and skills that you'll need to become a practising graphic designer. Our graduates leave us as employable graphic designers with a commercial portfolio and an array of quality pieces of work demonstrating a wealth of professional knowledge ready to embark on a new career. Graphic designers are in high demand.
We adopt a personalised teaching style, where individualised needs are met in an inclusive style. This is possible through one-to-one classes. Our class strategy is to ensure an easy to follow step-by-step, well presented, vigorous teaching experience with the learning style of the student always in mind. Our teaching philosophy encourages you to first build your subject knowledge and creative skills and then apply these to your design environment.
When you are freelancing you are never short of work. By building a good network with people you can land yourself with lots of projects from clients. Promoting and branding is a huge aspect of almost every company in the world. Your clients priority will always be from a business sided approach, so the things you believe are important about your work, most likely are not the same things your clients think are important. They are trying to solve a business problem. If can grasp this and understand that problem, you can then use your skills to help them and you will be tremendously valuable.
Whether you design billboards or brand identities, Photoshop and Illustrator have you covered. Create rich, detailed raster images as well as scalable vector graphics on desktop or iPad and save your designs as cloud documents to access them from any device.
How often are graphic designers expected to update their training?
Becoming a Graphic Designer doesn't mean you simply learn the fundamentals and then you're done. Even graduates that leave Blue Sky Graphics continue to learn well after their course. In fact, chances are you will need to be working on improving and evolving your skills and knowledge, throughout your working life. As with most things in the technology and design world, it keeps on evolving and updating, which makes it crucial for you to do the same.
Graphic designers should continually train to keep on top of the game. If you are new to design, prepare to update your training as often as Adobe makes system updates. It is therefore assumed that learning will be a daily thing. The other thing to consider is that once you're a graphic designer, your work will never stop developing or improving. There will always be new hurdles to overcome and new problems that occur which you'll need to solve.
This is because with time and experiences your style may improve, even in terms of the fundamentals like combining colours, understanding typography using grids, enhancing composition and strengthening your utilisation of tools across graphic design software. With technology evolving and art being a fluid form there is always going to be new techniques and technologies coming out to keep you busy learning. In some ways, it's a never-ending roller-coaster of trial and error, discovery and innovation. You'll most likely make mistakes along the way, but this is completely normal so don't worry, these mistakes will help you to grow and develop as a designer, as the saying goes " You learn from your mistakes".
Graphic design provides an abundance of fulfilment, creativity, flexibility and it's a rewarding career choice for many. There's an invitation into the creative industry for pretty much everyone, from in-the-making dazzling designers to Blue Sky Graphics alumni to aspiring creatives and innovative artists and all those in between: graphic design needs you. There is a huge potential for career growth and creativity. Remember pursuing a career in graphic design or web design does not just mean you learn how to operate the software and that's it. In fact, you'll need to be working on improving and evolving your Photoshop, XD, InDesign and Illustrator skills and knowledge probably throughout your working life.
There is no time like now to delve into your dream career!
Now that you've read about some of the perks of being a graphic designer, it's probably just as clear to you as it is to us: This profession has a lot going for it. At Blue Sky Graphics one common tip we share among our students is to take on as much work as you can at the beginning as experience is key! Once you have some work, check that you understand it and narrate back to the client the brief objectives in the form of a story to capture customers' attention.
Everyone likes a story, including your clients- think of it like telling an enchanted Disney inspired story depicting amazing graphics or storyboards while delivering the logistical aims of the business.
In order to make a half-decent living wage designing graphics, there is no doubt you will obviously need to know your stuff. There are also several ways to increase income through graphic design. You will unquestionably need an element of creativity, some proficient knowledge using the Adobe Creative Cloud softwares, Photoshop, Illustrator and InDesign, this will help you to stand out from the crowd! That means lots of practice with the software, a good, strong portfolio and a training course to make both of those things easier.
If you have the ability to communicate well, you have passion for creativity plus artistic and technological skills, a career in graphic design could be a great and lucrative career for you.
Work-at-home graphic designers tend to have more freedom to design their own schedules and work at home most of the time.
Study with like minded creative people
Whether you're considering a career as a freelance or salaried designer, you may find that the graphic design career path leads you to an area of specialization and at BSG we will help you reach your creative dreams. In summary, the advantages to becoming a graphic designer definitely outweigh the drawbacks and for many people it is a fulfilling career lifestyle that is fast moving and dynamic with ample opportunities to network. Sharpen your creative skills and immerse yourself into graphic design with Blue Sky Graphics and you'll work with industry practitioners to explore creative design thinking across a range of briefs. Armed with the best design insight out there, you'll be ready to pursue a career in graphic design.
Our teachers hone in on the strengths of their students and if there is an aptitude you have or a real passion albeit using the feather tool or layering on Photoshop we'll ensure it does not go to waste. Whether you become a packaging designer, digital designer,  book cover designer, UX or UI designer, web designer, motion designer, animator, 3D designer, sign painter, illustrator, game designer, mural artist, email marketing designer or anything else that floats your boat at BSG we'll definitely help you get there.
Be proud of who you are today and all that you have learnt. Make education part of your life for good, even after you finish your course and while your working. There are constantly updates with Adobe and we think that to be the best possible graphic designer self-development is both fundamental and helps you keep up with the competition.
Stay current on new graphic design trends by using RSS feeds, commenting on quality blogs, interacting on social media profiles and interacting in forums of design news outlets. Design galleries that showcase the creative work of designers like Behance, BSG blog and DeviantArt are great places to spend time online.
These perks are all a great start, but earning a graphic design degree and launching a career is a big step that needs careful consideration. If you're thinking of making that step, consider doing some more research on what to expect in terms of money check out our article, How to Make More Money as a Graphic Designer to find out more.