Graphic Design Courses in Plymouth
A person cannot expect to become a master graphic designer on his own. As the field is complex, professional and skilful tutors are a necessity in this field. This is why Blue Sky Graphics has provided capable graphic designers to teach eager students about industry-level graphic design. They give one-to-one classes, which makes every student stand out. The primary aim of Blue Sky Graphics is to unlock the creativity of every student so that they can properly express themselves in future projects.
Why is Graphic Design Important?
In order to convey information and ideas to customers, graphic designers create visual concepts either manually or by computer software. Many companies use graphic design to advertise and sell goods through advertising and to build an identity via branding. So every company that want to market its product needs a graphic designer, many if not one.
If you wish to make a unique design, you should have a good grasp on the elements of graphic design such as colours, sizes, shapes, lines, fonts and textures.
Best Opportunity for Students:
Graphic design is correctly described as a form of art that serves to express certain thoughts. Such thoughts or phrases are fascinatingly portrayed to draw people. In the comfort zones online courses allowed people to learn these strategies.
The professional graphical design of learning has excellent potential in the future since the design of company logo and business cards into incredible self-employment leads to thousands of opportunities.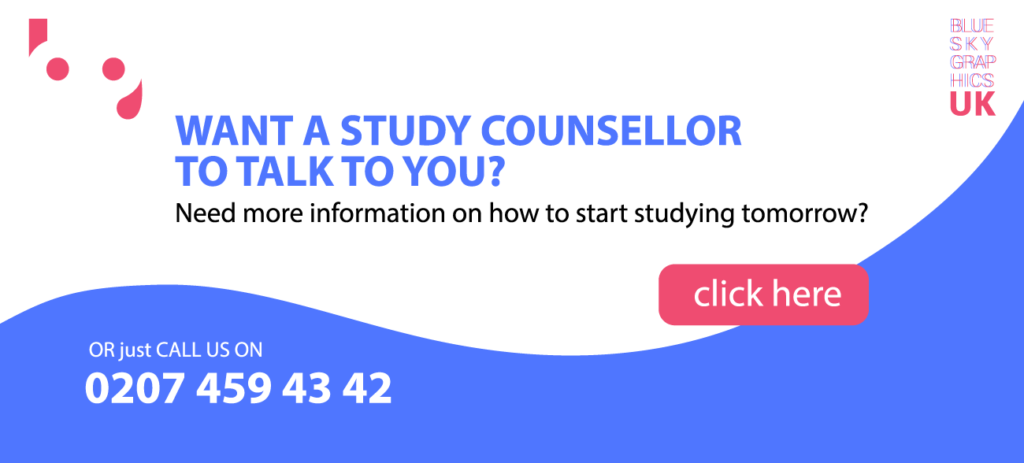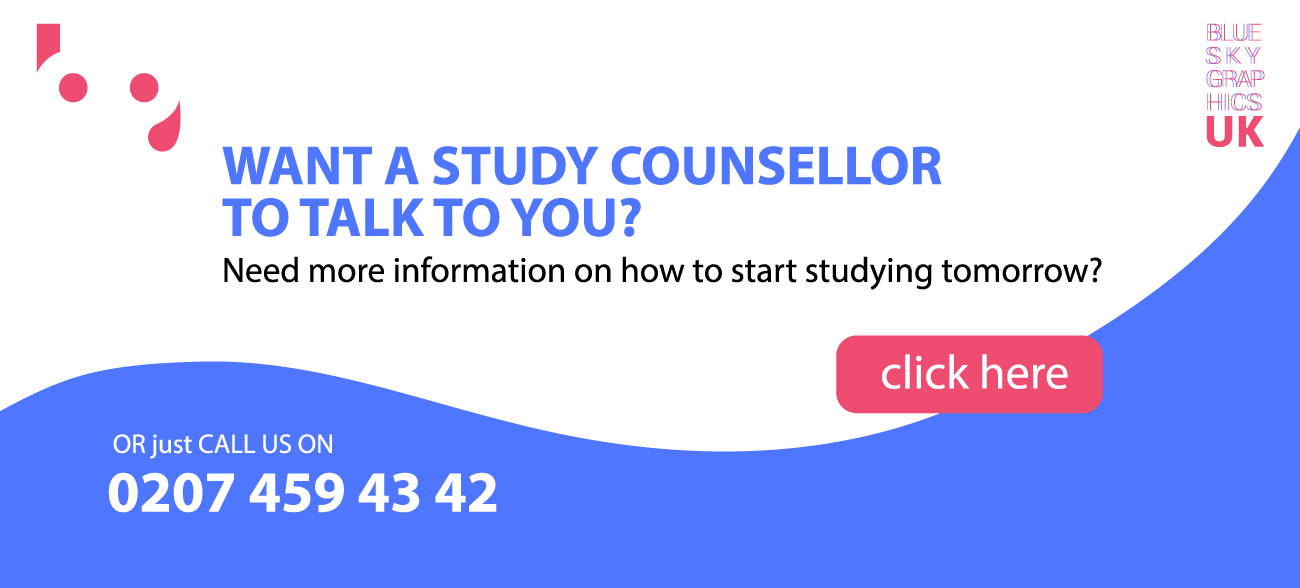 3 Things You Need to Know About Blue Sky Graphics
Before you sign up for the online course, here are the three facts about Blue Sky Graphics you should know.
1.The courses offered are not in a real classroom but in a private classroom. It is a one-to-one class system where you can learn better as you will have all the attention you need.
2.Classes are available on weekdays as well as weekends, that too with flexible hours!
3.The basic software you need to know is Photoshop, Illustrator and InDesign.
How to Earn from Home
By the knowledge you gain from these online courses, you can implement them on freelance platforms and work for large companies to create ads, logos, posters, cards or create website illustrations all from the comfort of your home! Everybody can learn graphic design and become a freelancer to earn a great amount of money with the introduction of online courses. It is difficult to find a high-paying job if you stay at home but after completing the online course and learning from courses like UX-UI design, web design and adobe Photoshop; you can easily use these skills on freelancing platforms to earn a good amount of money.
What Jobs Can You Apply for?
Here's a list of job roles you can achieve after completing these courses:
1.Web designer
2.Creative video and motion designer
3.UX/UI designer
4.3D designer
5.Corporate UX design
6.Art director
7.Junior VFX artist
And the list goes on!
Tips for Strengthening your Portfolio:
As with online courses, it was made easy to earn money. You will learn the skills needed for a professional graphic designer to create and post all your creative work and templates on your own website. To be able to address a wider audience, it is also an excellent idea to have a social media account for that reason. Create your own portfolio with a compilation of your entire work and you can market your work to companies or they can simply hire you with the help of certain business development skills.
You can't make an enormous amount of money immediately, but these small steps can definitely help you achieve your target.
Web Design Course
Web design refers to website design which is viewed on the internet. It generally applies to elements of website development to the user interface rather than to software creation. Web design used to focus on creating websites for desktop users; but design has become particularly important for smartphone and tablet apps over the years.
This course seeks to demonstrate the principles of Web Technology and its implementations. You will be taught how to work through the incorporation of website development systems, digital models and their overlaps. You need to plan a list of other websites in the course on Web design where you can create material during the course. The website's layout defines everything about the website-including the wording, how it looks and how it all operates.
Graphic Design Courses at Our Disposal at Blue Sky Graphics:
Blue Sky Graphics provides one of the best online graphic design courses for new and seasoned graphic designers. They offer various levels of training to assess which level of knowledge in graphic design you already have. Blue Sky Graphics presents the students with 3D animation and business design logos.
The 3 Ps are their fundamental principles: professionalism, passion and proficiency. You do not only learn skills by Blue Sky Graphics, but you also learn how to apply those skills. The tutors have excellent communication skills and work very hard. They have a clear understanding of your subject and are able to help you with every study and assignment.
Relation of Adobe Photoshop Colour Theory
Colour philosophy is both science and colour art. It explains how people perceive colour and how colours mix, match or contrast. Colour analysis also includes synthesis approaches and light signals.
Colour theory organizes colours in a circle separated into three categories: primary colours, secondary colours, tertiary colours.
Learn how colours are formed and how they connect in Adobe Photoshop, allowing you to work better. All of this can be taught in detail when you sign up to Blue Sky Graphics' online graphic design courses in Plymouth.
Things to keep in mind in Photoshop
Light awareness
Knowing how colours are made and how they relate to each other helps you work more effectively in Photoshop. Instead of unintentionally making an impact, thanks to an awareness of simple colour theory, you can obtain consistent performance.
Big shades
The three colours of light (red, green, and blue) are additive primaries that add all the colours of the visible spectrum. It produces white by combining the same red , blue and green lights. No red, blue , and green light contributes to black. Computer monitors are colouring devices using additive primaries.
RGB Colours:
Subtractive primaries are pigments containing a range of shades in different variations. Unlike displays, printers create colour by combining primary subtractive elements (cyan, magenta, yellow and black pigments). The word "subtractive" is used when the primary colours are pure and, until combined, the colours are less pure for the intermediate variants. For example, the subtractive combination of magenta and yellow forms orange.
The wheel of colour
Changing colour components helps preserve a clear colour wheel structure while focusing on colour harmony. You will use the colour wheel to determine how shifts in one colour equation impact other colours and how RGB and CMYK colour model translations.
For starters, by increasing the sum of its opposite on the colour wheel, you will minimize the amount of either colour in an image — and vice versa. Colours are known as complementary colours on the regular colour wheel opposite. Similarly, adjusting the two adjacent wheel colours or just decreasing the two adjacent wheel colours will increase and decrease light.
In a CMYK image, you can minimize magenta either by reducing the amount of magenta or by the its green complement (the colour opposite the magenta colour wheel). Including red and blue or green will every magenta in an RGB picture. Such modifications tend to a less magenta overall colour mix.
Adobe Photoshop
Photoshop is one of the software used by artists to make pictures. It provides many picture tools, including cutting, uploading, colour correction and resizing. Designers can also create and customize Photoshop graphics. Unlike your cell phone 's basic image editing tools, Photoshop is high-quality technical software.
Photoshop is also considered as one of the strongest graphic designers for beginners with simplified options such as:
Basic: grow, patch, recycle.
Auto-Fix: One-touch repair.
Blemish Removal: Remove any dirt or stain from the picture.
Colour: Enhanced picture colour analysis software.
One-touch philtre: pick 20 results.
Picture rendering: Panoramic shot.
Borders: Mix with your eye.
Photoshop is a main graphic design device. This is the essential multimedia tool, beginning with the development of print, web, interactive, and also film. Many who want a graphic design profession need to do Photoshop, but becoming a graphic designer is just a step. Photoshop alone is not needed to be a graphic designer.
Adobe Illustrator
Illustrator uses artists and graphic designers to create logos, icons, maps, infographics, banners, ads, books, magazines, and brochures. This is the standard software framework for anyone who wants to work with vector graphics anytime. To create images, you can use Vector Images that use mathematical equations to maintain picture forms at any size or distance, which may be massive and still look smooth without pixilation. If you do not use vector graphics, the images do not scale well, or the files are too large. Illustrator comes with its modules to make a blank web-screen appearance.
Adobe InDesign
When designing multi-page text heavy items, graphic designers use InDesign. Of illustration, InDesign is used to print or model digital documents. This is the best way to make a notebook, pamphlet or journal. Of the three applications, InDesign offers the most robust typing feature. This also makes full-service eBooks, newspapers, and other media accessible to writers using Adobe Digital Publishing Platform. InDesign is leader in clean templates for mobile and desktop computers. The flexibility is great because it needs quick transfer of various layers and simple resized pictures.
How would you do to boost your design skills?
Get More Reviews-The criticism is one of the most emotionally stressful things you can do as an artist. And still, it is important to develop your abilities. Good feedback is great when it is deserved, but from it you get nothing but an inflated sense of self-worth. And where it becomes knee-jerk and unmerited, the on-going acceleration may be detrimental.
Experiment-It is a method that graphic designers can gain by experimenting with new technology, skills and techniques. And, instead of utilizing the same fonts, shades, visuals, or apps on whatever product you work with, mix things up a little and try something different.
Fall in a clear new typeface. Think 3D, not 2D. Taking modern concept methods. Sketch uses a marker or a charcoal or ballpoint. Break rule; see what happens. Question yourself: How do you handle this style?
Meet Other Designers-Connecting with many other designers is one of the best ways a designer knows. This can also be tricky. You may be the only artist in a significant company, a freelancer living away from home, or you may be in a two- or three-person studio.
But it is all all clarification. There is plenty of easy ways to talk with other musicians. Go to seminars, lectures, and activities. Act on social media with graphic designers. View blogs. Create a mate. Discuss obstacles, hurdles, problems. Work with them on project. Simply get up and drive ahead.
Restudy Colour Theory-Getting back to fundamentals from a fresh outlook brings you beyond what you always felt you understood and lets you generate new inspiration about your project.
These are the concepts your design skills underlie. Each weak point in this base is enough to overturn the entire structure. The same is true about the marketing expertise. If your practical understanding is flawed, no point in carrying out either of the above recommendations to improve your abilities. So test your experience for the fundamentals of idea theory.
Set brightness, luminosity and saturation
The HSB model defines three essential colour characteristics in line with human colour perception:
Hue:
Colour an entity represents or transmits. It is expressed in the regular colour wheel between 0 ° and 360 °. Hue is generally referred to as red, orange or green word.
Space:
Tone power or clarity (sometimes Chroma). The number of grey is measured from 0% (white) to 100% (fully saturated) in relation to the hue by intensity. Saturation falls from core to edge of standard colour wheel.
Common Colour Theory Problems
Colour Theory is one of the first subjects presented to web designers in Plymouth 's professional graphic design courses. It deconstructs the colour subject, making the research simple to add. You can hear about colour wheel, primary / secondary / tertiary shades, light, colour harmonies and colour psychology.
Although, since this simple definition of colour is too general, certain issues are overlooked and some nuances missed. After all, these are simple guidelines that give you an overview of colour definition. If you want to be a real expert, you must work deeper.
In this post, we will go over five colour theory theories, trying to see the original theory 's validity.
Myth of Temperature
The most fundamental concept of colour theory is that colours can usually be classified into two groups: cold colours and warm colours. This separation is helpful as colours that rely on only one group's colours look seamless and clear. This concept is focused on photographers' white balance.
Light in our environment makes the colours we see. Furthermore, this light's visibility influences any colour in the scene and constantly switches all the hues. If the light hue is transparent, our eyes will cancel it so that even if it looks yellow or brown, we will perceive white as green.
Black Grey Scale
When white appears yellow in the photo, all other colours are yellowish – called red. If white looks grey, the others are brown — and we find them nice. Hot and cooler colours have various meanings of colour psychology, but the most significant principle is that hot colours appear fine in both warm and cold colours — although they stick out like a bad donut when combined.
Choose the right Shade:
But how differentiate cold and warm hues? Easy colour theory gives us a quick solution: wheel colour temperature. Actually divided by two, dividing colours into cold and warm colours.
Frame temperature
Although this picture is not necessarily incorrect, the topic of colour temperature is too simplistic. This contributes to an incomprehension that certain colours are warm and cold, as though the temperature is a function of colour. Green is called cold, so red is called warm. General law, bluer the colour, cooler the colour, yellower the colour, warmer the colour.
Cool and warm contrast
The problem is there is no colour temperature alone. Can not choose one colour from
the axle, say it is cold or hotter. Let us introduce you! Let us introduce you! Stand for a moment — what colour temperature is?
Do you really prefer the colour? You noticed it looks colder. Too dry now? Let us complicate matters by introducing another colour:
So, what colour: red, wet, or neutral? Reality is: zero, zero. Colours have no colour. The temperature is interpreted by comparing them – not how bluish a colour is; but how bluish it is compared to other scenes. You can practically choose blue and appear cosy by highlighting the resemblance to reddish colours.
Functions of Colour Temperature
And to select warm and cool colours, you should not always look at this wheel; instead, consider the connection between them, for example green is warmer than blue, but colder than yellow. For this, applying a yellowish or blue hue is what you need to adjust the colour temperature, so it can be achieved for any paint rendering the traditional colour temp.
Light related
The wheel shows all the hues. It seems like a graphic artist's dream device, an ideal paint selection. And just look at it — like a perfect, vibrant rainbow!
Rim scale
So what is wrong with something so incredible? It is actually chemical. When they are part of a rainbow, the shades appear different, when they are part of a more down-to – earth image, while almost the same colours. The brain can get the same information from the light that hits the objects, but not the same experience.
I discussed this topic in the previous section when I talked regarding colour balance. We see the world under various light conditions day and night, but it does not affect anything for us. This is how our mind cancels the consequences of changes and brings us the constant. As you walk down the street at night, rooms behind the curtains may appear yellow or brown. Now, you will not see the orange shade when you enter.
Mixed hue
It is not a bug, it is a feature — our brain just helps us recognize objects by showing them identical regardless of what they currently look like. A red apple looks white, whether plainly lit by the light, concealed in the shadows, or filled with dull, grey daytime glow. As long as light shifts influence the world as a whole, our brain will "subtract" this influence.
Skin is fairly light
The subconscious interprets the entire situation. This does not understand colours like Photoshop's colour picker does. It does not care about abstract hue or luminosity; it only cares what colours mean. And this sense is provided to you in sensory information that has little to do with the empirical colour properties of an entity. Looking at the bookstand because white — as it is in maximum light — is better than seeing the dark aspects differently for whatever reason.
That is presumably why the dress is confused — a popular picture that challenges people's own view. How will blue and black, or white and gold show the same colours? The scene was not completely illuminated, and it made it challenging for our brain to detect colours. The suspected sexual behaviour was drained in certain men's heads, having the colours blue and black. The assumed colour was absorbed by other men's minds and viewed as mixed white and gold. Yet, the picture did not provide enough information to decide the appropriate option!
This role renders colour hard in our brain. A colour chosen right from the colour wheel can mysteriously change when you bring it into a picture. It does not change, it just appears to change. Although what happens most when it comes to colours — how do they look or what?
Perceived glare
You should think of colours as food ingredients — salt is perfect for carrots, but not strawberry jelly. The flavours of the ingredients influence each other such that the flavour of the whole meal is greater than the ingredients.
Hence, the colour wheel is just a simple starting point. Based on the colour wheel, you can not choose which hue to use. Glossy red might feel alarming in the company of a whole rainbow, but it can transform into a very silent tone when there is no blues and greens. Similarly, purple that looks dark and dim on the pad, but can shine brilliantly in the suitable company.
Choosing colours
What a paint looks should have little to do with the theme.
Black is more important than colour.
The colour wheel will be used to show colour interactions and provide ready-made solutions for a fun colour theory design. Relevant colour theory teaches you dynamic, monochromatic colour schemes.
Triad paint system
The idea is that our eyes can understand the links between the colours and that the scheme looks clear for us if ties are coordinated. The thing is this method talks only about hues, and light is more than a hue. For example, all three are the same colour, and you can see different shades.
Various similar tones
You are not shocked, are you? You have probably learned about graphic artist comparison and colour. Fundamental colour theory reveals tints (low contrast colours) and shades (low saturation colours). It comes explicitly from modern painting, where white compares and black is applied to transparency.
Colour tint and Colour Theory
Defining interest is something you may have overlooked when learning the basics. It is often ignored or luminosity-like. That is because no Photoshop slider can modify it. Value is a default for all hues that can only be changed by changing its brightness and saturation.
And what is worth? It is relative light. This is not luminosity because the Colour Picker calculates a hue only as brightness / lightness. That is how bright a light is compared to another. And because our eyes are not equally sensitive to the hue, we perceive certain shades as dark and some as brighter, though all are 100% apparent in their true essence. The meaning of the colour wheel is clearly visible:
Greyscale alloy spokes
When you know how colours are produced, addressing this enigmatic mystery is really straightforward. White light has three main colours: red , green and blue (RGB). White is the best colour ever – its relative luminosity is 100%. Even if it is 100% bright, the components would be less than 100% bright. And this is exactly what happens: red is 30% bright, green is 59% bright and 11% blue.
Related luminosity
The colour wheel does not benefit us at all as meaning is focused on our expectations rather than on a colour wheel role. The hues stop being regular; the value rises at one level, then it falls and then decreases again – no order at all. So this is because the main colours (elements of any other colour) are not the same in meaning.
 Rim painting with values
You may rearrange the teeth and create a proper order of values, but because there is a start (dark) and an end (bright), a circle can not be created from them.
Value-ordered colour
Let us return to the harmonious light schemes. We seem to give you some clear and confirmed proposals, however you may consider such schemes are fun and hideous in their sheer design if you seek to tailor them to your purpose. Either they are very similar or separate.
Lively harmonies
Like all other colours, like wild ones! Why does a triad system differ from a random one? Of example, you may presume the former is centred on a certain colour wheel configuration. Yet … Yet … Then what? So, then? How do we learn from this rather than confirming our classical theory of colour?
Simply simple schemes
As you can see, to create a simple system, correct colours and tints are more important than teeth. And no light tints and shades are … Facts. Facts. Whatever the hues, a well-balanced values scheme will look fine. And, if you chose the wrong values, well-planned hues will never look good.
Breaking Rules Pay More Than Obeying
Colour theory is packed with laws that instruct and explain the direction. Build a fast-food restaurant logo? Red and green! Construct woman subscription kit? Choose cream or pastel shades! Will you treat your work seriously? Using major grey! Use deep blue God forbid you to use soft colours in a man-made thing!
Our online classes in Plymouth should show you how to use colours to cater to customers, not what the guidelines mean.
Differences between Web and UX Designs
Typically, graphic design focuses on arranging photographs, typography, colour tastes and general aesthetics. The user interface architecture covers many of these things but can also include what the customer wants to do, the type of device they can use, and the environment they interact with the app or website. In short, graphic design is only one component of the entire UX cycle, as the website's visual appearance does not indicate its usefulness with either the customer or company that produced it.
UX Online Creators Classes
UX training can help shift from a graphic designer to a UX creator. Graphic design and UX design are commonplace, and the right UX courses can boost user interaction and graphic design skills. Although visual design is distinct from UI design, there are often overlaps. Although UX contains a variety of components, such as analysis, preparation, and testing, not always seen in graphic design, both UX design and visual design emphasise the simple data show. A software or website will teach you typography and graphic transparency.
Freelancing for graphic design
Freelance, no matter the degree of experience, was also a means to earn money because internet work becomes more technology-dependent than skills.
Freelance networks involve teenagers, housewives and individuals searching for secondary jobs, an opportunity to show off their talents and raise a lot of money! It gives you the chance to work with every company or business that employs you at home. You need to continue with a particular portfolio!
Although this is not a simple job position, an individual employee will do some of the above names. Designers with technical knowledge can build a career in entrepreneurial projects, a wide range of jobs or specialist skills, such as creating, marketing and design.
But as a side-game, freelance is also useful to have extra cash and improve your abilities. Freelance programmers may develop useful management skills; acquire customers, track budgets and resources. All of this can be learned at our Plymouth online graphic design courses.