Graphic Design Courses London
Ever wondered what it would be like to be a graphic designer-creating logo for brands and designing websites for companies? Graphic design, which differs from certain industries, is one of the most creative professions. It is concerned with visual communication, knowledge, technology, etc. It also involves engaging with the world of 2020 industry, where innovative work needs professionalism and skills. Know-how and imagination are essential to this line of work.
A graphic designer is not just an artist, but also a creator who is willing to use technologies and strategies to do the job. Their approach should go beyond communicating, promoting and displaying effectively with the public. The objective is to provide clarity through the use of the data presented.
So here at Blue Sky Graphics, we will teach you all the elements of graphic design and how you can become a professional artist!
Facts About Blue Sky Graphics
Let's begin with some simple facts about us that you should definitely know before signing up.
We have our lectures in a one-to-one class system which means you get the personalised attention of our tutor which is not possible in a real classroom filled with people.
Our timetable is pretty flexible, allowing you to attend the class whenever you like! Classes are available on weekdays as well as weekends from 7.30 am to 10.30 pm.
We teach three major courses which may not seem a lot at first but it is all you really need to become a graphic designer. These include Graphics design course, Web design course, and UX UI design course.
The basic apps that you will need are Adobe Photoshop and Illustrator.
Adobe Software
Adobe software is a rather common term and dates way back but many of us are still unaware of the different apps and their basic functions. As we use this software throughout the teaching of the above-mentioned courses, it is important to have some basic background knowledge about it.
Adobe Creative Cloud is composed of more than 20 smartphone and desktop applications, as well as hardware, design, photo, audio, UX and more.
What is Adobe InDesign?
InDesign deals with page layouts. It helps you to create and display materials for publications on mobile and web pages, both in print and online. InDesign is designed for publishing. The way it works allows content producers to quickly combine layouts for multipage magazines and documents. InDesign runs perfectly with the rest of the Adobe suite to enhance creative capabilities.
In general, InDesign is the very best program for you to create a model for something with lots of text and graphics.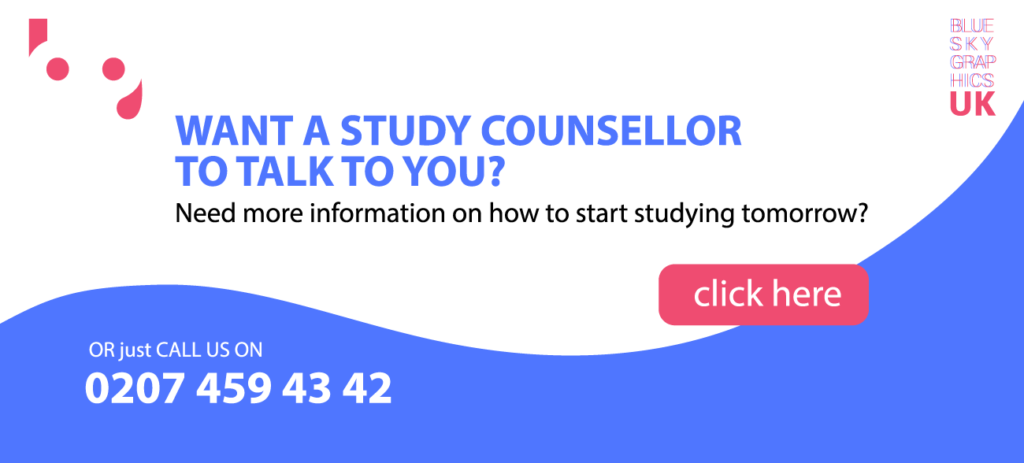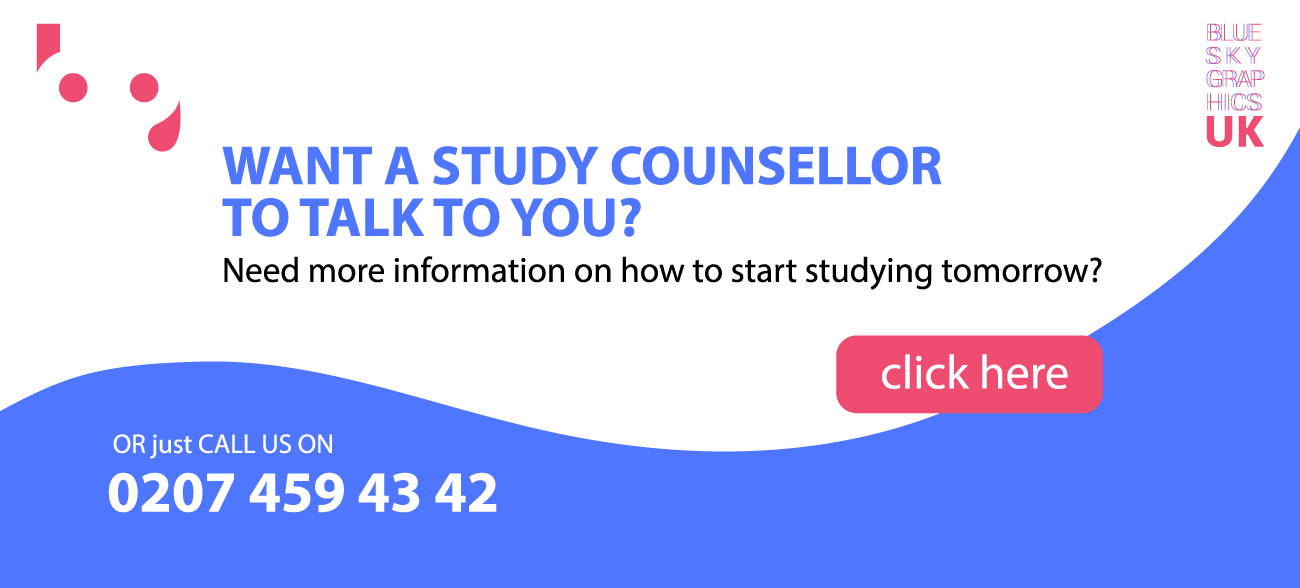 What is Adobe Illustrator?
We believe a good graphic artist can become even better with the in-depth understanding of Adobe Illustrator and its various tools. Illustrator is a great package with amazing vector editor tools. It can be used to create beautiful graphics, corporate logos, and templates of websites, print designs, and vectors, for everything that you may want a vector for. Illustrator images are vector-based so that they can be scaled to any size without losing accuracy.
Job Roles for Graphic Designers
After completing the online courses and creating a portfolio of your own, you will find many job opportunities – some of which are listed below.
Multimedia Designer
Multimedia design is one of the most common graphic design works. A multimedia artist has the ability to create videos, audio and animated images through art, sound, and design. They produce sketches, designs, scale models or illustrations.
Web Designer
Another job suitable for you is web designing. Web designers play a significant role in producing websites, layouts, and website graphics. Web designers are also responsible for designing and implementing a web navigation system and layout.
Logo Designer
Career opportunities for graphic designers looking to develop company logos can be enormous. Most businesses are designed by local graphic design firms or advertising agencies. In order to represent your brand, a special, recognizable logo becomes very necessary in many companies, services, agencies, and other organizations.
Advantages of learning online:
If you're concerned about the cost of graphic design classes, there's no need to do that. Such courses are costly in established schools, but you can access the same classes with good cost savings through online services.
A graphic designer is centred on blogs, ads, logos, etc. Students can achieve the requisite amount of education for different careers by completing an online course in graphic design. For learners to enter the right program for their ideal job, multi-level instruction is available.
How To Become A Graphic Designer Without A Degree?
Online courses that will help you get into a profession like graphic design seem too good to be true. Those with some experience in this area realise that the techniques and skills used in graphic design can't be passed on through text and lectures. Although online courses do not provide you with a degree but they give you the necessary skills to become freelance graphic designers and earn big time on platforms like Fiverr, freelancers, etc.
Earning from Home:
Online courses have enabled us to earn a good salary without the need to leave our homes. Smart people learn from the internet and employ the learnt skills on freelancing platforms to generate a good income for themselves. People used to earn on the side with freelancing but now due to the increase in demand for skilled people; companies hire freelancers from online websites and give them a shot at representing their companies. Graphic design being a widely demanded field has provided a great opportunity to people to specialise in, and earn a good wage through freelancing.
Graphic Design
A company's logo design can make or break its business prospects on the market. A perfectly-created logo is capable of establishing a good relationship with the audience that a company and its business are trying to achieve. But the incorrect logo does not convey a corporate message and therefore hurts a company's brand.
Modern companies rely heavily on good contact with their future customers especially in London. Marketers are designing approaches to ensure that consumers can invest in a business in several ways. Business owners also spend a lot of time developing multimedia resources to communicate and connect with customers.
Graphic design is the process used to communicate messages and images to a targeted public. Only the first step is to design itself. When designing a new design, the entire workflow must be taken into account. And while most modern graphics are created on computers, the ideas and concepts don't remain on the computer using design software like the Adobe Product Suite. For example, the ideas need to be completed in the software, followed by an image (traditionally known as printing) process, to create in-store signage. This is an extensive and diverse group of subjects.
Print design is a complex commercial art category. Print designers focus on magazine illustrations, book covers and templates, catalogues, greeting cards, packaging, textile printing, and many more. It's a long, fantastic list of works of art and design meant to be re-created in a tangible, printed form.
What Is Print Design?
Everything that is designed with print media in mind is under the umbrella of print design. There's a lot more to remember when it comes to print design than just how amazing the artwork or model looks on the wall, at the workstation.
Print designers need to learn the product characteristics, printing methods, and how to get the highest print output out of their work. Designers need to be on their toes to make sure that the layout, art, and designs are ready for the next step, which is often out of their hands, even if they are working solo or in a team. Learn how to communicate with customers, printers, and manufacturers effectively, and you will have an excellent career.
Here's a list of constituents making up print design:
Magazine and Newspaper Layout
In printed content, readability is essential. Designers should be able to draw up magazine covers, journals, and other media to read. Many of the works these days do have a digital dimension. Still, the general ideas remain the same: a readable and aesthetically appropriate editorial and assorted copy within the boundaries of the medium.
Book Design
From cover to cover, artists have influenced the look and feel of a reader's journey long before the days of illuminated manuscripts. Whether you're the one creating a cover design, giving readers their first look at the contents of the book, or putting out the author's own words in the book itself, designers make a fantastic contribution to books.
Catalogues and Print Ads
Each business needs marketing materials. The limitations found in printed marketing materials are a fascinating challenge for designers. As with the categories above, designers must work within clear print constraints to ensure that all images and text are legible, aesthetically pleasing, and correctly printed. No one wants to pick 1,000 copies of a catalogue of typos, misaligned pictures, or on the wrong stock of papers at night.
Greeting Cards
You'll find bundles of cards for every occasion, and then thanks to the designers employed by greeting card companies all over the world. If they design from the start with their drawings or images, or use material from others in their team, incorporating graphics with humorous or genuine sayings is an admired skill that should be communicated to the customer within seconds when the card is displayed and read.
Packaging Design
Everything you see in the shops was created by a graphic designer or a team of designers. For packaging design, artists design product information and work with templates that were created at home or from a different source (e.g., stock, standard industrial designs with manufacturers). Innovation in packaging design can sell a product without the consumer, knowing much about it or the brand.
Textile Design and Apparel Prints
This category covers everything from fabric to t-shirts to shoes: any printed media that we wear or use for decoration that is meant to be re-engineered in some way. Designers must keep track of the limitations of the project, ranging from developing sketches to printing to resolution. It is within these boundaries that artists can create a fantastic piece of work for textiles.
Posters, flyers, postcards, products, and anything printed on, or even digitally published, a tangible object falls within the scope of print design and are entrusted to graphic designers working in the industry. Understanding the dimensions of the product, the printing process, and other limitations are one of the skill sets learned and used daily by the designer.
Workplace of a Print Designer
As other work on graphic design, there is room for a designer to fill or contract for this job anywhere a print design is required. Print designers will find their skills necessary to bring the company or brand together to make it consumer-ready, ranging from newspapers and magazines to various consumer products.
Several designers work on their own to get the layout to print-ready status. In contrast, others work in a team, whether in-house or self-employed, to ensure that their role is carried out successfully and that the project continues as expected. The larger the company or agency, the more teamwork is likely to be needed.
If you are learning design and planning to transition into a profession after graduation (or after building up your skillset and portfolio), you may find tasks designed to mirror real-life client projects where you are given positions as concept manager, graphic designer or art director and have to manage the cycle as getting your work to life in a printed, practical way.
UX UI Design
UX and UI design are two different components of single consumer experience. UX refers to the user experience that focuses on how something works and how people interact with it. The UI or user interface focuses on the look and layout of the interface.
A UX designer renders a product meaningful to the consumer by designing a path that flows logically from one stage to the next. The UI designer ensures that the path is visually communicated to each page. UX designing is equally important so don't hold back in taking online UX UI design online courses in London
Skills to become a UX UI Designer
UX designer must know how to perform, facilitate and analyse research and data, [and] IT designers must understand the graphics and composition and their own identity and must be aware for pallets, typography, and branding.
It is also essential to be able to resolve problems and understand what the user needs. A mediocre UX designer will think about how the user acts, but an appropriate UX designer will focus on how the user thinks. Yet a better UX designer insists on the experience of the customer.
Communication and collaboration skills are also of paramount importance. You ought to be able to share a story or paint an image that makes customers appreciate the work being done. Designers should be well versed in the software architecture and be able to structure the information in such a manner that it is easy to grasp.
Prototypes allow designers to test their functionality. They help designers ensure that there is a balance between the system and its users before the construction of the final product begins. Prototypes allow designers to check both page functionality and overall navigation. Because issues are found, the UX designer will experience many iterations until a solution that satisfies both markets, and consumer goals are achieved. UX designers should be able to quickly and efficiently model prototypes.
Why Are Logos Important?
Today, the logo is not merely a business symbol for identifying a company, but instead helps to build a strong identity with its products or services.
The emblem serves a variety of roles in the contemporary business world. You can send the right business message to your target audience. A professionally crafted logo has the power to convert people into loyal customers. There are many ways that a well-designed logo can represent your brand and your market.
It's important to note that we don't read first when we look at it. We see colour before anything else, and if that's enough to keep our attention, we're going to read. So the small but essential element in the brand image is the logo, regardless of the company.
As designers, it is the task of distilling the essence and most likely enduring colour of a brand, since visual appearance plays a critical role in connecting the experience and the brand with our brain.
The Groundwork
One of the fascinating facets of becoming a model is that for a new project, you discover new things. Every client is different, and people work in many ways in the same profession.
To make it simpler to decide on your concept proposal, from the beginning, you must ask your customer the right questions. What are you doing, and how are you doing it? What distinguishes you? Why are you here because of that? What do you value most of all?
What makes you different? What do you value the most?
Such questions can sound very straightforward, but they can be challenging to answer, and they may lead to more concerns about the company of your clients. What you discover during this phase of the project will help determine the strongest possible direction for the design.
Use your Sketchbook
Using a sketchpad is an opportunity to relax our eyes from the glare of brightly coloured pixels that appear to overtake our lives. More importantly, if there is no digital device between your hands, it can be much faster to record different design ideas. And if you wake up at night with the idea that you don't want to forget, the pen and paper on your bed is the perfect way to recall. Sketching also makes it easier to put shapes exactly where you want them – there will always be time to digitise your marks later.
When describing design ideas to clients before digitising a mark, it may be helpful to share a sketch or two, making it easier for them to visualise the result without distracting from the typefaces and colours. Don't share too much, though – just the best ideas.
Role of Black and White
Leaving colour close to the end makes you concentrate on the fundamentals of the design rather than something easy to alter. A mediocre idea can't be saved by an interesting palette, while a good idea will still be useful regardless of colour. Picture a well-known symbol. It's the lines, the shapes, the idea, whether it's an apple bite, three parallel stripes, four horizontally bound circles, or something else.
Keep it Simple and Relevant
A mark must be relevant to the ideas and activities it represents. An elegant typeface is better suited to a high-end restaurant than a kindergarten. A palette of pink and yellow fluorescents will not help your message to engage male pensioners.
The more appropriate your rationale for a particular design, the easier it becomes to sell the idea to a client. And this can also be the most difficult aspect of a project. Designers are not just designing. They're selling, too.
Easy to Recall
Simplicity helps recognition, mainly when so many brands compete for our attention. You want to give audiences a chance to remember a mark after a brief look, so that's not possible for an overly complicated interface. A trademark must be conceptualised – have a clear 'plot' – and, in most cases, be uncomplicated. It is how it has to function in a range of sizes and implementations, from a website icon in a window bar to building signage.
Make a Difference
When the customers' rivals are all using a similar typographic template or a palette of the same kind, or a mark on the left side of the brand name, do something new. This offers you the ideal chance to set your customers apart rather than mix them in.
Yet too much likelihood in the market does not automatically make the work harder, because it takes a bold designer to reverse the pattern. You are on the way to attracting the type of customer you want by showing imagination in your portfolio.
Broad Identity
It's unusual to see a logo in isolation, on its own, without a website or business card background, or a cocktail menu or a device symbol. That is why a marketing presentation has to provide a range of specific points to illustrate how a brand is perceived by prospective buyers. You may want to help step back, take a close look, see where you are and what you are surrounded by.
In terms of design, every possible item on which a customer logo could appear is the larger picture. But always consider how identity works when the logo is not shown because while necessary, the symbol will only have an identity so far. One way to achieve coherent visuals is to create a customised typeface that is not only used in the logo but is also seen in the marketing headlines.
Don't be too Literal
A logo doesn't have to show what the company does, it's better if it doesn't, because the more abstract the mark, the more durable it can become. Historically, if it were a family-run business, you'd show your factory or maybe a heraldic crest, but symbols don't show what you're doing. Instead, they're making it clear who you are. The meaning in the eyes of the public is then added when associations can be formed between what the company is doing and its brand's shape and colour.
Make it Scalable
The benefit of a great logo concept is that it can be quickly scaled. Bear in mind that the logo will feature a range of commercials. It's expected to look like a fantastic logo in all the newspapers. This means that the logo will look spectacular when blown up to greater dimensions on a billboard. It should be part of the billboard design.
But if the logo loses its sense of proportion and some of its design features look odd on a billboard, the logo is a bad design. Likewise, if a logo is to be written on a smaller background, such as an advertising product or a pen, the logo specifics will also be precise.
Blue Sky Graphics is providing one of the best graphic, web and UX UI design courses in London, so hurry up and sign up today!
Be a master of Photoshop, Illustrator & InDesign
Whether you are not a master (or hope to becoming a master) of Photoshop, Illustrator, and InDesign, you should start right now. It's the talent you need to develop your own graphic design, so there's no way to stop it either.
Almost every job position required that the applicants be well versed in the use of these programmes. In reality, Photoshop, Illustrator and InDesign are the most common skills in our sample of work postings. Like, the others were washed out of the sea. Of the 100 jobs I've studied, 76 required Photoshop, 74 wanted Illustrator, and 74 needed InDesign.
The need for these three graphic design skills surpassed the other common skills by a large margin.
The next most common skills included Adobe Creative Suite, Microsoft Office Suite, and HTML. This being said, none of these skills has reached the 40% level, which reinforces our assumption this Adobe skill remain necessary if you want to be a designer in 2017 or beyond.
And we think, way into 2017, Adobe has controlled this room over the past 20 or so years, so that doesn't seem like that's going to improve any time soon.
In reality, it doesn't matter how large a company you want to partner with – they've followed the same template. This also shows that these are the cornerstones of the skill set of a graphic artist.
We also found that the market for the three Adobe systems, with more than 1,000 employees, has declined marginally. I believe that this will be extended to a variety of big businesses, assuming that you do have such capabilities.
Other outlets also appear to support our results, with GDUSA reporting that the majority of companies are opting for all three programmes. That is also a really positive thing. And if you're looking to become a graphic designer in the future, I would consider studying the fundamentals of each of them. These are basic graphic design skills, and I wouldn't even try to apply if your portfolio doesn't show your skills in each of them. Now, if you don't have a website yet, consider these custom website builders!
The importance of Photoshop for the Graphic Designer
If you aspire to become a graphic designer or want to improve your skills, you may be thinking if Photoshop is always as important as everyone claims. This user-friendly app will be your saving grace when it comes to designing and editing pictures.
The truth is that the overwhelming majority of skilled web designers and graphic designers utilize Photoshop on a regular basis. This means that if you haven't fully grasped the ins and outs of the platform yet, you need to.
Being positive in picture manipulation in Photoshop is going to be your toolbelt in the graphic design environment. Including learning how to build practical and beautiful effects on designs, to converting images into interactive paintbrush graphics, there are countless possibilities for Photoshop.
Express your creative spark
With Photoshop, the options, tools and techniques that you can use are virtually endless, which means that the scope of creative potential is expanding. As you get to know your way around the features, you will recognize how to fine-tune your designs until they meet industry standards.
Producing a number of materials
Photoshop is useful for a variety of platforms such as website illustrations, flyers, banners, business cards, social network messages, logo design and more. If you're a serious graphic artist, you'll soon see the ability of the app to produce eye-catching, skilled designs.
Flexibility with both the old and the new
With Photoshop's image restoration tools like clone stamps and healing brushes, you can bring your old photos to life, whether they are personal or professional. Doing this often allows you more freedom to play in the role you have in graphic design.
Mixing graphics with text
One of the key roles a graphic designer will play is to combine text and visuals to make an impact and communicate a clear brand message. With Photoshop as your basic software, you will have the flexibility and freedom to mix and match images alongside text. You'll be able to create drop shadows, textures and embosses to make a text impact. In top of that, you'll be transforming images with brightening, matching, and sharpening devices to pull out the best of an image.
Errors to change
Photoshop also allows you the ability to monitor the artistic effect. If there is a error in a shot, for example, a red eye, if the lighting is not effective, you can fix that and other places that undermine the aesthetic appeal of the picture.
Keeping competitive
Amongst the rivalry, getting fine-tuned Photoshop expertise and being a tech specialist is important if you want to succeed in the industry.
As a graphic artist, you can also profit from the experience of the entire Adobe collection, such as InDesign and Illustrator, but Photoshop is a must of your digital design skillset.
Learning Web Design After Graphic Design:
Website design and user experience design are important and lucrative professions too. Consider them as higher courses to learn after completion of graphic design courses. Fortunately, for aspiring web designers, we, at Blue Sky Graphics are providing online graphic, web and UX UI design courses in London! So you have the option to pursue web design after learning graphic design through our online courses.
Whether you're just starting your business, and you're still learning how to improve your online presence, or you've had a site for a while, and you're just not happy with it, you might have heard of WordPress, and you might be wondering what WordPress is like. Simply put WordPress is a publishing platform used to build websites and blogs. It allows a highly customizable user interface. WordPress runs millions of websites across the globe, and even big companies use WordPress: CNN, PlayStation, New York Times Forums, People News, and even Ford-all use WordPress! Pretty impressive list of users, if it's good enough for the big boys, it's good enough for your site. Here are some reasons why you should use WordPress to develop your site:
Top 9 Reasons To Build Your Website On WordPress
Reason 1: WordPress is here to stay
As an open source CMS (Content Management System), the world has been stormed-as of August 2011, "14.7% of the world's top million websites" are powered by WordPress. WordPress is often praised by web designers, web developers and users alike for its ease of use. This is part of the reason why it has become so popular, and why its growth continues to accelerate. We believe in stats, so here's a few more good ones: two years ago, WordPress used about 8.5 percent of the world 's top million websites, so jumping from 8.5 percent to 14.7 percent in a year alone speaks volumes about how popular WordPress is becoming, and how much people love this platform!
Reason 2: WordPress is no longer just for blogging.
A long time back, when somebody mentioned WordPress, they all immediately talked of blogging. Although it is still the only option for blogging, it has come a long way and has been a very robust content management system used to control several various forms of websites, including company pages, work boards, classified ad pages, etc.
Reason 2: WordPress is free!
It would cost a lot of money to get a custom CMS built that could do the same thing as WordPress does, so why not save time with WordPress? There is no need to reinvent the wheel, because WordPress is widely accessible because flexible. Like WordPress, plugins are often usually safe. These plugins are usually not only free but also open source. This means that, like WordPress, you can edit it if you need to.
Reason 3: WordPress is Flexible
What's great about WordPress is, as mentioned above, that it's completely open source-which means that the source code used to run WordPress is available to the general public. This means that anyone on the planet can, if necessary, modify the code and customize WordPress to make it what they need. This is often not necessary, but it also means that any plugins and themes (templates) created for the platform are also open source! Imagine a large group coming together to bring more improvements and enhancements to WordPress-not only being allowed to utilize individual staff or developers to create customizations, which implies it's a strong CMS framework.
Reason 4: WordPress is SEO friendly
Search engines like Google love WordPress because they use a well-written code. If you're looking to get a head start with Search Engine Optimization, WordPress is the way to go to your website and/or blog. While I'm on the subject, adding fresh relevant content to your website is easy with WordPress, which is highly recommended as part of your online marketing strategy, as it tells search engines that your site is alive and well, increasing your website rank and your chances of being searched organically.
Reason 6: WordPress Has Cheap Premium themes
Themes are what gives WordPress its design, it's what connects the CMS to the end user. WordPress is very flexible and responsive. While there are some pretty good free themes, I've found that the good premium themes are worth every penny for $70 bucks. Any of them require almost no modification!
Reason 7: WordPress Makes it easy to find a solution.
Plugins are essentially add-ons that can be quickly added in the WordPress dashboard to incorporate functionality that are not part of the core code. If you need a specific feature or feature that isn't built-in, there are literally thousands of plugins available to enhance WordPress' functionality. In virtually every situation, and there is definitely a solution already formed for something you need-the possibilities are practically endless!
Reason 8: WordPress is supported by worldwide community.
Because WordPress is open-source, there is literally hundreds of thousands of people who are working to help make it better. You will find WordPress has a very actively supported worldwide community of WordPress developers, and users! WordPress is updated regularly, with new functionality, bug fixes, and security fixes. Also, because there is such a large community surrounding WordPress, any developer can work on a WordPress-based site to update it, make changes, etc., so you will never be held ransom by any one designer or developer.
Reason 9: WordPress is easy to use!
This could be your first WordPress item. You don't have to be a programmer to know how to use WordPress. We suggest this software to our clients: once you learn how to use Microsoft Word, that's the beauty of WordPress! Besides editing content, WordPress provides a backend administrator interface that is visually simple to navigate and quite powerful. All is structured logically, and it's simple to locate what you're searching for, the environment is adding / editing a tab, adding / editing a post or story, posting photos, handling people, etc. WordPress is the latest content management system that can be used to create the website.
Elementor Plugin for WordPress:
Elementor is a WordPress drag-and – drop page builder plugin. This means a few things:
Elementor lets you create original posts and pages that are unique compared to standard post / page templates that come with your WordPress theme.
You get a 100 percent separate interface to work on your posts and pages — the bulk of your work doesn't happen in the standard block editor that comes with WordPress.
It doesn't require any HTML / CSS / PHP / coding skills — everything can be done through a handy user interface.
It works on the front end of your website, which means that it shows you the results of your work right away in a 'what-you-see-is-what-you-get' way.
You can use it to create any content layout or page layout you can imagine — irrespective of what your current WordPress theme allows you to do.
And, most importantly, it works with all the WordPress themes, so you can keep your current design and still get all the goodies that Elementor comes with.
Bringing it all together, the biggest advantage of using Elementor is that you can make beautiful website layouts / designs even though you're not a specialist or have experience designing the web.
This is particularly important if you're on a tight budget and don't want to hire anyone to help you with the site.
Let's have a look into some of the most interesting features of Elementor's, one by one:
Benefits of Elementor
Elementor comes out of the package with a number of valuable items.
First, there is the design of the main page building itself. For a minute, we 're going to think about that.
There are over 90 interface elements / modules to select from — images, headings, keys, carousels, graphs, progress lines, testimonials and more.
Many stuff function with drag-and – drop — you can take any item and transfer it to a different position only by dragging it across the device. 'What you see is what you get'—which means the version of the page you see in the Elementor interface is exactly what your visitors will see (unlike working with HTML and CSS, the old-school way).
All the pages are mobile-responsive and SEO-friendly.
There is a library of pre-made page templates that can be imported and modified. At the time of writing, 150-plus free and 300-plus pro models were available. You can also save your own templates.
If you are on the Elementor Pro version, you can use the Theme Builder feature , which allows you to modify the core elements of your theme, such as the header , footer, single post template, or your blog archive.
Finally, there is also a new WooCommerce Builder module. It's similar to Theme Builder, but this one allows you to redo all your default WooCommerce pages, such as your single product page or product archive.
As mentioned earlier, the key functionality of the plugin is to allow you to freely build, tweak and adjust your pages — and then see the results in real-time.
That live preview feature means you don't have to wonder what your page looks like when it's published (which is a standard scenario with native WordPress pages that are highly theme-dependent).
The content elements available include headlines, images, text paragraphs, videos, buttons, splitters, spacers, icons, picture galleries and carousels, counters, testimonials, social media icons, short codes, and much more. You can also use whatever widgets you already have on your WordPress site.
Conclusion:
Now that you are acquainted with most of the software needed for graphic and web design and their benefits; Sign up to Blue Sky Graphics and learn the skill of using them to your advantage as graphic or web designer right here in our online one-to-one class platform in London! All of the mentioned and more, when you sign up to Blue Sky Graphics. So what are you waiting for? Sign up to our online courses and pave your way to being a successful designer!