Graphic Design Courses  Hartlepool
In the last few years, the rise in digital and visual content has sparked a massive demand for graphic designers. Graphic Design is a practice of organising and planning ideas that convey graphics of concrete ideas or messages. Such images may be a simple company emblem or a complicated website. It is called communication design or visual communication, as well. It helps the company/person to connect to the customer by conveying the project, product, campaign or event message.
Day by day, the world is getting more and more virtual. A robust visual ad can communicate several thoughts that can never be conveyed in words; for example, branding can be achieved with the aid of logos.
Graphic design helps the system to function flexibly. Students/workers may also work as a part-time or independent employee. There are many freelance websites that are helpful to graphic designers to make money online (Like Freelancer, Fiverr and many more).
Why Study Graphic Design
You can construct your feelings and invoke those emotions in a personal way through images. Graphic designers regularly express their creativity — there are not many occupations that provide this freedom! As a creative person, you have a lot of innovative ideas and templates in which you want to play; graphic design is an environment where you can create them.
All industries need effective visual communication and, consequently, sound designers. The opportunities are endless, regardless of whether you choose to work with different types of clients or specialised in a particular area. You should be proud as a designer and share with the world of doing creative work. It's also fun to see items you've built – on a store shelf or billboard – so it can be used for future generations.
Graphic designers, especially those with digital skills, are always in demand. The number of in-house designer jobs has increased substantially over the past year with brands like Apple, Google, Specsavers, and NSPCC all investing in their talents. A degree in visual communication gives way to an immense range of occupations, including Graphic Designer, Art Designer, UI/UX Designer, Software Architect, Web Designer, Corporate Identity Creator, Advertising Designer, Broadcast Artist, and Illustrator.
Moreover, the demand for remote project employment is now incomparable, with the rise of cloud and mobile networks. The average salary for a user interface designer with a UK experience of up to five years is approximately £ 29,117, compared to a print designer with the same experience of £22,599. More than 50 per cent of UK web designers, however, have less than five years of experience, meaning that graduates have good odds of creating a new impact on their careers.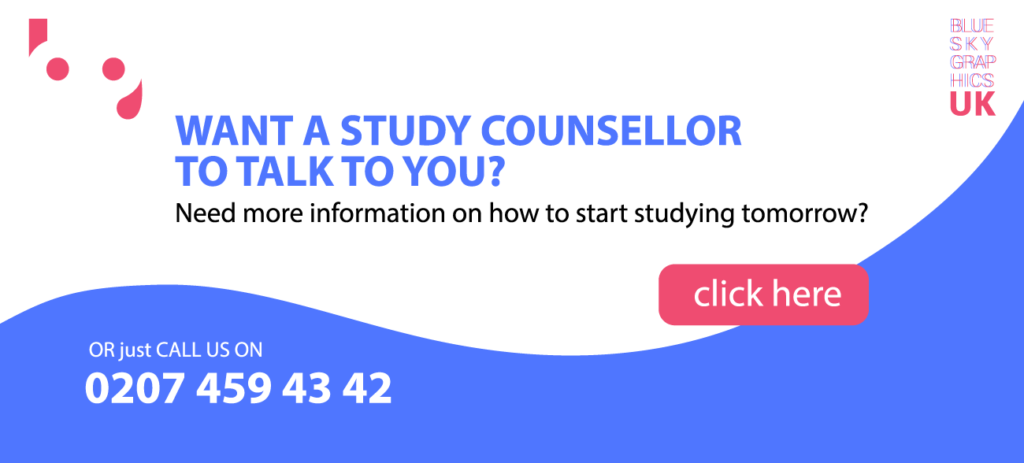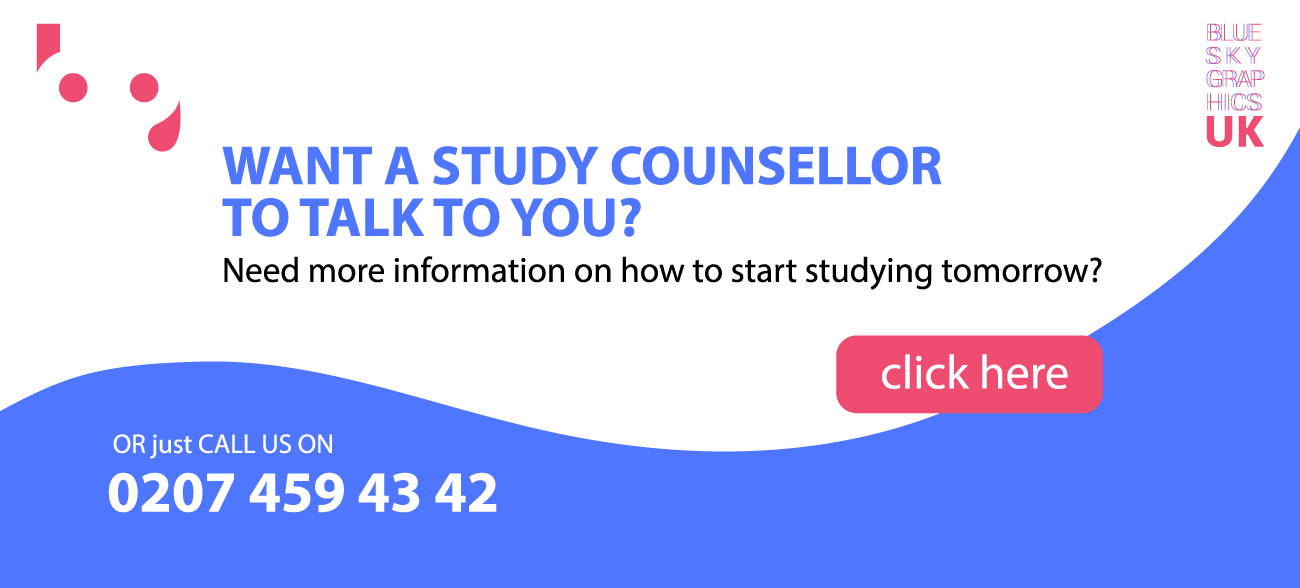 Online Education
If you have a full-time career, family commitments or are just studying more flexibly rather than a set timetable, and online education encourages you to save travel time and complete courses at your speed and timeframe.
You can train in the morning, midday; evening or night — whatever fits well for you, instead of keeping to the class schedule.
When learning online, you have the opportunity to create a learning environment as you please. You can set up any place in your home to study, or if you think you cannot be productive at home, there is always an option to go to a library and attend your lecture over there.
Some people are also faced with the issue of being easily distracted when learning in-person, and if you are one of them, you need not worry about this with our online course!
One-to-One System
With the challenges that individual students face while studying in college or university, we deliver our courses online! The courses online may be best suited for people who cannot spend time attending college because of the busy school/work and their home lives.
The online lessons are performed in a one-to-one learning environment in which tutors pay undivided attention to their pupils. In recent years, our tutors have taught their pupils all the knowledge about graphic design. They follow all the required guidelines and ensure that during the course, nothing is missed.
We use Adobe software to teach you this course, and when it is hard to perform a specific task, the instructor will control the computer and show you how it functions.
What Courses Do We Teach?
We offer our students three courses which are as follows:
• Graphics Design Course
This course covers all aspects of corporate and advertising graphic design about signage, business cards and company identity. It explains the use of Photoshop software so that the proper use of colour, scale, form and style can be accomplished.
The purpose of the course is to fix and recreate photos using a range of techniques, develop a logo design and visual identification, incorporate basic self-correction techniques and software and create a document that is suitably sized, printed and filmed.
• Web Design Course
You will use specialised technical methods and techniques in the web design training to create a new website, redesign your site, and test the layout, graphic presentation and usability of a website.
You will be trained throughout a variety of central areas, including web design, graphic design, colour theory, design codes, interface design, homepages and websites. This is all carried out in several applications including Photoshop, Illustrator, WordPress and Elementor in building software. The curriculum is structured to improve graphics, programming and CSS.
• UX UI Design Course
The UX-UI programming course allows you to design your websites and apps in a distinctly user-friendly way while providing a user-friendly experience in website surfing. UX design course is an advanced course suitable for those who already know the graphic design techniques. The course includes the use of the applications Photoshop, XD Adobe and Illustrator.
A UX project is oriented explicitly towards simplifying the user interface of any platform or program. It's about making a customer-friendly website where everything is open to the user, and not too difficult to run the app. It's about overcoming the challenges and customer-related problems to improve profitability, performance and user experience.