Do You Need A Portfolio For Graphic Design College?
You can read about the value of an online graphic design student's portfolio when you examine the prospect of majoring in graphic design. A portfolio of a graphic artist is a list of the designer's best work. Portfolios are often based on graphic art, but they can also contain media such as animation. Graphic designers continue to create their portfolios throughout their careers, beginning when they begin their undergraduate design studies – or even before.
Admission to Graphic Design Program Portfolio
An online graphic design student's portfolio is critical at certain schools even before his or her studies begin. Any graphic design degree programmes require applicants to apply a sample of their best artwork in order to be accepted.
Usually, these programmes require a portfolio to assess whether candidates have the innate talent and creative abilities to excel in the programme. Although it is important for prospective graphic design students to take basic art lessons in high school to improve their skills, undergraduate programmes normally do not require students to be highly qualified in graphic design principles and techniques before they apply for entry. Students can, however, adhere to all school rules and aim to build a professional-looking portfolio.
Creating a portfolio for admission to graphic design school is a time-consuming process. Building a simple portfolio will take several months, if not a year, for certain high school students. Furthermore, each design school has different entrance criteria in terms of what they want to see in a student's portfolio. These criteria can include the desire to see representations of art in a particular format, sample pages from the students' sketchbooks, or specific sketches from life.
A Portfolio of Professional Work
What is the importance of an online graphic design student's portfolio? The technical portfolio is how you can show your skills to potential employers or customers. According to the BLS, the samples you pick represent both your thoughts and how you bring them to life because "employers depend heavily on a designer's portfolio" when deciding who to recruit.
When you know you want to pursue a career in the arts, it is critical to not only improve your talents by making art but also to curate a portfolio of your work. From the moment you first start developing a portfolio until the end of your studies and career, an online graphic design student's portfolio should still be rising and changing.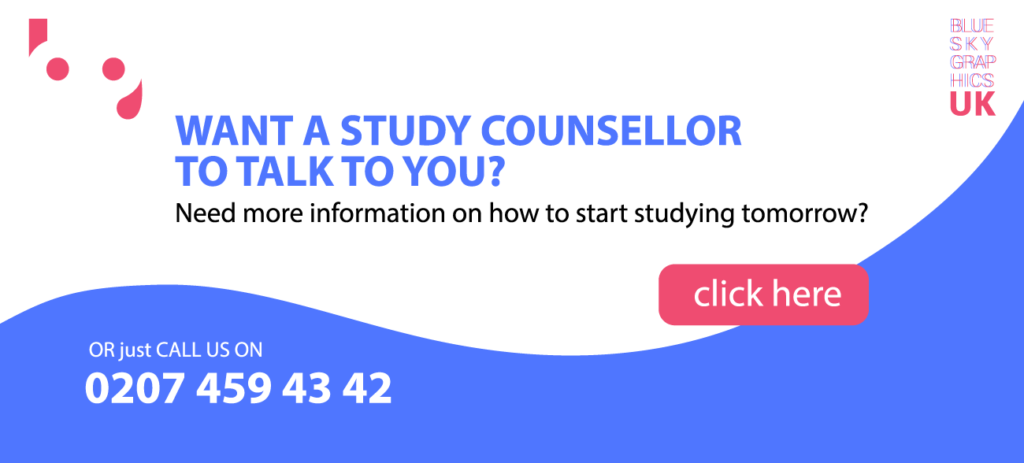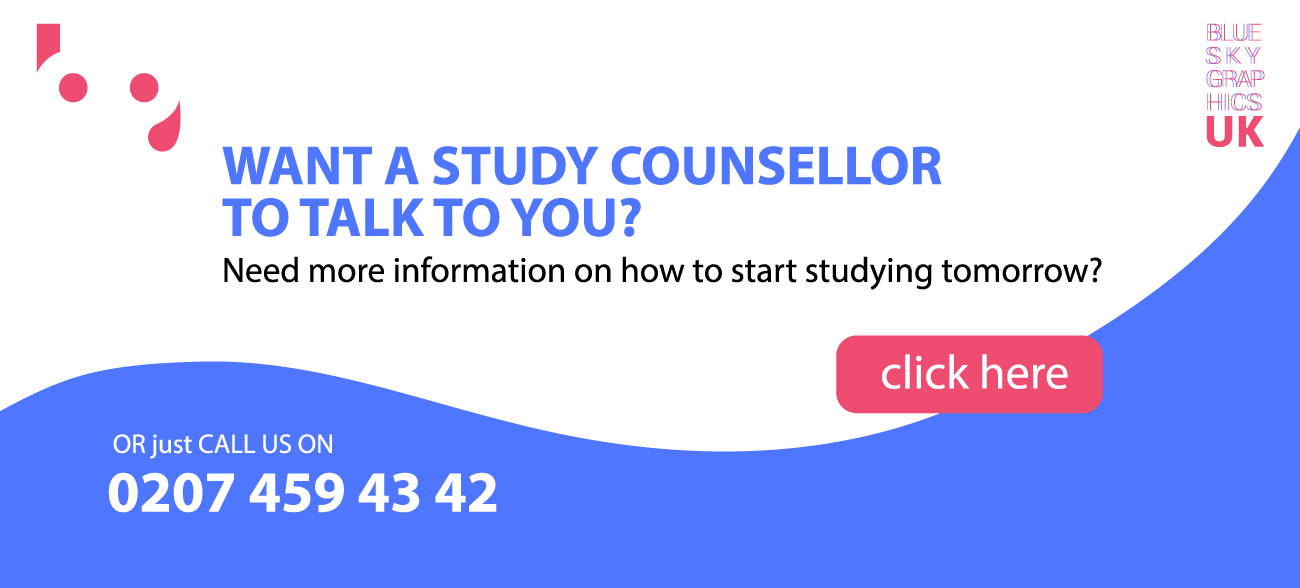 Blue Sky Graphics has an online graphic design certificate curriculum for working students. There are two concentrations available, allowing students to customise their degree to particular fields of interest. These specialisations include 3D modelling and animation, as well as web design. Basic design and colour philosophy, computer graphic design for the Internet, illustration and architecture in print media, introduction to digital photography, and vocabulary and experience in media arts are all delivered digitally.
Any of the classes you take are designed to help you establish a solid basis in the philosophy of art and graphic design. Graphic design students, for example, are likely to learn the evolution of graphic design, colour theory, and design concepts. Graphic design students also hear about the design process from a business perspective, rather than just an aesthetic one.
5 Industries Hiring Graphic Designers
Manufacturing
Publication
Advertising
Design of Computer Systems
Design Services
Like so many companies recruiting graphic designers, students pursuing an online bachelor's degree in graphic design have a variety of job options. Graphic designers produce images that accurately communicate meanings and concepts, and their talents are in high demand across a wide variety of industries.
Manufacturing Products
Manufacturing is one of the businesses that employ graphic designers. Although putting together pieces of a product cannot seem to be an imaginative work, the industry does have its innovative facets. Some graphic designers create the look of a product's packaging by mixing the appropriate pictures, wording, and style to turn browsers into customers. Other graphic designers contribute to the creation of a product that is both visually appealing and functional. Industrial graphic designers can have work descriptions such as "industrial, graphic designer."
Publication
Graphic artists in the publishing industry produce images such as ads and labels that exist in printed works such as magazines, journals, and books. They build the interface so that the text is easy to read and, where necessary, eye-catching. Although graphic designers have traditionally been in high demand in the print publishing industry, the trend toward digital publications is changing that. Graphic design work openings in newspaper, periodical, journal, and directory publishers are expected to decline by 35% over the next decade. Still, there are publishing jobs available, especially for graphic designers who can design digital media as well as print layouts.
Advertising Industry
Another industry that hires graphic artists is an advertisement. Media graphic designers usually work for an advertising agency or are self-employed and do illustration work on a freelance basis. Graphic designers in ads create the visual illustrations and animations used in advertisements, as well as the layout that connects the images and text.
Design of Computer Systems
Unlike printing, computer systems design is one of the sectors that are rapidly recruiting graphic designers. Indeed, the forecasts that graphic design positions in computer systems design will increase by 21% over the next ten years. The growing popularity of the Internet has resulted in a rise in job prospects. Website graphics and interactive media used on such pages were created by graphic designers who specialise in computer systems design.
Services for Design
Of course, a graphic designer's talents do not have to be limited to ads, websites, or written materials. The industry that hires the most graphic designers is specialised production services. One of every five graphic artists works for themselves, producing graphics for customers in a multitude of industries.
Manufacturing, printing, advertisement, computer systems design, and design services are only a few of the industries where graduates of graphic design programmes may find work.
What does a day in the life of a graphic designer look like?
Regardless of the business, graduates of an online graphic design bachelor's degree programme often work in a studio. Graphic designers usually create their designs using drafting tables and computer tools, as well as hand-drawn drawings and digital image development. Some graphic designers work as part of a production team, and others work individually. About 20% of graphic designers work for themselves. They love the independence that comes with being their own boss, but they also face the obstacles that come with running their own company.
With a rather grim overall career outlook, graphic designers will nevertheless find jobs that encourage them to use their artistic abilities. The job climate for graduates of an online graphic design bachelor's degree programme is influenced by factors such as business, qualifications, and jobs schedule.